Don't know how to uninstall Comodo Internet Security Premium completely? Why you want to remove it away, is it not so good? Before you start to uninstall the software from your computer, just read the Comodo Internet Security review to learn more about it, then decide if you want to get rid of this antivirus program from your PC. Internet security is a most essential thing for the internet world. It is the process of multi-layered protection system from hackers. Protecting data is a most important thing, so you have to choose the best anti and malware software. This is the smart thinking to protect data from unwanted thefts and attacks. Comodo secures the systems and it allows secure browsing to your PC and Mac systems and let you see the features about Comodo anti-virus software here.
A Review of Comodo Internet Security Software
Comodo Internet security is one of the famous anti-virus software, which is developed and distributed by Comodo group. The Comodo products are built and enabled for many features like Antivirus, Anti-Spyware, Anti-Root kit, Bot protection, Anti-Malware and this software has the Auto sandbox technology, which is used to shield the secure data in online and servers.
Comodo Group Inc. is a tech based company founded by Melih Abdulhayoglu in the year 1998. This company is based on New Jersey, US and the Comodo is dealing with the Internet and PC security anti-virus software. There are three types of packages available in current market such as:
• Free version with one-month trail pack
• Internet security Pro version – 1-year subscription plan with 3 PC's and 6 PC's package
• Comodo Internet security complete version – 1-year subscription plan with lot of features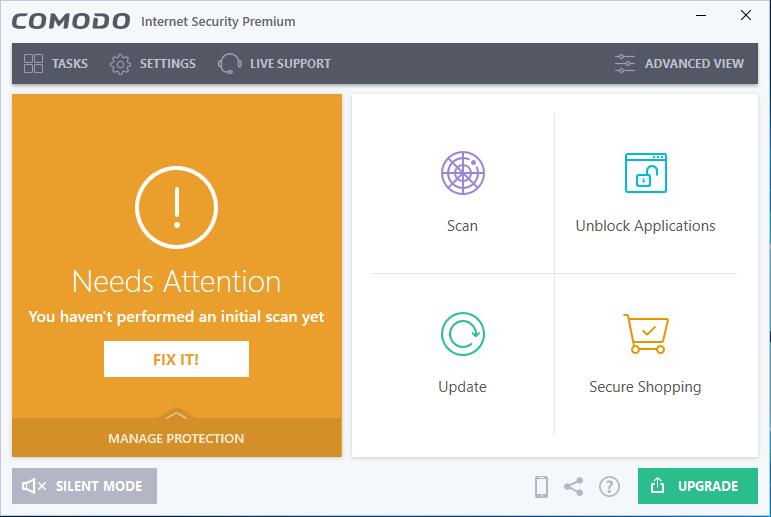 Comodo High Protection Software:
Comodo Internet security has achieved 100 percentage score against zero-day malware attacks that include web and email attacks. Comodo engaging the internet protection from unexpected viruses, Worms, Trojans, Malwares, Buffer over flows, Spywares, zero day attacks and Hackers. This software is always active and it alerts you, whenever the potential malwares attacks or access to your systems.
When you install the Comodo antivirus software, you can protect your PC from unforeseen malicious software such as viruses. You can prevent your high confidential personal information from being pinched and you can also access as a parent control, which is used to protect your children to watch unwanted websites.
The Comodo Antivirus is used to shelter the PC for malwares, viruses and destroy them immediately without any attention. Anti-Root kit is one of the feature enabling Comodo anti-virus and its scans for any type of root kits, once find it removes from your computer. Auto Sandbox Technology is another feature; where it executes any distrustful files in a distinct virtual environment from unwanted malware attacks.
Boot protection blocks malware affected software automatically from your PC. Memory Firewall is used to shield the cultured buffer overflow attacks. Anti-malware system kills the malicious threats even before infection identification. Comodo stands assuring with its internet security at 360-degree level protection with a robust technology antivirus. Comodo have protecting the cloud system, this is the one of the unique features compared to another anti-virus.
Comodo Antivirus Software Advantages
Comodo antivirus has the lot of new features comparing to other antivirus providers. It is the user friendly for computer beginners and this antivirus accesses the quarantine systems to isolate the suspicious files. This flexible virus scanning is saving your time while you can scan the system and do your other work simultaneously. Comodo supports unique "SLIDER" that used to change your current security level. This anti-virus has automatically updated it, if any new updates came from Comodo.
• Comodo supports all windows operating system
• Its supports Mac OS
• Comodo supports SSL certifications
• Linux OS support
• It has the parental controls
• Enabling Ransom ware
• Secure download during the internet connection
• Best Firewall protector
• Secure browsing support
• Secure shopping and online banking
• Low budget cost
• Protecting the emails
• Available for free trial version
Comodo Cloud Anti-Virus
Comodo have the unique features comparing to other antivirus software providers. It actually works and protects from cloud system, the cloud based anti-virus software and also enabling the lots of new features such as:
Threat identification and containment engine is the one of the new feature that is provide the high protection and its allowing you to run any type of application to your PC and MAC, the cloud based scanning is used to find the and easily run on old hardware there is no high resolution is need to install your system, the real time virus is monitored and automatic sandbox is used to find the unknown files and keeps 100 percentages safe for each scanning.
The Comodo software interface is user friendly and has the multi-level scanning like quick scan, full scan, file scan and folder scan. The interface is built and easily identified for beginners there are three level separated from different color category, the Green color indicates a secured mode which mean no threats are detected and your system is highly protected, Red color indicates low level attacks, you just click the "Fix it" button, the software automatically removes from your system, Blue indicates the game mode which means the protection is continues but all the alerts and notices are blocked.
Comodo Auto Sand box and Viruscope:
The sandbox is the feature of Comodo Auto Sand box protects you against the robotically isolating all unidentified files in a secure protection way. You can access or run any application when you choose the sandbox feature. You can also download any of the file while enabling the auto sand box from your internet browsers.
Viruscope is another added advantage of Comodo anti-virus. It acts as advanced behaviour study technology that screens sandboxed processes and attend you, if they take actions that could threaten to your security. It also uses a cultured set of behaviour to determine whether or not the actions of a file in the sandbox are like as malicious.
Disadvantages
There are few disadvantages listed out from live user experience such as:
• There is no password manager
• File shredder is not available
• Webcam protection not available
• Phishing protections not available
• Slows system speed and performance
• Microphone protection not available
Conclusion
The Comodo security system has lots of impressive features. The free trial version has available with limited period and the security system enabling for all type of devices. Some of the few glitches are available, but it never impacts your security level. You can trust the anti-virus features comparing to other service providers. Hence, Comodo service and features will protect your system and high secured data. If you don't want to keep it, you can follow the methods below to uninstall Comodo Internet Security Premium completely from your computer.
How to Uninstall Comodo Internet Security Premium Completely from Windows OS
Uninstall Comodo Internet Security Premium Manually on Windows 10 (For Advanced Users Only)
Step 1: Uninstall Comodo Internet Security Premium itself. (Choose one of the three options to follow)
a) Uninstall it from Start menu.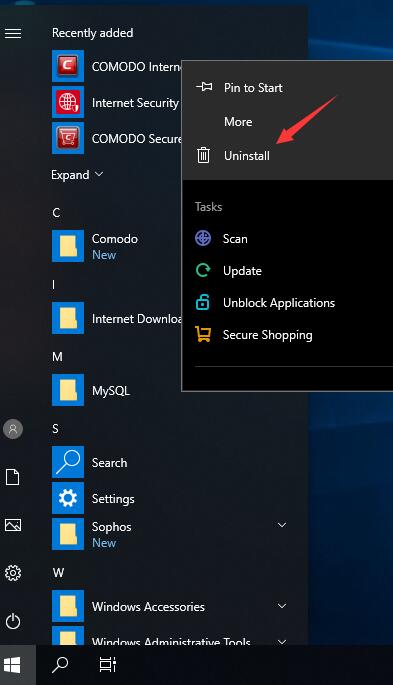 b) Click Start menu -> choose Settings (the gear in the left) -> System -> Click Apps & Features. Highlight Comodo Internet Security Premium and select Uninstall.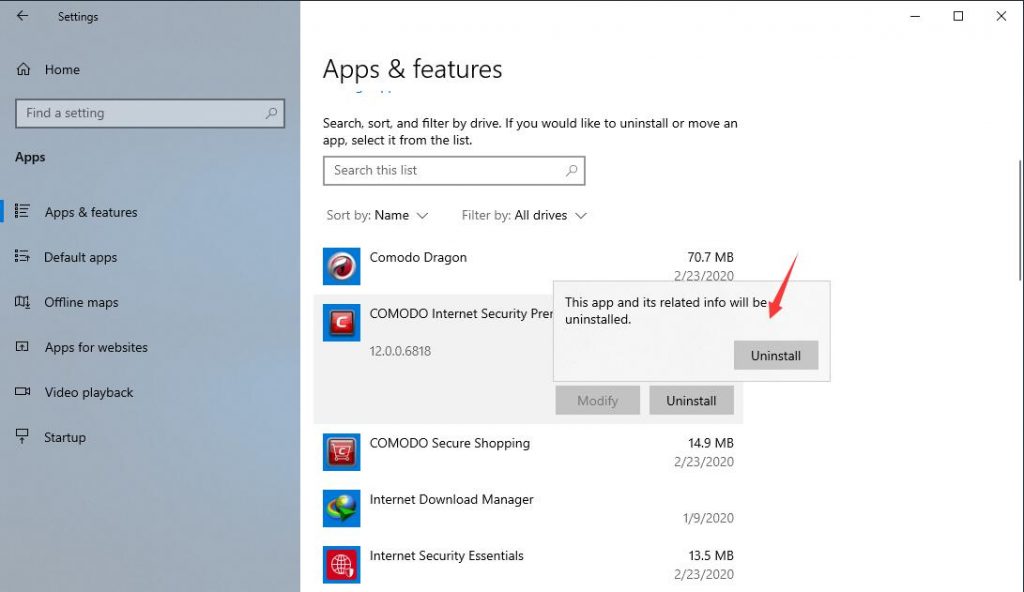 c) You also can uninstall Comodo Internet Security Premium by using Add/Remove Programs feature in Control Panel. Follow the tips on the picture below -> Remember to select Comodo Internet Security Premium and click Uninstall.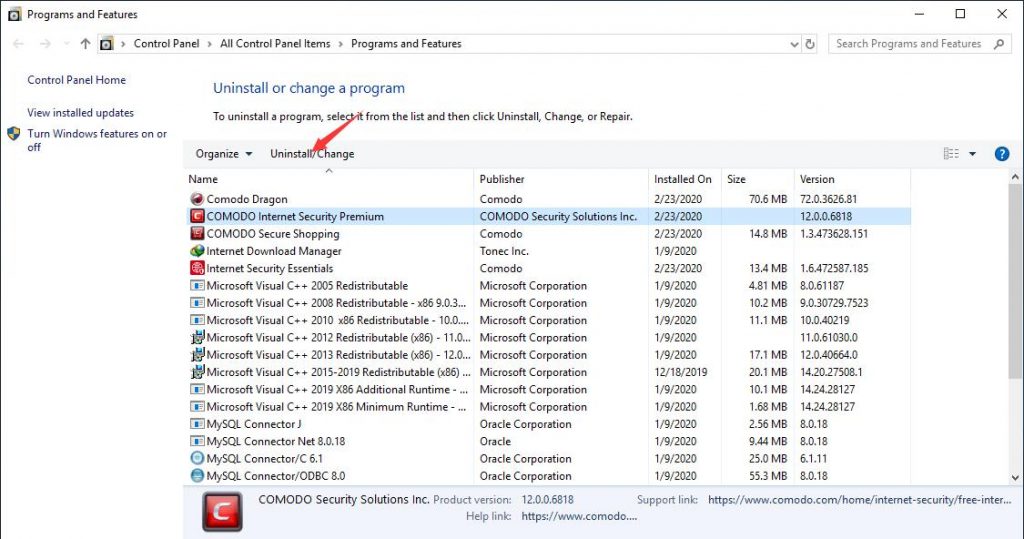 Step 2: Get rid of Comodo Internet Security Premium leftovers manually. (IMPORTANT STEP)
*For added protection, please back up the registry before you modify it.*
Check the following folders and delete associated files first.
C:\Program Files (x86)\Comodo Internet Security Premium
C:\Users\[Your User Name]\AppData\Roaming\
C:\ProgramData\Microsoft\Windows\Start Menu\Programs\Startup
Next, you have to get rid of Comodo Internet Security Premium entries from Windows registry.
Press Windows + R, and type in regedit in RUN box, then press Enter. It'll open Registry Editor.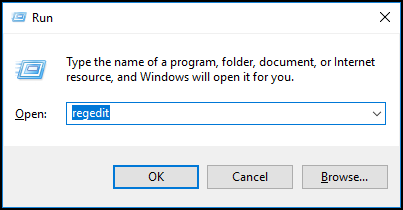 Navigate to the Registry key: (You do this by clicking on the plus sign next to each key in the path to expand the path below it. )
HKEY_LOCAL_MACHINE\Software\Microsoft\Windows\CurrentVersion\Uninstall.
HKEY_LOCAL_MACHINE\SOFTWARE\Microsoft\Windows\CurrentVersion\Uninstall\ (For 32-bit system users)
HKEY_LOCAL_MACHINE\SOFTWARE\Wow6432Node\Microsoft\Windows\CurrentVersion\Uninstall\ (For 64-bit system users)
Kindly Reminder: You are welcome to contact online support if you need any assistance, just click the below button for help.
Uninstall Comodo Internet Security Premium Automatically with a Third-Party Uninstaller (RECOMMENDED)
Step 1. Download and install the Uninstallor App in your system, next launch it. Select "Comodo Internet Security Premium" then click on "Analyze Now" to process the first uninstalling step.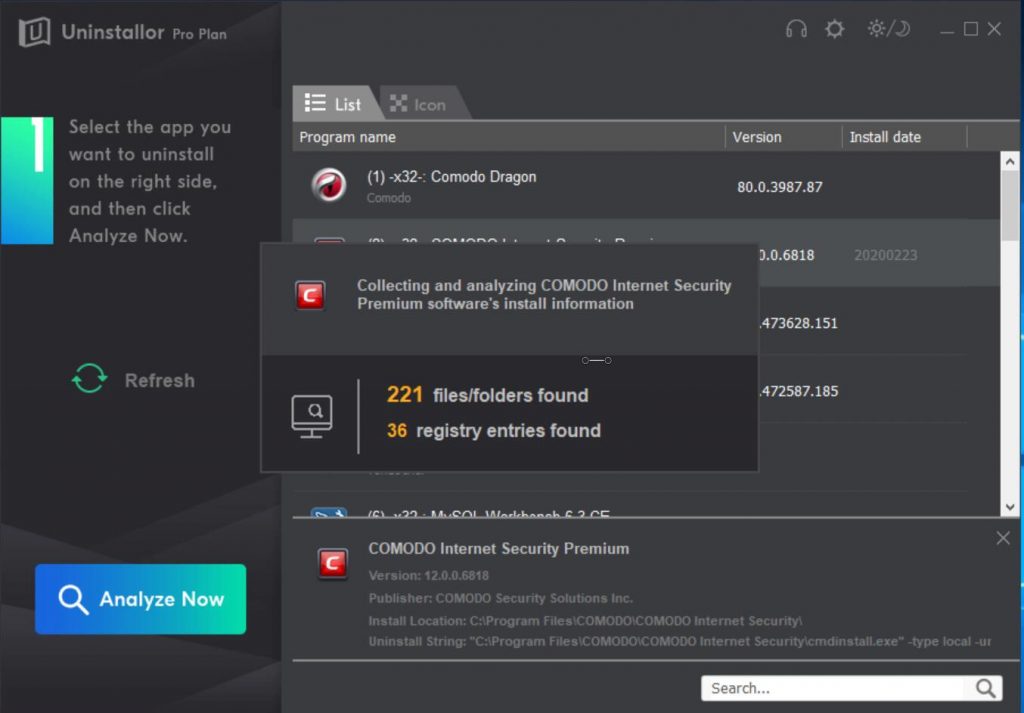 Step 2. Uninstall Now.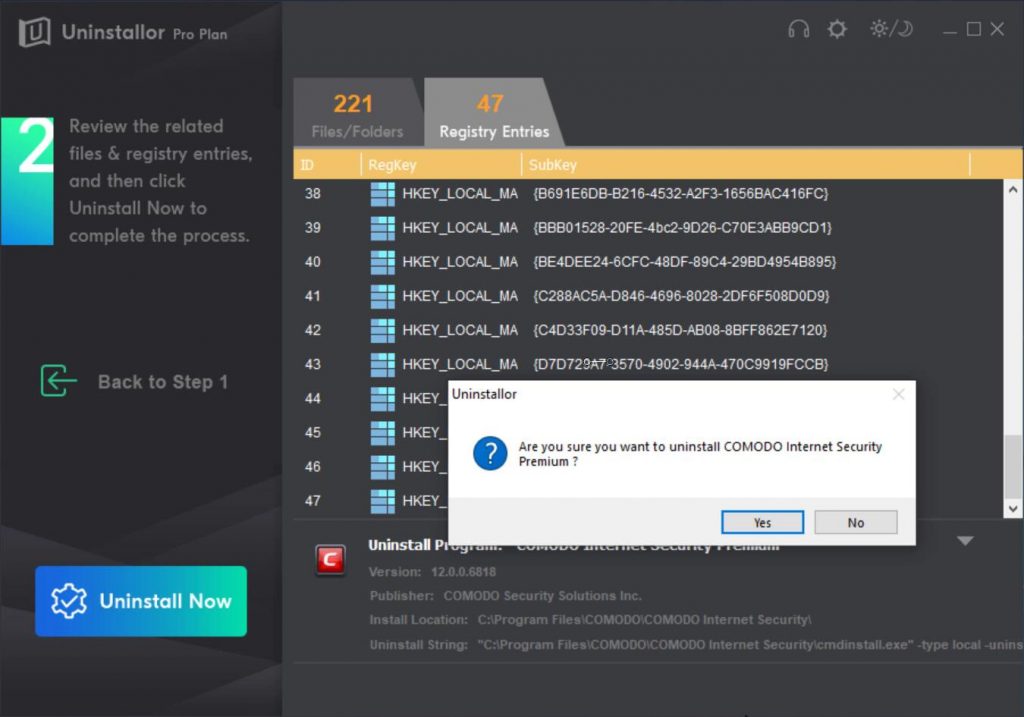 Step 3. Remove Now. Click on "Remove now" button to completely remove all leftover files and registry entries of Comodo Internet Security Premium.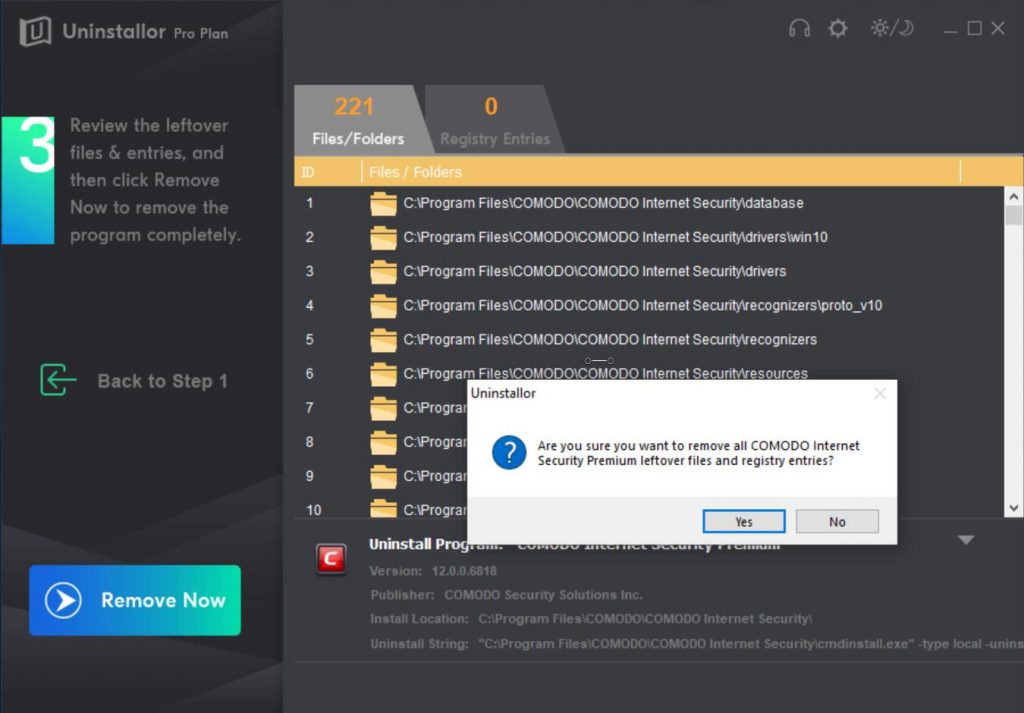 Comodo Internet Security Premium has been uninstalled completely.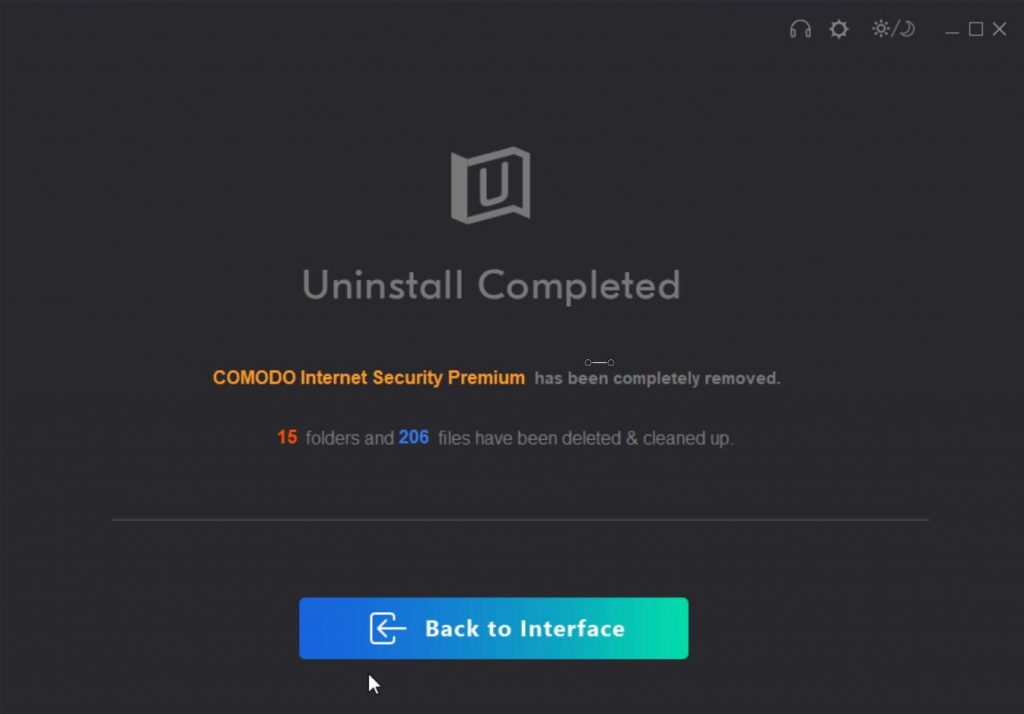 Kindly Reminder: If you can't remove/uninstall Comodo Internet Security Premium from your computer successfully like Windows or Mac, you are suggested to try Uninstallor, which will help you do all things.
Published by Tony Shepherd & last updated on April 17, 2020 3:08 pm