Do you know how to uninstall Bing Bar from Windows 10? Why you need an effective method? First, let us take a look at a complete review about Bing Bar on Windows 10. Bing Bar is a popular toolbar for Windows Internet Explorer. This toolbar is integrated with the Microsoft Bing search engine. All users of the Bing Bar can search videos, maps, news and other content regardless of the time and location. They can also use this toolbar and access their email messages, see the weather forecast, communicate with kith and kin on the social media and find games. As a user of the Windows 10, you can prefer and make use of the Bing Bar and get 100% satisfaction. You can download and install this toolbar from the Windows Update. Do not forget to ensure that you download the recent version of the Bing Bar from the official website of the Microsoft.
About the Bing Bar
Bing Bar is a leading browser extension toolbar for the Internet Explorer. This tool from the Microsoft is rich in quality and known for its user-friendly nature. This toolbar includes features from the Windows Live and also search engine Bing. The user-interface of this tool lets visual effects like the slide and rollover animations, flip animations, colors and themes included in it. The flyout content Windows in this tool enables every user to view the most recent content of the MSN portal devoid of any requirement for moving from the current Internet page. Many men and women worldwide in our time think about how to improve their Windows 10 operating system with the best tools. They can download and make use of this royalty-free tool hereafter.
Every user of the computer with the pre-installed Bing Bar tool can get extra benefits. They feel comfortable and happiness every time they use this tool and engage in the safe and quick online search. They use this tool to consolidate the email accounts and get the complete access to the breaking news. The most recent version of this tool adds a background controller service which is set to run in the automatic way. The service manager is responsible for delaying the start of this service. This exclusive program adds a toolbar to the Microsoft Internet Explorer. InstallManager.exe is the main program executable to install this tool. There are 40 files in this software installer.
Some manufacturers of the personal computers install some software programs with an aim to assist end users. These programs are considered bloatware because their limited function trials. In general, Bing Bar tool is pre-installed with all Dell computers. You have to keep in mind that Bing Bar has been considered as bloatware by so many users worldwide as it is bundled on the new PCs of various manufacturers. In general, the bloatware usually means the program is optional. Bing Bar is usually licensed for use on the Dell personal computer on which it was in-built. The lite version of this tool may not fulfil its users when they use the Dell computer. So there are many users want to uninstall Bing Bar from Windows 10 on their computers.
The first-class features of the Bing Bar assist all users to get the quick access to the Bing search tools of the Microsoft from inside the browser Internet Explorer. If you have successfully installed this tool in your computer, you can get an instant access to a bunch of shortcuts to services of the Microsoft. Facebook integration is one of the most outstanding additions for users of this program. This facility lets users to use the Facebook chat and like webpages without delay and complexity. Enhancements in different aspects make this tool outstanding and encourage every user to use it without complexity in any aspect.
Auto-populates search terms while users typing for searching anything in the search bar support them to get all answers within the pop-up window. There is no need to go to the results page. An easy way to access the news, stocks, weather and other things in the Bing Bar without a need to open another tab makes all users more contented than ever. Every window in this tool drops down when clicked and lets users to interact with any section devoid of loading any new web page. As a beginner to the Bing Bar, you may misunderstand that this tool can be used only for searching. You have to understand and remember that this tool can be used to get the weather forecasts online, watch the trending videos online and check the latest news online.
Bing Bar is successfully integrated with the live services of the Microsoft and gives users notifications regarding the most recent Hotmail emails. This program supports users to get the complete and immediate access to the Windows Live features include, but not limited to the groups, calendar and photos. Many people nowadays use the new option to sign up for the popular rewards program. They also download extra apps for their Bing Bar in the settings and enable or disable the notifications for particular applications as per their wishes. They have to remember that additional apps are limited, but some apps are allowed like the movie times and translator apps.
The overall security features available in the Internet Explorer are really good at this time. Microsoft now needs the Internet Explorer be the one and only browser to run this tool. This tool is very focused on the United States in terms of the new stories and features. This tool is useful in different aspects especially with the Facebook Integration. There are so many apps bundled with the Bing Bar too and make it a good productivity tool.
Advantages
• Looks goodNot intrusive
• Autofill feature
• Useful and customizable tools
Disadvantages
• Search term disappears when users open the new tab
• Only works with the Internet Explorer
After reading the instructions about the Bing Bar, do you make a mind to keep it or get rid of it away?
If you are not happy with it then you can uninstall Bing Bar Browser completely from your computer by following the removal guides below.
How to Uninstall Bing Bar from Windows Operating System
Manually Uninstall Bing Bar from Windows 10 (For Advanced Users Only)
Step 1: Uninstall the bar from startup.
b) Uninstall Bing Bar via the Apps & Features. Just input Apps into search box, then choose "Settings", and then click on "Apps", select the app then click on "Uninstall".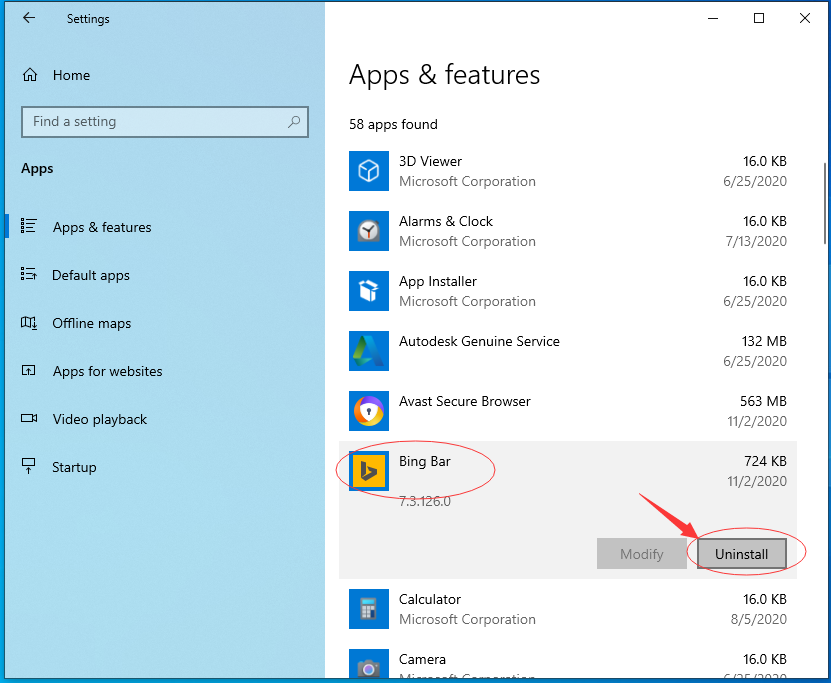 c) Uninstall Bing Bar via Control Panel. Input "Control Panel" into search box then click on it, click on "Uninstall a Program", click on it then click on "Uninstall".

Step 2: Manually clean all leftovers of Bar from regedit. (IMPORTANT STEP)
*For added protection, please back up the registry before you modify it.*
Check the following folders and delete associated files first.
C:\Program Files (x86)\xxx
C:\Users\[Your User Name]\AppData\Roaming\
C:\ProgramData\Microsoft\Windows\Start Menu\Programs\Startup
Next, you have to remove all its entries from Windows registry.
Press Windows + R, and type in regedit in RUN box, then press Enter. It'll open Registry Editor.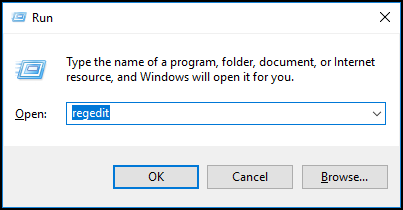 Navigate to the Registry key: (You do this by clicking on the plus sign next to each key in the path to expand the path below it. )
HKEY_LOCAL_MACHINE\SOFTWARE\Microsoft\Windows\CurrentVersion\Uninstall\ (For 32-bit system users)
HKEY_LOCAL_MACHINE\SOFTWARE\Wow6432Node\Microsoft\Windows\CurrentVersion\Uninstall\ (For 64-bit system users)
Kindly Reminder: You are welcome to contact online support if you need any assistance, just click the below button for help.
Automatically Uninstall Bing Bar with a Third-Party Uninstaller – Uninstallor (RECOMMENDED)
Step 1. Download and install Uninstallor, run it and select Bing Bar, click on "Analyze Now".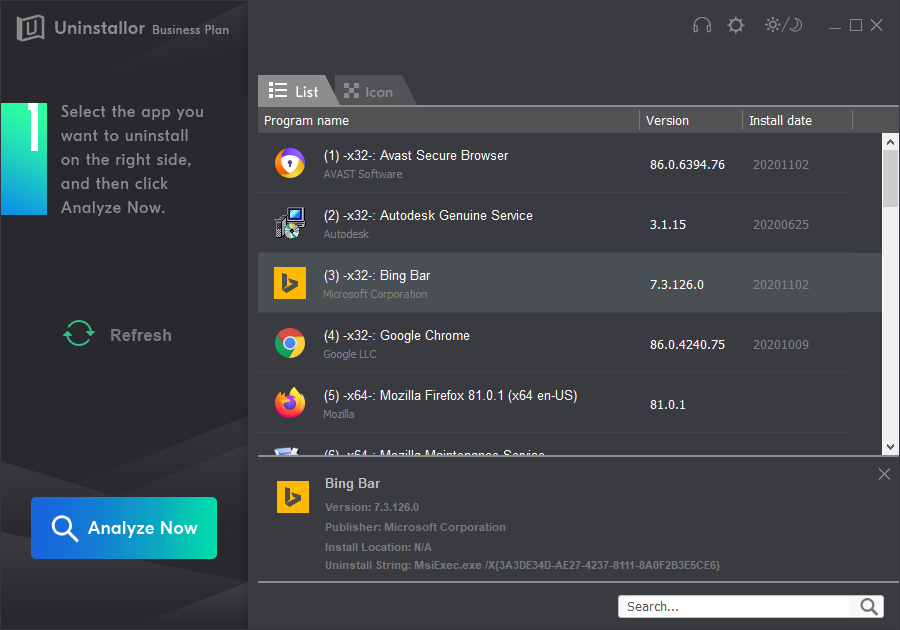 Step 2. Uninstall Now. Click the button for uninstalling.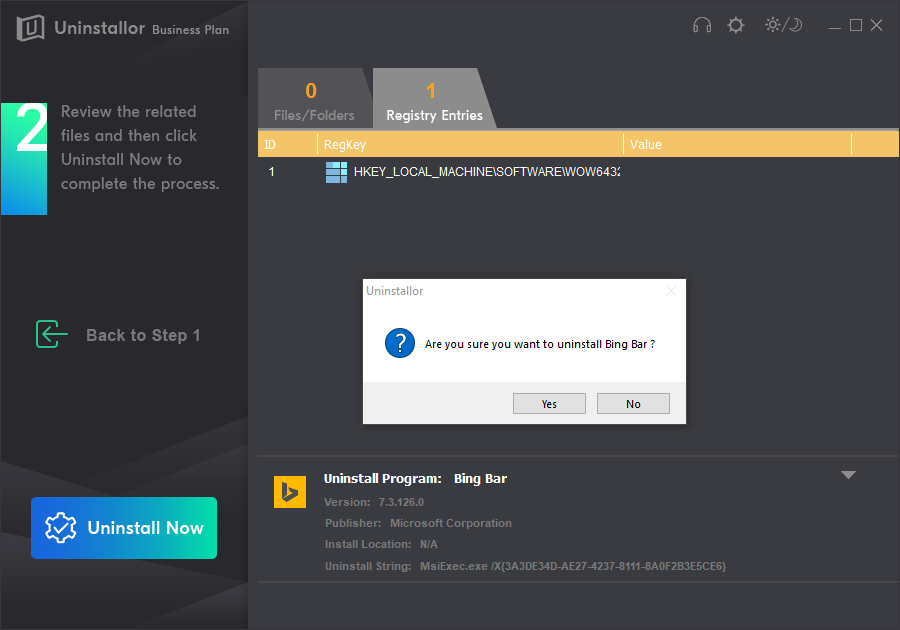 Step 3. Remove Now. Remove all leftovers of Bing Bar from your system.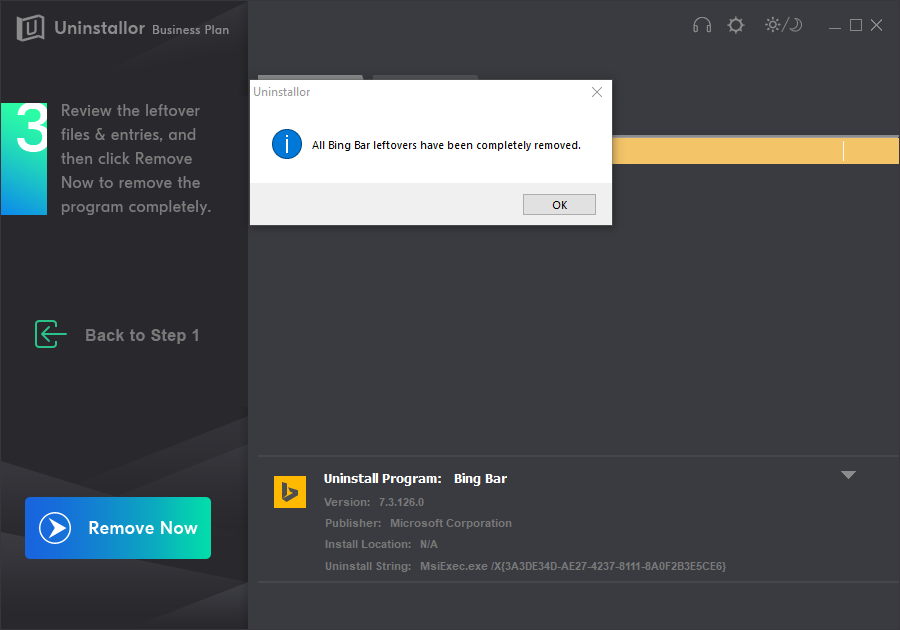 Conclusion
Bing Bar from the Microsoft Windows lets users to search, sign up to earn rewards, connect with Facebook and use other cool features like the search, finance, weather, news, mail, maps, rewards, games, video, translator and movies. As a user of the Microsoft Windows 10, you can access and use the Bing Bar hereafter. You will get 100% satisfaction and become one among satisfied users of this tool on a regular basis.
Kindly Reminder: If you failed to or don't know how to uninstall Bing Bar completely from your Windows computer or Macbook, you are suggested to use Uninstallor, which will help you do all things.
Published by Tony Shepherd & last updated on November 11, 2020 1:03 pm