Can't uninstall AVG Secure Browser from your computer? Is AVG secure browser a virus? This browser has messed up my computer ive lost my saved log ins to pay my bills and it has totally changed my computer till its hard to do anything. I have tried many ways to remove this browser from my Windows 10 but failed, how do i uninstall AVG secure browser and stop it from starting?
A Detailed Review of the AVG Secure Browser
AVG is one of the secure, fast and easy to use interface browsers. At present, it is available for android and Mac users. With more than 200 million users, the AVG secure browser is simply one of the most famous browsers in the world. This browser is actually not required installing, configuring or adjusting your browser settings. Once you have downloaded, you will begin using the browser on your device. So get started using the AVG secure browser.
If you want to use the latest web browser, then it is recommended to download the AVG secure browser and also stop using insecure and out-dated browser. It is also recommended you to uninstall the AVG browser with latest version. When you are allowed the AVG browser to be installed, you can enjoy using its privacy and security features that are designed by AVG in order to keep you safe on the internet. Moreover, this AVG Secure Browser is provided several features, when you install the new version of AVG antivirus.
With a free version of this browser, you will obtain instant access to the most essential features such as PC performance checks, virus detection and quick safety as well as security updates. For instance, you will require buying AVG internet security to obtain improved firewalls, block web-cam snoopers or also block the fake e-commerce websites. The specialty of this browser is protecting your tablet or android smart phone against the trackers, hackers and internet service providers with the AVG's private VPN browser by using a built-in ad blocker. So it is now virus but a browser, if you want to uninstall AVG Secure Browser completely from your computer in Windows 10, please think it over.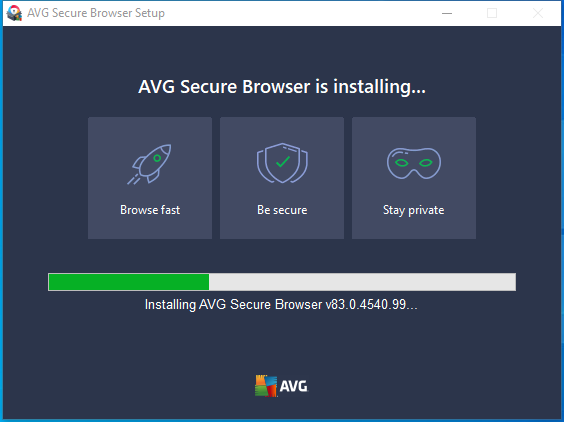 Amazing Features of AVG Secure Browser
At present, many of the private browsers are not actually making you invisible. This AVG Secure Browser is a next level safe browser with powerful tools, which really keep you private. The main features of AVG Secure Browser are including automatic ad blocker, unique PIN lock, built-in VPN and total data encryption. In addition to, some of the features are:
Quicker browsing
It automatically blocks the ads and blockers that slow you down.
Automatic privacy
• Encrypt all such as your history, browsing data, tabs and downloaded files
• Remain anonymous with AVG browser's built-in VPN
• Nuke site data with one click
• Customizable modes for your browsing needs
Powerful tools
• QR reader
• Private video downloader
• Safe and secure DNS options
• Unlock with your unique PIN or fingerprint
• Encrypted private media players and media vault
The AVG browser free plans are mainly focused on offering the fundamental antivirus protections for your web connection and personal device. This free antivirus browser is now available for Mac, windows, iOS and android devices in various types.
Full protection
The AVG browser provider is working around the clock in real time to spot, identify and fight against each threat. So, you are always safeguarded from the malware, phishing scams and identity theft.
Browse up to 4x quicker
The ad blocker is completely taking care of annoying interruptions. The less to load means a quicker more streamlined experience for you. All these keep you safe as well as secret direct out of a box.
Don't be tracked
The built-in privacy features also cover each aspect of your digital fingerprint from get go, Once you have downloaded this browser, you are all set for mysterious browsing. This would support you to prevent sites from tracking what you perform on the internet.
Step by Step Methods to Install the AVG Secure Browser
Once you download this secure browser separately, then you can easily install the AVG secure browser by simply following the steps given below:
• Initially, you have to double click an AVG secure browser icon on your windows desktop to open this application for usage.
• Then, click an AVG icon in the top right corner in order to open the 'Privacy and Security Centre'.
• Click a title to learn more on each of the following amazing features or manage those features directly on a title:
o AVG antivirus
o AVG secure VPN
o Anti-fingerprinting
o Ad block
o Anti-phishing
o Anti-tracking
o Stealth mode
o Webcam guard
o Password manager
o Extension guard
o Flash blocker
o HTTPS encryption
o Privacy cleaner
• After that, you can access the video downloader and Ad block from a top right corner of the safe browser toolbar. The enabled features are coloured, while disabled features are in gray colour.
• Now, make this secure AVG browser as your default browser on your windows desktop to open this application.
• Then, click a menu icon in the top right corner and then choose 'Settings'.
• In a default browser section, you click a 'Make Default'.
• Change the search engine that is used in your address bar by using a menu icon in the top right corner and then choose 'Settings'.
• In a search engine section, click a drop down menu and then choose your selected engine.
• Manage your secure browser bookmarks that enable you to use these bookmarks in order to save your favourite as well as often used websites.
• Hover a cursor over bookmarks in a menu that seems and then choose 'Bookmark this page'.
• You can rename a website in the Name text box and then click a drop down menu to choose the folder, where the bookmark is stored. And, click done to confirm.
• Manage the secure browser settings by selecting Settings option.
• Also, you can see advanced settings by clicking advanced at the bottom of settings screen.
Pros
• Very affordable
• Safe browser
• User friendly interface
• Best protection scores
• Robust feature set even on a free plan
• Good scan customization options
• Completely free to use
• High threat detection rates
Cons
• Infrequent untrue positives
• Complicated tech support
• Noticeable system effect
• No password vault
• No longer provides web protection browser extension
Conclusion
Therefore, the AVG secure browser performs an excellent job of standing out in the crowded market. Its team has obviously been concentrated on keeping its detection and infrastructure network up to date. Hence, this is a real reason to go with AVG secure browser than other browsers. It is also very intuitive and well-designed that you can't even imagine. Still now, this AVG browser stays an amazing option for advanced users who want to completely customize their threat monitoring system. What is more, you can uninstall AVG Secure Browser completely from your computer in Windows 10 when you don't like it, it is very easy and you can simply get rid of it by following the guides below.
How to Uninstall AVG Secure Browser from Windows Operating System
Manually uninstall AVG Secure Browser from Windows 10 (For Advanced Users Only)
Step 1: Uninstall from startup.
a) Uninstall it from Start menu. Click on start, next right click on "AVG Secure Browser" and select "Uninstall".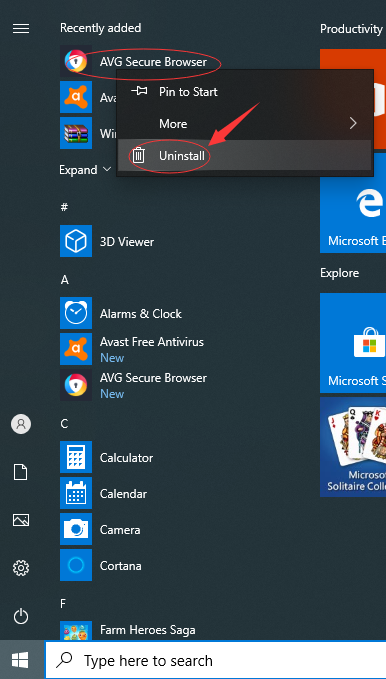 b) Uninstall it from Apps & Features. Input Apps into search box, then select "Settings", next click on "Apps", and select "AVG Secure Browser" then click on "Uninstall".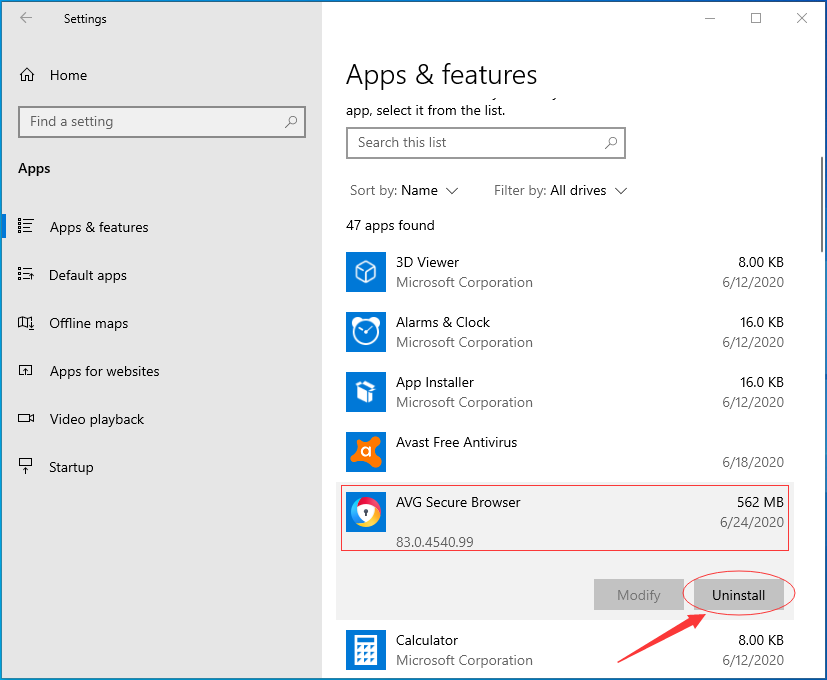 c) Uninstall AVG Secure Browser from Control Panel. Input "Control Panel" into search box then click on it, click on "Uninstall a Program", click on "AVG Secure Browser" then click on "Uninstall".

Step 2: Manually remove AVG Secure Browser and all its leftovers from regedit. (IMPORTANT STEP)
*For added protection, please back up the registry before you modify it.*
Check the following folders and delete associated files first.
C:\Program Files (x86)\AVG Secure Browser
C:\Users\[Your User Name]\AppData\Roaming\
C:\ProgramData\Microsoft\Windows\Start Menu\Programs\Startup
Next, you have to remove AVG Secure Browser and all its entries from Windows registry.
Press Windows + R, and type in regedit in RUN box, then press Enter. It'll open Registry Editor.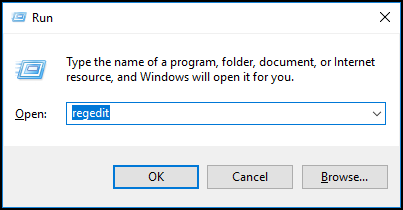 Navigate to the Registry key: (You do this by clicking on the plus sign next to each key in the path to expand the path below it. )
HKEY_LOCAL_MACHINE\SOFTWARE\Microsoft\Windows\CurrentVersion\Uninstall\ (For 32-bit system users)
HKEY_LOCAL_MACHINE\SOFTWARE\Wow6432Node\Microsoft\Windows\CurrentVersion\Uninstall\ (For 64-bit system users)
Kindly Reminder: You are welcome to contact online support if you need any assistance, just click the below button for help.
Automatically Uninstall AVG Secure Browser with a Third-Party Uninstaller – Uninstallor (RECOMMENDED)
Step 1. Download Uninstallor, next run it then select "AVG Secure Browser", then click on "Analyze Now" to start scanning.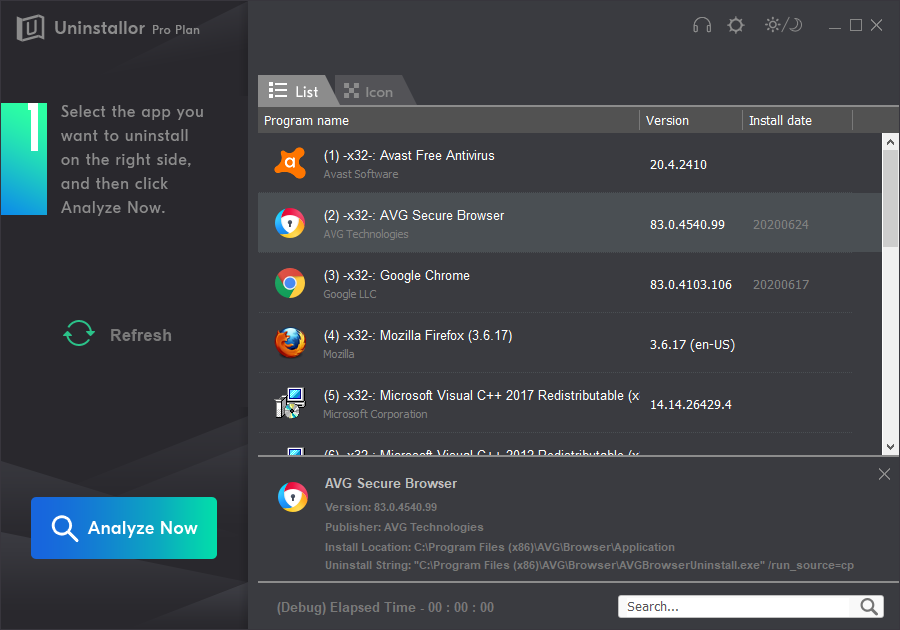 Step 2. Uninstall Now. To completely uninstall AVG Secure Browser from your Windows 10.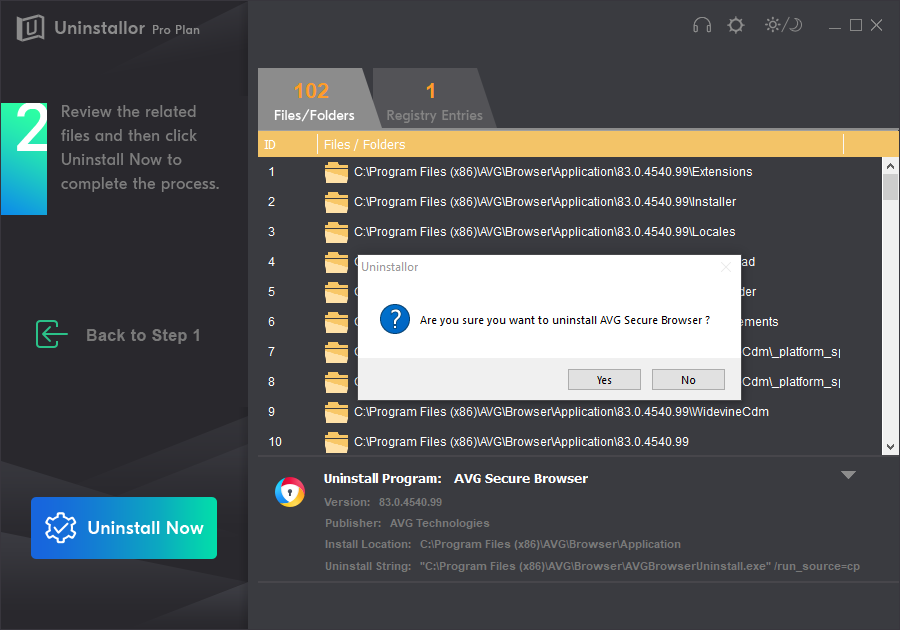 Step 3. Remove Now.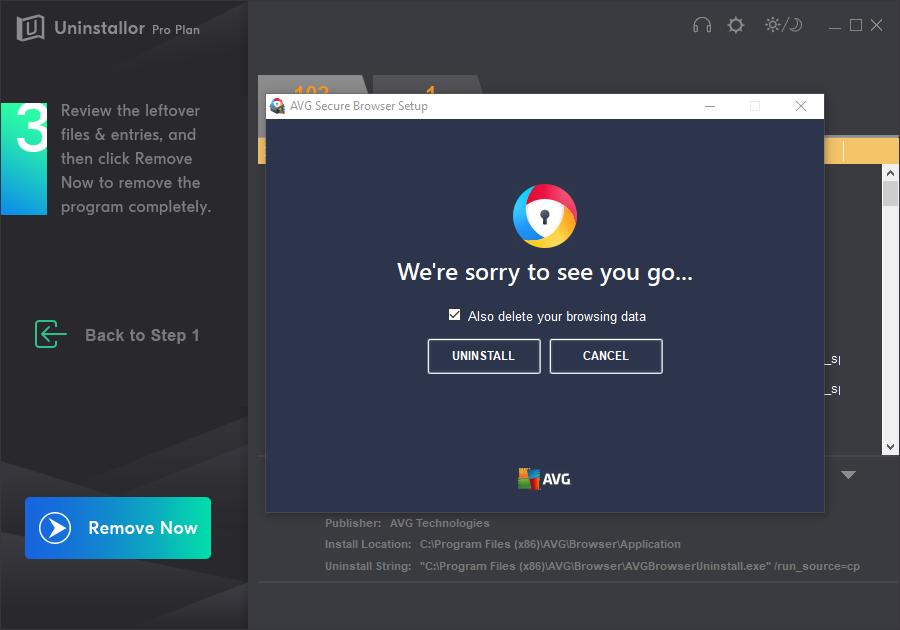 Uninstall Completed! AVG Secure Browser is uninstalled completely.
Similar Video Guide for Uninstalling AVG Secure Browser
Kindly Reminder: If you failed to uninstall AVG Secure Browser from your computer like Windows or Mac, you are suggested to use Uninstallor, which will help you do all things. If it is blocked by your antivirus, please exit your antivirus first and then re-download and install the Uninstallor.
Published by Tony Shepherd & last updated on June 24, 2020 9:52 am