Can't remove AVG Antivirus Free from the control panel? How to uninstall AVG Antivirus Free completely from your Windows 10? Before you get rid of it please take a look at a detailed review about AVG Anti-virus. AVG Antivirus is the software, which is used to protect your computer and mobile devices from unwanted malwares, spyware and hackers. A system without an antivirus is just like a house with an unclosed door. Antivirus software is mainly performing to protect your system, it detects all type of potential virus and then removes it immediately from the system.
A virus is the unwanted program and it spoils your system speed and performance. If unwanted virus entered into your system or mobile devices, it performs malicious actions that end up in upsetting the system's performance and user's secured data files. If virus is affected your system, you can face the slowdown of computer, data losses, damage or delete files, computer crashes and etc.
Introduction about AVG Antivirus
AVG is the first product of Grisoft's from AVG technologies which is launched in the year 1992 in Czech Republic. This company has more than 200 plus million active users worldwide, including more than 100 million active users on mobile devices.
AVG always performs in the background at any time like booting performance, when your computer is turned on. When program determines a threat, the AVG alerts you with the alarm sound and places that infected files into isolation, so you can't accidently access them.
Once you found, you can remove the unwanted files from the window as soon as possible. AVG is worked with windows, Mac, iPhone and Android versions. AVG always perform the quick scan for other devices like USB, Pen drive, CD, DVD and other devices.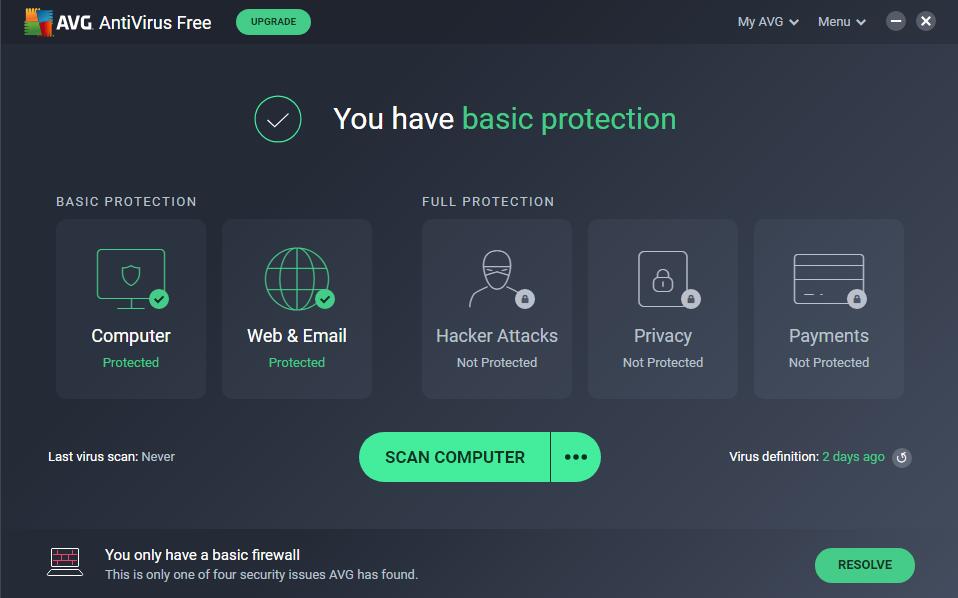 How to Download and Use the AVG in Your PC and Mobile Devices
AVG anti-virus has provided free trial version with some basic features such as it stops viruses, spyware, malware and other ransom wares. It also blocks the unsafe links, downloads and email attachments, scan for PC performance problems and users can get the real time updates always etc.
There are two types of version available now:
1. Free version with limited features
2. Pro version with unlimited features
Below is the simple procedure on how to download and install the AVG software to your computer and mobile devices
• Visit the AVG Antivirus Free website
• Choose the version, which you want like free or pro version
• Select download button, then .exe file begins to download
• After complete the download, double click the .exe file and begins the installation
• Enter the AVG license number (for Pro version)
• After finishing your installation, just restart your system
• The AVG software is now activated in your system and you can scan your system files
The same procedure you have to follow in android and iOS devices from Google and Apple play store. Once you don't want to keep it, you can uninstall AVG Antivirus Free from your computer.
AVG Antivirus Advantages
AVG Antivirus software works with artificial intelligence tools that identify the working patterns, caution symbols of malware on your system as well as online. AVG Antivirus Free has so many features, and it often used to protect the unwanted malwares and virus from your devices. Some of few advantages are given below:
• AVG anti-virus has stopped all types of viruses, spyware and other malwares
• Scan your PC data files frequently and increase the system speed
• AVG anti-virus has block the unsafe links, unwanted downloads & unsafe email attachments
• AVG always keep hackers away with improved firewall protection
• You always get real time security updates
• AVG provides secure online banking & shopping
• AVG always blocks spam, scams and phishing emails
• AVG supports all types of OS like Windows, MAC, Android & iPhone versions
• Install unlimited computers and devices
AVG Antivirus Features and Usability
Before you want to know how to uninstall AVG Antivirus Free completely from your computer, just read about a details about its features in the following content. AVG antivirus has available for FREE version with limited features and the Pro version has the unlimited features, so you can easily customize the options that is allowed you to choose based on your usability.
File Shredder feature
AVG free version has come with a file shredder feature that allows you permanently smear file by using the same feature currently used in US defense.
Working on Passive Mode
AVG software will work as a backup, if you already have another anti-virus in your system. The passive modes enable it to operate as a backup security and it is not intrusive with basic antivirus plan. If AVG grabs some major program ignores, it will alert you instantly.
Controlling the scan system
AVG has a diversity of features to customize how it conducts the scans, you can schedule the scans for specific times, adjusting the strength of scans to minimize the impact on your computer speeds and you can exclude the specific files, if you don't want to scan.
New updates
AVG software scans and recognizes as new malware pops up on a daily usage and it's not only blocked the new threats when they attack. AVG updates are available for all paid users.
AVG supports Mobile antivirus
AVG also supports the mobile versions like Android, iPhone; so you can lock your private applications, personal photos from unwanted malwares and hackers.
Disadvantages of AVG Anti-virus
AVG anti-virus has some disadvantages that will impact the performance.
No Parental controls
AVG program does not have the options for parents to block the unwanted websites or content from their kid's devices automatically and manually.
Free version validation
AVG provides free version with limited features and the features doesn't meet all your expectation and the free version validity is 30 days only.
Black user interface
When you run AVG software, you can see the black background with green color text interface, no one can like the dark color scheme interface and it doesn't pretty look good.
No automatic USB scan
AVG doesn't support the USB drives, when you plug in the system and it doesn't begin the automatic USB scans, you have done it manually. There is no automatic scanner option.
Conclusion
AVG software has lot of merits and demerits, you can skip the demerits, you only consider the protection and its user friendly approaches. AVG is trusted anti-virus software that never allows the malware and spyware to your system. If you want to try begins with the free version, this good anti-virus software always protect the confidential data that is more important for each computer and mobile users. Of course, if you want to uninstall AVG Antivirus Free completely from your computer, it is okay. You can try the below method to remove it away.
How to Uninstall AVG Antivirus Free Completely from Windows
Uninstall AVG Antivirus Free Manually on Windows 10 (For Advanced Users Only)
Step 1: Uninstall AVG Antivirus Free itself. (Choose one of the three options to follow)
a) Uninstall it from Start menu.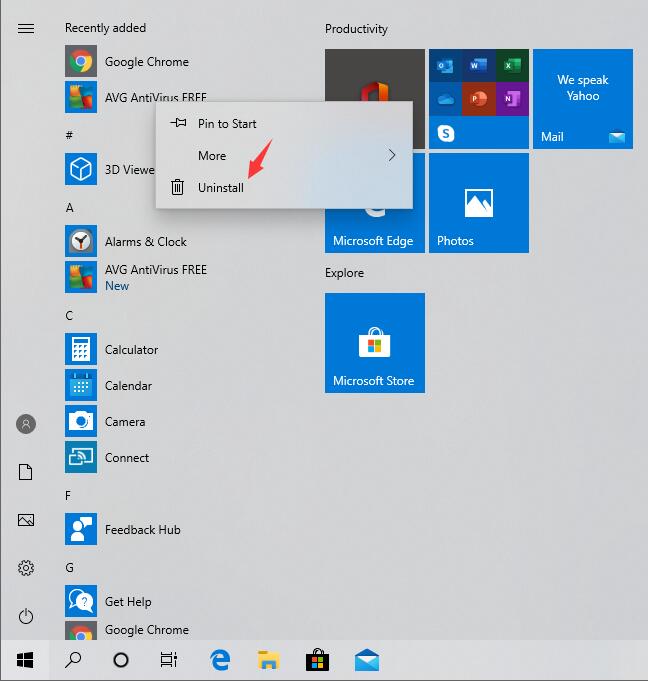 b) Click Start menu -> choose Settings (the gear in the left) -> System -> Click Apps & Features. Highlight AVG Antivirus Free and select Uninstall.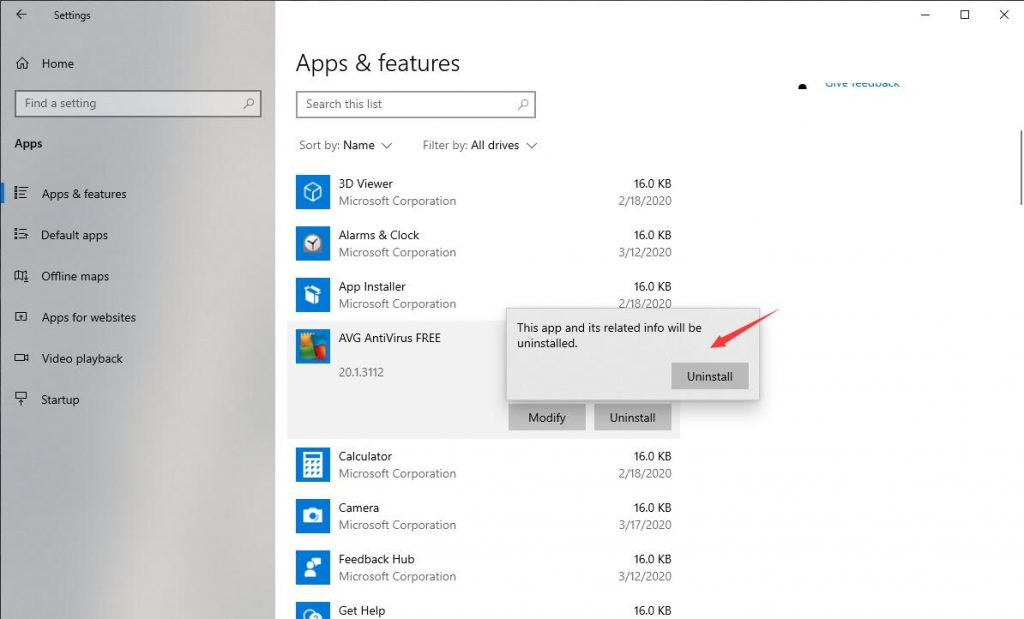 c) You also can uninstall AVG Antivirus Free by using Add/Remove Programs feature in Control Panel. Follow the tips on the picture below -> Remember to select AVG Antivirus Free and click Uninstall.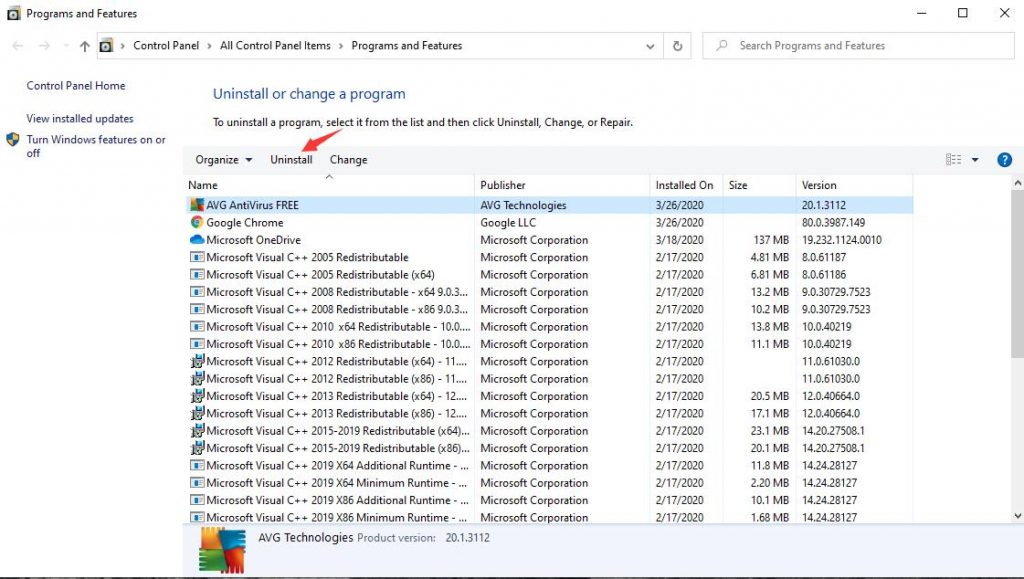 Step 2: Get rid of AVG Antivirus Free leftovers manually. (IMPORTANT STEP)
*For added protection, please back up the registry before you modify it.*
Check the following folders and delete associated files first.
C:\Program Files (x86)\AVG Antivirus Free
C:\Users\[Your User Name]\AppData\Roaming\
C:\ProgramData\Microsoft\Windows\Start Menu\Programs\Startup
Next, you have to get rid of AVG Antivirus Free entries from Windows registry.
Press Windows + R, and type in regedit in RUN box, then press Enter. It'll open Registry Editor.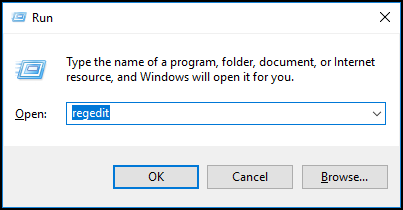 Navigate to the Registry key: (You do this by clicking on the plus sign next to each key in the path to expand the path below it. )
HKEY_LOCAL_MACHINE\Software\Microsoft\Windows\CurrentVersion\Uninstall.
HKEY_LOCAL_MACHINE\SOFTWARE\Microsoft\Windows\CurrentVersion\Uninstall\ (For 32-bit system users)
HKEY_LOCAL_MACHINE\SOFTWARE\Wow6432Node\Microsoft\Windows\CurrentVersion\Uninstall\ (For 64-bit system users)
Kindly Reminder: You are welcome to contact online support if you need any assistance, just click the below button for help.
Uninstall AVG Antivirus Free Automatically with a Third-Party Uninstaller (RECOMMENDED)
Step 1. Download and install Uninstallor onto your desktop, next launch it. Select "AVG Antivirus Free" then click on "Analyze Now" to process the scanning.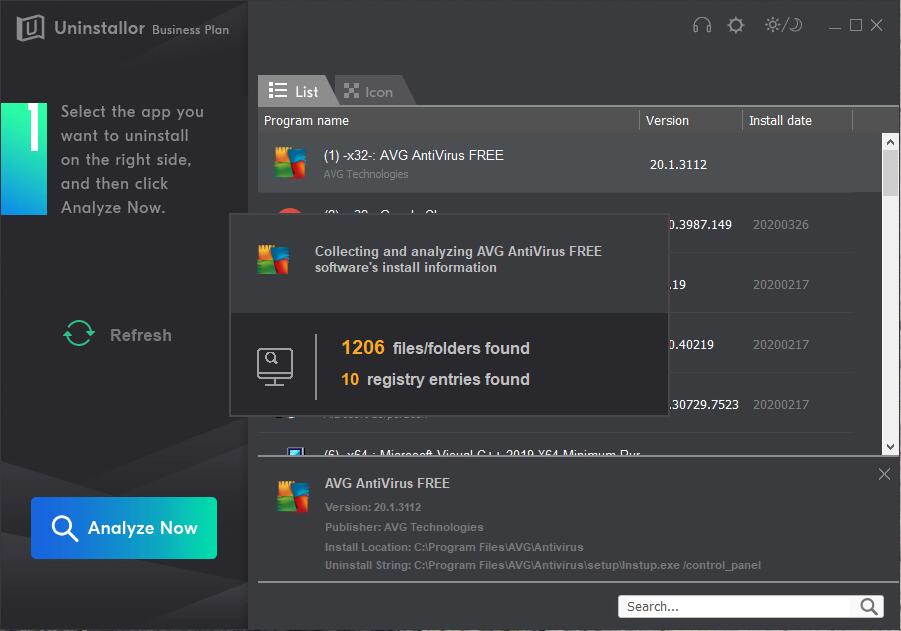 Step 2. Uninstall Now.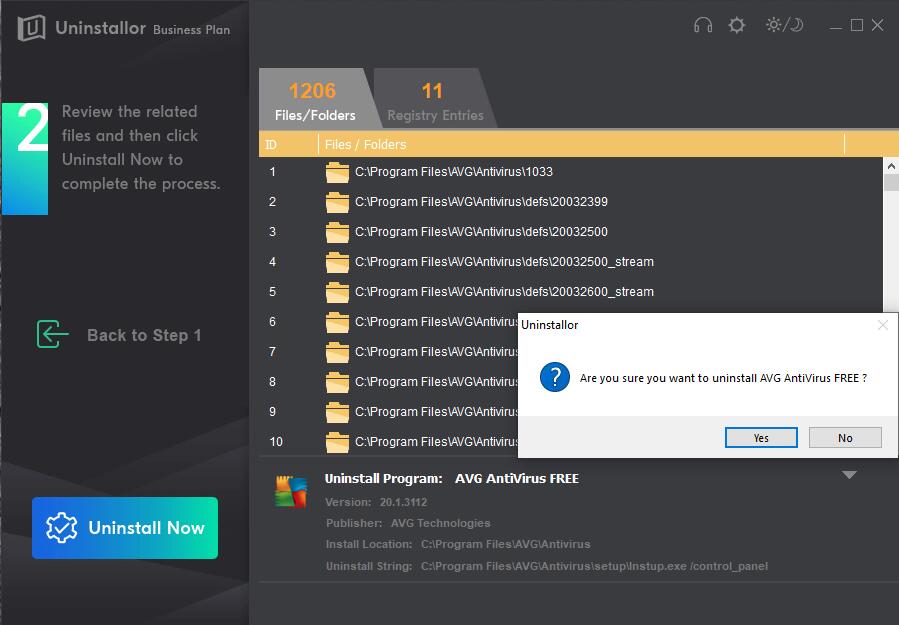 Step 3. Remove Now. Click on "Remove now" button to completely remove all leftover files and registry entries of AVG Antivirus Free.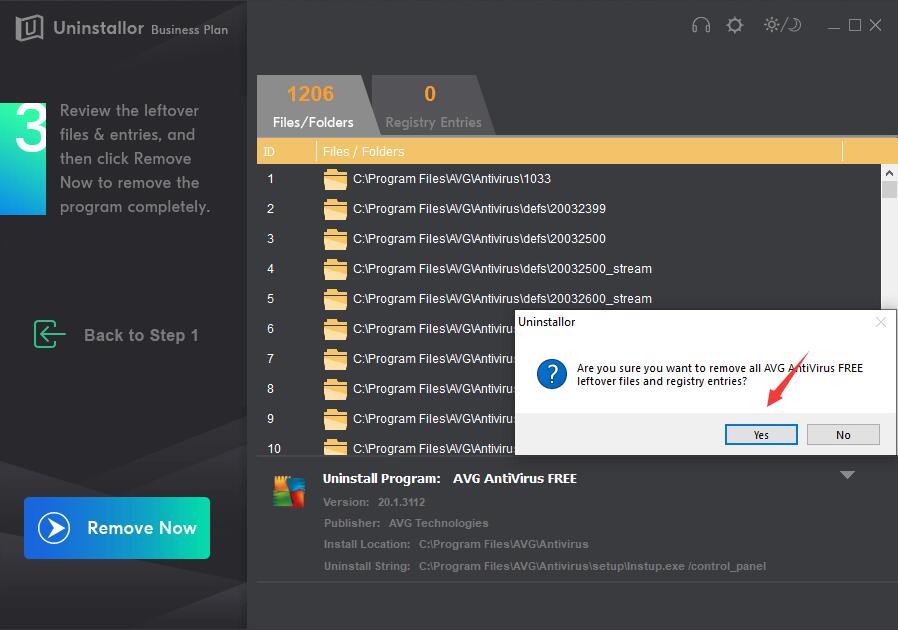 AVG Antivirus Free has been uninstalled completely.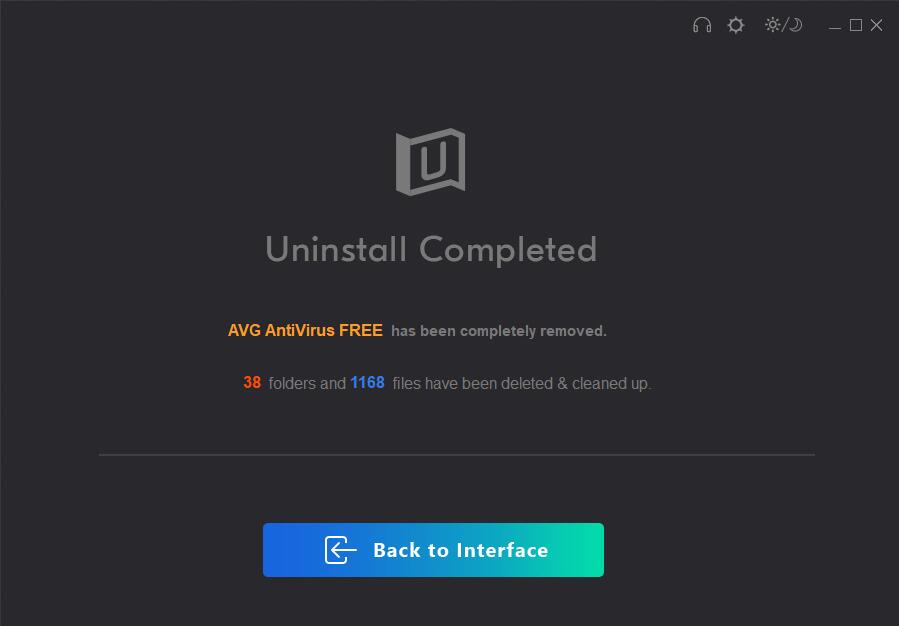 Kindly Reminder: If you can't remove/uninstall AVG Antivirus Free from your computer successfully like Windows or Mac, you are suggested to try Uninstallor, which will help you do all things.
Published by Tony Shepherd & last updated on April 16, 2020 6:46 am