Before you want to find a way on how to uninstall Avast Free Antivirus completely from your computer in Windows OS or Mac OS, you are suggested to take a look at a complete review about Avast antivirus software, next decide if you still want to remove the antivirus away. Every user of the computer understands the importance of using the best antivirus product. However, they get confused with loads of antivirus solutions on the market. They can focus on everything about the antivirus program Avast and make a better-informed decision about how to secure their computer.
Free and paid versions of the antivirus products of Avast get ever-increasing popularity all through the world in recent years. You can focus on the main attractions, benefits and drawbacks of all these facilities as comprehensive as possible. You will get the most expected guidance and make essential changes in your approach to find and use the appropriate antivirus product.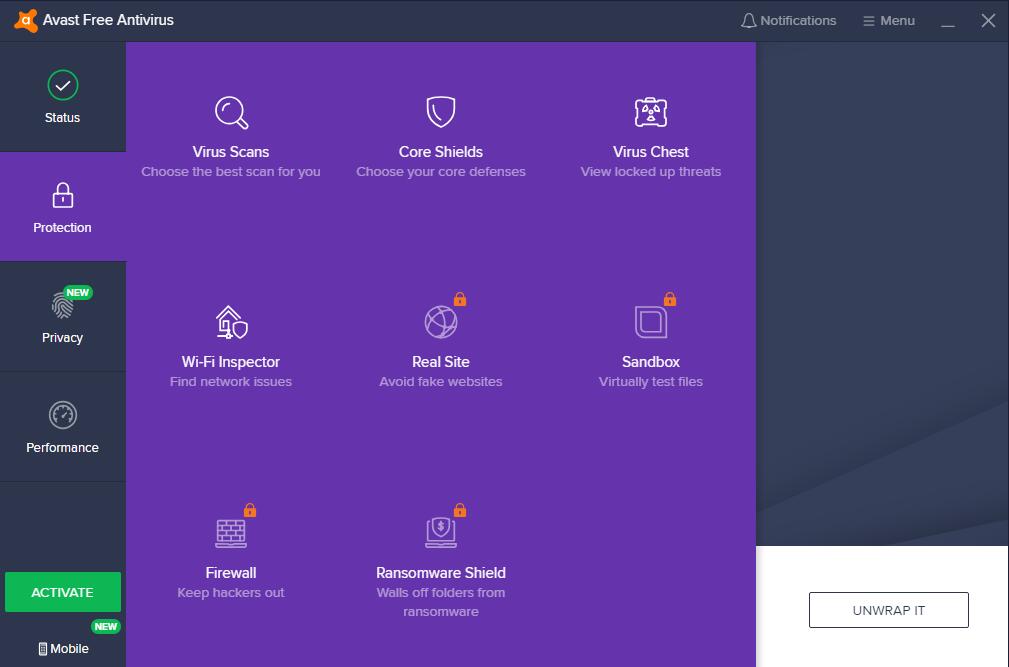 Focus on the Basics of the Avast Antivirus Software
All users of the computer nowadays make certain that the free antivirus program only provide the basic protection for their computer. They search for the reasonable price of paid version of the antivirus software known for its modern features. Beginners and regular users of both free and paid versions of the Avast Antivirus software these days get 100% satisfaction. This is because they fulfil expectations about the successful approach to protect their computer.
If you access and use the Avast Free Antivirus software, then you can get the excellent antivirus protection and other facilities. For example, you can get the browser protection, password manager and the network security scanner. You can focus on every aspect of this program and get an overview about how to reap benefits from a proper use of this product.
You may wish to use the antivirus software for personal purpose at no cost. You can prefer and use the Avast Free Antivirus software. This is worthwhile to upgrade to the premium version Avast Premium Security when you want to use this antivirus product in the business setting. This premium version provides numerous benefits for every paid user.
There are loads of apps in the antivirus category at this time. You can prefer and invest in the cheap and best antivirus program to get the desired computer protection without complexity. All users of the Avast Free Antivirus these days get the maximum comfort and satisfaction as they do not get any annoying ad about the software upgrade.
Why Choose and Use the Avast Antivirus Software?
Many individuals throughout the world prefer and use the Avast antivirus software and get more than expected benefits. They get the malicious URL filtering and facilities for scanning their computer for network vulnerabilities. They also get some welcome bonus extras along with a limited password manager.
Readers of reviews of the premium and free versions of the antivirus products of the Avast on online can get the most outstanding assistance. They not only make clear doubts regarding the antivirus product and make essential changes in their approach to choose the antivirus product, but also get an array of benefits from an efficient use of such antivirus product. You can focus on every aspect of this antivirus product and improve your expertise about how to get the desired benefits from this product.
Individuals who upgrade from the Avast Free Antivirus to the Avast Premium Security suite can get loads of additional facilities like the secure file deletion, spam filter, firewall, and the webcam hijacking protection. They are happy about an additional anti-ransomware layer in this software package for the purpose of preventing any unauthorized app from modifying any file in the chosen folder.
The software updater facility is also helpful to automatically find and install any missing security patch. You may like to know about some unusual extras of this antivirus software package at this time. This package includes a sandbox to run any suspicious app. Real site feature of the Avast reduces the possibilities that hackers use the DNS trickery for redirecting users to malicious websites. So get more details about this software and make sure that if you keep using it or just want to remove Avast Free Antivirus away from your system after testing its service.
Choose and Invest in the Best Antivirus Software
You may have planned to invest in and use the antivirus program for protecting the multiple devices in your business environment. You can prefer and buy the multi-device deal of the Avast Premium Security rather than the single device license. This is because you can use this package to protect up to 10 devices throughout the year as expected.
It is the right time to concentrate on the Avast Ultimate and make certain about how this program gives different benefits for every user. This product adds a valuable extra in the unlimited access to the SecureLine VPN of the Avast. Though this product has loads of exclusive features and facilities, this product only supports a single device. You can consult with specialists in this system and make clear doubts regarding its features and facilities.
As a beginner to the antivirus product collection on online, you may get confused with several options and think about how to be successful in your approach to pick and use the suitable antivirus product. You can prefer and use the free version of the Avast antivirus software hereafter. This is because you can get an overview about the real worth of this program and make a good decision to buy the suitable antivirus software.
The free version of this popular antivirus software not only just searches for malware and viruses, but also detects out-of-date software, network issues, malicious browser add-ons, weak passwords and unprotected sensitive documents.
Make a Well-informed Decision
Specialists in the antivirus software products nowadays make certain that Avast is efficient for directing and mitigating the vectors like the drive by downloads and code injection attacks where malware propagates. High-quality features of the Avast detect any form of the modern malware and prevent such malware from even installing on the computer.
An automatic scan facility in this antivirus product usually finds and destroys such infection within a day. This software immediately finds the popular malware samples and quarantine and delete such malware. This product also detects any strange file which acts in the suspicious way. Once you have decided to make certain that malware does not get onto the computer, you have to prefer and use the best antivirus software Avast. If you have installed and used it for a few days and don't want it, and you are seeking an effective way on how to uninstall Avast Free Antivirus completely from your computer in Windows or Mac, you can try the methods below. It is working and very easy for our readers.
How to Uninstall Avast Free Antivirus Completely from Windows OS
Manually uninstall Avast Free Antivirus from Windows 10 (For Advanced Users Only)
Step 1: Uninstall Avast Free Antivirus itself. (Choose one of the three options to follow)
a) Uninstall it from Start menu.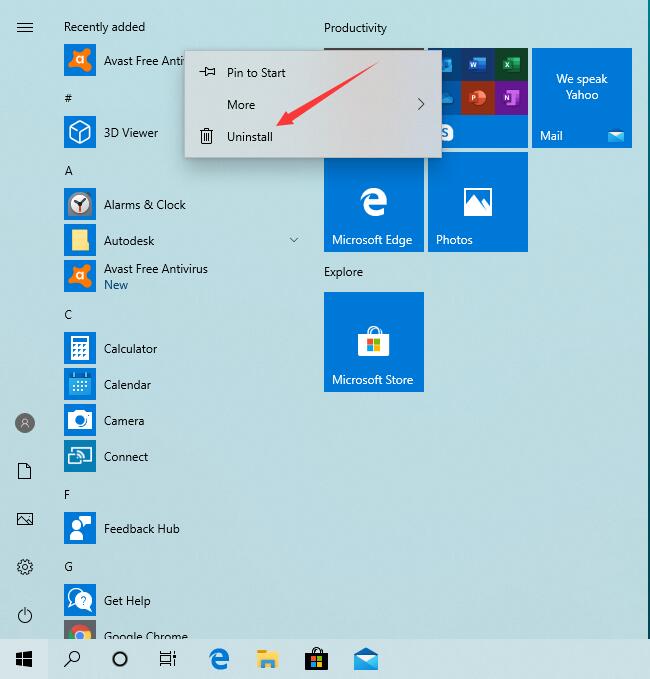 b) Click Start menu -> choose Settings (the gear in the left) -> System -> Click Apps & Features. Highlight Avast Free Antivirus and select Uninstall.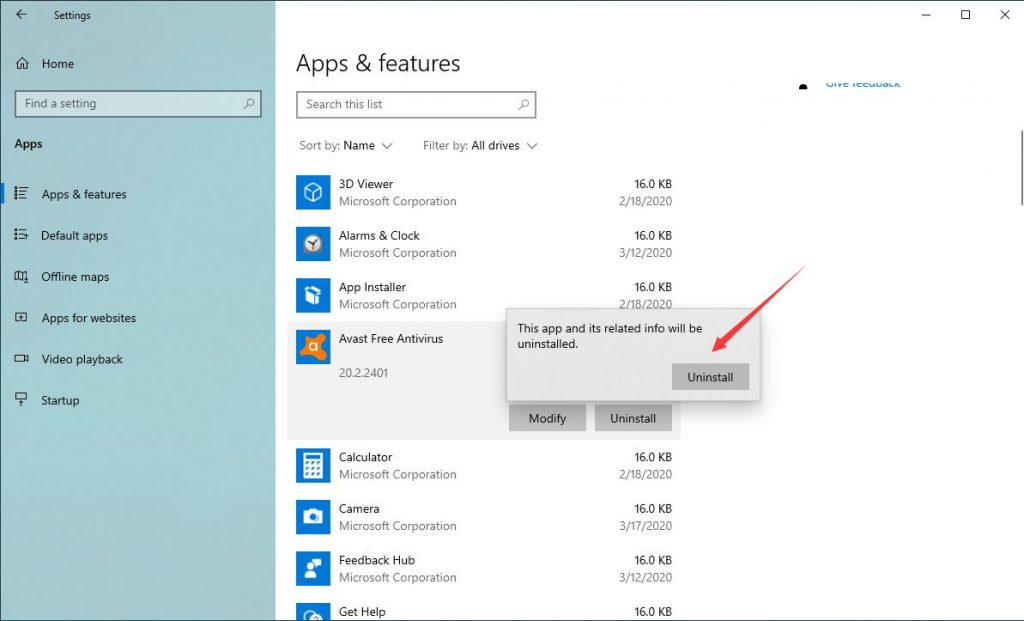 c) You also can uninstall Avast Free Antivirus by using Add/Remove Programs feature in Control Panel. Follow the tips on the picture below -> Remember to select Avast Free Antivirus and click Uninstall.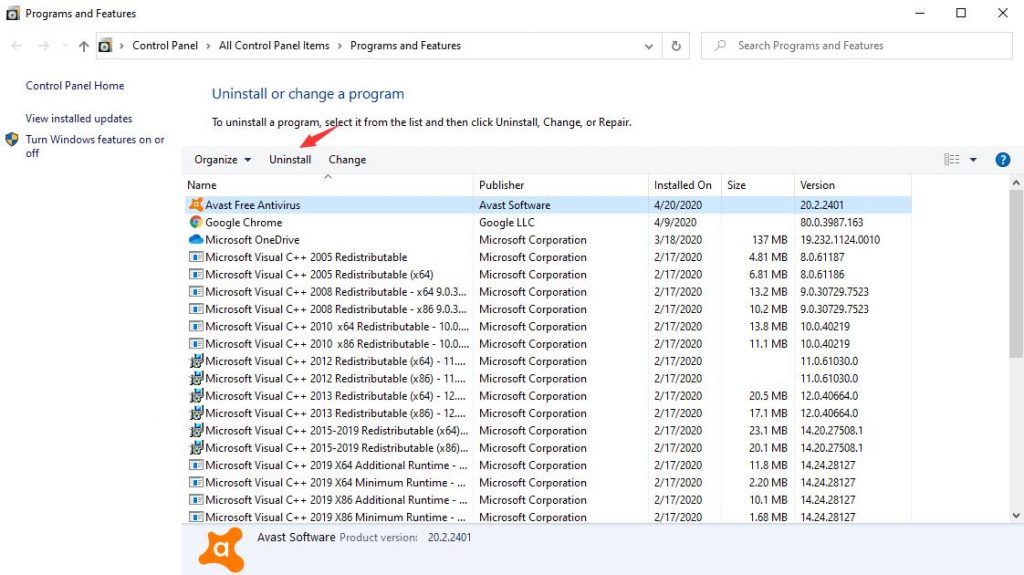 Step 2: Manually get rid of Avast Free Antivirus leftovers. (IMPORTANT STEP)
*For added protection, please back up the registry before you modify it.*
Check the following folders and delete associated files first.
C:\Program Files (x86)\Avast Free Antivirus
C:\Users\[Your User Name]\AppData\Roaming\
C:\ProgramData\Microsoft\Windows\Start Menu\Programs\Startup
Next, you have to get rid of Avast Free Antivirus entries from Windows registry.
Press Windows + R, and type in regedit in RUN box, then press Enter. It'll open Registry Editor.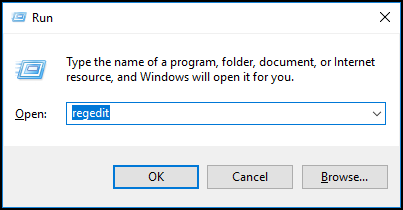 Navigate to the Registry key: (You do this by clicking on the plus sign next to each key in the path to expand the path below it. )
HKEY_LOCAL_MACHINE\Software\Microsoft\Windows\CurrentVersion\Uninstall.
HKEY_LOCAL_MACHINE\SOFTWARE\Microsoft\Windows\CurrentVersion\Uninstall\ (For 32-bit system users)
HKEY_LOCAL_MACHINE\SOFTWARE\Wow6432Node\Microsoft\Windows\CurrentVersion\Uninstall\ (For 64-bit system users)
Kindly Reminder: You are welcome to contact online support if you need any assistance, just click the below button for help.
Uninstall Avast Free Antivirus Automatically with a Third-Party Uninstaller (RECOMMENDED)
Step 1. Free Download the Uninstallor App and then install it in your system, next launch it. Select "Avast Free Antivirus" then click on "Analyze Now" to start.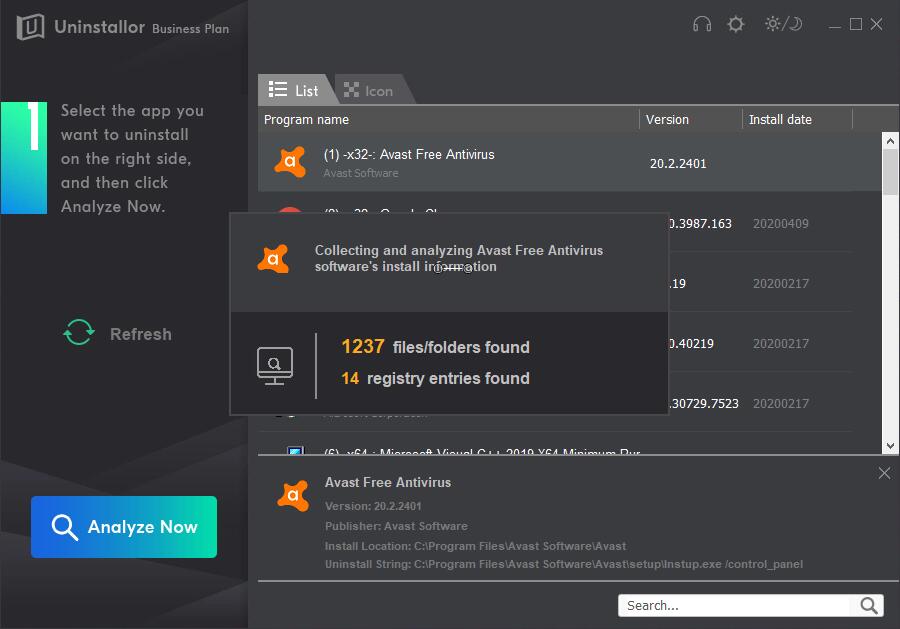 Step 2. Uninstall Now.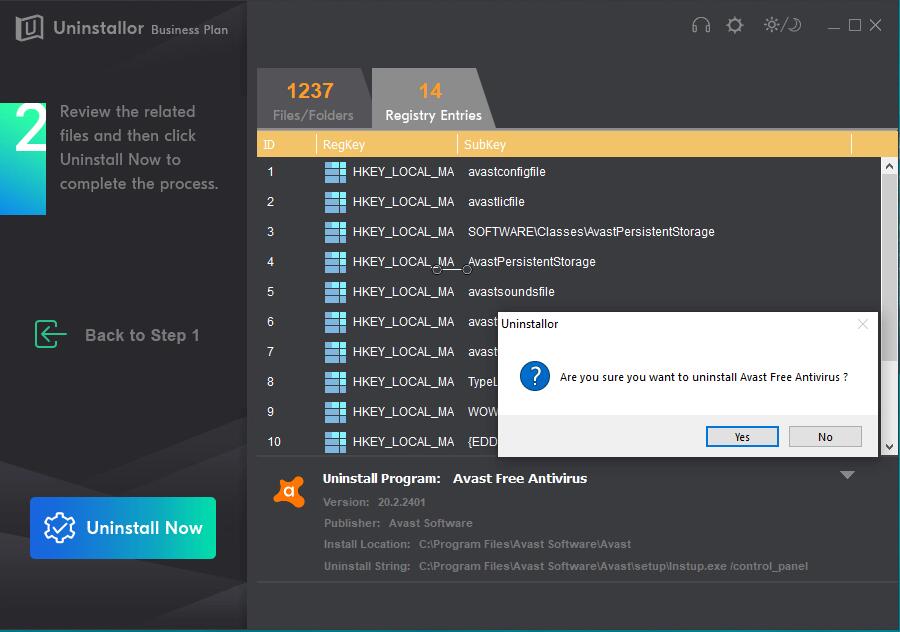 Step 3. Remove Now. Click on "Remove now" button to completely remove all leftover files and registry entries of Avast Antivirus.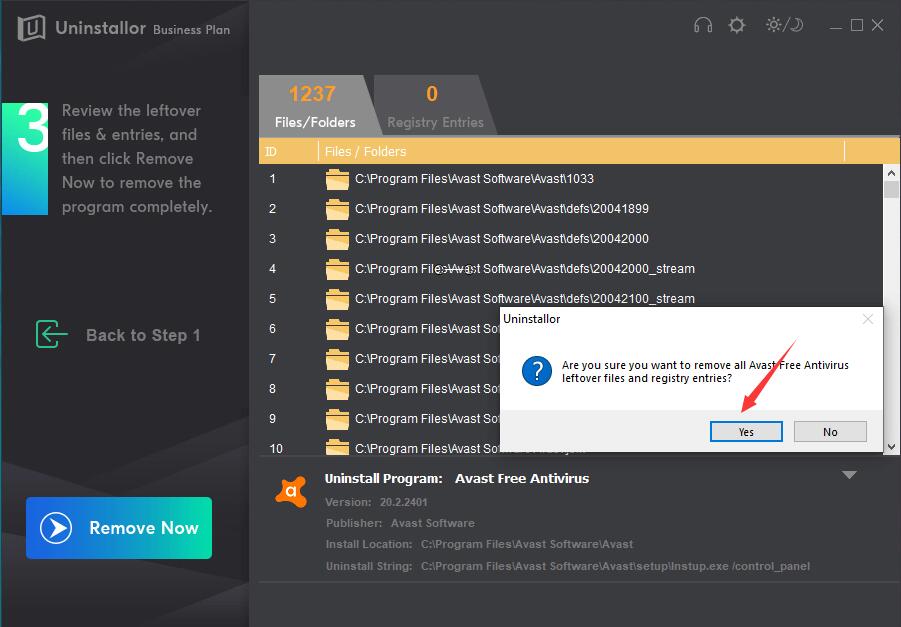 Uninstall Complete! Avast Free Antivirus has been uninstalled completely.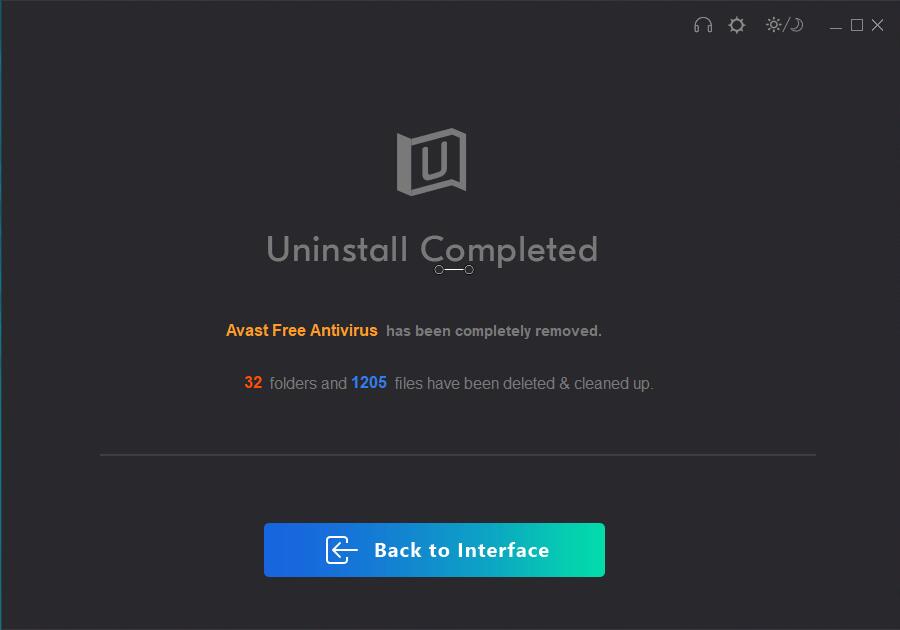 Kindly Reminder: If you can't remove/uninstall Avast Free Antivirus from your computer successfully like Windows or Mac, you are suggested to try Uninstallor, which will help you do all things.
Published by Tony Shepherd & last updated on April 21, 2020 3:41 am