What is Adobe Shockwave Player and how do you uninstall Adobe Shockwave Player from your computer? Can not remove Adobe Shockwave Player from your HP new computer in Windows 10 via control panel? What to do when getting the problems?
A Detailed Review about Adobe Shockwave Player
Adobe Shockwave Player is also known as Shockwave for Director and Macromedia Shockwave Player. It is freeware software plug-in in order to view the video games and multimedia files created on the Adobe Shockwave platform. Adobe Director is a developer and publisher of this plug-in on the internet. If you want to view such types of content on your computer or web page, you can download and install this shockwave player plug-in which ran DCR files. When it comes to the shockwave player, it supports basic vector graphics, raster graphics, audio, 3D graphics, and also the embedded scripting language called Lingo. There are hundreds of web based video games developed using this shockwave player plugin and published on the different websites.
Advantages of Adobe Shockwave Player
Shockwave player from Adobe is actually considered as the best browser plug-in especially for viewing the rich multimedia content. When you wish to play any online games, video files, or any audio files on your browser, it is really a good chance of using this adobe shockwave player which is a premium online action plug-in. After the installation of this plugin, you have to restart your browser in order to enjoy the extensive range of multimedia benefits. It is really very easy to use and the most effective plugin for all versions and extensions of the video and audio files. It gives a wonderful result of fast searches on the browser and you can also watch the movie viewing on browser with the help of this plugin. All rich graphics of the online games can be enjoyed when you use this kind of adobe shockwave player plugin.
It includes the wonderful 3D acceleration effect thus it is really a great plugin for all. It also consumes only the lesser amount of memory and CPU for the long time usage. You can find the different versions of the shockwave player plugin from Shockwave 1 to Shockwave 12.3. According to your system and other needs, you can download and install any kind of the adobe shockwave player to natively run on your Windows or Mac operating system. It is also highly compatible with the leading and popular web browsers like Google Chrome, Opera, Firefox, and Internet Explorer. When you would like to install the latest version of shockwave player from adobe platform, everyone is highly suggested going to the version 12.2.5r195. The following are the most considerable features and benefits of adobe shockwave player and you need to know very well before you are going to use, and there are some guides for users to uninstall Adobe Shockwave Player completely when they are not satisfied with the software.
Keeping All Animations Alive Over the Web
• Adobe Shockwave Player is actually the most comprehensive tool that helps to keep animations over the web alive.
• Similarly, it enables all users to completely enjoy almost all forms of the virtual entertainment.
• Even though the new users can't able to use this plugin, those companies which have the existing enterprise licenses for using this shockwave player plugin can get the regular support until the end of your current contracts.
• If you install this plugin, it is really awesome to have the best level of entertainment media on the internet.
• Shockwave player from Adobe is actually the designated tool for the deployment of the highly demandable 3D online applications, interactive websites or online advertising, complex real world physics simulations, or online games.
Perfectly Improves Your Visual Experience
Adobe Shockwave player actually offers all types of users a possibility of enjoying the top quality 3D graphics of interactive applications or presentations involving the important amount of calculating or charting. It is mainly used for its web based gaming deployment capabilities. This plugin usually offers the wonderful range of playback support for all applications developed using a superior tool named Adobe Director mainly used for providing the support for different network protocols and hardware accelerated 3D graphics.
Keeping Your Settings Up-to-date
If the users wish to ensure that you can open all the recently released Adobe Director applications, you should need to update your shockwave player. It is quite simple as any kind of application required this plugin to run and also redirect the users to the latest plugin version.
Easy Integration and Deployment with Your Internet Browser
The installation of adobe shockwave player plugin only takes a few seconds in order to allow enjoying the particular online multimedia content. There is actually no UI (User Interface) for the settings or application you have to worry about. It completely integrates in your web browser and can always be disabled in the various sections of plugins.
Disadvantages
When it comes to the platform support of this plugin, it gives the best support for classic Mac OS and 32 bit Windows OS in general. It is not actually supporting Linux operating system. If you want to install this plugin for Linux, you have to install it with CrossOver. By this way, there is also a possibility to use the shockwave player in the native versions of Firefox browser with the use of pipelight plugin. When it comes to the adobe shockwave player, it is the web standard for the most powerful multimedia playback. It also allows the users to view both the flash and shockwave interactions over the internet. When you want to make use of this plugin for your Windows XP, 7, 8, and Vista platforms, you have to install shockwave 12.1 plugin version which supports both the 32 bit and 64 bit Windows operating system. Recently, this plugin has been discontinued by the developer and shockwave 12.3 was the last update before its overall discontinuation.
Unlike this app? You can uninstall Adobe Shockwave Player completely from your computer by following guides below.
How to Uninstall Adobe Shockwave Player from Windows Operating System
Manually Uninstall Adobe Shockwave Player from Windows 10 Step by Step (For Advanced Users Only)
Step 1: Uninstall it from startup.
a) Can not find it from start menu, so this step won't work, go ahead to other guides.
b) Uninstall Adobe Shockwave Player via the Apps & Features. Just input Apps into search box, then choose "Settings", and then click on "Apps", select the Free Investment Calculator app then click on "Uninstall".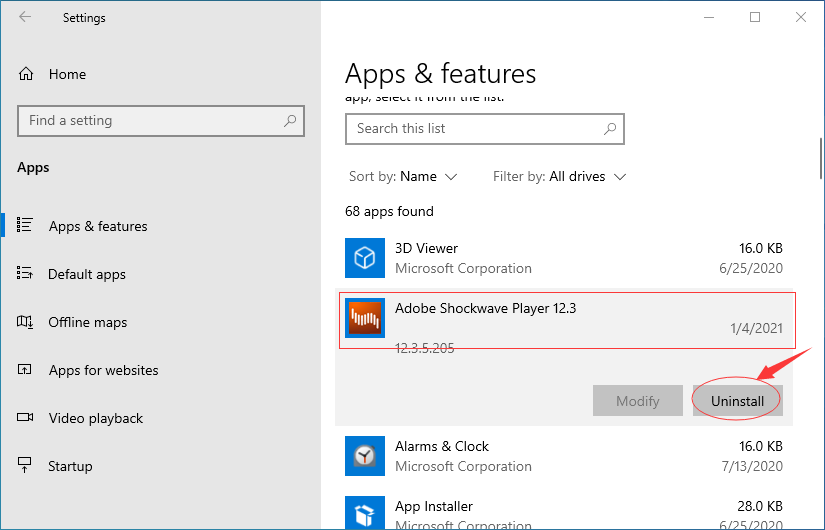 c) Uninstall the software via Control Panel. Input "Control Panel" into search box then click on it, click on "Uninstall a Program", click on it then click on "Uninstall".


Step 2: Manually clean all leftovers from regedit. (IMPORTANT STEP)
*For added protection, please back up the registry before you modify it.*
Check the following folders and delete associated files first.
C:\Program Files (x86)\xxx.EXE
C:\Users\[Your User Name]\AppData\Roaming\
C:\ProgramData\Microsoft\Windows\Start Menu\Programs\Startup
Next, you have to remove all its entries from Windows registry.
Press Windows + R, and type in regedit in RUN box, then press Enter. It'll open Registry Editor.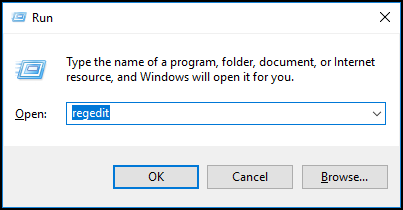 Navigate to the Registry key: (You do this by clicking on the plus sign next to each key in the path to expand the path below it. )
HKEY_LOCAL_MACHINE\SOFTWARE\Microsoft\Windows\CurrentVersion\Uninstall\ (For 32-bit system users)
HKEY_LOCAL_MACHINE\SOFTWARE\Wow6432Node\Microsoft\Windows\CurrentVersion\Uninstall\ (For 64-bit system users)
Kindly Reminder: You are welcome to contact online support if you need any assistance, just click the below button for help.
Automatically Uninstall Adobe Shockwave Player with a Third-Party Uninstaller – Uninstallor (RECOMMENDED)
Step 1. Download and install Uninstallor, launch it then find and click on "Adobe Shockwave Player", click on "Analyze Now" to start.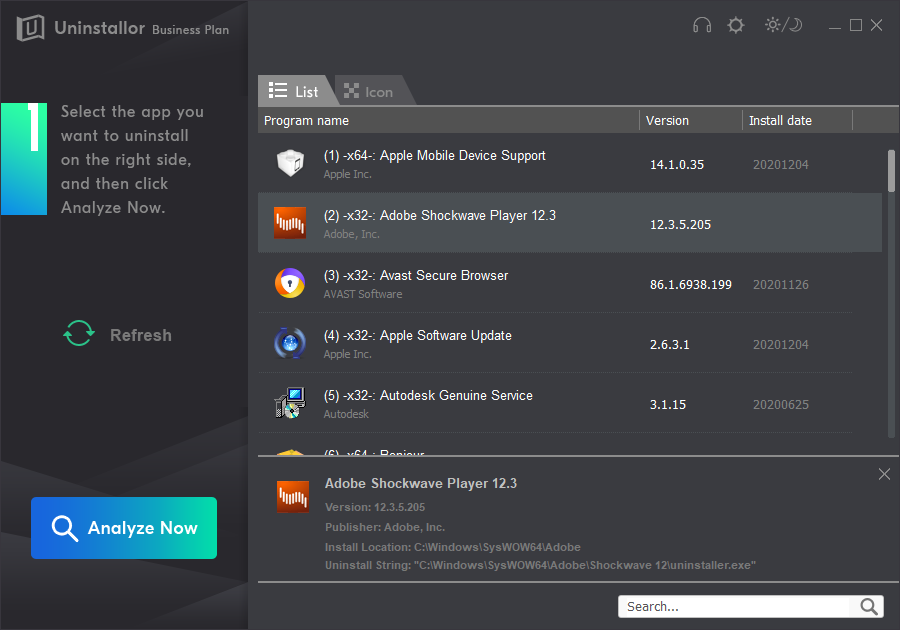 Step 2. Uninstall Now. Click on this button and follow the instructions to go further.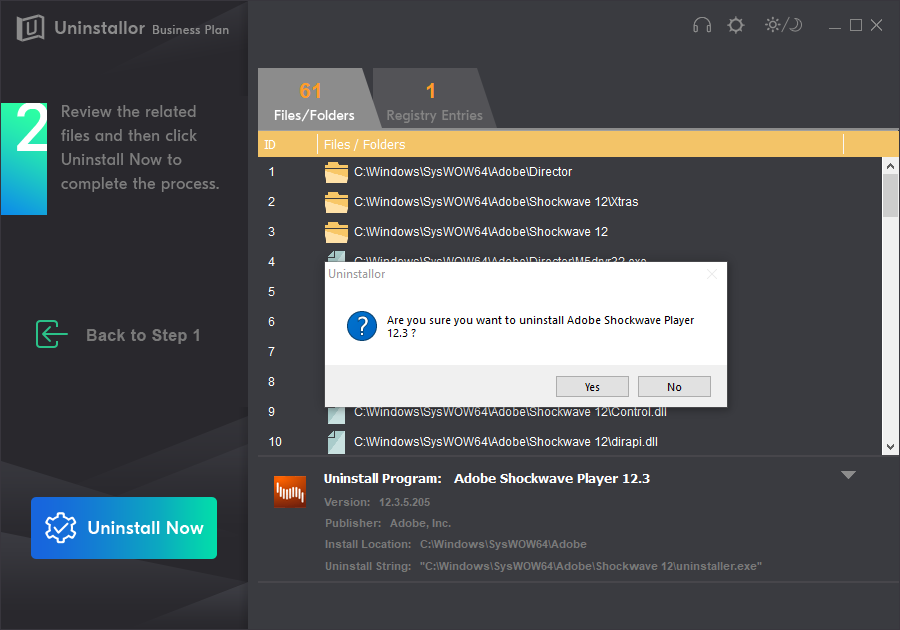 Step 3. Remove Now. Remove all leftovers of Adobe Shockwave Player from your computer.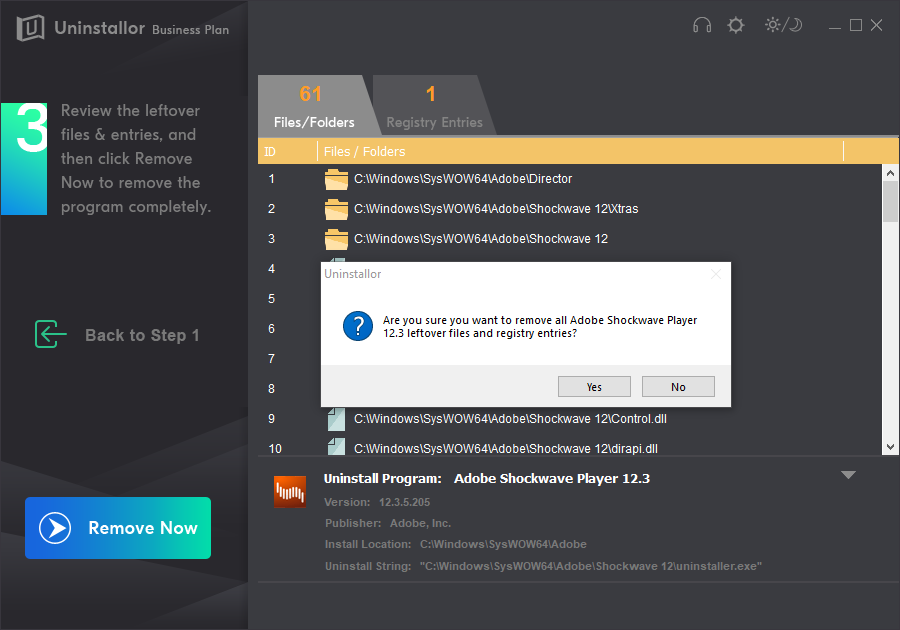 Uninstall Completed!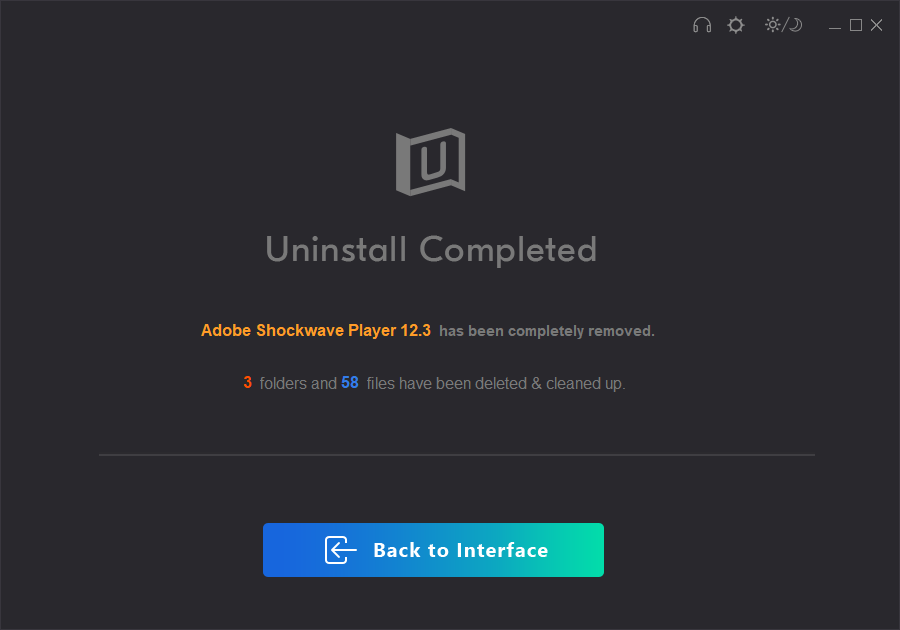 Conclusion
Taking all these things into consideration, adobe shockwave player is actually must have plugin for all kinds of the internet browsers. It is especially required if the users want to have an active internet connection. It is one of the most significant ranges of fundamental elements in order to enable the different forms of multimedia entertainment on the World Wide Web platform. Thus, it can able to successfully deliver intended content and also for the users to be able to enjoy all these features.
Kindly Reminder: If you don't know how to uninstall Adobe Shockwave Player completely from your Windows computer or Macbook, you are suggested to use Uninstallor, which will help you do all things.
Published by Tony Shepherd & last updated on January 20, 2021 3:53 am