Do you know about Adobe Flash Player and Adobe Flash Player 11 ActiveX? How to uninstall Adobe Flash Player and the ActiveX completely from Windows 10? Let us know about the features, advantages and disadvantages of Adobe Flash Player first before you find and effective way to remove it.
Adobe Flash Player is a comprehensive tool designed for the purpose of creating, editing and viewing games and video files. This program lets users to browse applications and websites rich in the multimedia content with ease. Smart and successful developers make use of this software for creating content like animations in the best possible ways. You can prefer and use the Adobe Flash Player as full-fledged software of plugin as it offers impressive video and audio playback for the complete multimedia content. Some of the popular file formats supported by this program are AAC, MP3, and H.264. The best Flash applications can collect the feedback forms, online games, data, photo slide show, charts, movies, audio, shopping cards, and web applications associated with the server-side scripts.
About Adobe Flash Player
Adobe Flash Player is the first-class multimedia platform designed for adding animation, video and interactivity. All users of this powerful authoring tool get a good improvement in their way to design and development online games and advertisements. They are happy to use this platform because its cross-browser compatibility nature. Once you have installed the Adobe Flash Player on your computer, you can view the Flash content as easy as possible. Adobe Flash Player is designed to make its users satisfied in different aspects such as replacing the text elements on the HTML web pages with the Flash equivalents. It supports the animation, audio, interactivity, and advanced video handling. Though this program is a vector-based one, it lets the inclusion of bitmaps where required.
Individuals with interests to make their website expressive and interactive further can prefer and use the Flash technology in the successful way. They are satisfied with the vector-based Flash which is lightweight choice for the animation with the small file size and express anything in an attractive and efficient way. Adobe Flash is also known as the Macromedia or Shockwave Flash. This software platform supports its users to make browser games, mobile apps, desktop applications, animation, and vector graphics in the best possible ways. Advertising professionals worldwide make use of this software and get the desired enhancement in their way for displaying the text and graphics to provide the best-in-class animations. They use this software for streaming audio and video clips and enhance every aspect of the website. They are happy to use this software to get an expressive and interactive outlook. They take advantage of interactive features offered by this software like the movies, games, feedback forms, and other important things for the purpose of attracting all new visitors. They make use of the browser compatibility design of this software. They get loads of favourable things from the flexibility and diversity where audio and video playing is concerned. If you do not want to keep it, you can uninstall Adobe Flash Player immediately from your system in Windows 10 by following the removal guides here.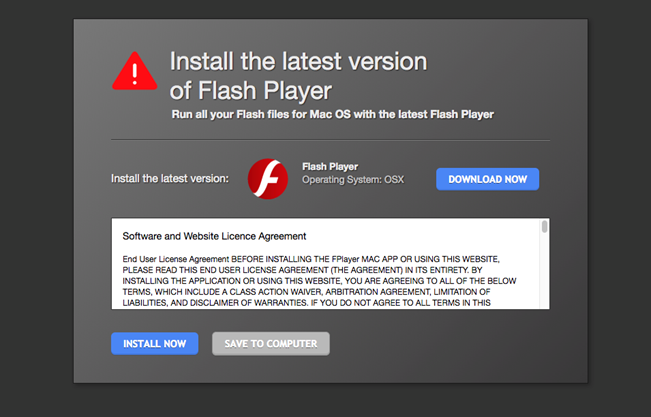 Advantages
There are many advantages for all users of the Adobe Flash Player. However, the main advantages are as follows:
• It supports advanced interactivity
• It integrates well
• Most web users use and recommend the Adobe Flash
• It has an extensive community
• It works with different bandwidth requirement
Adobe Flash Player provides every visitor with audio, animation, and modern forms of content interactivity. This software helps all visitors to engage with the content in the desired way instead of just looking at the cool graphics and reading words. This software works well with modern web technologies, except certain Apple products in particular mobile devices of the Apple like old models of iPad and iPhone. Many people worldwide make use of the Adobe Flash Player nearly a decade. The best web browsers have a version of the Flash which gets automatically installed when the user authorizes them for the system.
An extensive system of community behind the Adobe Flash Player plays a leading role behind its improved success rate and increased level of satisfaction to all users. Developers in this community make low-cost and no-cost pre-built files with an aim to assist other developers and users to get their websites up and running in the best possible ways. This software works with different bandwidth requirements. Users of the rural modem connection over the phone line and modern broadband connection can get different benefits from the Adobe Flash Player.
Disadvantages
As a beginner to the Adobe Flash Player, you have to know about everything related to this software. It is the suitable time to take note of the main disadvantages for all users of this software.
• Sometimes interactivity drives everyone away from required content
• It may not enough for content promotion
• Adobe Flash is proprietary
• It discourages the website usability
• The Flash design tends to be the foremost thing to attract all visitors
Users of the Internet in recent years demand a certain experience on all websites they visit. They feel comfortable when there is a good interactivity with content. If you have too much Flash content in your website, then such type of interactivity drives visitors to your website away from the required content. Having great visual graphics with the help of the Adobe Flash Player does not mean your website have great content. You have to use the Flash and introduce your brand to the target people instead of making the Flash main component of your business. You must pay to play the Adobe Flash Player. This software causes developers to become lazy with their user experience and forget simple things in particular the menu navigation. The design of the Flash is the first thing which attracts visitors. If the Flash leaves a negative impression at the first time, then visitors to the website bounce devoid of looking at the content.
Since Adobe has stopped supporting Flash Player after December 31, 2020 and the company will block Flash content from running in Flash Player beginning January 12, 2021, we strongly recommends all our readers here uninstall Flash Player immediately to help protect your systems. You can uninstall Adobe Flash Player immediately from your system by using the removal guides below.
How to Uninstall Adobe Flash Player from Windows Operating System
Manually Uninstall Adobe Flash Player from Windows 10 Step by Step (For Advanced Users Only)
Step 1: Uninstall it from startup.
b) Uninstall Adobe Flash Player via the Apps & Features. Just input Apps into search box, then choose "Settings", and then click on "Apps", select the Adobe Flash Player app then click on "Uninstall".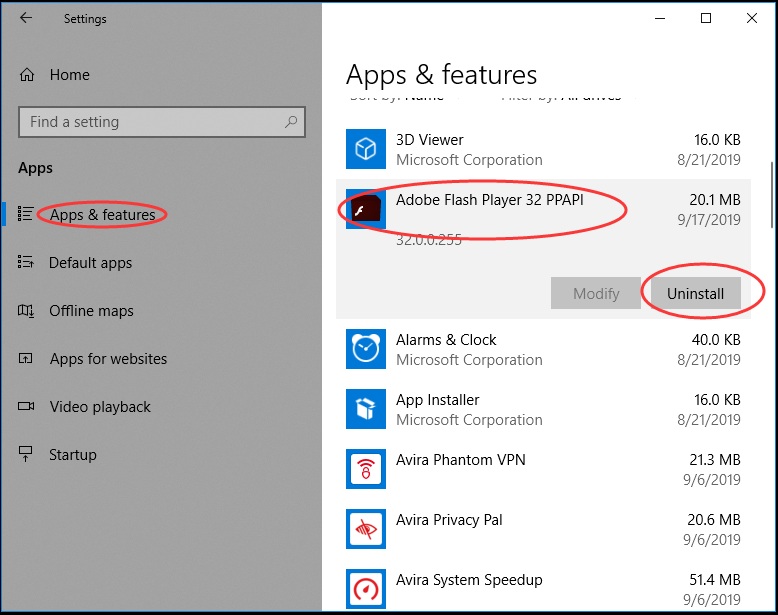 c) Uninstall Adobe Flash Player via Control Panel. Input "Control Panel" into search box then click on it, click on "Uninstall a Program", click on it then click on "Uninstall".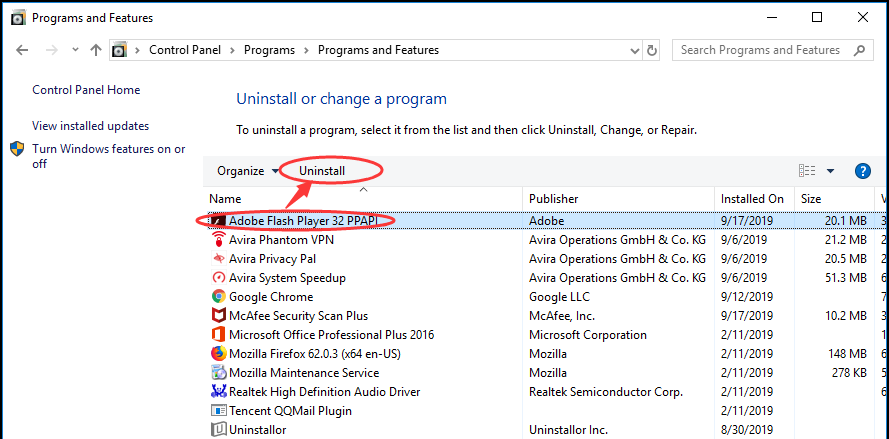 Step 2: Manually clean all leftovers from regedit. (IMPORTANT STEP)
*For added protection, please back up the registry before you modify it.*
Check the following folders and delete associated files first.
C:\Program Files (x86)\Adobe Flash Player.EXE
C:\Users\[Your User Name]\AppData\Roaming\
C:\ProgramData\Microsoft\Windows\Start Menu\Programs\Startup
Next, you have to remove all its entries from Windows registry.
Press Windows + R, and type in regedit in RUN box, then press Enter. It'll open Registry Editor.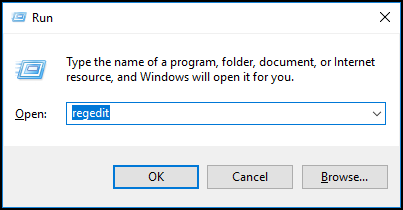 Navigate to the Registry key: (You do this by clicking on the plus sign next to each key in the path to expand the path below it. )
HKEY_LOCAL_MACHINE\SOFTWARE\Microsoft\Windows\CurrentVersion\Uninstall\ (For 32-bit system users)
HKEY_LOCAL_MACHINE\SOFTWARE\Wow6432Node\Microsoft\Windows\CurrentVersion\Uninstall\ (For 64-bit system users)
Kindly Reminder: You are welcome to contact online support if you need any assistance, just click the below button for help.
Automatically Uninstall Adobe Flash Player with a Third-Party Uninstaller – Uninstallor (RECOMMENDED)
Step 1. Download and install Uninstallor on the desktop, launch the app then find and click on "Adobe Flash Player", click on "Analyze Now" to start.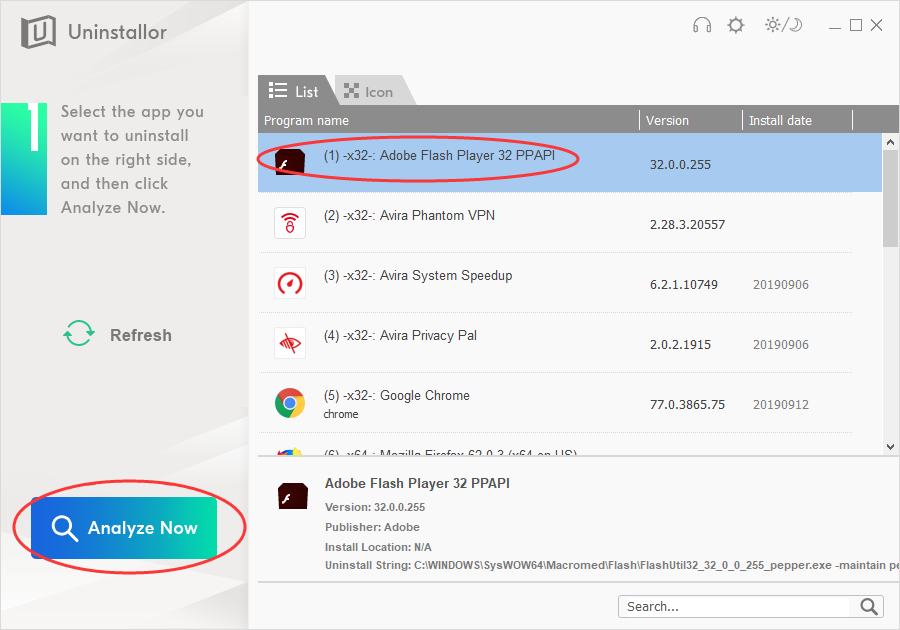 Step 2. Uninstall Now. Click on this button and follow the instructions to go further.

Step 3. Remove Now. Remove all leftovers from your system.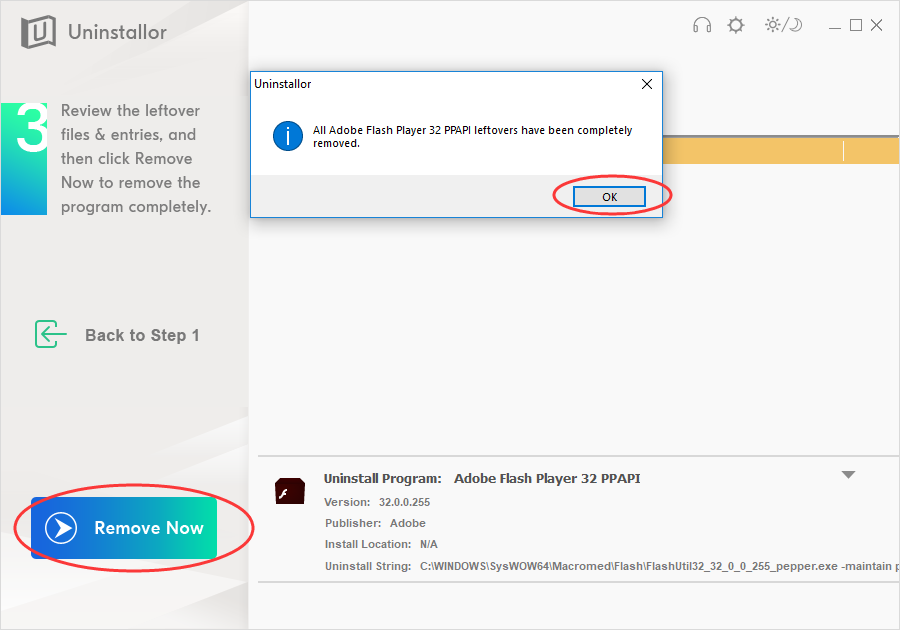 Conclusion
Adobe Flash Player is a successful multiplatform client runtime. This deprecated computer software is designed for using the content created on the platform Adobe Flash. This software is helpful to execute the rich Internet applications, view the multimedia content, and stream video and audio. This software can run from the web browser and on supported mobile devices. This software runs the Adobe Flash file format SWF files created by third party tools. Users of this software get a good improvement in the visibility of their business platform on online as expected.
Kindly Reminder: If you don't know how to uninstall Adobe Flash Player from your Windows computer or Macbook, you are suggested to use Uninstallor, which will help you do all things.
Published by Tony Shepherd & last updated on January 4, 2021 12:45 pm