Do you want really want to get rid of Adobe Acrobat DC? And are you seeking for a way on how to uninstall Adobe Acrobat DC from your Windows or you Macbook? Below you will get a detailed review about advantages and disadvantages of Adobe Acrobat DC.
As we know, adobe acrobat DC Software is a trusted and free global standard for printing, viewing, sharing, signing and annotating PDFs. It is the PDF viewer which might interact and open with all kinds of PDF content which includes multimedia and forms. Fortunately, it is connected to the Adobe Document cloud service, so you can easily work with the PDF on any device from anywhere. With the help of Acrobat Reader DC, you might unlock the advanced features to do more with the PDFs while you purchase subscription to Adobe acrobat export PDF, PDF pack and Adobe sign. If you are seeking for the Microsoft Integration, easier management and advanced security then Adobe Acrobat DC is the finest choice because it helps to complete PDF solution.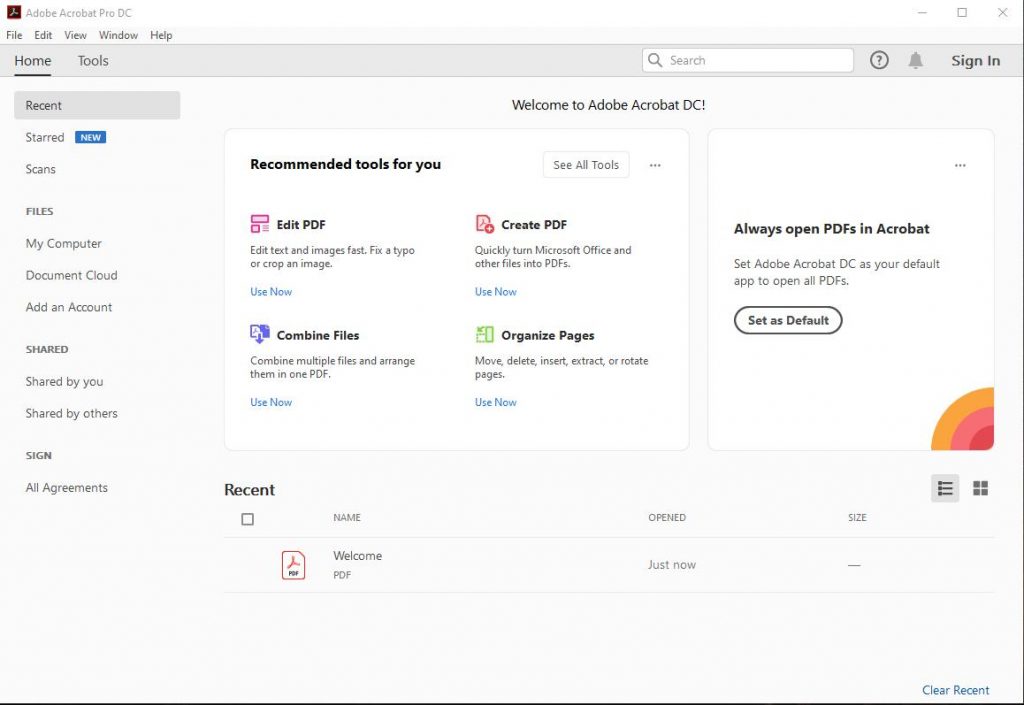 Importance of Using Adobe Acrobat DC
Adobe Acrobat DC is more than the tool for viewing digital documents and it is widely used by the leading organizations to increase the productivity workflows. It empowers you to finish critical tasks from any device. It is the compatible software to Tablet, Desktop and Smartphone. It has fantastic capability to revise, edit, mark, highlight and protect PDF files. If you are planning to buy the adobe acrobat DC then you can benefit from the better protection and maximized efficiency protection of the sensitive information in below ways.
Mobility Features Improve Productivity
Whether you are using Mac, PC, iOS, phone or Android Tablet, you might tackle the necessary tasks within Adobe Document Cloud. It provides the familiar and seamless experience around all devices.
For example, mobile version of the Acrobat reader might allow the user to view and open PDFs from the Tablet or Smartphone. At the same time, user might effortlessly add comment, create PDFs and organize pages from PowerPoint, Excel or Word. The main attractive advantages of using Adobe Acrobat DC are that you can change and edit text in the PDF. Remember one thing; it is not only just digital document creation tool but also it helps to add text, underline text and mark files. You can edit PDF with Adobe Fill and Sign feature. It might allow the user to turn paper documents or digital file into the form which others can sign, fill and send electronically. Similarly, paper form could be scanned using the Tablet Camera or Smartphone.
Fill and sign tool might allow data to be stored in the auto fill collection and enable you to finish forms faster by dropping and dragging information into form. Remember one thing; saving and sending document are considered as easiest task. In few clicks, you might send forms and store it in the Adobe Acrobat DC which ensures information is in hands of people who need it.
Once you input information and save file then security feature could be built in throughout the Adobe Acrobat DC. Fill & Sign is having seamless workflow function which might save your time and simplify business critical tasks. It is not only reducing the risk but also it helps to minimize need for user support in creating updates.
Fantastic Pros of Using Adobe Acrobat DC
There are extensive numbers of the benefits associated when you use Adobe acrobat DC which includes
• Meet user demand to mobile solutions
• Obtain excellent security
• Replace ink signatures
• Protect Sensitive information in documents
• Integrate with and extend Microsoft investments
• Minimize Compliance risk and simplify management
• Streamline deployment
Adobe Acrobat DC is having excellent mobile friendly features, verification capabilities and powerful encryption which are really beneficial to protect your company information. It has fantastic features like password protection and access control which helps to keep your company information. Adobe is using multilayer approach which might span the documents, application and cloud security. At the same time, it delivers highest level of the protection which increases number of the APTs (Advanced Persistent Threats). Security is enhanced by implementing thorough third party and internal testing. If you are looking to use Adobe mobile application, then you must to use single sing on capabilities. This kind of the feature is beneficial to maximize productivity.
Fortunately, SSO might guarantee the employees to perform critical tasks and access organization information in the secure environment. On the other hand, password policy control might support the standardized application control for protecting your organization sensitive data.
Cons of Using Adobe Acrobat DC
If you are a businessman then you can take advantage on Adobe Acrobat DC because it is offering excellent security to protect your company information. It is one of the best tools for collaborating with your colleagues creating booklets, manuals and pamphlets. However, a coin has both head and tail like adobe acrobat dc is having both pros and cons. Limited options might vary based on type of the subscription. Sometimes, it connects to other accounts for accessing files. Remember one thing; combine file might not available with basic account type. If you wish to enjoy full features of Adobe acrobat DC then you must to subscribe to level of features which you want. For example, if you are using free version then you might get only limited functionality like editing PDF document might not available in the free version. Sometimes, you might face some editing issues because of the corrupted fonts and it could be solved through preflight panel. Sometimes, it might take time to open the adobe acrobat dc tool which makes slow down your computer work. If you are a beginner to use this tool then you might be struggled a lot to learn how to use the features. Some effective editing features are only available in the subscription version. Contacting customer service is considered as difficult task when you face some issues on Adobe acrobat DC. Keep in mind that more than one person might not work on the same document at a time. Removed standard signature form feature might not be the finest solution because it is the best one in Adobe Acrobat DC for business people. If you want to remove Adobe Acrobat DC from your computer as you don't like it anymore, you can follow the tips below.
How to Uninstall Adobe Acrobat DC Completely from Windows
Remove Adobe Acrobat DC program Manually on Windows 10 (For Advanced Users Only)
Step 1: Uninstall Adobe Acrobat DC itself. (Choose one of the three options to follow)
a) Click on Windows Start menu ->; Choose All Apps-> Locate Adobe Acrobat DC. Right-click on it and choose Uninstall.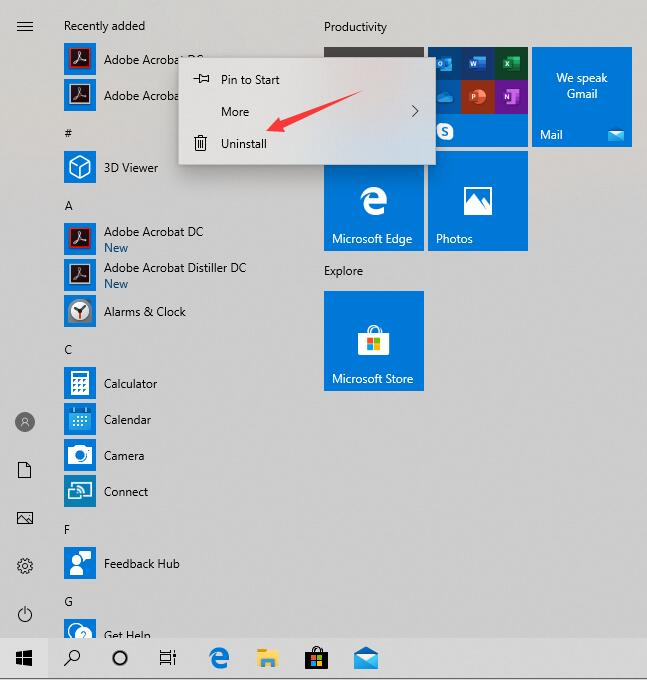 b) Or you can click Start menu -> choose Settings (the gear in the left) -> System -> Click Apps & Features. Highlight Adobe Acrobat DC and select Uninstall. Click on a pop-up window then you just need to hit Uninstall to confirm the removal.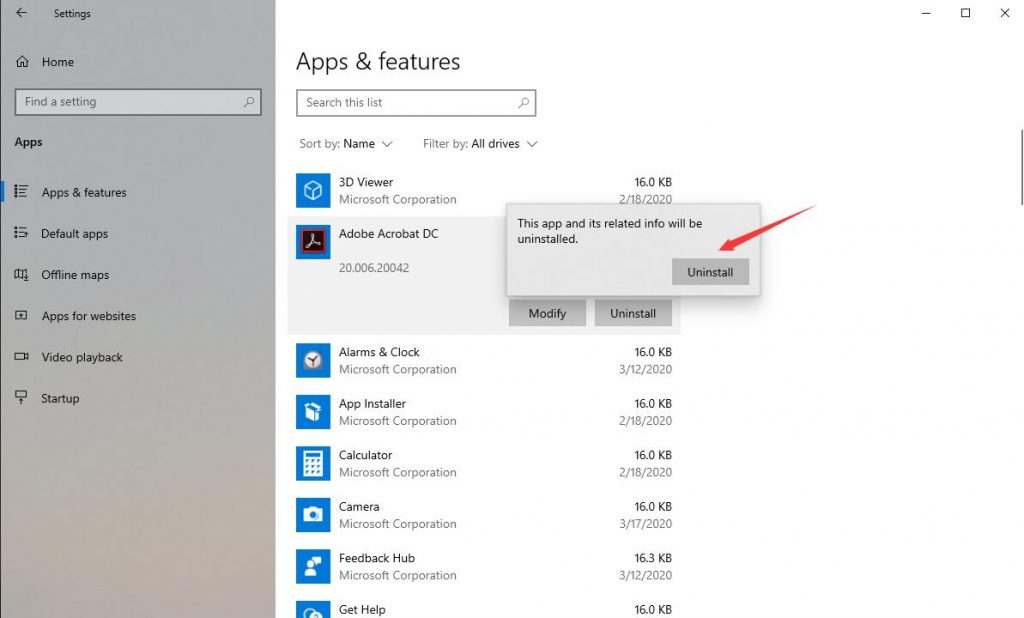 c) You also can uninstall Adobe Acrobat DC by using Add/Remove Programs feature in Control Panel. To do this, Right-click on the Start button -> click Control Panel -> Click Programs and Features (or Uninstall a Program if your Control Panel is in the category view) -> Select Adobe Acrobat DC and click Uninstall.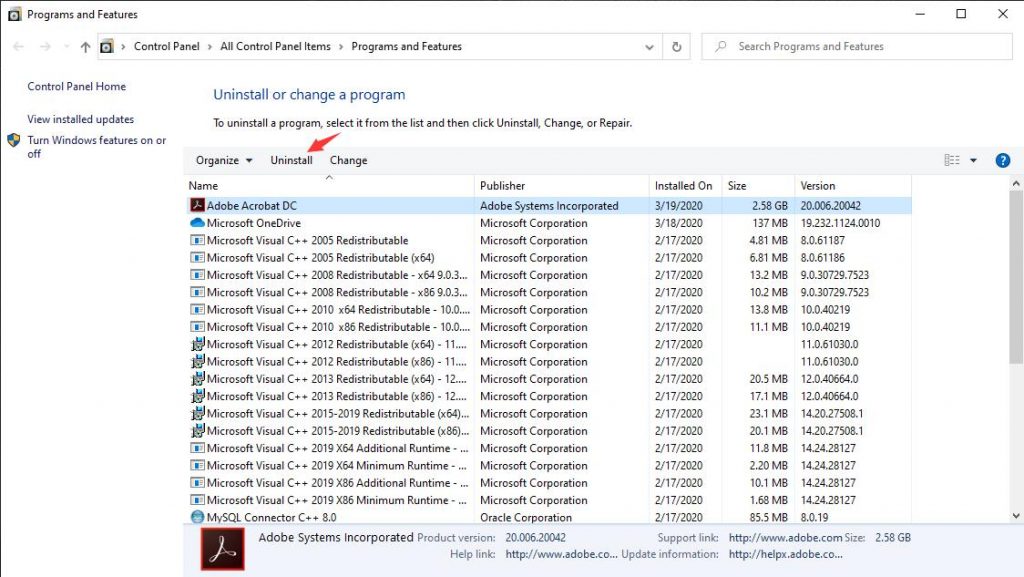 Step 2: Get rid of Adobe Acrobat DC leftovers manually. (IMPORTANT STEP)
*For added protection, please back up the registry before you modify it.*
Check the following folders and delete associated files first.
C:\Program Files (x86)\Adobe Acrobat DC
C:\Users\[Your User Name]\AppData\Roaming\
C:\ProgramData\Microsoft\Windows\Start Menu\Programs\Startup
Next, you have to get rid of Adobe Acrobat DC entries from Windows registry.
Press Windows + R, and type in regedit in RUN box, then press Enter. It'll open Registry Editor.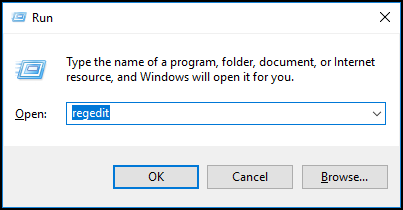 Navigate to the Registry key: (You do this by clicking on the plus sign next to each key in the path to expand the path below it. )
HKEY_LOCAL_MACHINE\Software\Microsoft\Windows\CurrentVersion\Uninstall.
HKEY_LOCAL_MACHINE\SOFTWARE\Microsoft\Windows\CurrentVersion\Uninstall\ (For 32-bit system users)
HKEY_LOCAL_MACHINE\SOFTWARE\Wow6432Node\Microsoft\Windows\CurrentVersion\Uninstall\ (For 64-bit system users)
Kindly Reminder: You are welcome to contact online support if you need any assistance, just click the below button for help.
Uninstall Adobe Acrobat DC Automatically with a Third-Party Uninstaller (RECOMMENDED)
Step 1. Download and install Uninstallor onto your desktop, next launch it. Select "Adobe Acrobat DC" then click on "Analyze Now" to start analyzing.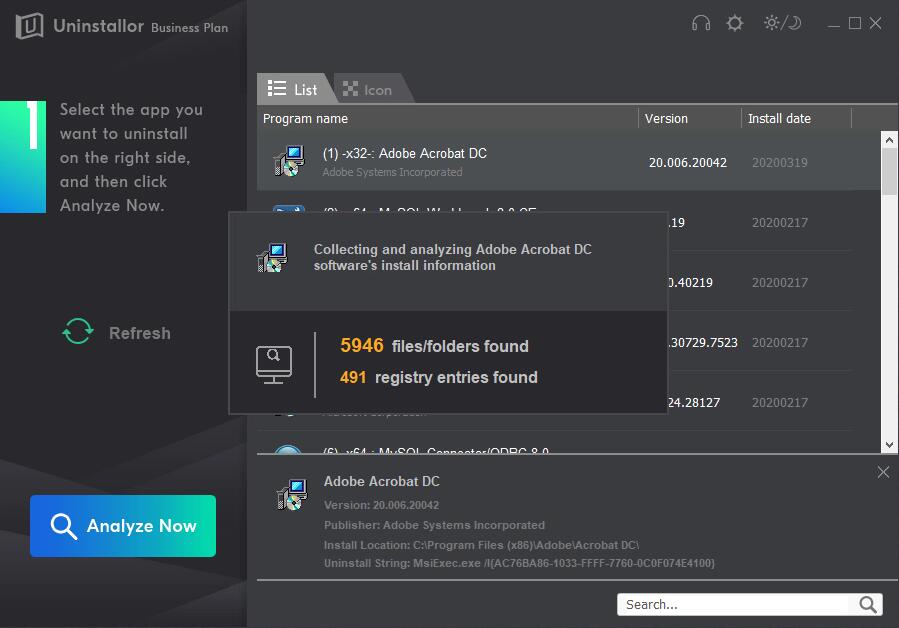 Step 2. Uninstall Now.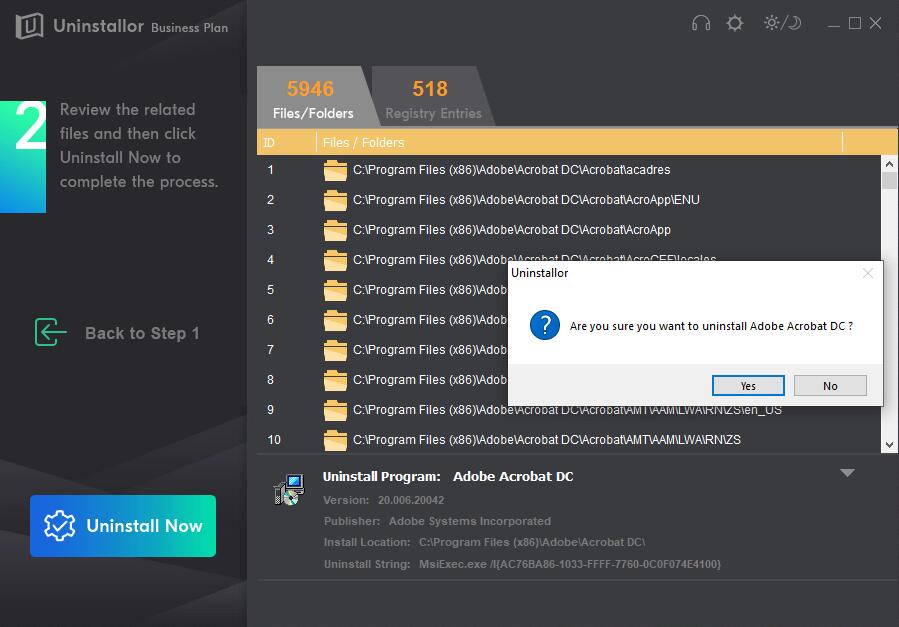 Step 3. Remove Now. Remove all leftover files and registry entries of Adobe Acrobat DC. Click on Uninstall Now button and click on "Yes" to finish and confirm the removal.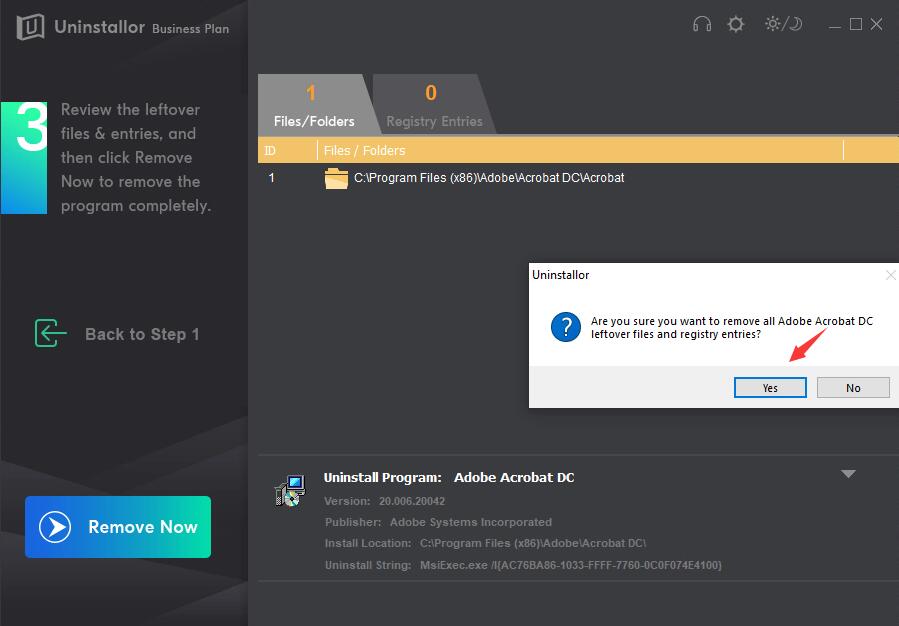 Adobe Acrobat DC has completely removed. If you go back to click on refresh, then you may find it is gone from the uninstall list.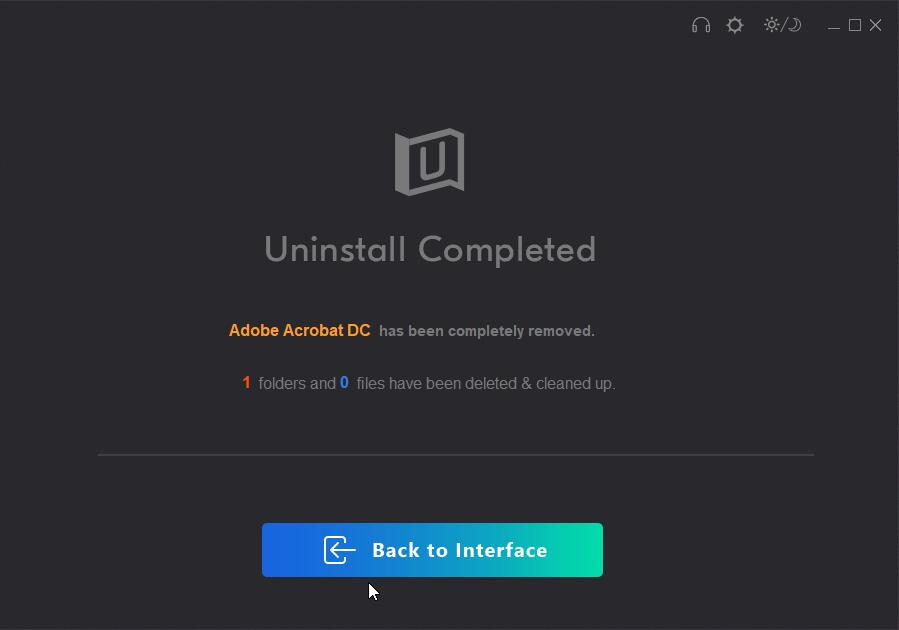 Video Guide for Uninstalling Adobe Acrobat DC
Kindly Reminder: If you can't uninstall/remove Adobe Acrobat DC from your computer successfully like Windows or Mac, you are suggested to try Uninstallor, which will help you do all things.
Published by Tony Shepherd & last updated on July 2, 2020 7:18 am