My computer was locked by Ukash Malta Police Association Virus warning is this legal? They want me to pay 100 euros or else with 48 hours? It says The first violation may not entail the criminal liability if the payment of the fine would be executed in connection with the law of loyalty to people. How to remove  Malta Police Association Virus completely from my computer

Computer Has Been Blocked by Ukash Malta Police Association Virus €100 Scam? How to Bypass This Warning Screen?
Hackers have created a ransomware attack called the Ukash Malta Police Association Virus Polizija ta' Malta, and its goal is to fraudulently extort money from computer users that are threatened into sending money as payment for alleged computer violations. The hackers lock the users computer screen and display a message that is constructed to appear that it is being sent directly from the Malta Police Asks for breaking Internet laws and policies. This is very similar to FBI Virus. How to bypass the cyber security alliance scam? Just like the other ransomware attacks, it displays a very authentic looking message designed to scare the users into paying a fine ranging from 100 euros. Since this attack is mostly found in the Malta the warning is written in Polizija ta' Malta and makes claims of the computer being linked to the following activities online: illegal use and distribution of copyrighted content such as videos and music, distribution or pornographic material, and participating in the sending of SPAM. There are also various laws displayed to further make it appear to be a legitimate message from the authorities.
The Ukash Malta Police Association Virus then alerts the user that in order to unlock the computer it is required that a payment be made. The only form of payment that is accepted is ukash, a form of prepaid money transfers. In the instructions section it says that once payment is made the use will receive an unlock code within 48 hours of confirmation of the payment being received. There is nothing true about this claim. The Malta Police Association Virus (Polizija ta' Malta) is fake and the only way to remove it form the PC is to delete the files. Making a payment to these criminals will not solve the problem at all.
To save your computer, Live Chat with YooSecurity Expert Now. You can follow the manual removal guide below to get your problem fixed. (For advanced computer users)


Screenshot of Ukash Malta Police Association Virus Scam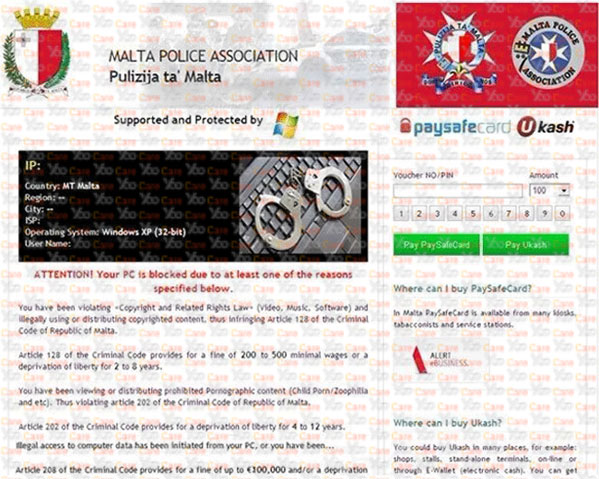 Computer Locked My Account Because of Malta Police Association Ukash Virus
The Ukash Malta Police Association ransomware is able to get into PC systems running a version of Windows virtually undetected, giving the user no warning sign until it modifies the settings and launches when the computer starts up. At this point it locks the computer and the user is presented with the warning and extortion attempt.
This ransomware attack is spread by visiting a website that has been infected with the virus, and also by downloading files (audio and video) containing the attack. The hackers further spread the Ukash Malta Police Association Virus  scam through Trojans and fake online virus scanning tools. The virus script causes the warning to pop up at the start automatically and there is no way to make it go away. The user can't close the window or minimize it, so many send the payment out of fear.
Best Way to Remove Ukash Malta Police Association Malware Scam Efficiently
Since the Malta Police Association Virus places itself into the PC system and totally blocked your computer. Removing the virus manually is always the best option as you can't do anything at the moment. YooCare/YooSecurity provides the most professional online PC service. YooCare experts can plan out a solution to access your computer in safe mode with networking at first. When it's possible to do that, their experts will do as follows:
Before all you people who are going to get in safe mode with networking or safe mode with command prompt, you need to keep hitting F8 key, where is the key?

Step A: Restart computer in safe mode with networking. To do this, just need to press F8 key constantly before the system is started like this: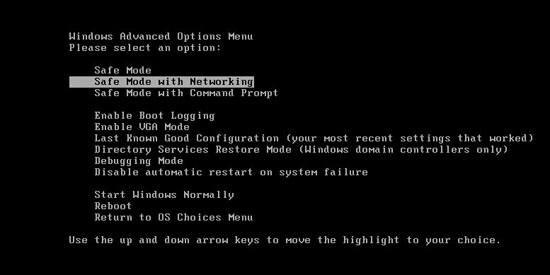 Step B: Press Ctrl+Alt+Del keys to open the Task manager to stop the progress of Ukash Malta Police Association Scam Malware. Because the name will be changed fast, it will be show with different name.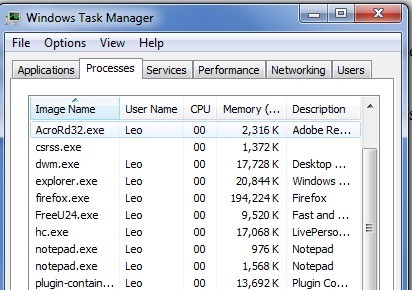 Step C: Delete all the files related to Ukash Malta Police Association Scam Malware.
Step D: Delete registry entries of Ukash Malta Police Association scam created in computer system.
By the way: Woke up and turned on the PC then got a locked screen saying to pay a fine within 48 hours? I don't think it's legitimate or is it? It is fake Malta Police Association. Manually remove Ukash Malta Police Association Virus is a rather difficult work, if you are not a professional computer expert. We recommend you to get YooCare/YooSecurity online service 24/7 in time. This is the real fastest and safe way to remove it.
Video Guide to Remove Ukash Malta Police Association Warning Virus
Note:
You may wonder why someone would fall for this scam, but think about how many users are not extremely familiar or even aware that these types of scams exist online. Also, if they did happen to recently illegally download video, music or software files from a file sharing site they might be so scared of trouble that they immediately pay the requested fine.
The ONLY way to be done with this virus is to manually remove all of the files that have been placed on the computer. There are detailed instructions and illustrations that walk the user through each step in order to clean and rid the PC of this attack. The Ukash Malta Police Association Virus ransomware scam can be eliminated through a successful deletion.
Special tips: Spending a lot of time fixing your computer with no success? Don't want to get things worse, please contact PC experts now to unlock your computer and remove Ukash Malta Police Association hoax scam safely and completely.

Published by Tony Shepherd & last updated on March 13, 2013 4:48 am