New Study Reveals Nearly Half of Internet Users Believe They Face Online Censorship
The anti-censorship team at TunnelBear is excited to share some of the work they've been doing to combat internet censorship around the world. Today TunnelBear released a study, uncovering global perspectives on online censorship experiences of citizens in the US, CA, UK, Australia, Russia, Norway & Sweden. The survey showed large segments of people in each country do not trust the integrity of information they find online, and many suspect censorship is at play.
We share this study with our audience! Find some key points below.
Key Findings.
More than two in five (44%) people, globally, report that they, or someone they know, have experienced internet censorship
Nearly half (45%) of respondents do not trust the integrity of online information in their country today
Over one-third (39%) of global respondents believe they face political censorship, from governments and political parties that suppress content to avoid rebellion or embarrassment. This metric is higher (44%) in the USA.
Consumers believe they face internet censorship, with those in the USA feeling most impacted.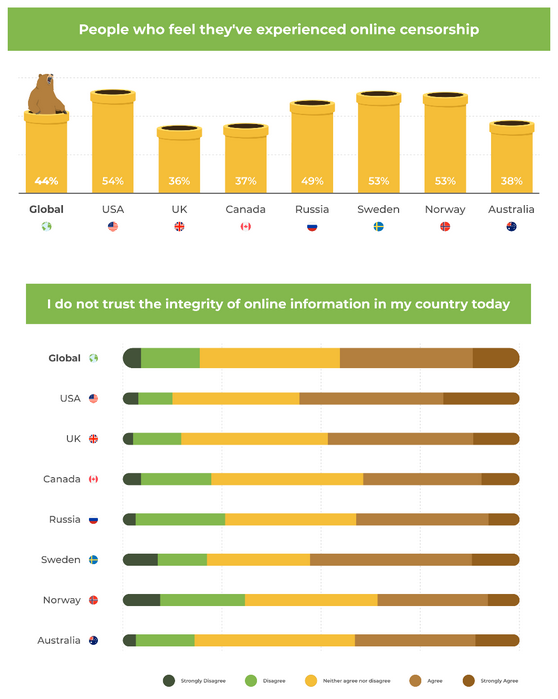 Stay safe on public wifi! Get peace of mind when you're working, shopping, or banking online. Start protecting your on-line privacy today with TunnelBear VPN.
Published by Tony Shepherd & last updated on September 30, 2020 5:04 pm