Trend Micro is the world-renowned cybersecurity company that offers excellent malware protections for your computer, mobile and Mac from a variety of malware types, including destructive ransomware, Trojans, rootkits and phishing schemes. As a global leader in security protection, over 500,000+ companies worldwide rely on Trend Micro to do business safely. How good is Trend Micro? Is it really worth the money? Does Trend Micro slow down your PC? In this Trend Micro review, we will be covering what Trend Micro provides and how you can best utilize it. Keep reading and learn everything about Trend Micro, find out the best security product that suits your need and take cyber attack protection to the next level.
What's Trend Micro?



Trend Micro is a multinational cyber security and defense company that provides advanced protection and privacy to let Internet user enjoy their digital life safely. Actually this company has been providing security solutions for over 30 years and it has now emerged as a market leader across the globe in hybrid cloud security, network defense, small business security, and endpoint security. Trend Micro claims to have the most advanced threat intelligence network in the world. Its own Trend Micro Smart Protection Network delivers proactive global threat intelligence against zero-hour threats to ensure that you are always protected. Trend Micro offers several security products for safeguarding both your PC and mobile, and it also provides a password manager to let you get rid of the hassle of remembering dozens of extra-long, extra-complex passwords for every of your online accounts. You also can get security services like PC tune up, Virus & Spyware removal, PC security health check and Premium Installation from Trend Micro. Additionally, Trend Micro has the ability to block Ransomware and stop criminals holding your computer hostage. You will be fully protected from identity theft, viruses, ransomware, spam, and other malware. In a word, Trend Micro protects every aspect of your online experience and keeps your computer clear of malware.
Trend Micro Products: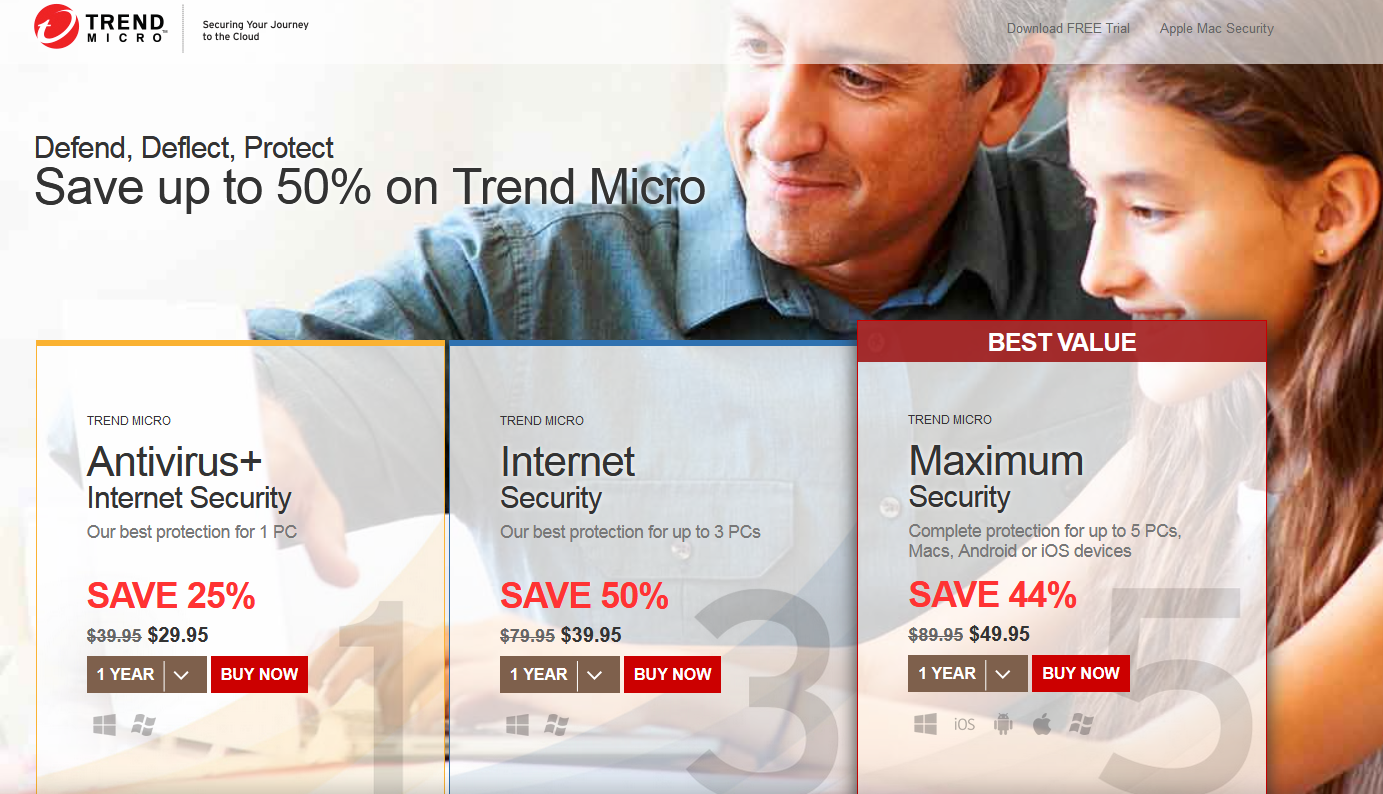 Trend Micro products are made for you, your family, your company, and the people you care about. Whether you are using a computer, a Mac or a mobile device, you can always find a plan that suits you need at Trend Micro. All its products provide top-notch protection and offer a wide range of extra features to protect subscribers from online threats and create safe web experience for their peace of mind. Check out the details here and choose the best for you:
Antivirus+ Security: Simple protection against complex threats

Trend Micro Antivirus+ Security provides simple protection against threats like phishing attempts, Trojan viruses and even ransomware which can encrypt your files until you pay off the bad guys. Even though it is an entry-level product, it comes with additional protections like Trend Micro Pay Guard which shields important financial and personal information while you are shopping and banking online. Besides, its spam filters are very helpful in keeping malware, phishing schemes and junk mail out of your inbox. Trend Micro Antivirus+ Security also does a great job replacing fraudulent and malicious pages with a warning in the browser. If you install its extension in Chrome, Edge, Firefox, or Internet Explorer, it helps you avoid clicking on dangerous links in the first place. However, Trend Micro Antivirus+ Security only covers the most basic services and it can only protect one single PC. If you have more than one PC or you need advanced features like parental controls or social media privacy protection etc, this product is not for you. You can consider an upgrade to Trend Micro Internet Security or Maximum Security. The price for Antivirus+ Security starts at $29.95 per year for a single PC and if you extend the subscription term to 2 years, the price will be $59.90. Take up to 25% off on Trend Micro Antivirus+ Security now!
Trend Micro Internet Security: Advanced online protection

Trend Micro Internet Security provides advanced online protection against malware, ransomware, and online banking threats by using advanced artificial intelligence. It covers all the basic feature that Antivirus+ Security has and adds parental controls, social-media scanner, PC tune-up and more. Trend Micro Internet Security can be used on 3 PCs. With this product, you can stay away from dangerous websites and all kinds of viruses and spyware. Trend Micro Internet Security even has the ability to detect phishing sites – fraudulent websites that try to dupe visitors into giving away their passwords, making sure that you get advanced security and privacy for your online digital life all the time. You can use it to safeguard you and your family on social networks like Facebook, Google+, Twitter, and LinkedIn. The parental controls area unit provided to assist you to limit or filter on-line access for your youngsters. This limits their exposure to inappropriate web content. Trend Micro Internet Security normally costs $79.95 a year to cover up to three PCs. However, Trend Micro is offering an exclusive discount to let you save 50% off the regular price, which means you can get Trend Micro Internet Security for $39.95/year right now. And its 2-Year subscription costs only $69.99, making it a rather good deal. Get Trend Micro Internet Security (3 PCs) – 50% OFF by clicking the promo button below. No coupon needed.
Trend Micro Maximum Security: Powerful protection for up to 10 devices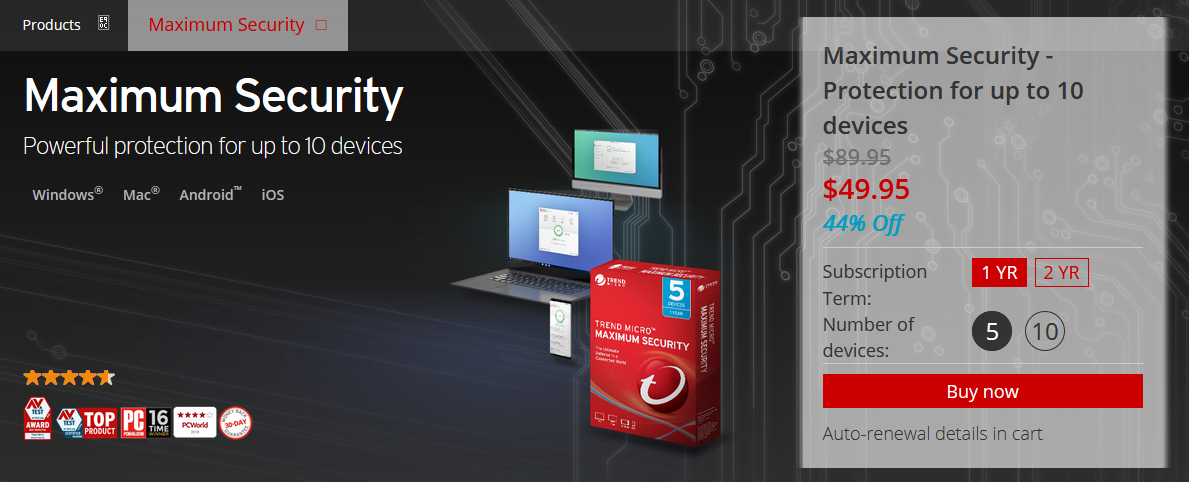 Trend Micro Maximum Security is the company's flagship. It not only protects Windows PC, but also be available for Macs, and Android and iOS devices. In addition to a robust malware scanner, an email-attachment scanning, a system optimizer, parental controls, Trend Micro Maximum Security adds a built-in password manager in the subscription that manages all your website passwords and login IDs in one secure location and lets you effortlessly sign into websites without having to remember multiple passwords. Besides, the suite's PC Health Checkup examines your system to find opportunities for improvement in security and performance. That includes junk files wasting space, traces of your browsing history, and startup programs that slow the boot process, among other things. Maximum Security provides comprehensive, multi-device protection against viruses, malware, identity theft and ransomware. And there are a packaged set of tools for protecting your mobile device like locating lost or stolen devices and regular backups of your contacts. Now Trend Micro Maximum Security supports up to 10 devices. It keeps protecting you day and night, automatically updating itself against the latest threats to help keep you and your family safe. Overall, if multi-device security is your aim, Trend Micro Maximum Security will be a good deal for you. For $49.95, $10 more than Trend Micro Internet Security, you get up to 10 cross-platform licenses rather than 3 Windows licenses.
Antivirus for Mac: Simple protection against complex threats
Worried about Ransomware? Wondering if it's a threat to your Mac? You can get Trend Micro's Antivirus for Mac for yourself. In these years, ransomware attacks on Apple devices have increased by 500% so it is necessary to have a security tool on your Mac so you can get the essential layers of defense you need. Trend Micro's Antivirus for Mac offers solid malware detection and deterrence in a simple package with a straightforward interface. It uses advanced artificial intelligence learning technology to protect your Mac against viruses, malware, ransomware, and evolving threats. The suite comes with speedy scan, Ransomware protection, web threat protection, camera and microphone protection, parental control as well as social network privacy scan. If you only need protection on a single Mac device, this product could be the best option for you. Antivirus for Mac is on sale now so you can save 25% off and get it for $29.95/year.
Mobile Security Solutions: Stay safe – no matter where you go or what you do

Trend Micro Mobile Security is a mobile device management solution that provides users with full visibility and control of their mobile devices, apps, and data from a central web-based console. The App does well in protecting your Android and iOS devices from online threats such as viruses, data loss, data theft, phishing scams, identity theft, and fraudulent websites. It also helps boost the performance of your mobile devices. Thanks to Trend Micro cloud-based Smart Protection Network and Mobile App Reputation technology, you will be able to instantly detect threats before they cause serious problems and damages to devices. Whether you are on iPhone, iPad, iPod Touch, or any Android phone or Android tablet, Trend Micro Mobile Security prevents against identity theft and phishing scams, blocks fraudulent websites and lets you browse the web without getting tracked while safeguarding your privacy on social media. Download Free.
Is Trend Micro Worth a Try?
Trend Micro is a no-frills, solid performer in detecting and blocking malware, especially in real time. It offers plenty of security tools to enhance your security and privacy, like parental control, spam filtering, password manager, a hardened browser, phishing protection, malicious URL blocking, system optimization and more. After testing, we found not all of the components are top-notch, though. Parental control is porous, and spam filtering only works with Microsoft Outlook, for example. And it lacks some additional features, such as network monitoring, remote-device management, firewall control, and vulnerability scanner which checks all the programs installed on your computer and lets you know if any need to be updated. In spite of this, Trend Micro's product does a great job blocking viruses and works especially well with Microsoft Edge while most other antivirus programs can't do very well since Edge doesn't allow third-party extensions in its browser, it's difficult for most antivirus programs to warn about dangerous sites or stop malware from downloading within the browser if something sneaks past Edge's security settings. And Trend Micro's Pay Guard gives you additional protection by eliminating any vulnerabilities or third-party extensions in your default PC browser—whether Chrome, Firefox, or Internet Explorer. Whether you are shopping online or banking, you can maximize your protection from cybercriminals who want to steal your credentials. We highly recommend the company's flagship product – Trend Micro Maximum Security which provides complete multi-device protection against ransomware, viruses, dangerous websites and a password manager to manage your passwords from any location on any device to let you browse quickly and easily. Trend Micro security tool does cause a slight lag on system performance, but overall it is a good choice for basic computer protection. All Trend Micro's product come with a 30 days money back guarantee and you can get a 30-Day Free Trial from this industry leading AV protection. Trend Micro is worth a try as you'll have nothing to lose.

Customer Support:
Trend Micro has an excellent customer support although it doesn't offer a Live Chat feature on its website. On its support page, you can see Trend Micro offers several ways for you to reach them depending on the different region you are in. Whether you need help in renewals, licensing, or registration, or get technical problems while using the product, you can call the support team during the business time. Trend Micro also provides a support request form for you to fill in the problem you met, so you just need to submit a help ticket online and wait for a customer service representative to contact you. Normally the support team will reply within 24 business hours. If not, don't hesite to call them.
Conclusion:
Trend Micro's products earn a perfect score for malware detection and removal in our test. They all provide top-notch protection and offer a wide range of extra features, like Pay Guard, parental controls, social-media scanner, PC optimization, password manager, and a cloud-storage scanner to check Dropbox and OneDrive for malware, etc. However, Trend Micro security products may cause system performance slowdown sometimes. Now the company offers a 30-day free trial of any of its paid products. Trend Micro's applications work with Windows 7, 8.1 and 10, macOS 10.12 or newer, iOS s 9 or newer and Android 4.1 or newer. But be aware that the iOS app doesn't scan for malware. Choose the best product from Trend Micro to secure your personal information from hackers and malicious websites. Give yourself maximum security with optimal browsing performance with Trend Micro now!
Published by Tony Shepherd & last updated on July 2, 2019 8:21 am