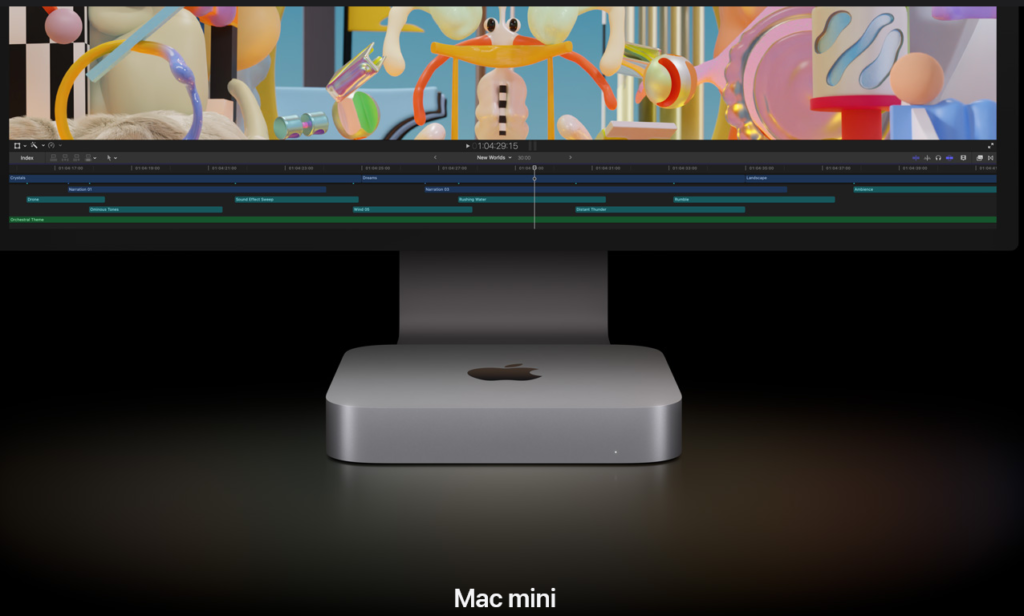 Mac mini is Apple's desktop Mac computer, and it's the least expensive Mac computer available. Mac mini has long been the best choice for entry-level Mac computers for many people: a $599 starting price, great industrial design, good performance, and elegant macOS.

At the beginning of this year, Apple just updated the M1 chip-equipped Mac mini more than two years after its launch, officially releasing the M2 series chip-equipped Mac mini model. Unlike its predecessor, which supported only the most basic M1 chip in the series, the new Mac mini also supports two additional M2 Pro chips in different configurations, unified memory and storage capacity upgrades from up to 16GB and 2TB in the previous generation to up to 32GB and 8TB, and a wider variety of interface specifications and types. And just like Apple said, this is the first Mac mini to reach the Pro level.
Although I've been a Mac computer user for more than a decade, I've never used a Mac mini and never had any intention of getting one. So when I received this Mac mini with the M2 Pro chip, I had a chance to take a fresh look at this familiar and unfamiliar device.
While I say that Mac mini has a great industrial design, the fact is that the overall shape of the product has barely changed, which is a testament to how far ahead of its time the Mac mini was more than a decade ago.
With its square body, Mac mini is like a larger version of Apple TV, only thinner and with a much better aluminum body in terms of texture and feel. So Mac mini can be placed anywhere in your home, and it makes a great piece of furniture that doesn't stand out or take up much space.
While Mac mini is said to be one of the best options for getting started with Mac computers, there are many people who will hesitate to buy a Mac computer that costs less than $599 in 2023 and is really enough for everyday use. Many of these people are usually concerned about technology, have a certain level of experience, and probably want a computer that will last them for many years.
If you look at it from the perspective of everyday use, I can say for sure that even the most basic configuration of Mac mini is more than enough. Since the Apple silicon era, we've all seen how much Mac computers have improved in terms of performance and experience. As early as the M1 era, we've seen this chip outperform all previous Mac computers in terms of single-core scores, and second only to more specialized models like the Mac Pro and iMac Pro in terms of multi-core scores. And in the year or so that I've been using the M1 chip and M1 Pro chip MacBook Pro, I've mostly felt no difference between the two computers, a feeling I've shared with the M2 Pro chip Mac mini over the past few days.
That said, is the base model, the cheapest version of Mac mini, really enough? Although I haven't used a computer with 8GB of memory in a long time, I know from daily conversations with several friends who use 8GB of memory as their primary computer – some of them continue to choose 8GB of memory when they get a new device, while others are still using their computers from many years ago. Some of them are still using computers from years ago – and they don't have too many problems working with documents and forms, watching videos, or even drawing simple modeling graphics; especially on Apple silicon Macs, where the unified memory architecture further ensures a better experience with lower memory configurations. Of course, that's if you don't have too many demands on how fast your apps open, how fast your content loads, and so on.
So if you don't have a clear idea of memory size and don't have a clear perception of it in daily use, choosing 8GB of memory is really enough for now.
However, if your budget isn't too tight, I would still recommend that you prioritize the option of upgrading your memory configuration to 16GB or higher, both to be able to handle the higher, more professional demands you may have in the future and to ensure that this Mac mini stays with you for a longer period of time. If you want to choose a 24GB or even 32GB memory option, you'll jump up in price and may have to upgrade the processor configuration at the same time. The Mac computer has a better configuration in many other aspects, not to mention a top quality display screen.
With the addition of the Pro class chip, the new Mac mini is on a higher stage, finding a balance between the Mac mini of the past and the Mac Studio of today. If you've been holding off on getting a Mac mini for some reason, such as a basic M1 chip configuration, two Thunderbolt 4 ports, and only a Gigabit Ethernet port, but don't need the overwhelming performance of the M1 Max or M1 Ultra, the M2 Pro chip in the Mac mini fills the gap between the last two product lines. The Mac mini with the M2 Pro chip fills the gap that used to exist between the two product lines.
Yes, not only does Apple bring the higher-performance M2 Pro chip option to Mac mini, but it also brings more Thunderbolt 4 ports, higher storage capacity options, a higher HDMI port, and more to the M2 Pro model that the M2 chip model doesn't have.
As you can see from the test data on Apple's website, the biggest performance gap between the M2 Pro chip and the M2 chip is in scenarios that rely on graphics and video processing, as the former is equipped with up to a 19-core graphics processor and the latter only supports a 10-core graphics processor.
So for most people, there's little need to worry about whether to choose M2 or M2 Pro when buying a Mac mini. For most everyday work scenarios, the basic M2 chip is sufficient; even in Apple's high-standard Excel spreadsheet tests, the two chips perform very similarly, making it even harder to feel the difference for everyday use. It's hard to feel the difference.
For those who need to choose the M2 Pro chip, in addition to professional video workers, are developers with professional programming needs, because in the test data provided by Apple, the M2 Pro chip has nearly doubled the performance speedup for Xcode project building compared to the M2.
But while the M2 Pro is a great performer in terms of video, the new Mac mini doesn't offer an SDXC card slot like the Mac Studio, so if you really need to edit video, you'll need to buy a USB-C to SD card reader to transfer video between the camera and the Mac mini. The good news is that Apple's official USB-C to SD card reader, like the SDXC card slot in Mac Studio, can support up to UHS-II speeds, so there's no difference in use.
In terms of personal use, the Mac mini with the M2 Pro chip is no different in my day-to-day work than the M1 Pro version of the MacBook Pro I've been using. When editing a dozen or more camera-ready RAW files at once in Pixelmator, they're all very responsive, and batch exports are done immediately. And with seven or eight more apps open at the same time and more than 20 pages open in the browser during the writing process, everything responds, loads, and switches as quickly as ever, with no difference.
And even during extended viewing of Apple TV+ episodes and editing and exporting large 4K ProRes video files, there's no sound from the Mac mini fans and barely any heat on the aluminum enclosure.
While there's a lot of talk about how cheap Mac mini is, there are actually a lot of extra costs you need to consider when choosing it – most importantly, the display. Of course, there's plenty of room to choose accessories for Mac mini, so it can be as simple or as complicated as you like. Of course, if you're looking for a better design and a more seamless Mac experience, there are also Studio Display monitors available at the $1,599 level. At the lower end of the price spectrum, there are a number of 4K displays available within $400 to meet the buying needs of people with different requirements.
The same goes for accessories like mice and docking stations, with a wide range of choices from low to high price points.
Among the accessories for the Mac mini, I'd like to talk about the keyboard in particular. Although the most important factors in our conventional perception are the feel of the keys, the quietness of the keys, the adaptability to different platforms, and even the richness of the features, I would recommend the wireless keyboard with Touch ID from Apple.
The experience of repeatedly entering passwords on a Mac is so trivial, even though the default unlock password is only six digits, that it can actually be a bit of a pain, especially for people like me who have all their passwords randomly generated and stored in an administration tool that also generates random passwords. For example, if I want to log in to an app or website, I have to first find the password option in Mac mini's system settings, enter my Mac password, copy the long random password from the password management tool, then open the password management tool and paste it in to unlock it, find the password for the account I need to log in to, and then paste it into the app or website to log in.
There are many other scenarios on the Mac that require password verification, such as unlocking the computer, logging in, authorizing apps, purchasing apps, and so on, and I think a Touch ID-enabled keyboard would greatly enhance the everyday experience of using Mac mini.
As the lowest priced Mac product, Mac mini is still the best choice for most people to get started with a Mac, because many people already have the "standard" desktop computer features of a keyboard, mouse, and monitor, and even if they don't, they can still get a variety of options with decent parameters at a lower price.
Of course, if you are looking for a more complete Mac experience, I would recommend that you first clarify your daily needs, such as visual effects, audio and video requirements, etc.; because the acoustics of Mac mini are very poor, you will need to pick a good audio in addition to the display, and if it is a 5K display Studio that supports spatial audio. If the 5K display with spatial audio support, the Studio Display, is already priced at $1,599, so it would be more appropriate to choose a MacBook Pro, unless you have very high requirements for screen size.
Finally, Mac mini is a great desktop computer for family members to share. macOS provides perfect multi-user capabilities, and Touch ID with a wonderfully controlled keyboard allows for automatic one-touch identification and user login, which is very convenient, and it doesn't take up much space, so family members no longer need to argue over whose computer to put on the table and who should use it. I'm sure many of you have encountered similar problems.
For the first time, Mac mini with a Pro-class chip also offers a truly flexible option for most Mac desktop users, as Mac mini with an M2 Pro chip can meet most people's everyday and even more professional work needs, rather than having to choose the much more expensive and (for most people) overpowering Mac Studio. The Mac mini with its M2 Pro chipset can meet most people's daily and even more professional work needs, rather than the much more expensive and (for most people) much more overpowering Mac Studio.
Published by Tony Shepherd & last updated on February 9, 2023 5:16 am