What's Snapchat?
Snapchat is very popular with young people around the world. Snapchat is a famous photo sharing application. Users or snubs can take photos, record videos, edit pictures or photos, and send pictures or images to your friends on this Snapchat. You can personally collect your favorite Snaps and Stories on Snapchat. You can explore hand-crafted stories from the world's top events and publishers. It is easy to keep up with your friends' stories every day. What most attracts young people to use this Snapchat application is that the photos or images can be automatically burnt with 10 seconds after being read by your friends, and if your friends want to take a quick screenshot of the pictures you sent within 10 seconds, it will prompts you your friend's operation. That is the main reason why young people most like to use this application, as it will not keep any histories and privacy about chatting and photos will not be stored in your and your friend's device. Even though your parents check Snapchat on your device, they will not find out anything bad.
How to Use Snapchat in China? What's the Best Way to Unlock Snapchat in China?
For many young people, Snapchat is a necessary tool to take photos and record video and share funny pictures with their friends whenever and wherever. However, if you come to China, your Snapchat will not work in a normal way. You will find Snapchat can't be accessed at all. It looks like is blocked totally. Some snubs will soon become frustrated and annoying. You should have  a pleasant trip in China by sharing the stories and funny pictures and photos with friends or family by using Snapchat, but all will be out of control and  you will be in a blue mind because you can access Snapchat. In fact, before you come to China, you should know that many foreign websites and apps are blocked by China's strict internet censorship called China's Firewall. So, Snapchat is definitely blocked by China's Firewall. You had better prepare for some methods that can help you access Snapchat or other apps or websites in China, or you will feel bored with your trip to China. So what's the best way to unblock Snapchat in China?
The best choice to unblock those foreign websites including Snapchat, facebook or Twitter etc is to use a VPN tool. What's a VPN and how does a VPN work to help you access these blocked websites restricted by China's Great Firewall. A VPN client provides a secure and encrypted network which is created over the public internet connection to enable the users to hide their identity over the worldwide web. It hides your internet activity from your ISP and government, allows you to escape from censorship controlled by school, work, your ISP, or government, enables you to "geo-spoof" your location. In a word, a VPN creates a "tunnel" over your internet network to let you access any websites.
How to Choose the Best VPN to Unblock Snapchat in China?
What's The best Way to unblock Snapchat from China? What's the Best VPN to access Snapchat in China? Now more and more VPNs (such as ExpressVPN, NordVPN, Ivacy, PureVPN, HideMyAss!, IPvanish, VyprVPN, Strong VPN ect.) are created and flood in online market. And more and more internet users are using VPNs to unblock geo-restricted websites and service like Twitter, Facebook, Youtube, Gmail, Netflix, BBC or Instagram online. The most important reason why they choose the Best VPN is its strong ability to protect personal privacy and data safety. However, for many internet user especially beginner, it's hard to choose the Best VPN to access Snapchat in China for 2017 to use. Some of them even don't know how to compare among various VPNs. In reality, it's not easy to figure out a VPN service is the best one just by reading its brilliant introduce and description on their provider's websites. The best way to check if it's safe, fast and stable is to test it on your device. So what important aspects or factors should we consider when we select one VPN server?
1. Price – check if the price is reasonable by comparing with many VPN services
2. Speed – see if the speed provides by it is stable and fast enough
3. Privacy – all VPN providers promise privacy, but A VPN does not make you anonymous.
4. Security – this is mainly to see if the technical measures are strong enough to prevent an rival like hackers, the NSA, etc. forcing access to your data.
5. Number of servers/countries – if you need to connect to servers located in numerous places, then the more the better. Then you can find a server where you need it.
6. Number of simultaneous connections – some providers will only let you connect one device to their service at a time, while others allow you connect your PC, laptop, Mac, smartphone,tablet and your other friend, family member or colleague's device all at once.
7. Customer support – many VPN users especially beginner are still learning the ropes, so customer support will help answer your questions and solve problems while you're using the VPN software service.
8. Free trials and money back guarantees – free trials can help you decide if a VPN service is suitable for you and really helpful before you purchase its service.
9. Software – VPN software or app should look concise, good and be easy to use and also be with special features.
Kindly Prompt: if you are confused about What's the Best Way to Unblock Snapchat in China and don't know which VPNs you should choose or have any other questions about VPN, you're welcome to contact our Yoosecurity online technical team by clicking Start Live button bellow:

The Best Way to Unblock Snapchat in China – VPN (Step-by-Step Guides to Set Up A VPN Service on iOS device)
First, you should register and sign up with a VPN service, and next you should install its apps into your iPhone or iPad or android device, and then move on some set-up on your device, last you can smoothly use the VPN internet successfully, here below is the guide on how to set up a VPN on iPhone. This guide is also applied to iPad. If you now are not familiar with all steps or can't finish processes by yourself, you can contact our online support!
Step 1: Tap Settings >>> General >>> Network >>> VPN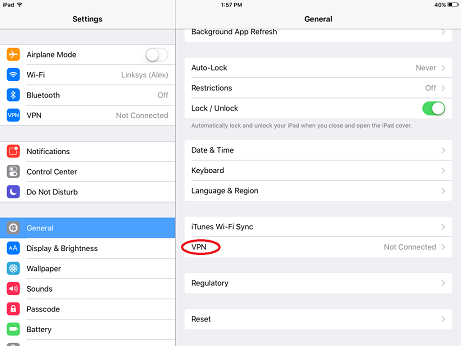 Step 2: Click Add VPN Configuration, select type of configuration (IKEv2, IPSec, L2TP or PPTP) depending on the type of VPN you want to connect to, and click then Back.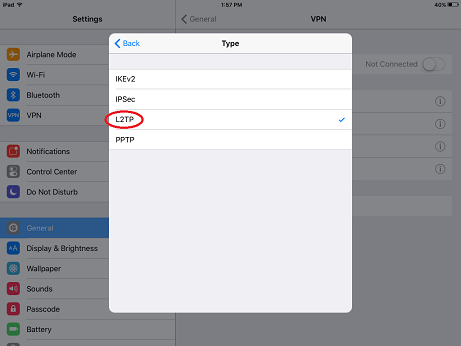 Step 3: Enter your VPN's account information on this screen to connect-server, account and password. You get these data from the VPN service in the e-mail after your ordering the VPN. Fill the Secret field – secret (small letters). If your VPN is provided by your workplace, it should provide you with these details.Enter the information for your VPN in the corresponding fields. If you used a proxy, make sure to enable it towards the bottom of the settings page.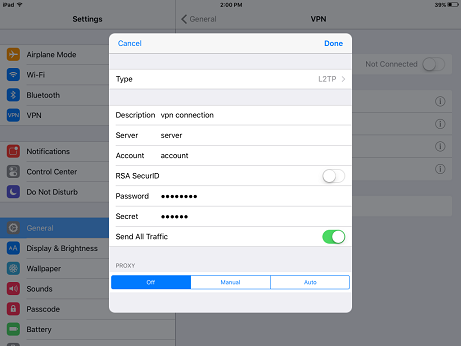 Please note: Server address must be exactly as in your account data (without http://, www or any other symbols)
Step 4: Tap Done to save the settings.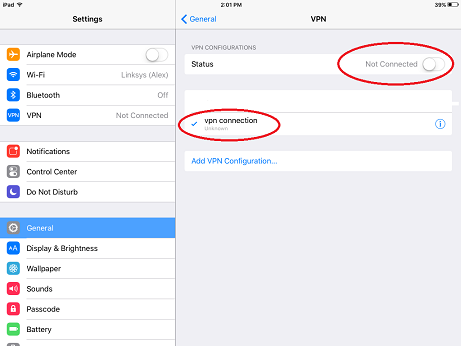 Step 5: After finish setting up your VPN, go back to homescreen, tap Settings, then see a VPN option which will appear only when you have a VPN installed. Toggle the switch to On.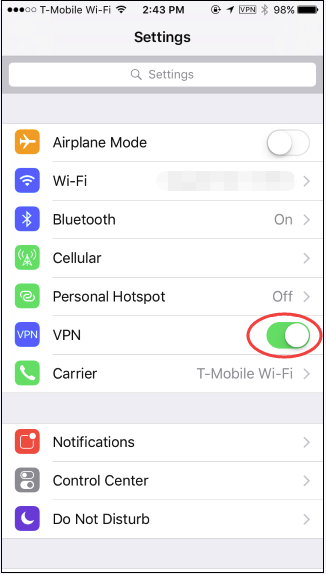 Step 6: Then iPhone will connect to VPN server. If an error message pops up, go back into your VPN settings and make sure all your settings are input correctly. Besides, if you want to set up multiple VPNs on your iPhone or iPad, you can switch between them by heading to Settings >>> General >>> VPN—on the same screen where you added those VPNs.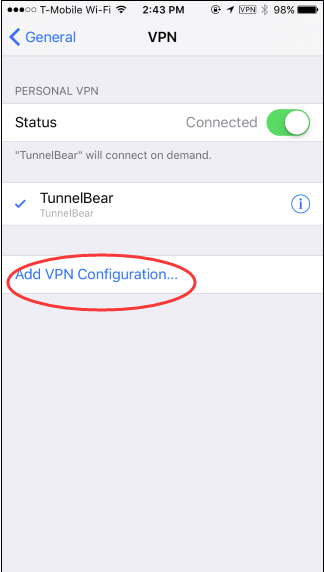 Video Guide Show You The Best Way to Unblock Snapchat in China
Conclusion (The Best Way to Unblock Snapchat in China)
Due to China Great Firewall, the great internet censorship to ensure China internet environment safety and security, many sites are blocked including popular sites like Google services (including gmail, google maps, google docs and others) Youtube, Facebook, Twitter, Instagram, Wikipedia, VOIP services like Line, Skype and Snapchat and tones of others popular resources. Therefore, Snapchat is completely blocked by Chinese IP address. So How to Access Snapchat in China? And what's The best Way to Unblock Snapchat in China? The best choice to bypass China's strong internet censorship is to use a strong VPN in China. VPN is secured encrypted tunnel that masks your geo location hiding your IP address and so helps to bypass all Internet restrictions. VPN has a strong ability to change your IP address so you can avoid Chinese Internet censorship. By using the best VPN, you will be able to Access Snapchat in China on Android anytime and anywhere possible. Besides, you can stream live matches like the Premier League, UFC fights, even WWE matches straight to your computer or mobile device without breaking a sweat while using a VPN.
Warm Prompt: If you don't know How to select Best VPN to unblock Snapchat in China or how to set up VPN on Mac, computer, laptop, android smartphone, tablet, or iPhone/ipad device, you're recommended to live chat with Yoosecurity Online Expert for instant help! Yoosecurity Online Expert will take care everything for you!

Published by Tony Shepherd & last updated on May 18, 2017 6:53 am