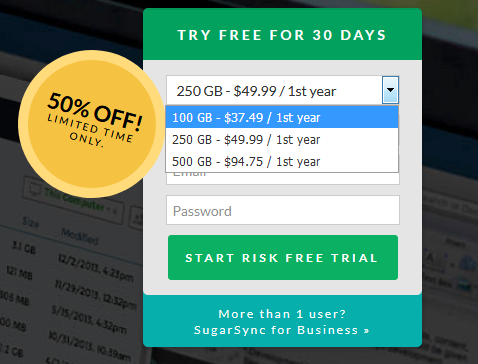 Running regular back up is essential for both home users and business. Nowadays, most people started moving away from traditional storage platforms such as hard disks, flash drives and other kinds of physical storage devices to the cloud for storing and processing their precious data. Are you looking for the best solution for cloud backup? SugarSync is an online file sync-and-share service that offers a personal cloud storage system which supports file sync and online backup for all your devices. If you need file sharing or online backup & cloud storage from any device, SugarSync should be your best bet. Now SugarSync is offering 50% discount off any Cloud File Sharing Plan. No coupon code or promo code needed. And the best part is it allows you to try the service free for 30 days. Enjoy the amazing deal at SugarSync & Don't let your files vanish without a trace!
What's SugarSync?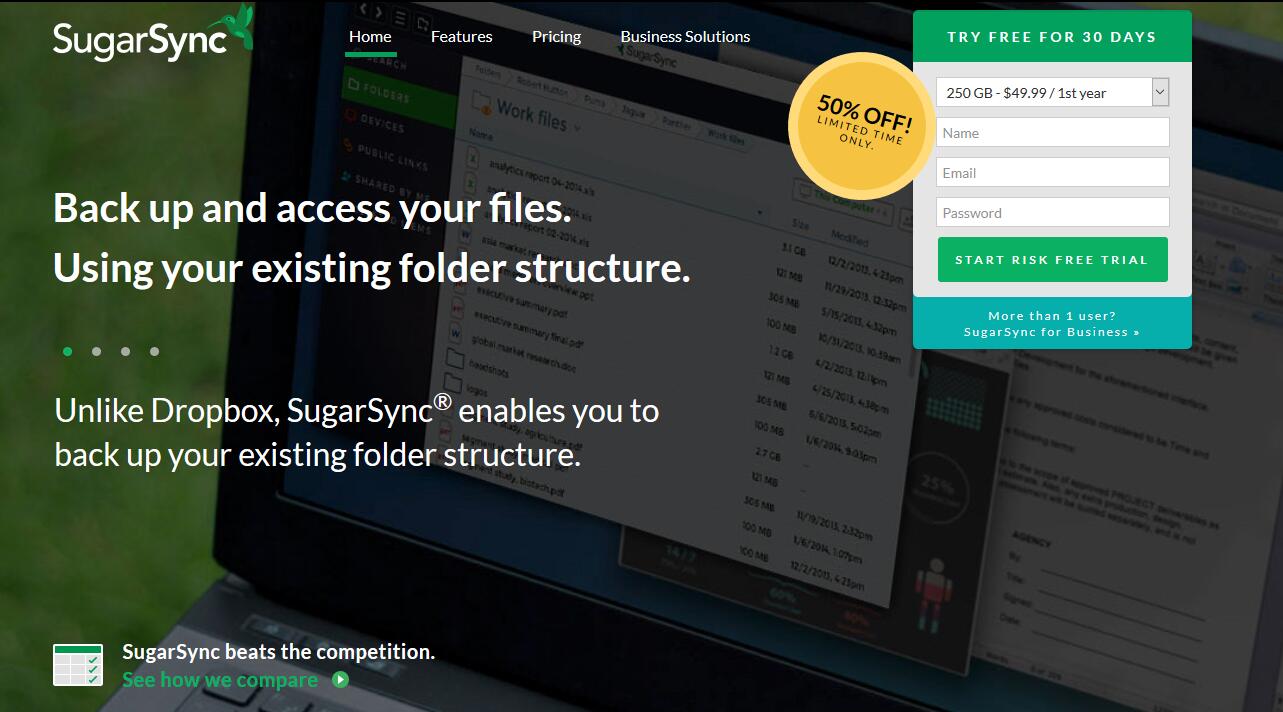 Launched in 2008 and based in San Mateo, CA, SugarSyncis a user-friendly cloud file sharing, file sync and online backup service with millions of users worldwide. SugarSync comes with a great interface and it is compatible with all the major platforms. Whether you are individuals, managers and team players, you'll always find it easy to back up, access, sync and share all of your documents, photos, music and movies across all of your computers and mobile devices with SugarSync. SugarSync can synchronize files across several platforms, such as Android, Windows, iOS or Mac, without having to move them from their original locations into a specific folder. It runs seamless in the background without interfering with your productivity. Aside from syncing files and other content, SugarSync also offers collaboration tools to help businesses work effectively on team projects, share view-only files, and show links to documents via the web. Once SugarSync is up and running on a device, it provides excellent backup, with almost no effort or thought on your part. Files and folders are backed up in real time, meaning every device that is connected to the account shows recent updates and changes. Therefore, you can access all your files from any devices at anytime and even transfer them to a new computer in the event that your system crashes. SugarSync has a file version control and recovery option that will keep the previous five versions of all your document by default, in case you need to reference or recover them in the future. This option is especially useful considering the rise of ransomware, allowing you to recover files after attacks. SugarSync uses industry best practices ensuring that your data is safe and secure. It uses AES 256-bit to encrypt your files at rest and the TLS (Transport Layer Security) protocol to protect them in transit. SugarSync is equally suitable for small, and large teams because it helps keep files organized. File sharing or link sharing with a team of employees will be faster and easier.
SugarSync offers 30 days free trial to let you test its service. There is no limitation during your trial period. You will get full access to the service, which includes real-time backup, sync, remote access from any computer or mobile device, and sharing & collaboration features. SugarSync now is offering 50% off any SugarSync Cloud File Sharing Plan. Limited Time Only. Take advantage of the best savings here to enjoy all important data at your fingertips at a cheap price!
Pricing Plans: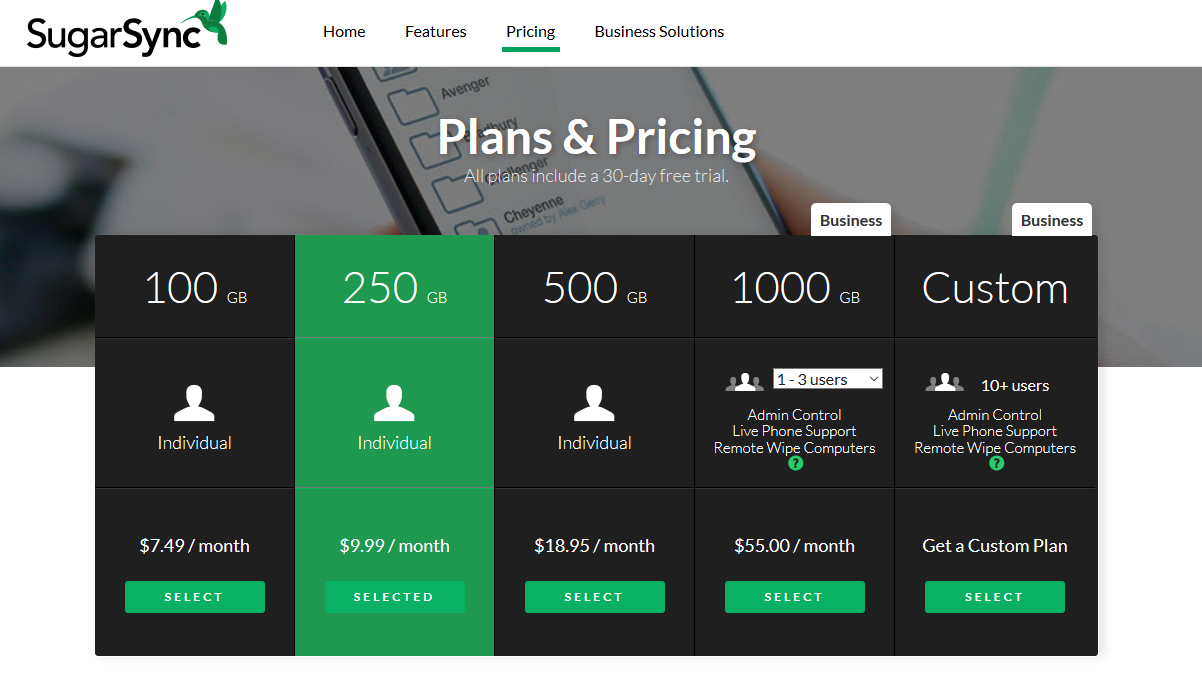 SugarSync pricing scheme is made flexible enough to meet all types of sharing needs. Whether you want to use SugarSync to back up and access files for yourself, or you need a larger-scale cloud solution for your company, there is a plan fits for you here. SugarSync accepts Visa, MasterCard, American Express and Discover credit cards as form of payment.
Here are the SugarSync pricing details:
For individual, there are 3 different plans given. All the three plans have the same features, but the amount of storage they offer is different. Features include: backup and syncing for any type of folder, real-time change upload, versioning with recovery for 5 versions of any file, instant phone photo backup, discretionary file syncing, e-mail uploads and syncing, sending and sharing files of all sizes, and more. Price starts with $7.49/month, for which you get just 100 GB of online storage. However, the one that provides 250 GB of storage for $9.99 a month will be the best value plan at SugarSync. And you also can choose the biggest plan for 500 GB for $18.95/month.
Individual 100GB – $7.49 / month
Individual 250GB – $9.99 / month – MOST POPULAR
Individual 500GB – $18.95 / month
Business plans start with a lot more storage, but it comes with some restrictions. You can get 1TB of storage to be used for one to three users, starting at $55 per month. You can scale up as you need more space or more user accounts. With a business account, you can manage user access, delegate and grant permissions, monitor user activity, and set desired storage limits etc. Besides, you can use the remote wipe function to erase data from a lost or stolen computer or device. SugarSync for Business enables your team to seamlessly back up, access, sync and share business-critical folders and files from any device, anywhere without forcing you to work out of a single-folder like other solutions do.
Business 1000GB – starts at $55.00 / month for 1-3 users
Business Custom – contact SugarSync directly for a quote (ideal for 10+ users)

SugarSync Special Offer: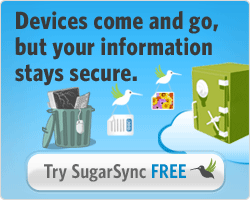 Are you looking for SugarSync coupon code or promo code to save money when purchasing a SugarSync plan? Take advantage of 50% discount off any SugarSync Cloud File Sharing Plan here. With the 50% off, individual plans start at 100GB for $37.49/year. You don't need to apply any SugarSync coupon code or promo code to get the deal. You just simply click on the promo button here and the discount will be automatically activated. However, since it's a limited-time offer, you have to grab the deal as quickly as you can before it expires. In addition to SugarSync 50% off, this cloud sync software offers you a 5 GB free trial, along with a 30 days money back guarantee which can be used for any plans at SugarSync that lets you use the full-featured version of SugarSync for all your devices. Act fast! Get all of your files on-the-go, instantly and securely from any Mac, PC, or mobile device with SugarSync now!
Why SugarSync is a Great Backup Solution?

Anytime, anywhere access. Ever needed to access your files from someone else's computer? If you have, then you know what a pain it can be if you don't happen to have the files with you on a memory stick. Now with SugarSync, you can download any files you need, then upload it. Once your files are uploaded, you can access and restore your data from anywhere. SugarSync works seamlessly, which is just what you want from an online backup solution. The flexibility of file syncing and the ability to sync any or all of your folders and subfolders to any of your devices is what set SugarSync apart from other competitors. Wherever you are, you can access files from any of your computers, share photos with friends and family, upload files and photos from your mobile device to your computer.
Online cloud backup. Whether you are individual or business, SugarSync online cloud backup service must be the best investment for you. Instead of copying important files to a hard drive, memory stick, thumb drive, file server, SugarSync allows you to store files in the cloud. Therefore, you don't have to worry about data loss due to natural disasters such as fires, floods, and earthquakes. Even your hard drive crashes or your laptop gets stolen, your files will be there for you to access. With a cloud solution, you can access your data anytime anywhere, whether it is through a laptop, PC, or mobile device. This cloud backup service makes backing up your data easier than ever since it doesn't require additional hardware or IT expertise.
Share and collaborate on files. SugarSync provides a simple, secure way to share and store files and folders online. When using SugarSync, additional settings are available to enhance the security when sharing and collaborating on files and folders. Even you are going to sharing large files and folders, SugarSync makes it a breeze. You can generate a public link for any file or folder and share it on Facebook, Twitter, email, IM, or even on your blog. When recipients click the link, they will be able to download the file or the entire folder – no registration required.
Your information is always safe. SugarSync has been successfully protecting the data of millions of customers like yourself since 2006. The service encrypts your stored files with military-grade encryption, so there's no way a hacker or stranger can intercept, retrieve or read your stored data. Also, when you sync files to SugarSync's servers, your files are sent over the Internet using TLS (SSL 3.3) encryption – the industry standard for secure web communications.
Pros & Cons:
Pros:
Exquisite file syncing
Remote wipe
Mobile API
Outlook plugin
Free 30-day trial for all plans
Multiple device support
Various sharing options
Cons:
No unlimited storage on individual plans
Phone support available with upgrade
Customer Service:

Having difficulties while using SugarSync service? You can help from the video tutorials, online forum, an FAQ section, help center on SugarSync website. Besides, SugarSync provides phone support which is available from Monday to Friday, from 6am to 5pm PST. Individual account holders can upgrade to phone support for an additional fee, while Business plan subscribers have phone support included in their package. SugarSync maintains a lively social presence on Facebook, Twitter, Google+, LinkedIn, and YouTube and runs its own blog.
Video Guide on How to Get SugarSync Coupon Code or Promo Code
Conclusion:
In the digital age, losing data can be a nightmare for anyone who works on computer systems. Whether it's a single hardware failure or natural disaster, you may face the danger of losing all of your important data, and even your company's. The cost of stolen or lost data is surpassing billions of dollars per year. Without proper backups, recovering your files can be a nearly impossible task. SugarSync is the best online backup service for most people, as it is packed with features and customizable elements aside from the basic backup and sync service across multiple devices and computers that you'd expect from a provider. As one of the best cloud-based solutions, the service provides you with the best experience for accessing, sharing, and managing your data anywhere and on any device. It can accommodate any type of file with real-time changes visible on any number of devices through advanced syncing, along with versioning and recovery. Also, SugarSync has a Remote Wipe feature which makes it easy to erase your files remotely in case your computer is lost or stolen, while still being able to access them in the cloud at any time. SugarSync lets you access your data anytime anywhere. You and your customers can access their data anywhere they can access the Internet whether it is through a laptop, PC, or mobile device. You do not need to tunnel into a VPN to get to your physical servers back at your office, your data follows you anywhere. Overall, SugarSync has created a fast and easy way for you to manage and restore your data. You can easily find backup copies of your data to restore them in just a few minutes.
However, compared to other top online back up solutions, there is a drawback to SugarSync as it does not provide unlimited storage space on its individual plans. So it makes the price is more expensive than other competitors. But a wide range of unique features like the real-time changes visible on any number of devices, versioning and recovery, remote wipe, mobile API, instant photo backup for phones and file syncing will make the service worth a try. What's more, you can get generous 30 days free trial to test out the service before you buy. Sometimes SugarSync likes to treat customers with special discounts and offers, so you can use a valid SugarSync coupon code or promo code to cut the price down and get the biggest deal. The current deal you can get is 50% discount off any SugarSync Cloud File Sharing Plan. Do remember this is a limited time offer. Grab the deal fast before it expires. No coupon code needed.
Published by Tony Shepherd & last updated on June 6, 2019 9:55 am