What's the matter? A Spanish Police Virus locked my computer. If I start my computer and enter my password to sign in, a screen with massive message would show up and it says my computer has been locked since I have done something that broke the law. And I must pay some money to unlock my computer. If I don't do that, they will arrest me? Oh, this is really fearful. Is that real? Do I need to pay the money so that I can be free again? What will happen if I don't do what they asked? How can I unlock my computer?
How does Spanish Police Virus Lock Computer?
Spanish Police Virus is widely admitted as a scam or ransomware which can lock users' PCs to threaten people into paying money. Now, many people have encountered this virus infection. The hackers who have massive knowledge in this filed designed and released this virus. And this virus is a ready source of money for them. In order to unlock their computer, the users who get this virus have to pay money as the scam malware requires. But even if you pay as it requires, your computer will still be locked. Not just in Spain but also some other places all over the world, this scam virus is launching a horrible attack. The only final purpose is for money. But as for this scam, Spanish Police Virus is a new released one which pretends as the police. No matter in which area, this kind of virus has the similar appearance that it looks real, legitimate and serious. But never consider that you can pay the so called fine to unlock your computer. That will only waste your money.
When you get this virus, like what it declares, Spanish Police Virus can lock your computer system so that you can't use your computer. What you can see is the only virus page with one or two boxes to let you finish the payment. Never think you can use your anti-virus to remove it. Even in safe mode, your anti-virus can detect nothing and tell you that your computer is completely safe. Although Spanish Police Virus is defined as a ransomware, you may still be suspicious if this is really a warning from legal department or not. The appearance is so compelled and serious. PC users will be afraid when they get such virus in their computers. They may think that if it's really from the police office and they don't pay the fine, they will be arrested and jailed. However, it's thoroughly a computer virus, not a warning from the government. PC users all over the world please be on the alert. Don't be fooled by its trick!
In a general way, Spanish Police Virus always show threatening message on the locking page. It seems that it righteously announces you have done very bad things that deeply violated the state laws. The illegal things include watching or spreading porn information via the Internet, downloading document files which have no copyright, giving speeches of terrorism publicly, etc. You need to pay the required money as the forfeit in 72 hours so that your computer will be unlocked. If you don't do that, you will be prosecuted even arrested by police. All those information is not real. The real police will never ask for fine via Internet even if you did illegal things. This is not their way of doing things. You may also be scared why it has your photos on the locking page. In fact, it's not very hard to record your activities on your computer if the virus can access your computer, so please don't be afraid when you see the pictures and hear the sounds. This virus was made by some smart cyber criminals.
Tips: Now that your computer will be completely locked by Spanish Police Virus, anti-virus program is not available. You'd better contact a PC expert for help if you are not familiar with this virus not well trained in IT field:

The Main Screenshot of Spanish Fake Police Virus
Remove FBI Department of Spanish Police Scam Virus Manually
Step 1: Try to plug out the internet cable then restart your computer normally. After you can see the desktop, plug in the cable again. If the virus doesn't pop up, you can continue from step 3. (If it's wireless connection, turn off/on instead of plugging in/out cable)
Step 2: Restart your computer in safe mode with networking. To do this, please keep pressing F8 key before windows launches until you get there shown as below: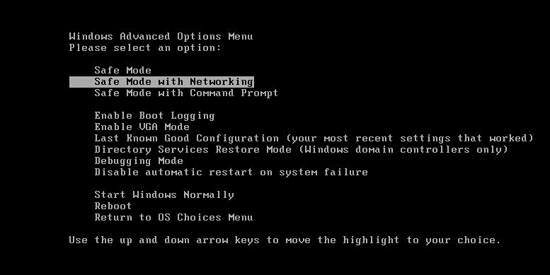 Step 3: Press Ctrl+Alt+Del keys to open the Task manager to stop the processes of Fake Spanish Police Virus. Because the name will be changed fast, it will be displayed with different names with random letters.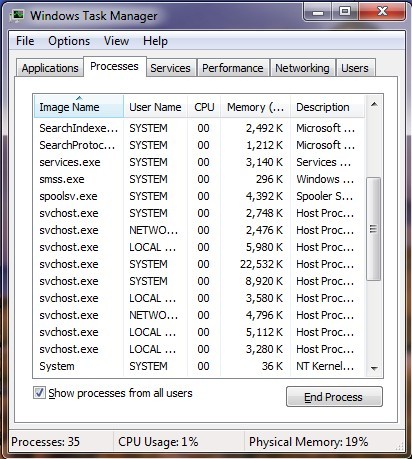 Step 4: Delete all the files related to Spanish Police Virus
Login to profile in which you are getting Spanish Police Virus Ransomware…
Go to my computer
Then press ALT button once
Go to tools on menu bar
Goth select Folder options…
Click on view tab
Select Show hidden files, folders, and drives
Click OK button
Go to C:\Users\profile name here\AppData\Local\Random files
HKCU\Software\Microsoft\Windows\CurrentVersion\Run\Random.exe (Random means this file would be named randomly)
HKLM\Software\Microsoft\Windows\CurrentVersion\Run\Random.exe
HKLM\SOFTWARE\Microsoft\Windows NT\CurrentVersion\Image File Execution Options\Random.exe\
Video Guide to Remove Spanish Police Virus Asking for Fine From Registry Editor
Above all: Don't believe this kind of malware which just plays a small trick to scam PC users so that the hackers can make huge benefit from this. Some relevant departments have already publish the news to remind people that this is a scam virus. However, they can only tell you that it's a virus but can't help you remove it. So the most urgent affair is to remove this Spanish Police Virus as soon as possible. Unfortunately, at present, no such perfect anti-virus can remove this virus completely. This virus can escape from anti-virus scanning and change files' name constantly. So automatic removal tools can't get rid of it. It's worth mentioning that some unknown software may cause operating system errors. So don't consider those free software to take a chance. Some of them indeed are viruses as well. You can follow the steps above to remove the virus. But remember that all the files of the virus would be named randomly. Different computers may have different conditions. If you don't feel confident to remove this Spanish Police Virus, PC professional service is your best choice.

Anyhow, a professional expert such as YooCare/YooSecurity PC Online Service can easily remove the Spanish Police Virus for you and make you at ease.


Published by Tony Shepherd & last updated on August 3, 2013 1:50 am