Is Sling TV free for users? If not, how many channels are free on Sling TV? There are many things to know before you sign up for Sling TV.
Get Remarkable Benefits of Using Sling TV for Windows 10
Sling TV is a successful TV service with the maximum channel flexibility. Every user of this TV streaming service is satisfied with the reliable streams, free tier, flexible subscription options, good selection of channels, and movie rental facilities. They are confident to recommend it to others who like to watch the live news, sports, and entertainment on the Windows 10 computer. They get a good improvement in their level of amusement as the on-demand content, premiums, extras, and cloud DVR. A video streaming service in our time successfully replaces the cable subscription for less money. If you wish to tune into several live TV channels for the competitive monthly fee and access extensive programming options, then you can prefer and use the Sling TV hereafter.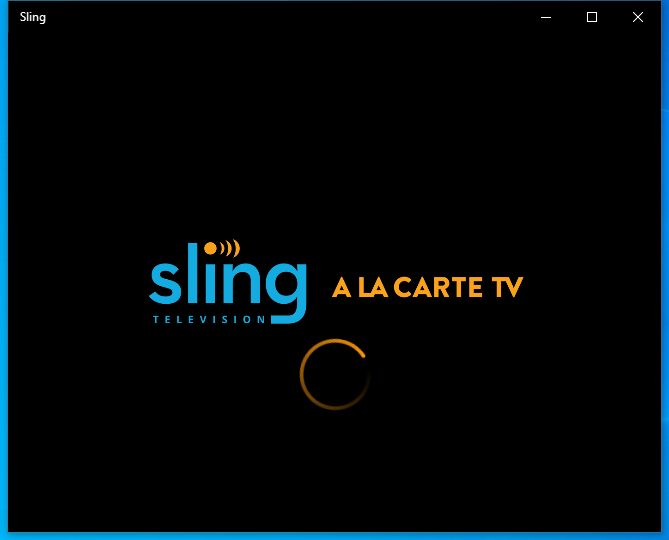 Different Plans from the Sling TV
There are 3 plans offered by the Sling TV at this time. These plans are Blue, Orange, and Orange & Blue. You have to keep in mind about channels in the Blue plan and Orange plan overlap. The Sling TV Orange plan is designed to provide 33 channels like BBC America, CNN, AMC, Comedy Central, and Travel Channel. However, Sling TV Blue plan offers 48 channels based on the local media market of users. Some of the channels in this plan are FOX News, NBC Sports, SYFY, MSNBC, and Nick Jr. Sling Orange & Blue plan provides 54 channels.
Every user of the Sling TV is satisfied as they can pay for channels they like to watch. They personalize their TV live streaming experience by properly using the affordable extras. They start viewing the live streaming content on one device and complete it on another. This is because the Sling TV is available on PC, Mac, Xbox One, Android, Apple TV, Amazon Fire, Smart TVs from LG & Samsung, and other devices. Sling TV provides facilities to fast-forward, pause, and rewind most channels. It streams everything top live and on-demand entertainment regardless of the location and time. You can make use of the Sling TV 7 day's free trial and take advantage of this no long-term commitment to find the real worth of using this facility. The Sling TV provides more than 100 live channels to stream instantly along with 10,000 + hours of on-demand movies, sports, and shows.
Make a Well-informed Decision
The monthly price of the Sling TV plan starts at $20. There is no requirement of any long-term contract. Users of the Windows 10 are happy and confident to prefer and use the Sling TV towards the fulfilment of their expectations about the enhanced entertainment session further. It is the right time to find how to stop paying for any channel which you do not watch. You can prefer and buy the Sling TV plan hereafter. You will be happy not only because no hidden fees, but also for easy online cancellation option. You will be encouraged to use extras and add channels as per your interests. Different genre of live streaming facilities like the sports, kids, Hollywood, and lifestyle in the Sling TV start at just $5 per month.
In the United States, the Sling TV is the number one live international television service and designed to provide 18 languages like Brazilian, Hindi, and Arabic. Nielsen's proprietary measurement software included in this modern TV streaming system supports its users to contribute to the market research in particular TV Ratings of Nielsen. You have to understand that users of the Sling TV in the Windows 10 have to pay the programming fees in advance. Do not forget that no refund is given for partial or prepaid months after cancellation. The service you choose from the Sling TV decides on the number of devices you may have given permission to watch simultaneously. Some channels are limited for watching on one and only device at a time. The multi-stream facility to watch content up to 3 devices makes its users satisfied.
Get 100% entertainment from the Sling TV on Windows 10
The overall availability of the channels for users of the Sling TV on the Windows 10 computer is based on the geographical location and the plan chosen. Some programs may not available because blackouts or programmer restrictions. All beginners to the Sling TV are advised to take note of the services, features, prices, plans, features, offers, functionality, and other things about this TV streaming live facilities before comparing it with others. Free tier of the Sling attracts everyone as it is available with live and on-demand content from its exclusive channels. There is no need to sign up for an account and access such library. The live TV content is pre-programmed type, except for the channel ABC News Live Update.
The combined Sling Blue & Orange plan cost is $45 per month. These two plans are individually available at $30 per month. You can make use of the 3-day trial and get an overview about pros and cons of this service. You will be happy to use the hassle-free method to expand the channel line with one of the many Extra bundles available in the Sling TV and such facilities start at $5/month each.
Advantages
• Reliable streams
• Movie rental facilities
• Free tier
• Flexible subscription options
• Good selection of channels
Disadvantages
• Limited offering of regional and local sports channels
• Only 10-hour of DVR storage by default
• Confusing the entire distribution of channels
Conclusion
Everyone with a desire to enhance their amusement can prefer and use the Sling TV hereafter. The best-in-class streaming facilities and reasonable prices live streaming plans offered by this company for users of the Windows 10 computer nowadays encourage many residents worldwide to prefer and use it. All customers of the Sling TV on Windows 10 are happy about the reliable streaming performance, free tier, and its line-up of the best national channels. The user-friendly interface and an extensive collection of channel offerings from the Sling TV satisfy every user. Regular updates of live streaming facilities and special offers of Sling TV encourage many residents to prefer and use it.
If you are unhappy with it, you can uninstall Sling TV immediately from your system by following the removal guides here.
Manually Uninstall Sling TV from Windows 10 Step by Step (For Advanced Users Only)
Step 1: Uninstall Sling TV from startup.
a) Uninstall it from Start menu by clicking on start icon, right click on it on the pop-up window, last click "Uninstall".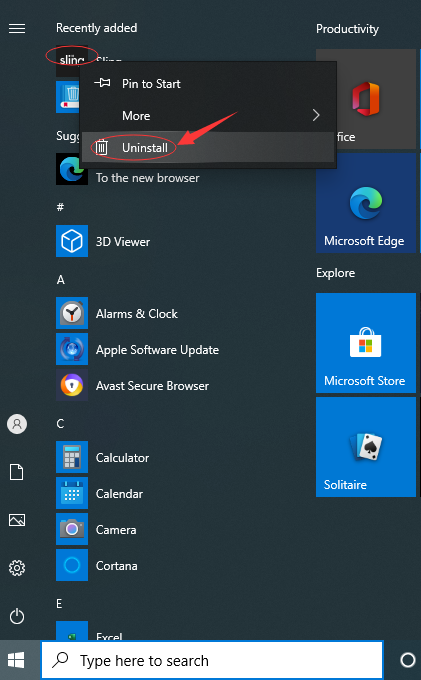 b) Uninstall it via the Apps & Features. Just input Apps into search box, then choose "Settings", and then click on "Apps", select the app then click on "Uninstall".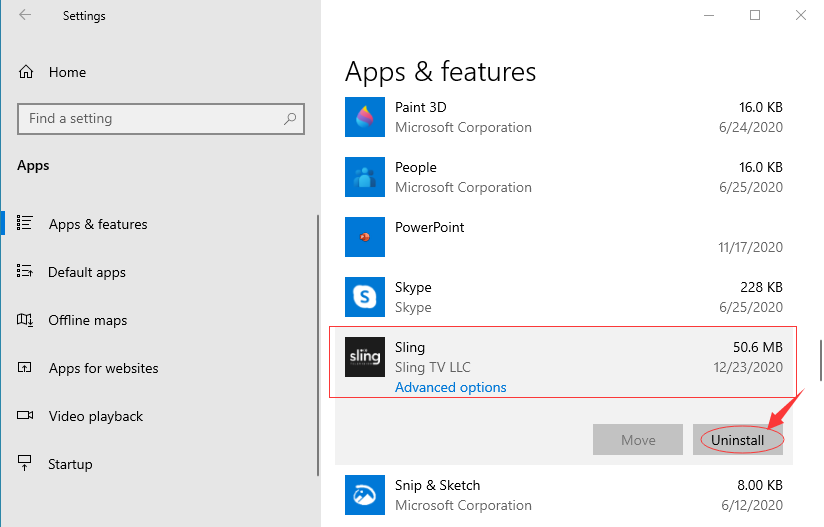 Step 2: Manually clean all leftovers created by the iTunes from regedit. (IMPORTANT STEP)
*For added protection, please back up the registry before you modify it.*
Check the following folders and delete associated files first.
C:\Program Files (x86)\xxx
C:\Users\[Your User Name]\AppData\Roaming\
C:\ProgramData\Microsoft\Windows\Start Menu\Programs\Startup
Next, you have to remove all its entries from Windows registry.
Press Windows + R, and type in regedit in RUN box, then press Enter. It'll open Registry Editor.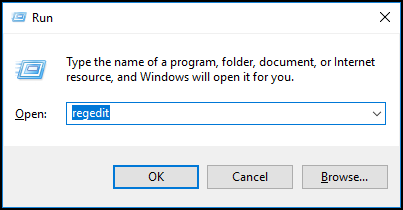 Navigate to the Registry key: (You do this by clicking on the plus sign next to each key in the path to expand the path below it. )
HKEY_LOCAL_MACHINE\SOFTWARE\Microsoft\Windows\CurrentVersion\Uninstall\ (For 32-bit system users)
HKEY_LOCAL_MACHINE\SOFTWARE\Wow6432Node\Microsoft\Windows\CurrentVersion\Uninstall\ (For 64-bit system users)
Kindly Reminder: You are welcome to contact online support if you need any assistance, just click the below button for help.
Published by Tony Shepherd & last updated on December 23, 2020 6:02 am