Are you familiar with System-check.de? How do you remove it?
System-check.de(www.system-check.de) is not a legitimate but a fake disk defragger site. System-check.de is a fraudulent site that has been found related to fake optimization program known as System Check. It came out last night and System check with PC Performance & Stability analysis report warnig alert. Once the fake hard failure software installed on a targeted computer, it will first scan the whole system automatically and tells  there are critical system errors with the system drive, RAM memory, system registry. Users can not control the keyboard and mouse to stop this for system check virus hide all your icons on the desktop, and there are nothing on start menu, all programs have gone. And there is only System Check scam alert or Windows Delayed Write Failed fake warning. After the scanning, there will be a huge number of fake infections displaying on the screen, such as 14 errors detected! Hard drive and memory errors are detected on your PC.Please perform the requested action. Actually it is not true, what is had told you just want to scare you to pay for its full version of system check (www.system-check.de) to get all errors fixed. What is more, nothing will help after you paid for the system check virus, system check scam.  Do not leave it in the computer, because System-check.de is able to change system settings, block system tasks and disable most programs on the infected computer.  And when you find this guide, please be sure that you will get the most useful help from the internet to delete System-check.de(www.system-check.de) virus(System check virus).
 System-check.de ScreenShot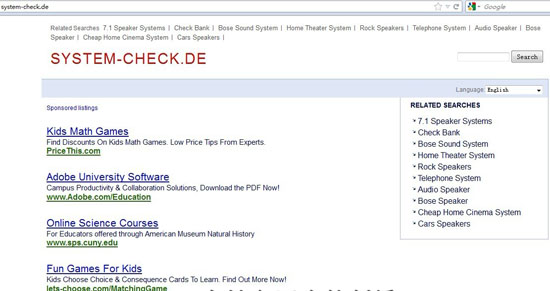 Learn more how to get rid of System-check.de malware and fake System Check virus permanently
How dangerous is the System-check.de/ system check virus?
System Check(www.system-check.de) will show you error report with symptoms like these: Hard drive rotational speed decreased by 20%, Drive C initializing error, Disk drive C:\is unreadable, system files are damaged, system is unstable. And GPU RAM temperature is critically high. Urgent RAM memory optimization is required.Ram momery speed decreased significantly and may cause a system failure. If you visit System-check.de frault site, even unintentionally, or notice signs of redirects to System-check.de or symptoms of System Check's presence, then you are redirected to the download pot to get a perfect antispyware likes system check to fix your PC problems and safeguard your whole PC. You can't access anything once suffered from the system check virus, there is nothing just the annoying and nasty system check firewall alert in fron of your screen. It is a terrible rogue thing and must be cleaned without any delay. Here you can follow the video guide to completely fix System-check.de problem and uninstall system check virus.
System check Virus ScreenShot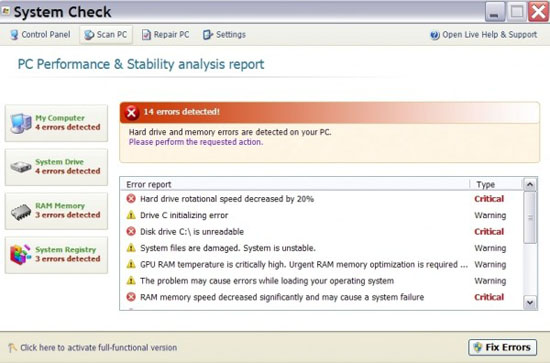 System-check.de malware similar video tutorial on how to modify or change Windows Registry:

(Important: If you are unsure what these items mean you should probably contact PC online Experts for help to safely remove System-check.de Virus.)
Published by Tony Shepherd & last updated on March 29, 2012 1:59 pm