I have a wearing on my iPhone saying it is corrupted with virus and browser has been damaged. I think it is a scam but I can't get out of it, would you please guide me remove this scam? What do I need to do? Please help!
The Scam Lock on my Safari – Is it Dangerous for my iPhone/iPad?
"Your Browser is Heavily Damage by (4) Virus" Scam is a big threat that can lock your safari and then inform you repair your phone and let you pay a fine. Hackers are spending more and more time creating different versions of their viruses to infiltrate several different mobile operating systems. So this time they have put (4) virus in users' phones (including iPhone, iPad and Android) via many wrong methods which can completely lock the target mobile phones. Most people take it for granted is that Smartphones are safe to use so an increasing number of users now use their smartphones for making e-payments and money transfers, assuming that they are as secure as the bank's infrastructure. However, the fact is Smartphones are mini computers in themselves and can absolutely become infected with all types of malware.
When seeing the right information on the page, some victims can believe it that it is a genuine message and pay the money to it. However, this message is a tool which can help hackers collect money. This scam virus cannot only help hackers to collect illegal benefits, it can also block all the access on the infected devices. People cannot bypass or exit this scam, some victims cannot even power off their devices. No matter how many times people restart the infected devices, this virus can pop up as soon as the system loaded. Please remember, do not pay to them. This is the way virus maker collects money from the victims. This virus can pass your firewall to infect your system. Once being infected, this virus can forbid your anti-virus program completely. And it may mess up your system data and steal your personal information. Don't just let this virus stay in your safari, it can bring more threats to your iPhone or iPad. What you should do is to remove it completely.
Suggestion: Don't have enough skill to deal with this "Your Browser is Heavily Damage by (4) Virus" Scam? The following instructions require better skills get it off. If you're not sure on how to delete this fake locking screen, please contact YooSecurity 24/7 Online Expert now to save your device immediately!


Important Things You Have To Know If Your Safari Has Been Blocked by (4) Virus Message:
1. "Your Browser is Heavily Damage by (4) Virus" Scam message can run on iPhone, iPad, iPod or other Apple devices.
2. Don't pay for anything or provide your personal information to this hoax, it won't help unlock Safari/Chrome, but just waste your money.
3. Currently antivirus apps are unable to detect or remove this malware.
4. There is no anti-malware software that can detect 100% of the malware out there.
The Screenshot of this Scam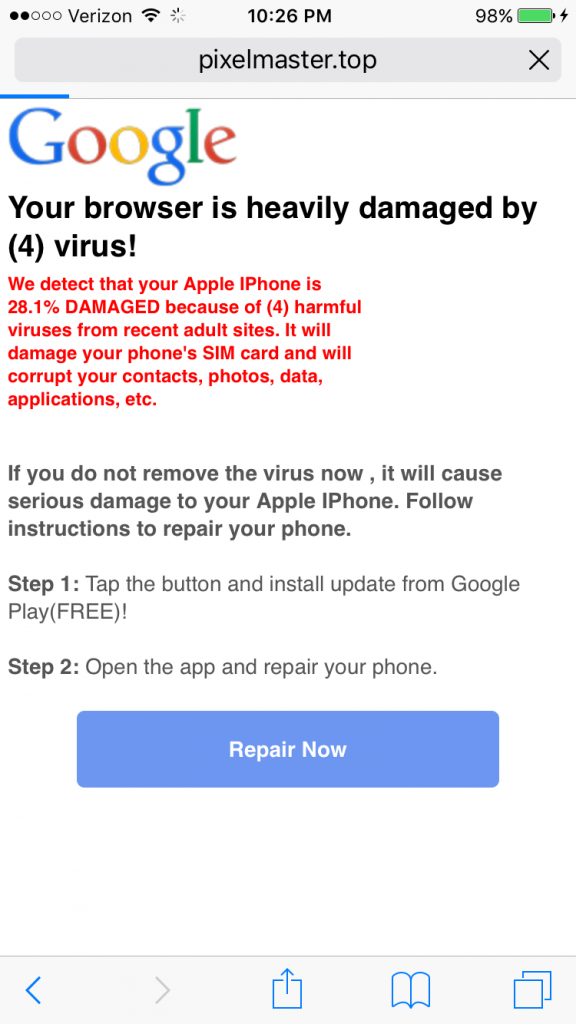 How did I have this Scam on my iPhone/iPad?
There are many ways for cyber hackers to spread this warning virus to innocent people. It is comes to you unconsciously when you click some links on the website, opened unknown e-mail attachments, or download unknown "free" software and so on. Freeware download websites encourage users to use small download programs (called 'installers', 'download managers', 'download tools', 'download clients', and so on) to download the chosen software. Download apps supposedly ease the download process. However, they offer installation of third party applications with the chosen software. When you download some documents or apps which you are interesting, this virus program will also be attached to download, and run as document application. There are also set up that contain the hijacker and users are directed to those sites from links within email messages that are sent out. Some of the emails will not contain the link, but they will instead have an attachment that they will be asked to click on. Once the virus goes into the target device, it may be trying to hijack your android and lock your apps began to generate advertising revenue. We strongly recommend that you don't do that above behavior, because they are likely to be false. No matter whatever how you get the virus, it is necessary to remove it from your computer before the arrival of more dangerous.
Never Become the Victims of "Your Browser is Heavily Damage by (4) Virus" Scam.
Although this virus page seems to be legitimate, it is 100% fake. It even uses web cam control to make users panic and make them to pay for the ransom wrongly. If your safari is infected, your camera may turn on automatically. It makes you into thinking your picture has been taken and sent to Hacker, or Hacker is now watching what you are doing. The fake warning will lock your device forever and block you from doing anything. As mentioned above, we can see how this scam works to deceive innocent users. It is good at using scare tactic to extract money from victims. Hence, users must get rid of this scam from the safari as soon as possible.
Manually Remove This Scam on iPhone/iPad
The Virus is upgraded by hackers to target more and more iPhone or iPad or other Mac OS X system product to get more illegal profits. Now it can hide Safari and make victims believe that Safari has really been deleted. We used to believe that Apple products with Mac OS X system is greatly immune to viruses and malware. However, since this version of virus is improved to attack iPhone/iPad, this malware will easily spread online and hits Apple iOS device.
1. Once you see the Warning message on your iPhone or iPad, please get this ransomware off your iPhone/iPad manually.
2. "Send email to "Your system is heavily damaged by Four virus!" Warning will pop up and lock your iPhone/iPad, you could get this virus by visiting a phishing site, opening a junk e-mail attachment, clicking on an unknown link or downloading an application from an unsafe source, especially after you jailbreak your device.
3. Currently no app is able to detect or remove this malware scam, even for preventing the virus from attacking the mobile device again.
4. Manual removal process requires sufficient expertise. To safely deal with the Scam from iPhone/iPad, you are recommended to Contact an Expert .
Conclusion
The "Your Browser is Heavily Damage by (4) Virus" Scam is just a ransomware that will bring your all kinds of inconveniences. When you find such an infection on your iphone or ipad, you should stay calm all the time. No matter what authority it claims to be, what punishments it claims you are supposed to face, never go to make the payment as the hackers say. If not, you will lose your money without the problem settled. But some issues that are resulted from the infection of the virus require you to pay more attention. To force you to pay them, the hackers of the scam have designed to the virus to be able to block you from using safari or chrome to reach the internet, which will inevitably bring your more inconveniences and troubles than just not being able to shop the beautiful clothes online or read what you are interested in on the webpages or search what you desire with your browser. In addition, many antivirus programs have turned to be helpless on this occasion. Manual removal is the best choice for you to choose. So anytime you find your device have been infected with the scam, you are recommended to turn to an expert to manually remove it completely from your device without any delay.To completely get this off Safari, you can contact YooSecurity PC experts 24/7 online for help right now.
Suggestion: To follow removal guide to get out of this virus that mentioned above, a quite level of knowledge is needed. Please make sure you are capable of dealing with this. If not, please Contact online experts for help now!

Published by Tony Shepherd & last updated on June 7, 2017 3:02 am