Many young people like playing web games online. So they would like to bookmark some web game pages for convenience. However, some browser hijacker may also be designed as an online web game site. Once you click something on that page, you will get some redirect pages or viruses such as Zulagames.com virus. It's very hard to remove it. If you have no clue to remove it, you can view this post for help.
How can Remove Zulagames.com Virus?
Some young people like playing online web games. So they would like to visit some web game sites and bookmark some of them as their favorite. However, some of those web game sites may be browser hijack viruses. Recently, some players found that their computers got a redirect virus Zulagames.com. It is a very normal URL like other online web game webpages. So what's the difference between them? As far as we know, legitimate online game web sites can give you convenience that you can quickly get on them to start playing a game if you set it as the homepage or bookmark it as your favorite. However, the one we are mentioning now is not a good one through which you can play games. Its main purpose it to force you to visit some web sites for advertising purpose. This kind of virus is defined as browser hijack virus.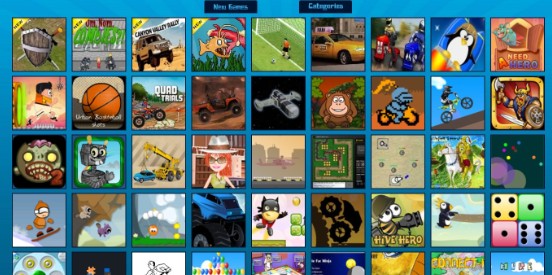 According to the survey, almost every one is unwilling to visit this web site. They are forced to use it. What does this mean? In fact, it is a website with some virus that change your homepage and redirects you to the site Zulagames.com, replacing your previous homepage. It comes with many viruses includes Trojan horses, malware or cankered links. When you get infected by this browser hijacker, it may not bring you to the forefront because you may think that it just changed your homepage and even you will regard it as one assistant for you to do some search more easily. If you really think so, you are all wet. The offensive Internet browser hijacker will drag you into the abyss of pain. The redirect virus may not just change your homepage to Zulagames.com, but also can bring in much other virus such as Trojan, malware and fake virus. What I have to mention is that the redirected websites are all full of danger and even if you use the redirect page to click start button or play button, you can't get what you need. It just shows some malicious links to you. When your browser is hijacked by redirect virus, your computer will always pop up some strange things.  If you're overtax your nerves on this matter, it's time to get the browser hijack virus expelled away from your computer forever.
To save your time and for a easy solution, you can contact YooCare/YooSecurity for help here:


How To Manually Remove Zulagames.com Virus in Several Steps
Tips: Before you start to remove Zulagames.com virus, you should be aware that the whole process includes setting files or folders' view, removing all the files related to the virus, deleting risky registry files and repair registry files, re-set some basic configurations of the whole operating system to improve the security level. The real difficult part is to identify the files of the virus since the files would be randomly named. Any mistake may cause errors or data loss. This requires complicated knowledge in IT filed. If you are not confident, contacting an expert for help to remove the virus is the best choice.
Step1:Press Ctrl+Shift+Esc keys at the same time to open the Task Manager. And find some strange processes that associating the browser hijack virus. Since the virus can change its files' names constantly, the processes may be randomly named as well.

Step2:The Operating System of your computer will hide some folders or files as its default settings. In order to find out all the files of Zulagames.com virus, you will need to do some basic steps to show the hidden files. Open Control Panel from Start menu. Go to Folder Options and under View tab, select Show hidden files and folders and non-select Hide protected operating system files (Recommended) then click OK: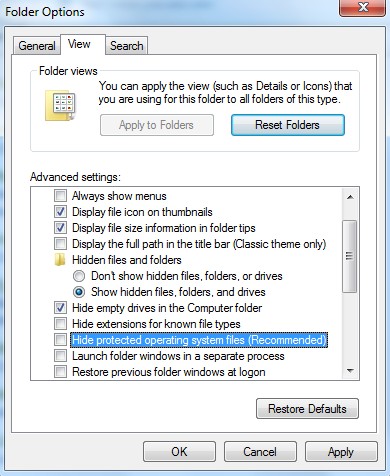 Step3: After you removed all the files of Zulagames.com hijacker, you will still need to remove or modify the related registry files, otherwise, the removed files will be generated automatically later again. To do this, you need to click Start menu, then in the search bar, type regedit and press Enter key, then you will open the Registry Editor program: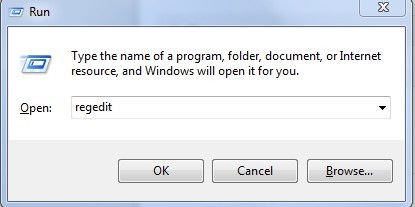 KEY_LOCAL_MACHINE/SOFTWARE/MICROSOFT/WINDOWS NT/(randomly named)
KEY_CURRENT_USER/SOFTWARE/MICROSOFT/WINDOWS NT/(randomly named)
Step4: Remove all the files of the Zulagames.com virus. The files need to be identified according to the registry files you just modified or deleted.
A Video Guides You More Clearly to Remove the Zulagames.com Virus in Details:
Summary: Zulagames.com virus is very risky which can finally destroy your computer system. And please don't consider auto delete method since there is no such anti-virus can really remove it completely. Don't download free software to take a chance. This can only waste your time and bring in much more viruses. All the instructions above are prepared for those who have much computer knowledge and are familiar with this kind for virus. Before you start to do the removal work, please consider it seriously. On the other hand, all the instructions above aim at the common infection situation. As for Zulagames.com virus, there are many variables according to different computers. What's worse, as time goes by, it may start its variation. Just like what is mentioned above, this virus infection is a cascaded infection. The related files may be changed. Unless you have much knowledge about this virus, it's very hard for you to do the removal work.
Kindly Reminder: If you have tried many methods but still can't remove Zulagames.com virus, to save your computer, please contact YooSecurity experts 24/7 online in time for assistance.

Published by Tony Shepherd & last updated on November 7, 2013 1:28 pm