Are you distressed after you got this Windows Protection Maintenance Virus? You didn't mean to install it in your computer but it broke in in full fury that you can't control it and remove it from your computer? From now on, you don't have to worry about this disgusting malware because you have our manually removal guide here:
Introduction of Windows Protection Maintenance Virus
Windows Protection Maintenance Virus, no matter from what point, you may think it's a powerful anti-software the first time your got it. In fact, it's one of those infamous Fake programs such as Smart HDD. It widely spread all over the world in 2012. Windows Protection Maintenance program is classified as a rogue as it displays false information in order to trick you into purchasing the program. The interface of it looks like legit, friendly and helpful. In fact, it absolutely plays a role of villain. Windows Protection malware is a virus indeed which hides on nasty malicious websites or in bundled downloads, camouflaged as fake video codecs or spam email attachments. It prepares to attack PCs anytime once it gets an opportunity. The chance can be one of your careless operation such as a visit to some malicious sites, click a cataleptic video or advertisement link, etc. No matter in which way, it will automatically install in your computer without your notice and permission.
In spite of your careless or ignorance, once Windows Protection Maintenance Virus is installed in your computer it will be configured to start automatically when Windows starts. Every time you start your computer, it will run as computer internet security software by pretend to scan and kill virus for you. After not a long time, it will pop up a fake scan alert notification claiming that your computer has been infected much virus and your computer is in extremely dangerous condition. If you attempt to use the program to remove these infections, though, it will state that you first need to purchase it before it can do so. This is a scam as the scan results are all fake, and in many cases, the infected files do not even exist in your computer. What is worse, it blocks legitimate Windows applications. It will also block many of the infected computer's normal functions, for example, Windows Task Manager and Registry editor. Therefore, please ignore the scan results. Do not waste any of your time with Windows Protection Maintenance, and, most importantly, do not spend any money on its "licensed" version, because this antispyware application is completely fake.
Some alert information of Windows Protection Maintenance Virus may be like this: Windows System32 (an important folder of Windows system) is infected with "Trojan-PSW.Win32.Antigen.a". Do you want to register your copy and remove all threats now? If you click "Remove" button to remove this malware you will be redirect to payment site. Windows Protection Maintenance is unable to detect and remove any infections, so do not pay for the bogus software; simply ignore all that it will display you. If you enter your banking information as requested, your money will be stolen from these Internet criminal who designed this program to record track of your credit card account. Anyway, it's not too late to get rid of it now!

Tips: A manual removal guide will be list below. However, the instructions are for those who are very familiar with the virus and good at computer. If you are not confident to get rid of it, you can contact YooCare/YooSecurity for help:


A Screenshot of Windows Protection Maintenance Virus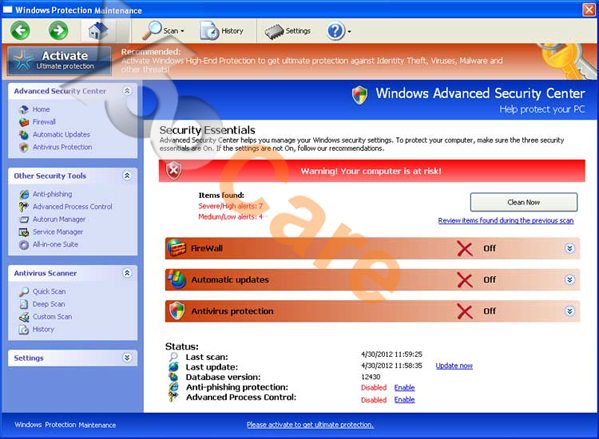 Manually Windows Protection Maintenance Fake with Substeps
Step 1: Try to plug out the internet cable then restart your computer normally. When you can see the desktop, plug in the cable again. If the virus doesn't pop up, you can continue from step 3. (If it's wireless connection, turn off/on instead of plugging in/out cable)
Step 2: Restart your computer in safe mode with networking. To do this, please keep pressing F8 key before windows launches until you get there shown as below: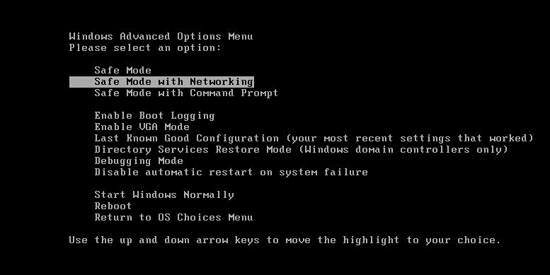 Step 3: Press Ctrl+Alt+Del keys to open the Task manager to stop the progress of Windows Protection Maintenance fake malware virus. Because the name will be changed fast, it will be displayed with different names with random letters.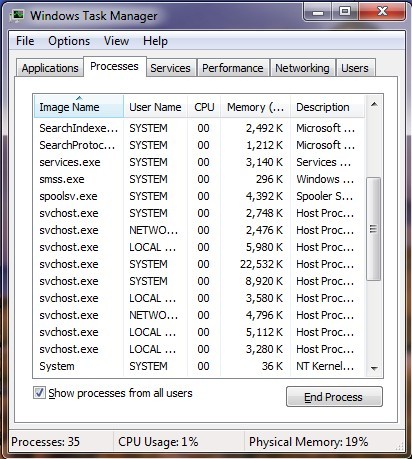 Step 4: Delete all the files related to Windows Protection Maintenance Virus
Login to profile in which you are getting Windows Protection Maintenance Fake…
Go to my computer
Then press ALT button once
Go to tools on menu bar
Goth select Folder options…
Click on view tab
Select Show hidden files, folders, and drives
Click OK button
HKCU\Software\Microsoft\Windows\CurrentVersion\Run\Random.exe
HKLM\Software\Microsoft\Windows\CurrentVersion\Run\Random.exe
HKLM\SOFTWARE\Microsoft\Windows NT\CurrentVersion\Image File Execution Options\random.exe\
Similar Video Guide to Remove Registry Entries That is Related to Windows Protection Maintenance Virus
Kindly remind: Don't think that this notorious Windows Protection Maintenance Virus will leave your computer as time goes by. And be aware that this fake malware cannot even provide your PC any protection. What it can give to you is only harm and damage. Don't waste even a penny on it. When you realize what it is one day, you will be very remorseful. Never believe those so called free software! Don't download to install those stuffs in your computer. They can not only remove the Windows Protection Maintenance Virus for you, but also bring you much more other virus such as ransomware, scam virus even fake things. You may not be aware that those so called free software can be another cheater, which will make you gain just more loss. Please don't take a chance to have a try. It's nonsense. There is no free lunch! If you really can't remove it yourself, please find an expert for assistance. This is the best choice.
All for your sake: to contact an expert such as YooCare/YooSecurity for professional service is well recommended if you really don't know how to remove Windows Protection Maintenance fake malware:


Published by Tony Shepherd & last updated on November 5, 2012 11:51 pm