What is Windows Expert Console activation code or reg key? Every time i boot up my computer there is a window popping up and it stated Windows Expert Console Unregistered Version? But i do have Mcafee and Norton installed on my system so i don't think it is real, but how does this come up and how do i get rid of this horrible program? I have Windows 7 and the malware keeps stopping my other applications? What can i do?

How to get rid of Windows Expert Console virus?
Windows Expert Console is a kind of fake anti-virus software which belongs to one of the largest rogue families—WinWebsec. Some people may think it is a good software, but it is totally inaccurate. Let me make it simple to you, it it a kind of Trojan. It will be installed into your computer without you consent. This rogue software pretends itself as a legit and effective program in your computer. It pops up as soon as the computer boots up, and after a 2-3 minutes scan, it will tell you that your computer is in great danger with lots of Trojan or virus, and suggest you to fix them immediately. To make you be more convinced about it, it shows all the viruses' locations in your disk. Everyone must be anxious when seeing this horrible thing happen in one's computer, and will eager to solve this problem right away. But in order to get rid of them, you need to purchase an code to activate the program into 'full' version; then after that, the program will handle those dangerous threats in your computer for you. Do not trust that, it is completely fake, all it wants is your money! There is nothing wrong with your computer except this fake program. The only one thing you need to do is to kick this malicious Trojan off from the computer.
Windows Expert Console is fake anti-virus software which is created by cyber criminals to hijack computer users. It is produced with a professional looking user interface which is similar to some legitimate antivirus software. Therefore, lots of internet users are tricked by the looks of the rogue fake program. The security scanner infiltrates computers without users' permission and scares computer users by displaying lots of infections, which don't exist at all and tries to swindle computer users out of money. Unfortunately, many internet users are cheated by purchasing its full version which the virus provides and would supposedly eliminate all the identified security issues. Actually, the program is a fake antivirus program and gives no assistance at all. All the infection it displays can't find their trails in your computer.  What you need to do is getting a complete removal immediately once you get the fake AV, instead of buying its version, to get rid of the virus.
Internet users should have a good knowledge that the Windows Expert Console is a total scam, all the virus wants to do is cheating your money from your credit card account. What's worse, once you pay for the fake anti-virus program, you may face a risk that your important information will be leaked out to the cyber criminals who created the fake thing.  They can get your information easily, such as your credit card information and other personal data, for criminal results. Therefore, you should get rid of it as soon as possible.
To save your computer, Live Chat with YooSecurity Expert Now. You can follow the manual removal guide below to get your problem fixed. (For advanced computer users)


Screenshot of Windows Expert Console Virus – Fake Alert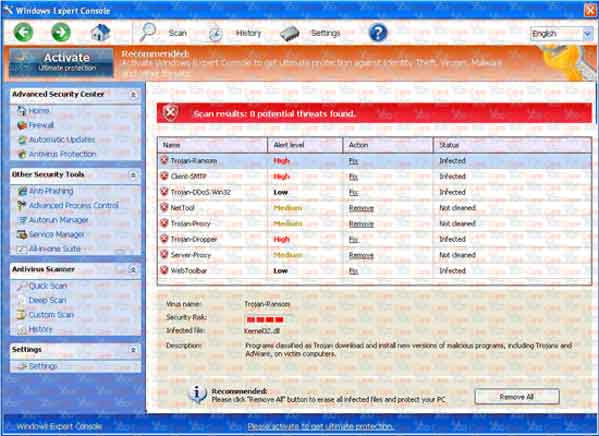 How Did I Get Windows Expert Console Virus Malware As I Have Anti-virus Software Installed On My PC?
Have you been freaked out by the Windows Expert Console but couldn't get rid of the annoying virus? You may misdeem the malware as a helpful antivirus and allow its install in your computer. However, once the installed on your computer, it will keep putting up put up innumerable obstacles in your operations on your computer. Do you come to realize that the warning alert is fake anti-virus and do nothing helpful with your computer but comes to bring crashes on the your computer? Have no idea of how to get rid of the virus? Please don't worry and review the post which concerning the virus and the manual removal guide.
Best Way to Remove The Malware With Manual Removal Guide
How do we get rid of Windows Expert Console rogue software? Be cautious about unknown website, virus can be self- downloaded when the page is loading. Do not trust any software that you don't have a clear idea about. YooCare/YooSecurity provides the most professional online PC service. YooCare experts can plan out a solution to access your computer in safe mode with networking at first. When it's possible to do that, their experts will do as follows:
Step A: Restart computer in safe mode with networking. To do this, just need to press F8 key before the system is started like this: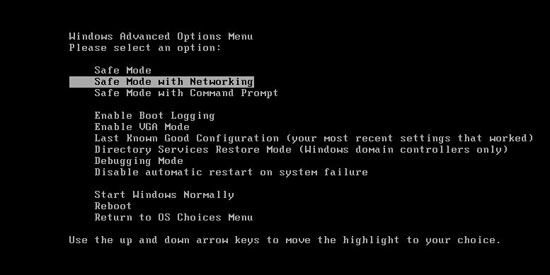 Step B: Press Ctrl+Alt+Del keys to open the Task manager to stop the progress. Because the name will be changed fast, it will be show with different name.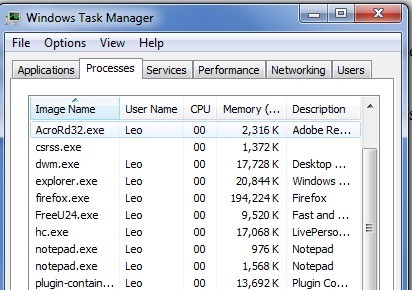 Step C: Delete all the related file
Step D: Delete associated register entries created in computer system.
HKEY_LOCAL_MACHINE\SOFTWARE\Clients\StartMenuInternet\FIREFOX.EXE\shell\open\command "(Default)" = '"%LocalAppData%\kdn.exe" -a "C:\Program Files\Mozilla Firefox\firefox.exe"'HKEY_LOCAL_MACHINE\SOFTWARE\Clients\StartMenuInternet\FIREFOX.EXE\shell\safemode\command "(Default)" = '"%LocalAppData%\kdn.exe" -a "C:\Program Files\Mozilla Firefox\firefox.exe" -safe-mode'
HKEY_LOCAL_MACHINE\SOFTWARE\Clients\StartMenuInternet\IEXPLORE.EXE\shell\open\command "(Default)" = '"%LocalAppData%\kdn.exe" -a "C:\Program Files\Internet Explorer\iexplore.exe"'
By the way: Just be attacked by this rogue antispyware? I don't think it's legit or is it? It is fake. Manually remove Windows Expert Console3 rogue thing is a rather difficult work, if you are not a professional computer expert. You have better get YooCare online service 24/7 in time. This is the real fastest and safe way to remove it.
Video Guide to Remove The Fake AV From Regedit
In conclusion, Windows Expert Console is a fake anti-virus program that will mess up your computer and you can't trust it at all. It deceives internet users with its resemblant looks as a real anti-virus program. Once it is installed in your computer, your computer will face some risky situations. When installed, the rogue software will be configured to run every time when you try to launch a program on your computer. And then it will make as if it tries to scan your computer and display some infections which actually is not real. If you want to remove the infection, it will order you to purchase the program. As the scanning results are phony, you have no need to buy the program but clean out all infections.
Special tips: Spending a lot of time fixing your computer with no success? Contact experts now to unlock your computer and remove Windows Expert Console virus safely and completely.

Published by Tony Shepherd & last updated on April 10, 2014 4:18 am