Sir, I got a message while visiting a site on my mobile in google chrome browser that my mobile saying Your system is heavily damaged by four virus. I have to repair it. Please give me solution how to resolve it? I have apple phone with this message popping up. How do I repair my phone? I get a pop up with my Safari heading that says "Your browser is heavily damaged by Four virus! We detect that your Generic Android 6.0 is 28.1% damaged because of harmful viruses from recent adult sites. it will damage your phones sim card and will corrupt your contacts photos and data. If you do not remove the virus now it will cause serious damage". It asks me to hit the Repair Now button. I have downloaded AVG antivirus and Malware Bytes and they can't find anything wrong. Please tell me what to do?
"Your system is heavily damaged by Four virus!" Warning Description
This Warning is a typical Browser Hijacker-type program. If you get this "Your system is heavily damaged by Four virus!" Warning on your iPhone or iPad, sorry to tell you that your device has been targeted by a kind of ransomware that created by cyber criminals. It is an evil product made by cyber hackers to attack iPhone and iPad products all over the world. Also, Android devices can be attacked by this scam virus as well. Once your iPhone or iPad encounters this virus, you will notice that when you open your Safari or Chrome, this page can always pop up in no time. You cannot open any other pages, that's to say, you are completely out of use of your Internet on the infected device.
The Screenshot Of This Warning Virus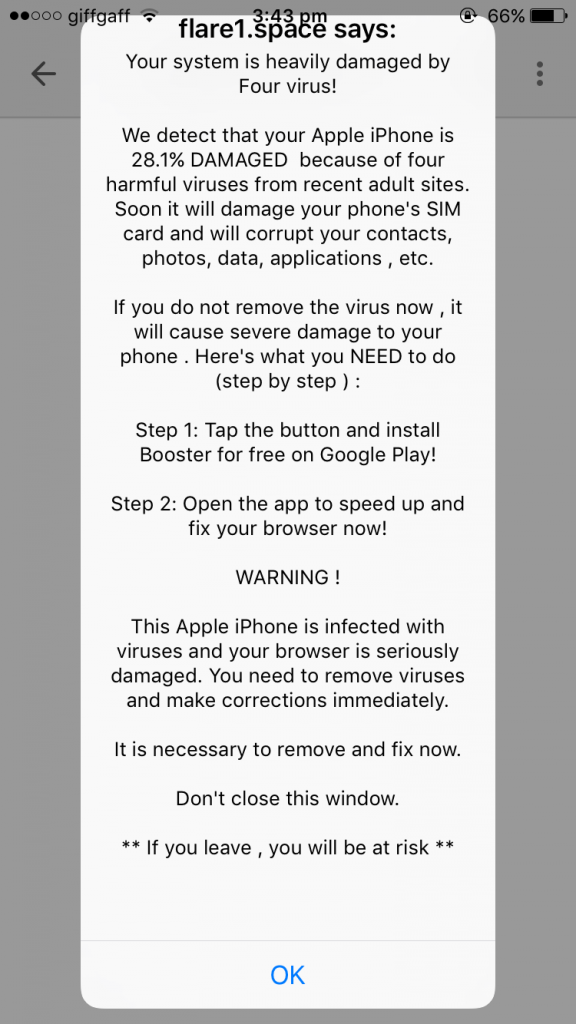 Cyber hackers can design this "Your system is heavily damaged by Four virus!" Warning with a very misleading appearance so that it can cheat many inexperienced users to save it to their apple device. When seeing the right information on the page, some victims can believe it that it is a genuine message and pay the money to it. However, this message is a tool which can help hackers collect money. This scam virus cannot only help hackers to collect illegal benefits, it can also block all the access on the infected devices. People cannot bypass or exit this scam, some victims cannot even power off their devices. No matter how many times people restart the infected devices, this virus can pop up as soon as the system loaded. There are many ways for hackers to spread this virus so it can be really hard for users to prevent this ransomeware from coming.. In this case, as soon as people go to those corrupted pages, their iPhone and iPad can be redirected to this hijacker page instantly. Also, this hijacker can be installed to the infected device when people download programs which contain this infection.
NOTE: Being afraid to do any wrong operation during the process of removing this Virus from iPhone or iPad? Please contact YooSecurity Online Experts, we are here to help you:


How did I have this virus on my iPhone/iPad?
There are many ways for cyber hackers to spread this warning virus to innocent people. It is comes to you unconsciously when you click some links on the website, opened unknown e-mail attachments, or download unknown "free" software and so on. Freeware download websites encourage users to use small download programs (called 'installers', 'download managers', 'download tools', 'download clients', and so on) to download the chosen software. Download apps supposedly ease the download process. However, they offer installation of third party applications with the chosen software. When you download some documents or apps which you are interesting, this virus program will also be attached to download, and run as document application. There are also set up that contain the hijacker and users are directed to those sites from links within email messages that are sent out. Some of the emails will not contain the link, but they will instead have an attachment that they will be asked to click on. Once the virus goes into the target device, it may be trying to hijack your android and lock your apps began to generate advertising revenue. We strongly recommend that you don't do that above behavior, because they are likely to be false. No matter whatever how you get the virus, it is necessary to remove it from your computer before the arrival of more dangerous.
Manually Remove "Your system is heavily damaged by Four virus!" Warning on iPhone/iPad
The Virus is upgraded by hackers to target more and more iPhone or iPad or other Mac OS X system product to get more illegal profits. Now it can hide Safari and make victims believe that Safari has really been deleted. We used to believe that Apple products with Mac OS X system is greatly immune to viruses and malware. However, since this version of virus is improved to attack iPhone/iPad, this malware will easily spread online and hits Apple iOS device.
1. Once you see "Send email to "Your system is heavily damaged by Four virus!" Warning message on your iPhone or iPad, please get this ransomware off your iPhone/iPad manually.
2. "Send email to "Your system is heavily damaged by Four virus!" Warning will pop up and lock your iPhone/iPad, you could get this virus by visiting a phishing site, opening a junk e-mail attachment, clicking on an unknown link or downloading an application from an unsafe source, especially after you jailbreak your device.
3. Currently no app is able to detect or remove this malware scam, even for preventing the virus from attacking the mobile device again.
4. Manual removal process requires sufficient expertise. To safely deal with the Scam from iPhone/iPad, you are recommended to Contact an Expert .
Conclusion
It is easy for cyber hackers to "Your system is heavily damaged by Four virus!" Warning from the Internet. Once your iPhone or iPad gets infected with the virus, you will not be able to go online anymore as this scam message can always come out. It claims that you have violated the laws which need to pay a fine to avoid further jail punishment. Don't be fooled by this virus. Paying the so-called fine will not help you solve this problem. It is a scam virus rather than a real message from the police. If you want to get rid of this scam message, what you have to do is to remove the virus from your device completely.
Suggestion: To follow removal guide to get out of this virus that mentioned above, a quite level of knowledge is needed. Please make sure you are capable of dealing with this. If not, please Contact online experts for help now!

Published by Tony Shepherd & last updated on March 15, 2018 2:53 am