My home page is hacked by the Searchenginer.com pop-up website. How can I remove it from browser? Each time I try to search something now, I am always redirected to this website. I keep resetting the browser defaults but this website won't go away. It reappears whenever I start the browser. I want to get rid of this popup website for good. What choices do I have?

Searchenginer.com – Remove Browser Hijacker
The pop-up Searchenginer.com website claims that it's a helpful search page for users to get wanted information online. However, it's reported by some computer users lately that it can cause constant troubles on the browsers it gets on. When users try to delete the popup, they often fail to do so no matter how many times they have tried. This Searchenginer popup can be categorized as a browser hijacker (also known as an adware domain) which is particularly used by unknown online third-party to display misleading information to computer users and collect sensitive and valuable data from browsing histories of users. It is not a friendly search engine to keep. Computer users can manually remove Searchenginer.com from computer safely.

To most computer users, browsing applications are important tools on computers. They open doors for computer users to abundant online resources shared on the World Wide Web. A browser hijacker is able to infect these applications and cause potential dangers to get lots of computer users in pain. Internet Explorer, Google Chrome and Mozilla Firefox are the three most popular browsing applications that can be targeted by a browser hijacker. With third-party tracking cookies, it's capable of tracing users online activities and collect their browsing histories to help cyber criminals. In other words, users can become potential victims of cyber criminals all because of this browser hijacker. When infected by Searchenginer.com, browser can be completely messed up:
It automatically modifies the browser defaults to block users' online sessions.
It disables/uninstalls useful toolbars from browser and installs unfriendly add-ons without permissions.
It displays constant pop-up ads to interrupt users' online activities.
It generally slows down the speed of the browser.
It records users' browsing histories for cyber criminal usage.
…
How to remove Searchenginer.com popup on browser?
Have run antivirus security checks many times but still can't fix this problem for browser? Have uninstalled unwanted applications from Control Panel but still get the popup return constantly? To fix this browser hijacker problem completely, a manual removal is more efficient than antivirus removal. This passage will provide a guide to remove Searchenginer.com redirect popup manually. Expertise will be needed during the manual process. Hence, only advanced computer users are suggested to manually eliminate the popup on their own.
Suggestions: Not a computer literate and can't get rid of the unwanted popup on home page? Contact YooSecurity Online PC Experts for help now to save your browser(s) from this adware problem ASAP:


The Hijacker Popup Screenshot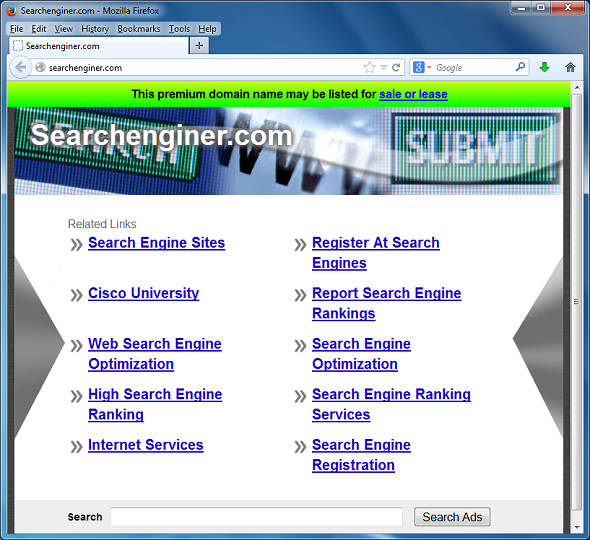 * From the above screenshot we can see that the Searchenginer.com has a regular look and it provides many categories for searching. It seems to be a helpful search engine. However, users will come across constant troubles when getting online all because of this pop-up website. It is a browser adware domain that mainly releases misleading results to confuse and scam computer users. Malware and spyware problems can also be caused on the computer with the help of this browser hijacker. Users should delete the adware domain immediately to stop these annoying and dangerous pop-up ads.
Can't stop Searchenginer.com popups? Need help ASAP.
A browser hijacker problem is as dangerous as other computer threats. It can not only hack the browsers and steal valuable information stored on these applications, but cause potential malware problems to damage the system. Users will need to reset browser defaults, adjust certain registry values and uninstall potentially unwanted toolbars from browser to make it all working again. A general manual removal guide will be introduced in the following for help.
Browser Hijacker Manual Removal Instructions
A step-by-step guide to remove the hijacker popups manually from Mozilla Firefox:
1. Windows Task Manager.


Press CTRL+ALT+DELETE or CTRL+SHIFT+ESC; or pull up Run box from Start menu to type in taskmgr
Right click on items you want to end, select Go To Process
Click on End Process
or
Click on Processes tab
End process of all Firefox items/Searchenginer.com popup
2. Delete virus files and adjust registries from system.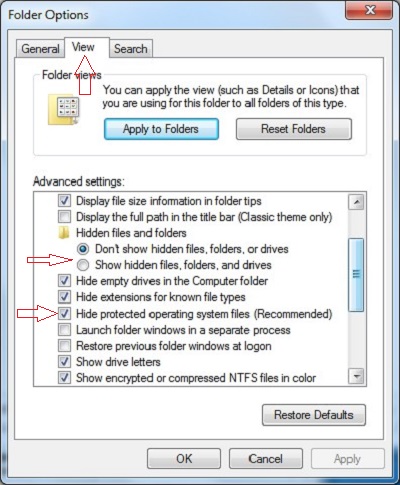 Click on Start button
Control Panel
Search for "folder options" on top right corner
Click on View tab
Show hidden files, folders, and drives
C:\Users\profile name here\AppData\-
HKCU\Software\Microsoft\Windows\CurrentVersion\Run\-
* Files and registries of the Searchenginer.com hijacker can be changed or renamed time from time in order to keep the infection functioning longer. If you are not able to identify the related items, contact online experts for help instantly.
3. Reset Firefox.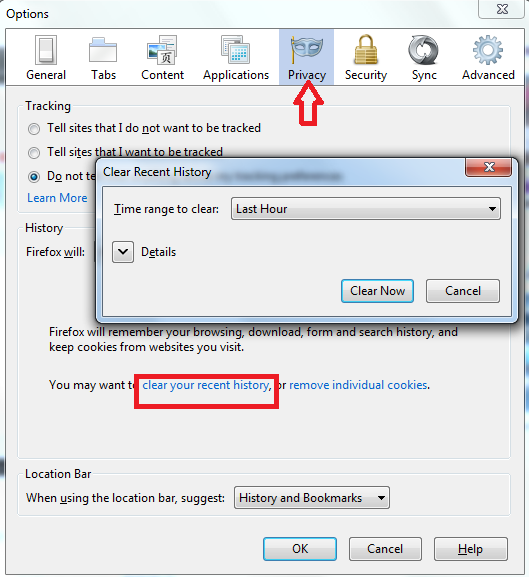 Click on Tools – Options
Under General tab – reset home page on Firefox
Under Privacy tab – clear browsing histories
4. Close out all the windows and restart the system to take effects.
Similar video on browser hijacker removal:

Conclusion
If you are having all kinds of troubles listed above on your browser, remove Searchenginer.com redirect as soon as possible to restore your browser and keep it secure from being hacked. This pop-up webpage usually is not that easy to close out as it keeps reappearing to block you from accessing websites online. Even by uninstalling the affected browser(s) may not help to completely delete this adware problem from system. Manual removal, compared to antivirus security programs, is more efficient but also complicated for average computer users. This passage provides a general guide on how to remove this popup manually. However, certain files or registries may not locate in same paths which will require expertise to verify before deleting or changing anything on the system. Want to uninstall the hijacker from system? Start doing something now!
Note: If you are still unable to delete Searchenginer.com on browser, please contact YooSecurity Online Experts for help now to remove this popup safely:


Published by Michael Myn & last updated on January 10, 2014 10:12 am