Can't get rid of royal-search.com popup on home page and need help? Are you currently having troubles to search online because of this pop-up website? Is it reappearing on your home page no matter how many times you have deleted it? If you are also receiving lots of unwanted pop-up ads on the webs, unfortunately, you are having an adware problem on your browser. Remove this potential threat to restore your browser ASAP!

Royal-search.com Popups – Remove Browser Hijacker
The Royal-search.com pop-up website looking like a regular search engine is in fact categorized as a browser adware/hijacker problem that many computer users are recently having trouble with. The hijacker, being able to escape from most security protection programs, is not that easy to be fixed by most average computer users. But if the hijacker stays unresolved on a system, users will have constant troubles getting online as well as running on the computer. Many potential problems such as malware threats and a sluggish system can be expected. By modifying the browser defaults and changing the browsing patterns, the hijacker is specifically able to steal valuable personal information from the targeted computers and turn users into victims of cyber criminals. A complete fix is required and is suggested to be performed manually as soon as possible.

Like many other browser hijackers, Royal-search.com pops up and automatically becomes your new home page on browsers. It can usually get on browsers in a bundle with freeware. Google Chrome, Internet Explorer and Mozilla Firefox are among the three most popular browsing applications that can be targeted by this hijacker adware. Hence, both Windows and Mac users are the targets of this browser hijacker. Apart from getting potential malware problems on the computer, users can also get a lot of difficulties with their browsers:
Start-up pages on browsers will be automatically changed.
Browser defaults will be modified.
Users can get lots of pop-up ads when searching online.
Users can also face online redirecting problems constantly.
Browsers run in a general lack of speed.
…
Can't get rid of Royal-search.com popup on browser? How to remove?
For most average computer users, they often count on antivirus programs when dealing with computer viruses and other computer problems. However, in this case, the hijacker is able to disable the antivirus removal. To remove the popup on home page and restore your browser, manually fix this problem as it's a more efficient way. This passage also contains a general guide for the manual removal below.
Suggestions: Certain levels of computer skills will be needed during the manual removal process. Contact YooSecurity Online PC Experts for help now to delete the Royal-search.com ASAP:


The Hijacker Popup Screenshot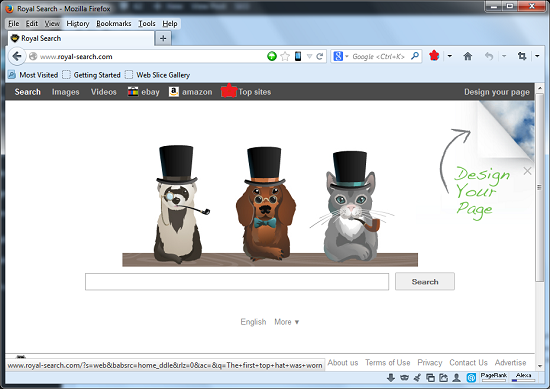 * If you are finding this pop-up Royal Search adware appear as regular as other search webpages, do not use it for your online searching if you are not familiar with it. Browser hijackers often use deceitful and confusing appearances to trick computer users. The common characters of a browser hijacker will give the truth of this pop-up website away. It gets on your browser without permission and automatically becomes the new home page. It also blocks you from accessing regular websites and redirects you online to unwanted/unidentified search results.
How to get rid of www.royal-search.com popup to restore browser ASAP?
Although it's not quarantined by antivirus software as a computer virus, the browser hijacker popup is a potential threat to the system. It can not only cause lots of troubles during users' online sessions, but lead to potential malware or spyware problems to compromise the system. To remove the popup off of your home page, manually delete the adware and restore default settings with expertise.
Browser Hijacker Manual Removal Instructions
A step-by-step guide to remove the hijacker popups manually from Mozilla Firefox:
1. Windows Task Manager.


Press CTRL+ALT+DELETE or CTRL+SHIFT+ESC; or pull up Run box from Start menu to type in taskmgr
Right click on items you want to end, select Go To Process
Click on End Process
or
Click on Processes tab
End process of all Firefox items/Royal-search.com popups
2. Delete virus files and adjust registries from system.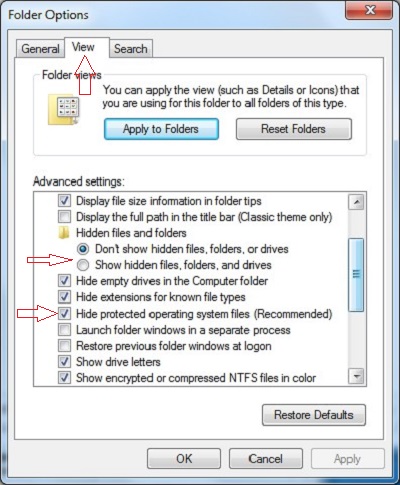 Click on Start button
Control Panel
Search for "folder options" on top right corner
Click on View tab
Show hidden files, folders, and drives
C:\Users\profile name here\AppData\-
HKCU\Software\Microsoft\Windows\CurrentVersion\Run\-
* Files and registries of the Royal-search.com hijacker can be changed or renamed time from time in order to keep the infection functioning longer. If you are not able to identify the related items, contact online experts for help instantly.
3. Reset Firefox.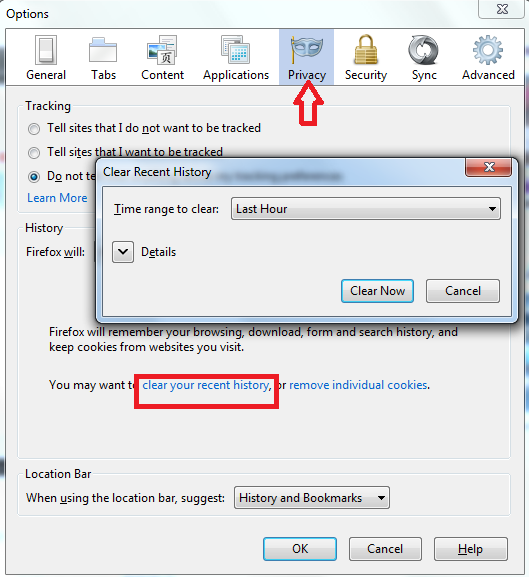 Click on Tools – Options
Under General tab – reset home page on Firefox
Under Privacy tab – clear browsing histories
4. Close out all the windows and restart the system to take effects.
Similar video on browser hijacker removal:

Conclusion
Always use or stick to familiar authorized search engines is a suggested manner to keep for many average computer users as they normally don't have sufficient knowledge to deal with various computer problems if anything happens. The pop-up www.royal-search.com (Royal Search) is categorized as a browser problem that can be caused by an adware issue. This adware usually contains lots of misleading information and associates with unknown malware websites or links to trick computer users into all kinds of potential cyber scams. If you are not qualified with sufficient computer skills, you may come across constant troubles to get rid of the popup. Manual removal with expertise is a guaranteed solution to completely fix this problem on your browser.
Note: Have tried to remove Royal search popup manually but to no avail? Please contact YooSecurity Online Experts for help to complete the manual removal process and save your computer from further troubles now:


Published by Tony Shepherd & last updated on January 14, 2014 7:40 am