I'm freaking to death now because my computer has been locked by the Politie Office Central virus thing. Some people say it is a Ukash scam or Paysafecare scam. I was almost going to pay the 100 €. My friend stopped me and told me that it's really a scam. I will never be fooled and never pay the money to the hackers who manipulate all this. However, I don't know how to unlock my computer because I'm really computer illiterate. Who can help me get rid of Politie Office Central ransomware?
Computer Locked by Politie Office Central Virus?How to Remove?
Politie Office Central Virus, is a newly released ransomware or scam malware that has been widely found in Belgium. It caused a panic on a large scare and at the same  time, defrauded large sums of money from Belgian. It just has the same nature as another infamous ransomware FBI Moneypak virus which has commonly infected many people's PCs in USA or UK and some other European countries. It's a clone of ransomware series. It claims that the alert information is originated from the state organs Politie Office Central. It would tell you that they locked your computer because you have done something violating some laws of Belgium. One high-sounding reason is that you have visited some illegal websites like child pornography websites and your IP address now is under official investigation. Don't be scared by it nor pay the money. It's not real!
You may ask why people would rather believe  the Politie Office Central Virus than consider it as a ransomware. The main reasons are, on the one hand, this ransomware virus has been skillfully designed by some cyber criminals. On the locking page, you even can see the badge image of the real Politie Office Central. It can make people take on faith. But it's not hard to forge a fake one from the official web site of Politie Office Central. On the other hand, some people who got this virus infection might really did the same things as the ransomware warning. Such as, some people might really watch porn sites or videos. However, even if you really did the illegal things, the real Politie Office Central would never send you message online in such way. So don't believe its tricks. So once your computer has been locked, the first thing should be clear is that Politie Office Central  is nothing more than a scam malware.
If your computer has been locked by Politie Office Central Virus, that means, your anti-virus could not stop this virus getting into your computer. So obviously, anti-virus can't remove this ransomware as well. When you start your computer in safe mode and run your security program to have a full scan, nothing will be detected from your computer. Luckily, sometimes people who got this virus infection were able to start their computer. It's not because that the virus was gone, but for the reason that in some cases, the virus didn't take effect. However, it would lock your computer later again. And the files related the virus are still in your computer, so removal work is urgent and necessary. Even if you pay for the ransom, you will get nothing but just lose your money and make a chance to enable cyber criminals to gain remote access to the compromised PC operating system. Politie Office Central Virus must be removed as soon as possible in order to protect your system performance getting to be worse.
Note: Don't have enough skills or don't know how to get rid of this virus? If you're not sure on how to delete this fake locking screen, contact YooCare/YooSecurity 24/7 Online Experts now to save your computer immediately!


The Screenshot of Politie Office Central Scam Malware – Your Personal Computer has been blocked Ransomware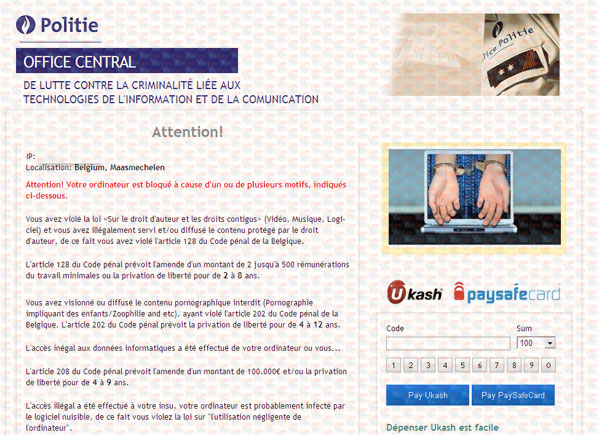 Symptom of Politie Office Central Ukash Virus
The hackers have developed this attack to steal money from native users that are not aware of these viruses. The Politie Office Central Virus – Your Personal Computer has been blocked warning also mentions that the IP address of the computer is logged as well and all of this combined can really convince someone that they indeed breaked the law of Belgiumand they would rather pay the 100 Euros instead of face criminal charges and additional penalties. The warning message that is displayed mentions:
Politie Office Central
DE LUTTE CONTRE LA CRIMINALITE LIEE AUX
TECHNOLOGIES DE L'INFORMATION ET DE LA COMUNICATION
Attention! Votre ordinateur est bloqué à cause d'un ou de plusieurs motifs indiqués ci-dessous.
Vous avez violé la loi <> (Vidéo, Musique, Logiciel) et vous avez illégalement servi et/ou diffuse le contenu protégé par le droit d'auteur, de ce fait vouz avez violé l'article 128 du Code penal de la Belgique. […]
La some de l'amende fait 100€.
Steps to Manually Remove Politie Office Central Virus – Your Personal Computer has been blocked Virus Scam Ransomware
1. Reboot your infected computer and keep pressing F8 key on your keyboard and next use the arrow keys to select "Safe Mode with Networking" and press E/Enter;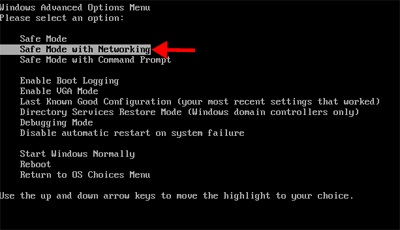 2. Press Ctrl+Alt+Del at the same time or right click on the Task Bar to open the Windows Task Manager; then scroll down to End processes related to [Metropolitan Police virus].exe;

3. Open Control Panel from Start menu; then find Folder Options and under View tab, tick Show hidden files and folders and non-tick Hide protected operating system files (Recommended) then click OK;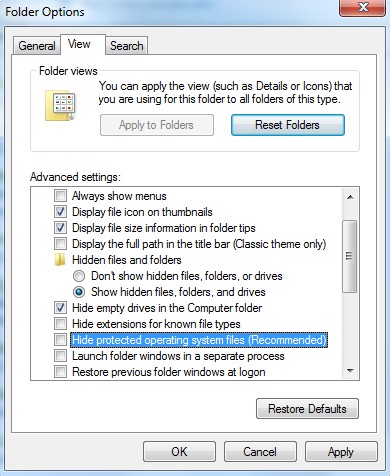 4. Open Registry Editor by pressing Windows+R keys and typing in regedit;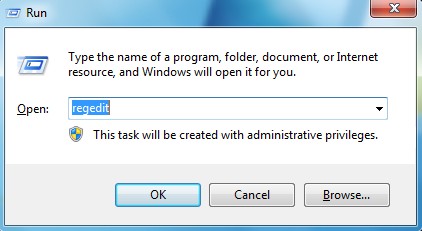 5. Find out and delete all these associating files of Politie Office Central Virus as below:
%AppData%\Random
6. Find out and remove all these associated registry entries of Metropolitan Police virus:
HKEY_CURRENT_USER\Software\Microsoft\Windows\CurrentVersion\Policies\System "DisableRegedit" = 0
HKEY_CURRENT_USER\Software\Microsoft\Windows\CurrentVersion\Policies\System "DisableRegistryTools" = 0
7. Reboot again and get into normal mode when the above steps are done.
Manual Removal of Politie Office Central Scam Virus Video Guide:
Summary:
This Politie Office Central Virus should be removed as soon as possible. If you leave it alone, it will not only stay in your computer, but also can put your IP address in very dangerous condition. However, if you can remove it in time, it can't do any harm to your computer and won't ask for money any more. Also please don't pay money to this scam, even if you pay to the hackers, they won't unlock your computer. Never believe those so called free software! Don't download to install those stuffs in your computer. They can not remove the Politie Office Central ukash virus for you, but can also bring you much more other virus. You may not be aware that those so called free software can be another cheater, which will make you gain just more loss. Please don't take a chance to have a try. It's nonsense. There is no free lunch! If you really can't remove it yourself, please find an expert for assistance. This is the best choice.
All for your sake: To contact an expert such as YooCare/YooSecurity for professional service is well recommended if you really don't know how to remove Politie Office Central Virus:

Published by Leo R. Oscar & last updated on May 22, 2013 3:48 pm