My PC screen is locked by the Police Nationale Francaise virus. It says I have been watching child pornography online which I haven't. Am I violating any laws of France? Will the police come to my house if I don't submit the payment required? Do I have to pay even for what I haven't done? I did a bit of researches online and found out that this Police Nationale Francaise popup is a scam. I need help unlocking my computer from this scary message.

Police Nationale Francaise Virus Blocked PC – How to Unlock?
Police Nationale Francaise virus is a French variant of Ransomware which will claim to be from authorities and lock up your computer because of some law-breaking activities you have done on the Internet. This PC problem is actually a global issue and annoys computer users from almost every nation in this world as long as computers and Internet are accessible in the areas. This virus can be distributed online via bundling with many resources or mediums. Through studies, the Police Nationale Francaise thing specifically launches its scam program in the French areas and asks for 100 euro via Ukash to unlock the PCs. With the title 'Police Nationale Francaise' and 'Attention!!! Activité illegale est révélée!!!' on the block page, many computer users find it very legit and scary. But despite from its deceiving appearance, this popup is a scam act which shouldn't be trusted at all!

French computer users can be specifically targeted by this newly released Police Nationale Francaise virus. The virus can get on computers without permissions from users. Lately, browsers can also be blocked by such scam virus on mac books and Windows OS. This can be achieved by the virus program bundling with freeware and other mediums online to help it distribute. Under this circumstance, victims of this virus normally don't know when and how they are put under the virus attack especially when their machines have got antivirus protections. We believe that such scam virus has the ability to escape or even disable the functions of antivirus applications in order to sneak into vulnerable computers. To avoid being attacked by this Police Nationale Francaise Ukash virus, be careful when download unknown programs or attachments from the Internet.
When the Police Nationale Francaise virus is installed successfully, it can modify the affected system and make its program the start-up process so that the block page can be automatically launched each time the PC turns on. The computer screen will then be covered by this fake Police Nationale Francaise scam message telling you that your PC is locked because you have watched child porn and other banned content online. With the correct IP address, Windows OS, locations and other info listed, this Ukash scam virus often makes PC users nervous and confuses them about its legitimacy. It then says 'Pour débloquer votre ordinateur il vous faut payer amende à hauteur de 100 euros! Il faut payer l'amende dans 72 heures du blocage de votre ordinateur!' Similarly, another member from the French version of Ransomware – Votre fournisseur d'accès à Internet est bloque virus also requires 100 euro from computer users as the fine to unlock their PCs. Do not be fooled by this Police Nationale Francaise virus! Your PC won't be unlocked even after the payment is sent. And the money you've spent will not be repossessed. Instead of paying the requested fine, a virus removal is only needed to unlock PC from fake Police Nationale Francaise Ukash block.
Suggestions: To unlock your computer from this annoying scam popup, Contact YooSecurity Online PC Experts for assistance if you are not computer literate and have no idea on how to do it.


Fake Police Nationale Francaise Ukash Scam Virus Screenshot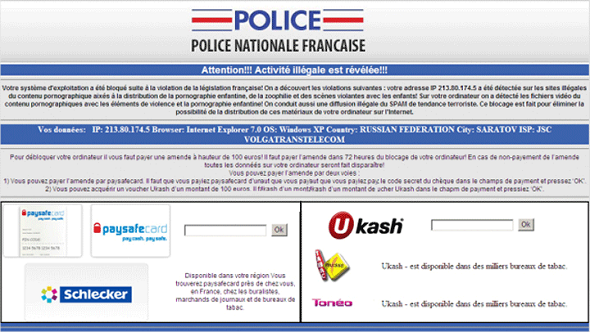 When computer is locked by this Police Nationale Francaise virus screen, you will receive a popup block showing as above. Normally, such scam viruses will list your actual personal information including IP address, Windows OS, Browser, User Name and Location to make the block page look more real so as to get more victims to pay the requested 100 euro fine. This amount of fine, instead of helping you unlock your PC, will help cyber criminals benefit. PaySafeCard and Ukash are the payment forms.
Guide to Unlock PC From Fake Police Nationale Francaise Warning
Antivirus, which is created to help PC users protect their machines from any possible threats, is believed to fail on removing this Police Nationale Francaise virus. And because the files and registry values can be changed by the virus in order to bring it back constantly, a manual removal process is suggested to get rid of this fake Ukash scam completely. Follow the steps listed below to get started right away (Note: Expertise will be required during the process):
Step 1: Please try to put the infected machine into Safe mode with Networking first to unlock the screen temporarily from this Police Nationale Francaise virus. To put the computer in Safe mode with Networking, please hit F8 key repeatedly while system is booting up BUT before it's logging in till you get advanced boot options on a black screen; use arrow keys to highlight Safe mode with Networking option and hit enter key to proceed system loading files into that mode: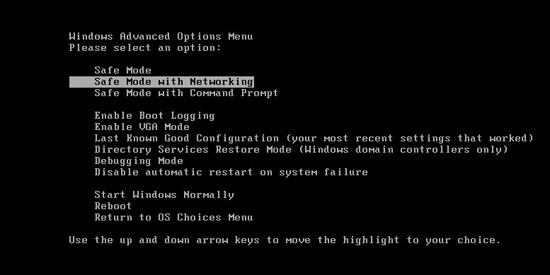 Step 2: Press Ctrl+Alt+Delete at the same time to open the Windows Task Manager; go to Processes tab on top; then End processes associated with Police Nationale Francaise virus or processes not belonging to system: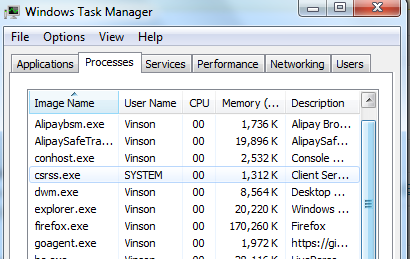 Step 3: Press Windows+R keys and then type regedit in the Run box to open Registry Editor; Delete associating virus files and registry values: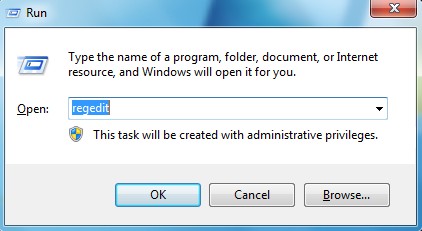 Video Guide to Remove Police Nationale Francaise Scam from Registry Editor:

Conclusion
The Police Nationale Francaise virus block is certainly not a trustworthy program. Even though it looks legit and real, it has nothing to do with the Police Nationale Francaise or any other authorities of France. Computer hackers who create this virus just take advantages of the authority fames to scare innocent PC users so as to get as many victims to pay the fine as possible. This is a global cyber fraud activity. When your PC is locked by similar police messages, do not believe anything they say or require. With a bit of researches online, one will be able to find that all the scam viruses share many common characters. They all display similar messages and accuse you for illegal behaviors. To unlock PC, a fine of 100 euro will be asked to submit within a limited time period. If the time elapses, further criminal cases can be automatically initiated against you. By threatening PC users in all means, this fake Police Nationale Francaise scam is trying all it can to get more money. It shouldn't be trusted and must be removed ASAP.
Notice: Still cannot unlock PC from Police Nationale Francaise virus after struggling? Please contact YooSecurity Experts now to get help on a complete removal and to protect PC from all the potential consequences.


Published by Tony Shepherd & last updated on September 2, 2013 8:03 am