Computer locked by Police Judiciaire Fédérale Virus Ukash Scam notice and you are demanded to pay a fine of €100 via Ukash Vouchers or Paysafecard to unlock the PC?  Is Police Judiciaire Fédérale real or just a scam virus? If it is not real, how to unlock my computer from Police Judiciaire Fédérale warning screen?

Police Judiciaire Fédérale Virus (Ukash Scam) Locked Computer – How to Remove?
The Police Judiciaire Fédérale Virus (also known as Belgium Police Ukash Virus) is a hoax that is designed by computer hackers as a way to extort money from the users. They are scared they have violated several laws, then many of them paid the amount of money to get computer unlocked, but they have been ripped off as nothing work after payment made. This is just a fake Belgium police scam. For those that have been hit with this attack, we are providing complete Police Judiciaire Fédérale Virus removal instructions to help purge the computer of this horrible virus. Computer users in the Belgium are targeted by hackers who spread this malware, and once infected it will lock the computer and display a bogus notification stating that the computer is being blocked by the Belgium Police because of involvement in spam email marketing, copyright violations, and also the distribution of pornography.
When the user attempts to close the message screen they quickly realize that it will not close, nor will it even minimize. There is no way to make the screen vanish, and the ability to open a web browser or a program on the computer has been disabled. For the violations, the message states that a fine of €100 must be paid using Ukash or Paysafecard options, and failure to do this will result in more fines being handed out and criminal charges being filed. The screen that is displayed contains the message along with the Be Police logo and seals, which make it looks official. The users IP address and location are also shown to further intimidate them and force them into thinking that this is indeed a real message coming from the police.
The Police Judiciaire Fédérale Virus removal instructions located at the bottom of this web page will show uses that have been infected with this ransomware attack how to properly delete all of the files linked to this attack. Although the message states that the block will be removed from the computer once the payment is verified, the only way to really do it is to remove the virus. The block will never be removed after sending in the payment. Please seek for an efficient way to get it off right away.
To save your computer, Live Chat with YooSecurity Expert Now. You can follow the manual removal guide below to get your problem fixed. (For advanced computer users)


Screenshot of Police Judiciaire Fédérale Virus (Ukash Scam)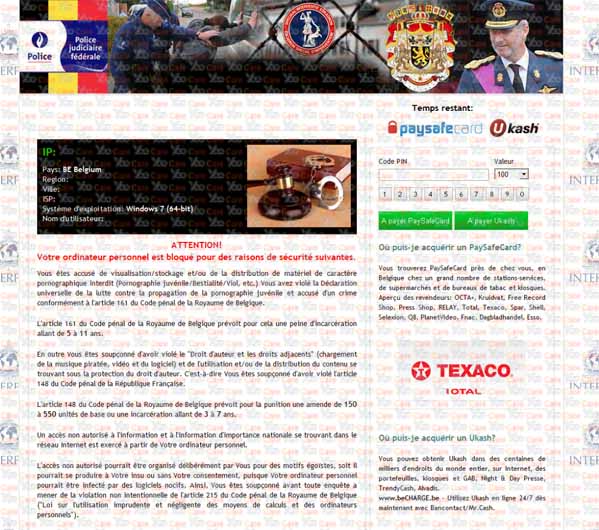 What to do if you click on a video and a fine comes up from Police Judiciaire Fédérale?
The Police Judiciaire Fédérale Virus is a complete scam, and is not linked to the Belgium police in any way. They would never just block a computer and they surely would not request that money be sent online through a prepaid method as the virus requests. The hackers use these payment methods because they are unable to collect money without being traced and without giving those that send the money a way to dispute the transaction. Once the funds are transferred using the numeric codes it is gone forever.
If this virus has hit your computer then do not send money to these cyber criminals. Instead, use the Police Judiciaire Fédérale Virus removal instructions below to delete all of the files that run this threat. Doing so will unblock the computer and give the user full access once again.
Manual Removal Step by Step Instructions
Since system failed to boot normally, please try to boot the computer into safe mode. To achieve that, you need to keep hitting F8 key, where is the key?(This is just for Windows XP, Windows Vista and Windows 7, if the OS is Windows 8, click here for more details)
Step A: Restart computer in safe mode with networking. To do this, keep hitting F8 key during system startup till an Advanced boot option screen and safe mode options show up; use arrow keys to highlight wanted option and hit Enter key afterwards: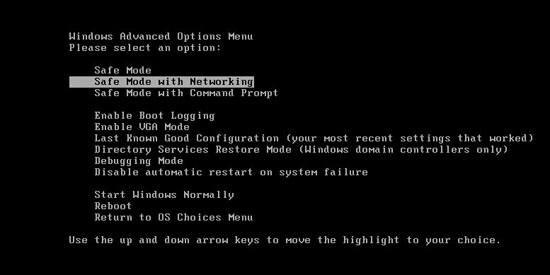 Step B: Press Ctrl+Alt+Del keys to open the Windows Task manager to stop the progress of the scam. Because the name will be changed fast, it will be shown with different names: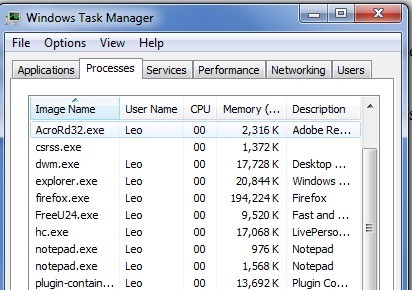 Step C: Delete all the files related to Police Judiciaire Fédérale Virus Ukash Scam Ransomware:
Step D: Delete registry entries of this infection created in computer system.
Video Guide to Remove Police Judiciaire Fédérale Scam From Regedit
Conclusion
This Belgium police Ukash virus called the Police Judiciaire Fédérale Ukash and it is blocking user's laptop or desktop, if you have it in safe mode and was gonna try to delete it from task manager but it suddenly went back to the virus screen. When you went on Youtube and you can find out that other people are having the same problem. They asked for 100.00 euros in 3 days or jail time. Every time you bring up the net the warning page pops up. Becoming a victim of this scam will not only result in a fraudulent charge to the users credit card, but this means that a group of hackers now has access to the credit card details and billing details of all of the users that it tricks into paying the upgrade. They can then use this information at a later date to create several more fraudulent charges or they could sell all of their stolen credit card data to other cyber criminal groups and there is not telling what can happen once it is all in the wrong hands. To delete all of the infected files from the computer the instructions above should be followed. It will help to delete every file that is part of the virus, and it will return the system back to its original condition prior to picking up this infection.
Special tips: Have no clue to remove Police Judiciaire Fédérale Virus Ukash Scam? To save your computer, please Contact YooSecurity PC experts now to get help to unlock your computer safely and remove the bad virus completely.

Published by Tony Shepherd & last updated on July 30, 2013 6:20 am