Computer has been locked by New Zealand E-Crime Lab Virus scam and it asks to pay a fine of NZD $100 or $250 Ukash Vouchers to unlock the PC. What to do if your Windows 7 computer has been infected with the new zealand e-crime lab virus? Why does this warning on the computer with logo like real police? The victim stated:"Well,  today when i boot up my work computer and there is a phoney NZ police virus popping up and it totally blocked my screen, i am really scared til i knew this is not real. I can't pass the locked message as it totally blocked down everything, so is there any way to unlock my computer from New Zealand Police Virus Ukash notice?
New Zealand E-Crime Lab Virus Ukash Scam Locked Computer – How to Remove?
The New Zealand E-Crime Lab Virus (also known as Centre for Critical Infrastructure Protection (CCIP) Virus) is a ransomware attack that is designed by computer hackers as a way to extort money from the users that they infect by attempting to trick them into believing that they have violated several laws. Usually, it targets on the people who are located in New Zealand, but it is spreading quickly worldwide. When this virus has been installed onto a computer it will change the settings and disable all programs and files from being accessed. When to computer is started it will automatically display the viruses message on the screen and block all other operations on the computer. The message states that the computer has been blocked by the authorities for violation copyright laws, sending SPAM email messages, and even distributing pornographic files across the Internet.
Computer locked down by New Zealand E-Crime Lab Virus and it goes on to demand that a fine of NZD $100 be paid within 48 hours before criminal charges are filed and additional fines are issued. Most users will attempt to close out the warning message if they think it might not be real but they will soon see that it does not close and they are not able to access any additional programs or browser windows on the computer. Even if the computer is manually shut down and restarted in safe mode the block will launch and the warning message will be displayed. When this occurs it will tend to scare the computer user and they will take it more seriously.
Another reason that users will believe that the New Zealand E-Crime Lab Virus is real is due to the way that it is spread throughout computers. The hackers will hide the virus files within downloads of popular files and spread them across file sharing sites that allow users to share and download copyright files. This is illegal and something that the warning message claims that the user is in trouble for. So, if they happen to get infected because they were downloading copyright content then they will tend to think that is the reason that they are receiving this message.
To save your computer, Live Chat with YooSecurity Expert Now. You can follow the manual removal guide below to get your problem fixed. (For advanced computer users)


Screenshot of New Zealand E-Crime Lab Scam Virus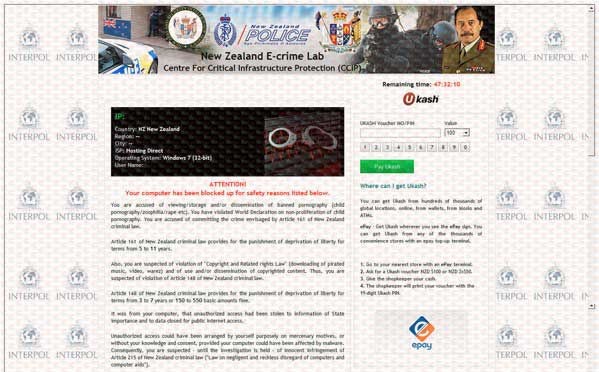 What Will The New Zealand Police Virus (CCIP Ukash Scam) Do On A Computer?
After locking out your computer, you will receive the lock screen message that claims the computer is being blocked because copyright violations have been tracked back to the computers IP address, as well as distributing pornography. The warning message looks like this:
Article 215 of New Zealand criminal law provides for the punishment of deprivation of liberty for terms from 5 to 8 years and/or up to NZD $100.000 fine.
Article 301 of New Zealand criminal law provides for the punishment of deprivation of liberty for term up to 5 years, and up to NZD $250.000 fine.
While the New Zealand E-Crime Lab Virus Ukash Scam message states that the block will be lifted once the payment is verified and made within 48 hours, this is not accurate. There is no way to remove the block without completely deleting the virus files from the computer. Even if the NZD $100 is paid the block will remain installed. The hackers only accept payments via Ukash, which is a prepaid payment option that is popular for sending electronic payments online. The only reason they use this form of payment is because it offers the user zero protection. Once they send the hackers the transaction code the money is lost forever.
So, in order to remove New Zealand E-Crime Lab Virus Ukash Scam and the block on the computer, the instructions below must be followed. This will delete all traces of the virus and restore the computer to its normal settings prior to becoming infected.
Manual Removal Step by Step Instructions
Since system failed to boot normally, please try to boot the computer into safe mode. To achieve that, you need to keep hitting F8 key, where is the key?(This is just for Windows XP, Windows Vista and Windows 7, if the OS is Windows 8, click here for more details)

Step A: Restart computer in safe mode with networking. To do this, keep hitting F8 key during system startup till an Advanced boot option screen and safe mode options show up; use arrow keys to highlight wanted option and hit Enter key afterwards: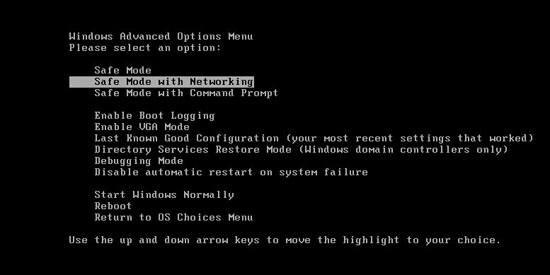 Step B: Press Ctrl+Alt+Del keys to open the Windows Task manager to stop the progress of the scam. Because the name will be changed fast, it will be shown with different names: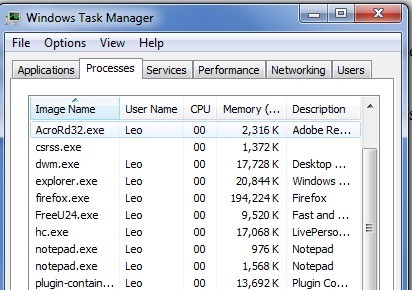 Step C: Delete all the files related to New Zealand E-Crime Lab Virus Ukash Scam Ransomware:
Step D: Delete registry entries of this infection created in computer system.
This is a nuisance virus, as it doesn't necessarily steal any information from the computer or cause damage to the PC. It does scare the user into thinking that they are in trouble and the majority of the victims will quickly complete the survey because they fear that if they do not then there could be possible trouble due to the claimed violations. They would fully lock out the targeted computer and requires pay a fine to bypass the warning screen completely rather than risk trouble. For those that might be skeptical and power down their computers manually, they will quickly see that there is no escaping the New Zealand E-Crime Lab Scam. Sometimes, even if the computer is restarted in safe mode the warning screen and block will occur right as the computer is started.
Video Guide to Remove NZ E-Crime Lab Virus From Regedit
Conclusion
As you can see, the fake New Zealand Police message states that the computer will be unblocked once the payment of NZD $100 is made, but that is not true and the user will quickly realize that they have been victims of a computer scam when their PC remains locked. The only way to remove the block and regain control of the PC is to delete all of the virus files from the computer using the instructions above. This will delete all of the files linked to the New Zealand E-Crime Lab Virus Ukash Scam and unblock the computer. Once the computer is back to its normal operation it is a good idea to run a complete virus scan and schedule one to be performed every time the computer is started. Manual removal is a risk job for those common user, if you are not computer savvy, any mistakes will cause your whole computer broken.
Special tips: Have no clue to remove NZ E-Crime Lab Virus Ukash Scam? To save your computer, please Contact YooSecurity PC experts now to get help to unlock your computer safely and completely.

Published by Tony Shepherd & last updated on October 23, 2014 7:54 am