Have you ever received a threatening letter? When you are threatened to pay someone money, what will you do? If this happens on your computer, will you believe what the threatening alert information says? Today let's learn about one scam malware. You will find how to deal with such kind of ransomware.
Definition of  "Il Suo computer e'stato bloccato da sistema dicontrollo d'informazione automatico" Virus
"Il Suo computer e'stato bloccato da sistema di controllo d'informazione automatico" is a malicious message when your computer gets infected a ransomware virus. This message is written in Italian. Obviously, it widely spreads in Italy areas. The virus is a variant of UKASH ransomware and much similar to Gema and GVU from Germany, Sacem from France and Buma Stemra from the Netherlands. In fact, this virus is attacking many countries and areas with different languages and interface according local conditions. once such virus comes to your computer, it will block almost all the functions of windows system no matter in windows 7, XP or Vista. And comes out a full screen warning tells you "Il Suo computer e'stato bloccato da sistema di controllo d'informazione automatico". This means your computer has been blocked by the control system of automatic information. Then the virus will ask you to do a payment as fine. Usually, users will be required to pay 100 pounds. Almost in the same way as other ransomware does, it will pretend to be originated from local government department. This is very clever because in it's sanctimonious "justicial" appearance, people will be cheated easily and would rather pay the so called fine than "be imprisoned". Of course the whole message is totally fake, you won't be imprisoned since it's not from the government.Don't give those scammers you money. First of all, you will simply lose your money and you probably won't able to get them back because payments must be made via PaySafecard, PayPoint or something along those lines. They accept anonymous payments. Secondly, they won't unlock your computer. In fact, the interface of this virus looks like from official mission that you may be convinced by its flaring appearance. Finally I may tell you, don't be threatened by what the warning tells you. As long as you take a method to remove it from your computer, you won't get any hurt in the future, of course you won't be prosecuted either.
To save your computer, live chat with YooSecurity experts now, or you can follow the manual removal guide below to get your problem fixed. (For advanced computer users)


Let's have a look at this scam virus: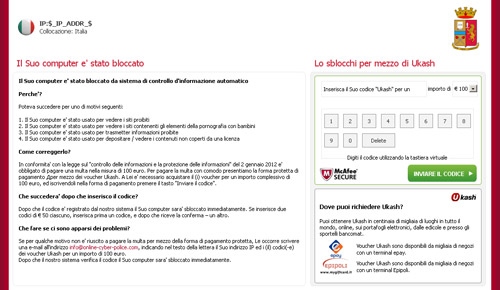 Why does the virus lock your computer? Because cyber cribbers want to deceive you. But the virus will give you this reason as follows:
Potevo succedere per uno di motivi seguanti.
Il Suo computer e'stato usato per vedere i siti proibiti.
Il Suo computer e'stato usato per vedere i siti contenenti gli elementi della pornografia con bambini…
The routes of "Il Suo computer e'stato bloccato da sistema di controllo d'informazione automatico" virus transmission
This virus may lurk in anywhere on the internet. In most cases, It hides in some unsafe websites or links waiting for your visiting. The chance for its spreading may be one of your unconscious click of some place when you want to download something or open some pages. Most of people even don't know how they get caught by such virus since they don't know that any activity they do may has a risk in bringing such virus. The virus may be bounded together with other legal programs or files, as long as you get them, you also get the virus at the same time. So you'd better never visit informal websites. Before you click some links or download something, look before you leap!
It seems that my antivirus is useless to remove "Il Suo computere'stato bloccato dasistema di controllo d'informazione automatico" virus?
In fact, when you get infected such ransomware, antivirus is not just useless, but entirely paralyzed. The reason is that, when the virus accesses into your computer, it will do whatever to capture the computer and after it get the control authority, it will disable all the legit programs in its way. So the antivirus will be blocked to militate. actually, you almost can't do anything you want if your computer has been attacked by such virus unless you remove it completely.
Symptoms or Harmfulness of "Il Suo computer e'stato bloccato dasistema di controllo d'informazione automatico" virus Infection
? Continually pops up fake alert to threaten you pay ransom which is really annoying.
? Bring in much more other Trojans or malwares for vicious purpose. These viruses can gradually destroy your computer operating system.
? It can lock your computer and you can't run normal applications.
? It will steal your personal information for illegal usage, which may bring you great harm both from finance and psychology aspacts.
? When you suffer from economic losses, you makes the cyber cribbers have tasted the sweetness of illegal activities.
Best Way to Remove "Il Suo computer e'stato bloccatoda sistema di controllo d'informazione automatico" virus Efficiently
Since your computer is locked by such nasty virus, you have to delete the virus manually with professional computer knowledge.
Step A: Restart your computer in safe mode. To do this, please press F8 key before the system is started like this: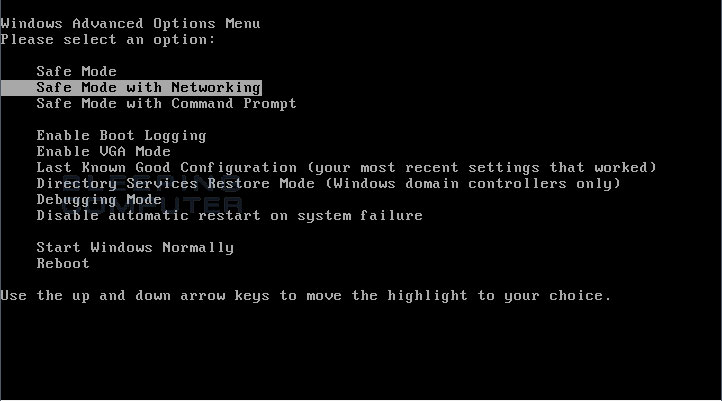 Step B: Press Ctrl+Alt+Del keys to open the Task manager to stop the progress of this virus. Because the name will be changed fast, it will be show with different name.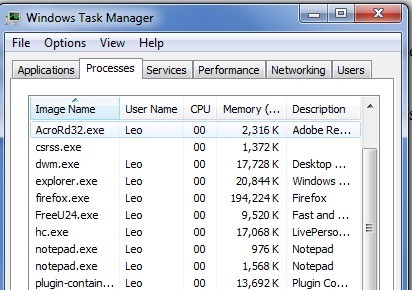 Step C: Delete all the files related to this scam ransomware
Step D: Delete the Virus register entries created in computer system.
By the way: Manually remove ransomware virus is a rather difficult work, if you are not a professional computer expert. I recommend you to get YooCare online service 24/7 in time. This is the real fastest and safe way to remove it.
Video guide to remove this scam malware virus
Special tips: Spending a lot of time fixing your computer but in vain? Still be confused with the whole removal process? Why don't you get online support to solve your problem safely and completely? Just click here for further help here:


Published by Tony Shepherd & last updated on November 14, 2012 12:33 pm