My Android phone has just received this AFP Crime Commission virus alert saying "Attention! Your phone has been blocked up for safety reasons listed below". I am really scared and not sure whether the ACC ransom alert is a legitimate police notification or a harmful phone malware infection. This ACC thing makes me extremely freaked out, for I can't bypass the ACC blocked phone alert to access anything on the phone. I don't understand why mobile device fails to protect itself against malware or viruses. Am I needed to submit a fine of AUD $100 to unlock device or is there any alternative way? How to get rid of the ACC Ukash Ransomware from Android phone? If you have tried in vain, please follow removal tips below to deal with the ACC Ukash malware on Android device manually and effectively.
A Description of Phone Locked by AFP Crime Commission Virus Scam
AFP Crime Commission (ACC) Virus is a risky malware infection designed and updated by cyber criminals to make it capable of affecting phones running with Android and Mac OSX. Phone users from the worldwide have shown much interest in surfing the web, watching videos, making e-payment and downloading app from Google Play Store etc. on mobile devices, which provides cyber criminals with a large market to gain illegal profits by distributing this destructive ACC Ukash virus. It is necessary for phone users to delete the horrible ACC Ransomware from your Android immediately. As the ACC malware brings great troubles to victims. To more specific, the ACC Ukash Ransomware can be downloaded to the target phone automatically and blocks your access to any app on the phone. All you see on the phone screen is the fake ACC pop-up alert. However, the ACC warning alert is not a legitimate police notification or anything that will get you caught by the police. Actually, the ACC Ukash malware is a risky phone malware or virus which users should have it removed from the mobile device timely.

The ACC virus is designed to target phone users in Australia. But cyber criminals have changed the Ukash virus into different variants, making them possible to target phone users from the worldwide. Once your phone has been blocked by the ACC virus, you would be prevented from doing anything on the affected device. To make victims convinced, the bogus ACC virus claims that your phone is blocked due to your violation of copyright and related rights law (downloading of pirated music, video and software), and it demands victims to submit a fee of AUD $100 to unlock device. As claimed, any delay of submitting the ransom will lead to a punishment of deprivation of liberty for terms 5 to 11 years. At this point, a large percentage of the victims begin to take the message more serious and the 48 hour time frame also puts the pressure on victims. Unfortunately, victims can be much scared and go ahead to submit the fine without giving it a second thought. As a result, you will lose your hard earned money if you ever pay the fine via non-existing payment system. To unlock your phone, users should eliminate the AFP Crime Commission virus scam as soon as possible.
How to delete the ACC Ukash virus from Android phone? Soon as the ACC alert pops up telling your computer has been blocked up, it will completely block your access to any app on the phone. Besides, the ACC Ukash Ransomware alert is hardly closed out or minimized directly. Users just find it difficult to power off the affected phone and bypass the ACC blocked phone alert page. Some users may question whether there is a perfect security app that helps block this ACC Ransomware virus and protect the phone against further malware infections. Absolutely, seldom security app will be able to deal with the ACC virus or any other similar malware infection, for the Ukash virus changes daily and it targets a phone by exploiting its loopholes. Consequently, a feasible manual removal with expertise is taken as a better way to unlock your Android phone from this AFP Crime Commission virus.
If you find any symptoms listed above showing on your Android phone, then your phone must be suffered with a malware infection (which can be FBI virus, U.S.A Cyber Security virus, AFP Crime Commission virus and GVU Ukash Virus etc.) that blocks your access to your Android. Welcome to contact YooSecurity Online Experts for manual removal guide. Also, we will provide a short removal guide below for Android phone literate.
NOTE: Being afraid to do any wrong operation during the process of removing this ACC Ukash virus? Please contact YooSecurity Online Experts, we are here to help you:


AFP Crime Commission Virus Blocked Android Phone Screenshot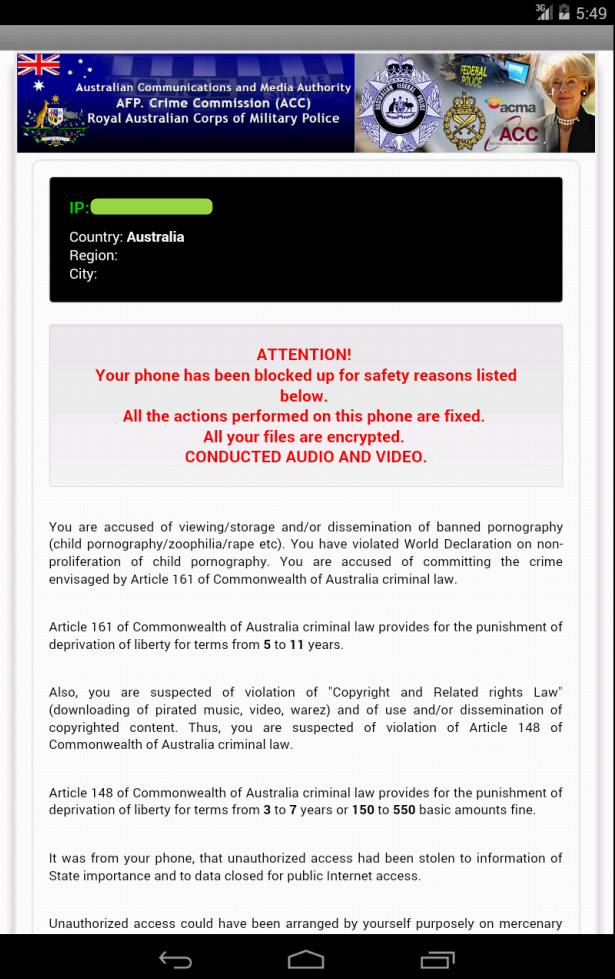 Danger of This AFP Crime Commission Ukash Ransomware Virus
#The Ransomware is designed to lock your Android phone asking that you need to pay for a fine to unlock your device. In fact, it is just a big scam.
#It locks your Android, claiming that you've violated the law of local office by visiting illegal information online.
#Soon as the ACC virus targets your phone, it blocks your device and prevents you from doing anything there.
#It allows remote access to your Android device for your personal information and other sensitive information.
AFP Crime Commission Ukash Virus Manual Removal Guide on Android Phone
1. Since your Android device is blocked by this ACC virus, you will need to restart your phone to safe mode which starts up without loading any third-party add-ons. By this way, you are capable to carry out malware removal steps on your Android. Here are two examples for you to put your Android phone to safe mode.
a. For Samsung Galaxy S4: 1) Power down your Android phone. 2) Turn on and repeatedly tap the soft-button for "Menu."
b. For Samsung Galaxy S3 and others: 1) Power down. 2) Turn on till you see the Vendor's logo, press and hold Volume Down (Galaxy S3 and others), Volume Up (HTC One and others), or Volume Down and Volume Up together (various Motorola devices).
Note: If you have put your Android phone to safe mode successfully, you should see a text "Safe Mode" at the bottom left corner.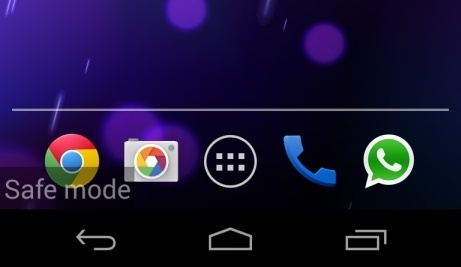 2. Once you have put your phone in safe mode, you are capable to uninstall malicious apps you're your Android phone. However, the manual removal process of harmful apps requires sufficient expertise. To safely deal with the AFP Crime Commission virus and other hazardous apps, you had better contact an expert online for further removal help.
Conclusion
As the above mentioned, we know that AFP Crime Commission Ukash virus becomes a big problem on Android phone. It is released through network and targets your mobile phone during your visits to malicious sites, notorious popups and unwanted app downloads etc. The ACC Ukash virus mainly targets phone users from Australia, but it can be changed into various variants (FBI virus, AFP Crime Commission virus, PCeU virus etc.) to threaten phone users all over the world. Soon as the GVU Ukash Ransomware is loaded, it blocks your phone and demands a fee of AUD $100 to unlock device. Though the ACC virus seems reliable via its interface, it is actually nothing real or related to any law enforcement agency. The fraudulent ACC alert attempts to take phone victims into its scam, helping hackers collect large amounts of fake fines and steal vital information stored on the affected device. Victims should not pay the fine which will be sent to cyber hackers. All users need to do is to remove the AFP Crime Commission Ukash virus from Android phone manually with the assistance of experts online.
Suggestion: To follow removal guide that mentioned above, a level of Android phone knowledge is needed. Still can't get out of AFP Crime Commission virus scam? Contact online experts for help now!


Published by Tony Shepherd & last updated on September 22, 2014 2:17 pm