What is Adobe Acrobat Pro and how to remove Adobe Acrobat Pro completely from your Windows 10 or Mac computer? As we all know that Adobe Acrobat consists of many software integrated into a single platform. The developer is Adobe Inc. Here we can view, create, edit, manipulate, manage, and print the documents in a portable format. That is known as a portable document format (PDF). The release of Adobe Acrobat Pro was done to edit PDF files. You can scan the documents, edit all the PDF files, add text in the document's original font. To better understanding all the features and functionalities, and to know about the Advantages And Disadvantages of Adobe Acrobat Pro, we will go through some of the facts and information that can help. So, let's get some facts about Adobe Acrobat Pro.
Advantages of Adobe Acrobat Pro:
In the tools kit and tools, Adobe Acrobat Pro has a wide range of tools and techniques that can be used in the editing of documents, and those can help you edit the documents easily without facing anything problems. All the features and tools are easier to use as compared to the previous version.
The main thing about the Adobe Acrobat Pro is that it has been integrated with the security system, and that provides security to your documents while viewing, editing, and converting the files from any extension to PDF files.
We know that most of the versions of Adobe Acrobat Pro allow users to edit the text in the PDF file. However, in the Adobe Acrobat Pro, you can edit scanned documents. This makes it more valuable for users. We can add text in the original font of the document's text, in the scanned documents.
It compares two different versions of the PDF files, that allow users to work with flexibility. It can provide ease of converting documents files to PDF files, ppt to PDF files, and Excel to PDF files. Because the way of converting files to the odd files is modified and simplified.
There is one special feature called collect E-signature. It can collect your E-signature and can add to the document wherever you want. You can also add links to your PDF files to share with people who can open it to view the website or other documents files easily without sharing actual documents.
It can verify your E-signature that you have scanned to and add to the document. By doing so, you can certify that E-signature based on the clarity that Adobe Acrobat Pro gave to you. This allows users to secure those documents and avoids any mistakes that can happen in the future because of the E-signature.
It can share PDF files online and offline. Along with it, it can track the document as well. By tracking the documents, it checks the status of the documents and tells the users that where the document has reached and what it the live status of that document. Which makes it more reliable to use, and it motivated users to use that product.
Adobe Acrobat Pro is compatible with almost all the versions of Windows, it supports with Windows XP to Windows 10. And it supports all the versions that were the edition and the changes in the windows like windows server pack 2008. Because, it supports all the versions of windows, it has all types of updates and features according to the version of the window that you use. Which gives ease of working with it.
All the documents that you have edited, created, or converted in the Adobe Acrobat Pro can be stored in your local disk. Or you can share with the shared files directly from your computer system by just giving it a command to do that.
Adobe Acrobat Pro is integrated with Microsoft Office, that's why you can easily convert all the documents from Microsoft Office files to the PDF files.
Disadvantages of Adobe Acrobat Pro
The first problem that people have faced while using the Adobe Acrobat Pro is the customization of the interface. The customization features are like PRO. You can change all the features, and customize your screen. But when people don't know much about its customization, they faced many problems with the default customization. Because it is confusing and lesser informative.
No matter how many types of files Adobe Acrobat Pro can convert to the PDF format to save them, it is still unable to convert EPUB format documents to the PDF document format to save them. They don't even have announced anything about it, whether they will integrate that feature or not. This makes it still unable to convert all types of files into PDF format.
Crashes and freezes are common problems that you can face while working with Adobe Acrobat Pro. Because it has many stability issues after its installation. Especially, when you want to update the software online, it takes more than enough time to update. That irritates the users when they want to prepare for important documents.
The type of the file is very large because it has many more features to be downloaded after the successful installation. Sometimes it loads your desktop or laptop because of the large background data that works for giving you the ease of using all the features integrated with the software itself. It sometimes slows down the performance of your computer system because of its large data and files.
Conclusion:
After getting facts about the Adobe Acrobat Pro, we can conclude that the software has many advantages and limitations according to the customers. It depends all on the users and their computer system that whether this software is made for them or not. Because it performs almost all the basic functions that one PDF converting software should do. Along with it, it has many more advanced level features that allow users to go in deep. This sounds great about the Adobe Acrobat Pro. If you still want to remove Adobe Acrobat Pro completely from your Windows 10 or Mac computer, you can follow the guides below.
Remove Adobe Acrobat Pro Completely from Windows
Remove Adobe Acrobat Pro Software Manually on Windows 10 (For Advanced Users Only)
Step 1: Uninstall Adobe Acrobat Pro itself. (Choose one of the three options to follow)
a) Click on Windows Start menu ->; Choose All Apps-> Locate Adobe Acrobat Pro. Right-click on it and choose Uninstall.
b) Or you can click Start menu -> choose Settings (the gear in the left) -> System -> Click Apps & Features. Highlight Adobe Acrobat Pro and select Uninstall. Click on a pop-up window then you just need to hit Uninstall to confirm the removal.
c) You also can remove Adobe Acrobat Pro by using Add/Remove Programs feature in Control Panel. To do this, Right-click on the Start button -> click Control Panel -> Click Programs and Features (or Uninstall a Program if your Control Panel is in the category view) -> Select Adobe Acrobat Pro and click Uninstall.
Step 2: Get rid of Adobe Acrobat Pro leftovers manually. (IMPORTANT STEP)
*For added protection, please back up the registry before you modify it.*
Check the following folders and delete associated files first.
C:\Program Files (x86)\Adobe Acrobat Pro
C:\Users\[Your User Name]\AppData\Roaming\
C:\ProgramData\Microsoft\Windows\Start Menu\Programs\Startup
Next, you have to get rid of Adobe Acrobat Pro entries from Windows registry.
Press Windows + R, and type in regedit in RUN box, then press Enter. It'll open Registry Editor.
Navigate to the Registry key: (You do this by clicking on the plus sign next to each key in the path to expand the path below it. )
HKEY_LOCAL_MACHINE\Software\Microsoft\Windows\CurrentVersion\Uninstall.
HKEY_LOCAL_MACHINE\SOFTWARE\Microsoft\Windows\CurrentVersion\Uninstall\ (For 32-bit system users)
HKEY_LOCAL_MACHINE\SOFTWARE\Wow6432Node\Microsoft\Windows\CurrentVersion\Uninstall\ (For 64-bit system users)
Kindly Reminder: You are welcome to contact online support if you need any assistance, just click the below button for help.
Uninstall Adobe Acrobat Pro Software Automatically with a Third-Party Uninstaller (RECOMMENDED)
Step 1. Download and install Uninstallor onto your desktop, next launch it. Select "Adobe Acrobat Pro" then click on "Analyze Now" to start.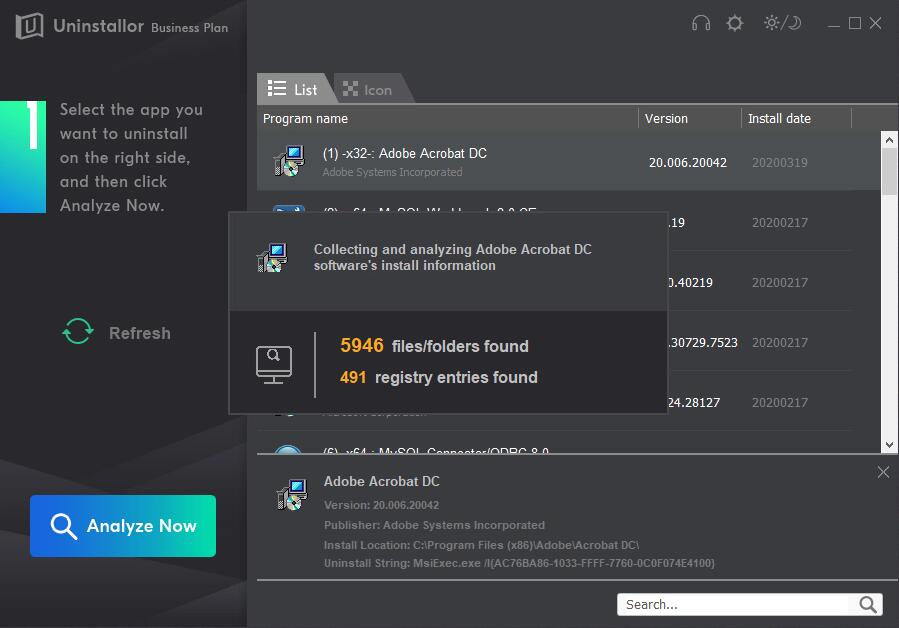 Step 2. Uninstall Now.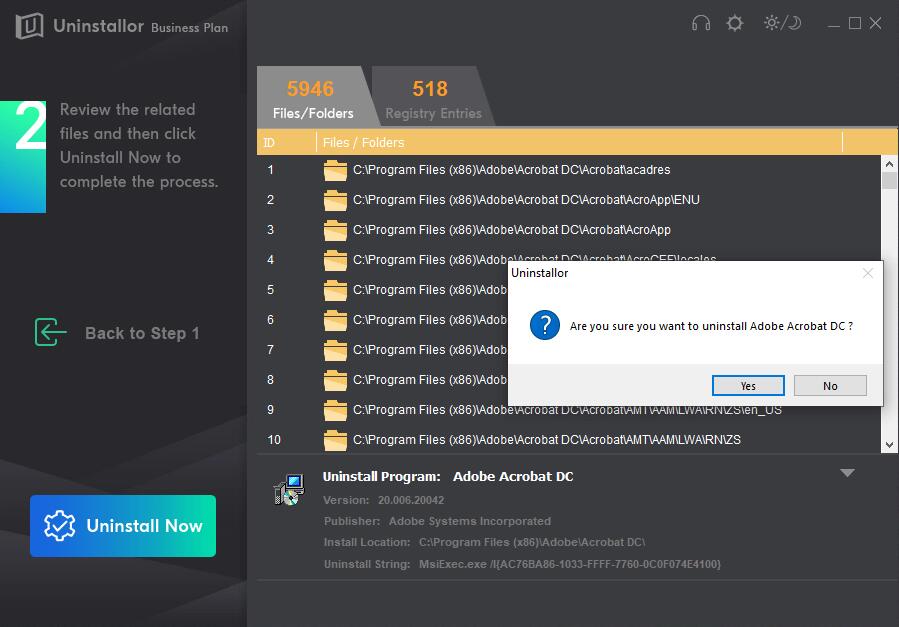 Step 3. Remove Now. Remove all leftover files and registry entries of Adobe Acrobat Pro. Click on Uninstall Now button to finish the removal. BTW, you need to click on "Yes" to confirm the removal.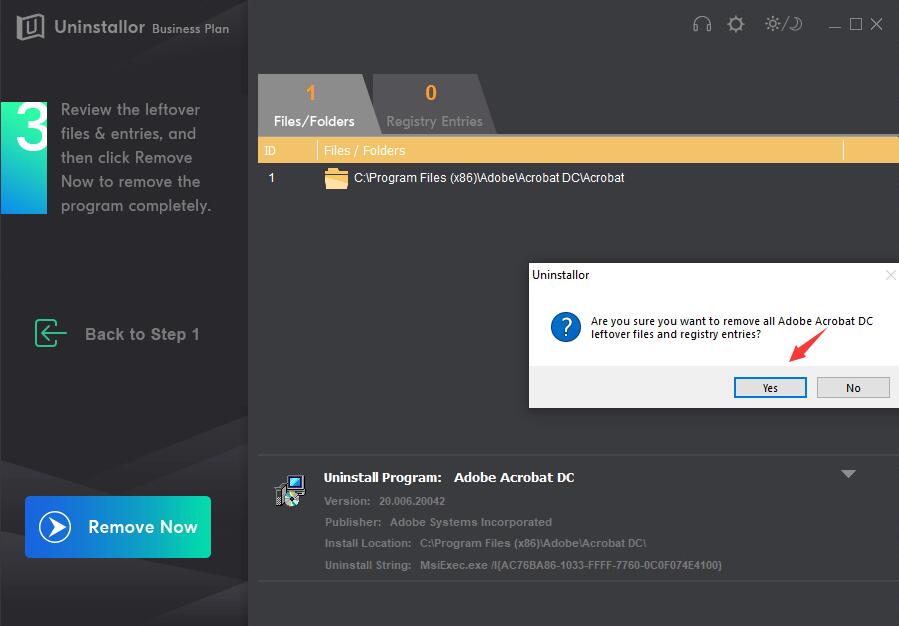 Uninstall Completed. Adobe Acrobat Pro has been removed completely.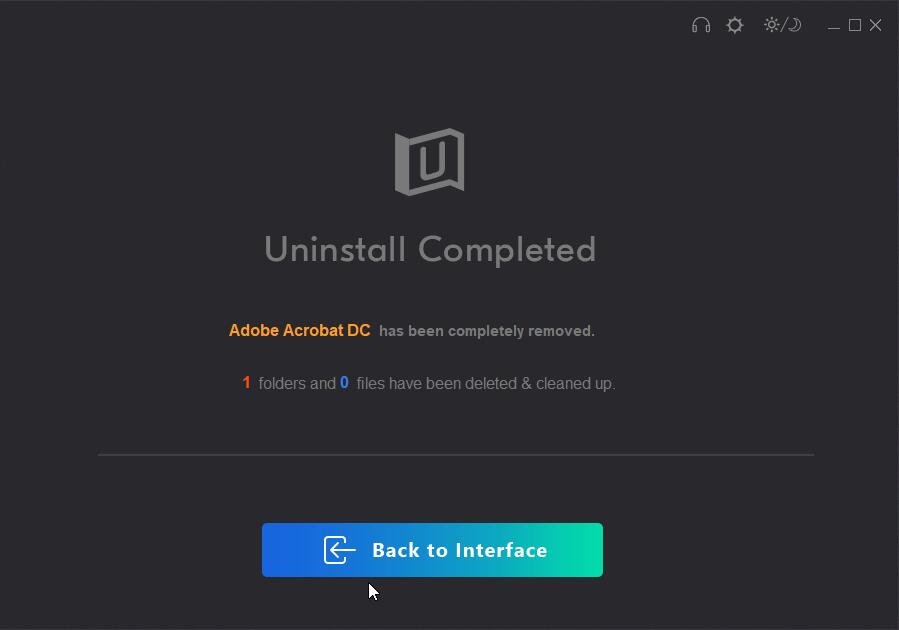 Kindly Reminder: If you decide to uninstall/remove Adobe Acrobat Pro program from your computer successfully like Windows or Mac, you are suggested to try Uninstallor, which will help you do all things.
Published by Tony Shepherd & last updated on April 8, 2020 8:46 am