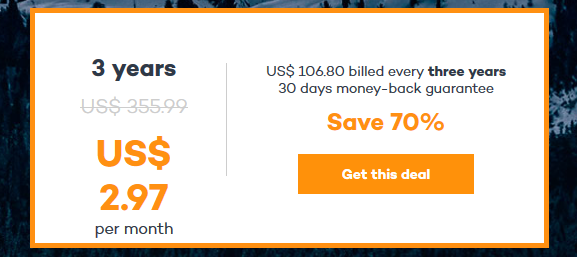 Here comes a new limited time only sale at Panda VPN. It is a good chance for all of you to buy the best VPN from the renowned Panda Security at a low price. With Panda VPN Coupon, Promo Codes, Panda VPN dropped the price of its 3 Years VPN plan to be only $2.97 per month, making the service a steal at this price. Purchasing the 3 Years plan at this highly discounted rate means you save 70% compared to its regular price. Just like many top VPN services, Panda VPN also gives you a 30-day money back guarantee on all plans you purchase even during this exclusive sale. Their refund policy lets you take Panda VPN for a spin, with the guarantee that you'll get your money back should you discover the service isn't entirely what you expected. So, what are you waiting for? Simply click the button below and get 100% online privacy with Panda VPN now!
Panda VPN Overview: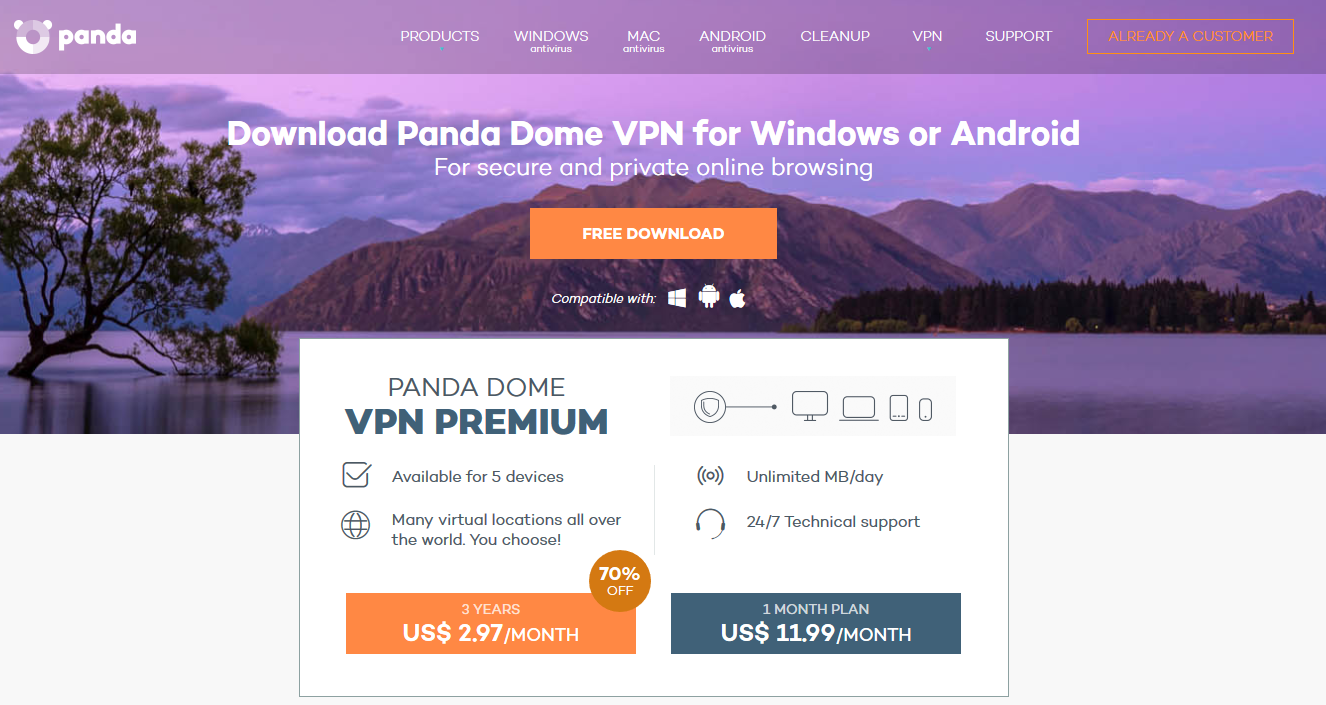 Panda VPN is a relatively new VPN service that allows you to secure your Internet connections with complete peace of mind and get open Internet access from restricted locations. Although it was not long since Panda VPN was launched, this reliable VPN service is committed to preserving freedom on the Internet and bringing you a secure and private browsing experience. Currently, Panda VPN offers global VPN servers in more than 20 countries and it continues to rapidly expand its server coverage worldwide. Compared to the VPN giants, it is a small number of VPN servers, but Panda VPN turns out to have a good performance in speed. Since it's a no logging VPN, meaning the company doesn't keep logs of their users, therefore no one is able to monitor your online activities or store your information while you are connecting to Panda VPN. When Panda VPN is on, your IP address will be hidden immediately. As a result, your Wi-Fi connection will be secure even on public networks, and you can browse anonymously and protect your privacy while also unblocking geo-restricted content worldwide. Besides, Panda VPN encrypts all data and communications with military grade encryption, adding an extra layer of security for you, and also preventing your ISP or friendly government agent from tracking you while you're online.
Despite Panda VPN earns a good mark in speed, reliability and performance, there's a drawback in cross-platform compatibility. Now Panda VPN is only available for Windows and Android. So, for users who are using iOS or Mac version iOS, Panda VPN is not an option for them right now. Panda VPN for iOS and Mac version are on the way and hopefully it will support for most major gaming and media devices, like PS4, Xbox, Chromecast, Apple TV etc in the near future. With Panda VPN, you won't leave any footprints while you are browsing the web, downloading files, streaming online or even torrenting. All of your activity online is anonymous and your private browsing leaves no tracks behind. Your ISPs, government agencies, hackers or anyone else will find no way to monitor or log your activity online. A trustworthy VPN like Panda VPN will keep you and your data private all the time. Besides, you can also use Panda VPN to access blocked streaming sites or unblock websites that are not available in your current location either due to governmental censorship or geo-restrictions. With one subscription, you are allowed to connect with 5 devices simultaneously.
Panda VPN is a part of Panda Security, one of the largest antivirus vendors that specialized in offering tailor-made security solutions since 1990, making their service reliable and trustworthy. If you simply need a VPN to browse anonymously and stay safe on the public Wi-Fi, Panda VPN is your best option. However, if you are looking for a full-featured VPN with the largest server network and fastest speed, Panda VPN is not for you, and you can choose ExpressVPN or NordVPN instead.
Pricing Plans & Special Offer: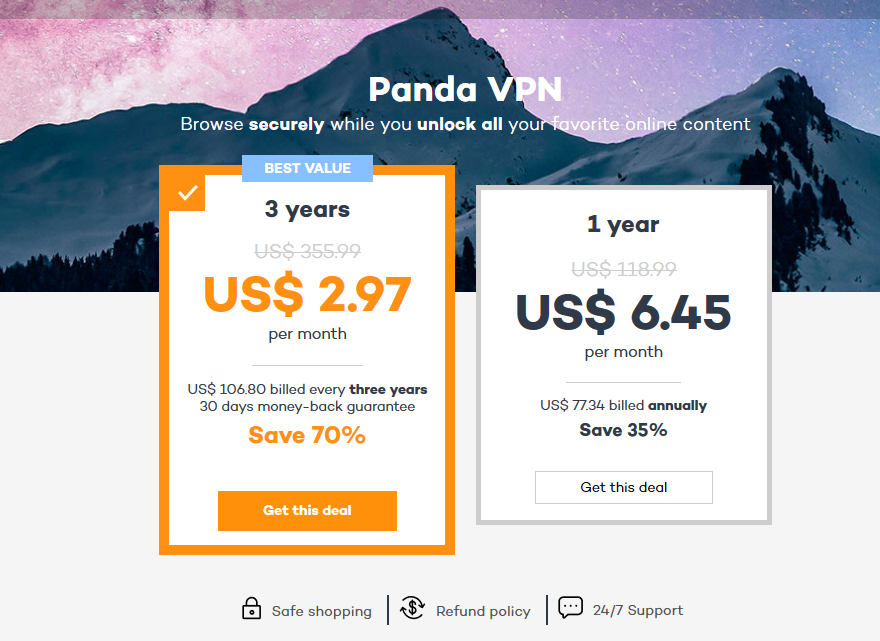 Panda offers its VPN in two packages: Free and Premium.
The free package is completely free, without a time limit, but has limited features. It can be used on one device, there is only one default virtual location to connect to, and you are limited to 150/MB a day. While this may be enough for some users, most will find it very limiting and prefer Premium version instead.
The current available Panda VPN promotion is for their yearly plan, though Panda VPN also offers monthly subscription for $11.99/month. Typically, I recommend staying away from the monthly subscription plan, because it doesn't offer any savings and can be quite expensive. And making a single up-front annual payment for Panda VPN can get significant discounts. Opting for an annual plan will drop the monthly price down to $6.45, saving 35%. And if you pay for 3 Years Plan, you can get a saving of 70%. That means you only need to pay $2.97 per month, you can get 100% online privacy & security for 3 years. All plans allow access to 5 devices and come with 30 days money-back guarantee. You can pay with Paypal or Credit Card. Enjoy peace of mind knowing you are fully protected with Panda now!
Why You Should Use Panda VPN?

Panda VPN is a secure virtual private network from the renowned Panda Security software developer. As we all know, Panda Security is a leading European multinational in advanced cyber-security solutions and services, so Panda VPN is considered to be reliable and worthwhile. Panda VPN provides best-in-class and military-grade encryption for protecting you on public Wi-Fi networks, as well as unblocking geo-restricted contents. It is the best way to encrypt your internet traffic and prevent third parties from monitoring your online activities. Using Panda VPN can be as intuitive and easy as preparing your morning coffee. And with just one subscription, you can secure up to 5 devices simultaneously. Everyone should be using a virtual private network or VPN, whether you're connecting to the internet on a computer or a smartphone. Here are the benefits that Panda VPN brings to you:
Stay safe on a public Wi-Fi
Free public Wi-Fi is available in shopping malls, airports, restaurants, coffee shops, libraries, public transport, hotel rooms – you name it. However, accessing that network usually requires that you give up some personal details. Once connected, you'll often find yourself sharing the network with a host of other people – some of whom might want to peek at your online activities. Panda VPN is one of the most useful tools to help you surf anonymously and keep your information secure when logged on to public networks. It encrypts your data traffic and acts as a protected tunnel between the client and server. All the data passing through the tunnel won't be visible to hackers, and they won't be able to access your information and the activities you do online. Panda VPN can guarantee your privacy and security.
Bypass your government's internet censorship
Not all the countries provide free and open internet to their citizens. China's Great Firewall is a great example of the same. These countries limit your internet access and block certain websites. So, if you live in such countries, you definitely need Panda VPN to break these barriers. With Panda VPN, it will provide you with an IP address in another country. The foreign IP address makes it appear as though you are based in a different location. Thus, you won't trigger a site's geo-blocks and can circumnavigate restrictions. Panda VPN is the best way for accessing blocked sites and bypassing internet restrictions on a regular basis
Enjoy the internet with no restrictions
Wherever you are, Panda VPN lets you access to your favorite websites and entertainment content with no restriction, and forget about censorship or bandwidth limits. By simply connecting to its server, you can easily bypass censorship and unblock any site. Wherever you are, you can get access your favorite site, like Facebook, YouTube, Twitter, Vimeo, Yahoo, Gmail, Reddit, Pinterest, Google, and VOIP services like Skype and Snapchat and tons of others popular resources.
Panda VPN can save you between hundreds and thousands of dollars on online purchases. Why? Some of the online retailers base their prices on your browsing history and location. That is to say, depending on the country you're located in or based on your previous online activity, the price will be different. Using Panda VPN allows you to circumvent location monitoring and web tracking and see the prices available in other countries.
So, if you value your privacy or need to better ensure your security, you should look into getting Panda VPN. Using a VPN is quite easy. Even you are a non-tech savvy user, Panda VPN is the easiest VPN service to get started with. If you haven't gotten started with a Panda VPN account already, there's never been a better time than now — Panda VPN is offering 70% off on their 3 Years Plan! Sign up now and begin enjoying complete online freedom!
Does Panda VPN Keep Log?
No. Panda Security is already a leading company in privacy and security products, so their VPN is considered a great option if your main concern is privacy. Panda VPN promises they will not collect any personally identifiable information from their users. So, they will not know what are you doing online or what website you've been visiting. It doesn't store connection time stamps, session information, used bandwidth, traffic logs, IP addresses or other communication data either. However, using Panda VPN services requires you to create a user account first, so you need to provide some basic information, such as a valid email address in case you need to retrieve a lost password one day.
Customer Support

For users who just started dealing with VPNs for the very first time, customer support is essential to helping them find their way. Panda VPN is committed to building excellent products and offering great customer service. Whether you are free or premium users, you will always be pleased with their customer service. You can click Support in the interface at any time, and you'll get a support screen with links to the support forum, FAQs, technical support, and premium support. If you are a free user, you can contact technical support by filling out a form on the site, and they will get back to you. Premium support for users with the Premium package includes technical support 24/7 every day of the year.
Pros & Cons:
Pros:
Ultra fast: A VPN encrypts and reroutes your data to a server. This will slow down your connection to a certain extent, thus resulting in longer downloading and buffering times. However, Panda VPN performs well in our speed test and it can be compared to well-known ExpressVPN and NordVPN.
Maximum privacy: Panda VPN has a clear zero-logs policy, which means that it doesn't track your online activity (browsing history) or store any personal identifiable information on you. You are 100% anonymous.
Highly secure: Panda uses the fastest VPN protocol (Catapult Hydra) and most secure encryption standard (AES-256).
Excellent customer service: Panda's VPN is relatively new in comparison to other VPNs on the market, but the company has been making antivirus products for a very long time. So, Panda's customer service is excellent. Their support team receives very high scores from users around the world.
Allow 5 simultaneous connections: A reliable VPN with simultaneous connections is what you need if you want to stay safe from hackers and snoopers on a bunch of devices. Panda VPN allows connection on up to 5 devices simultaneously.
Cons:
No kill switch: Panda's VPN does not feature a kill switch.
iOS not yet ready: Panda currently only supports Windows, Android and Mac. iOS is still in development.
Servers in 23 countries: Panda has only 200 servers spread across 23 countries around the world. This isn't a particularly large number.
Conclusion:
Panda, a world-class cybersecurity brand, has created an easy-to-use VPN to help people unblock geo-restricted content, bypass censorship and stay safe online. Although Panda VPN is a new player in the market, its performance and security will not disappoint you much. Panda has servers in 23 countries around the world, covering all continents except Africa. The VPN allows you to connect 5 devices on a single subscription, and it uses the top-of-the-line encryption standard AES-256 to secure your data, which is recognized as one of the most powerful forms of encryption available. Panda VPN follows a zero-logging policy, so none of your identifiable information, such as your IP address will be stored. On top of that, Panda does not keep any type of activity logs on you, such as your browsing history. However, the VPN is still undergoing development. The iOS version is not ready yet and it lacks of Kill Switch and does not use its own DNS servers. If you are looking for an affordable VPN for safe browsing, then Panda VPN is a good choice for you. If you need a VPN for torrenting, video streaming and better security and privacy, you can try ExpressVPN or NordVPN instead.
Published by Tony Shepherd & last updated on July 28, 2020 1:23 pm