Norton is a leader in protecting internet user's digital life. Norton earns a high reputation in internet security and data protection field. It has protected customers worldwide and secure data for over 25 years. Norton is a pioneer in security history and they have professional and skillful experts and technical teams in Internet Security field. Norton experts have decades of experience and skill in virus removal. Norton provides many different products and plans in protecting PC, Mac, Mobile devices. it provides Norton Security Premium, Deluxe, Standard and AntiVirus Basic. For mobile devices, it also gives Mobile Security and Norton Secure VPN. They even specifically offer plan LifeLock Identity Theft Protection to break identity theft. For family or home use, there is Norton Family Parental Controls to help parents supervise and monitor what their children are doing on the internet. Some customers require a higher level of internet security, so Norton suggests some strong and useful bundle deals like Norton Security + LifeLock Identity Theft Protection and Norton Security + Secure VPN and so on. Besides, you can get free trial to test and experience some plans and products of Norton. Therefore, you can try the free trial of Norton Security DELUXE and PREMIUM, Norton Mobile Security, Norton Password Manager and others. Norton ensures the high security for customers due to the five layers of protection including Intrusion prevention wall, antivirus file scan, reputation database, SONAR behavior monitoring and powerful erase and repair.
*Disclosure: We are independently owned and our personal opinions expressed in all of our reviews are our own. This post contains affiliate links and we will be compensated for any sales generated from the links.
Norton Products and Deals
Norton develops and offers many products and plans to let customers choose. Right now the popular plans and products include Norton Security Premium, Norton Security Deluxe, Norton Security Standard, AntiVirus Basic, Family Premier, Mobile Security, Secure VPN, LifeLock Identity Theft Protection and more. Norton has advantages over other competitors in industry. All the plans and products provided by Norton has a powerful protection and advanced technologies in order to completely protect customer's PC, Mac and Mobile. All sensitive information and data are also defended securely by Norton. Norton respects customer's privacy and devotes more effort into internet security. Norton not only can defend against various infections like virus, ransomware, malware, spyware, phishing attacks, identity theft and other online threats, but also uses advanced security technology to protect user's private and financial information whenever user is online.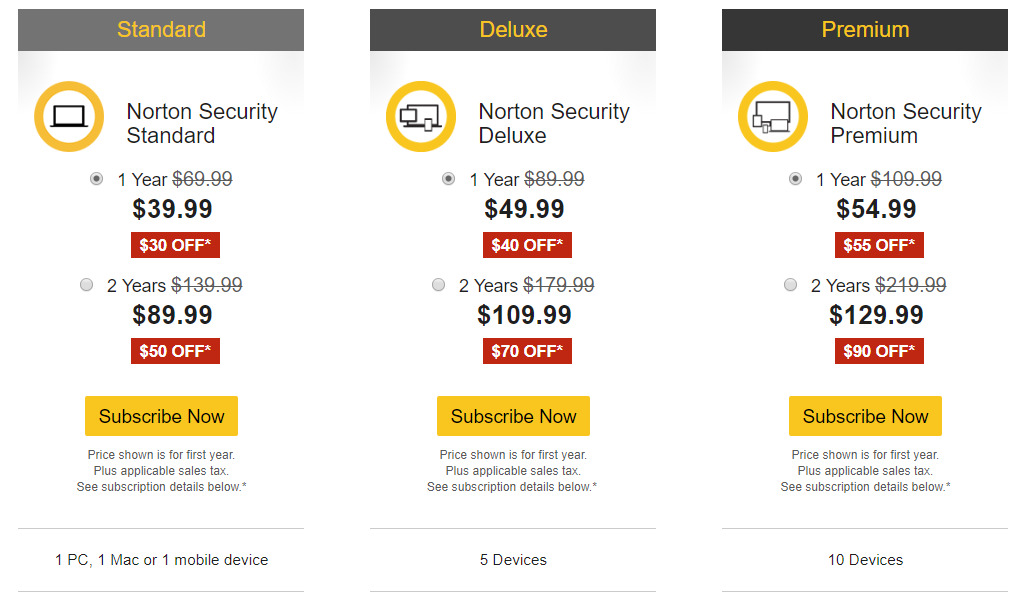 Norton Security Premium
Compared with other Norton plans like Norton Security Deluxe and Norton Security Standard, Norton Security Premium offers more features and functions to ensure online safety and privacy for customers. Norton Security Premium gives real-time protection from different cyberattacks including virus, malware, ransomware, spyware, Trojan and other internet threats. Norton Security Premium can eliminate completely all different online threats whether it is the typical or advanced even the newest one. Some online threat has not been detected by other antivirus or found by researcher, but will be detected and scanned by this Norton Security Premium. Premium is an advanced and upgraded internet security version. What's more, it can safeguard customer's sensitive and financial information like credit card, banking account, payment method, shopping details and so on when customers are surfing online. In this product, Norton adds a powerful tool called civilian cyber intelligence networks which is smart enough to detect and protect against any advanced cyberthreats. What's more, it also has a Smart Firewall which can increase an extra layer of protection for your personal and sensitive especially financial information.
Norton Security Premium gives backup service which is a different function from other plans like Norton Security Deluxe and Standard, because other plans and packages do not offer backup tool or service. It is a 25 GB of automatic online backup for PC. And you can choose the options to add more according to your needs. For example, if you need more spaces to back up your files, programs and others, you can use the options to make the change. It is actually very convenient. You can back up your photos, images, documents, financial files and other important personal information and documents on your PC. Besides, Norton Security Premium has a safe kids or parental controls feature which can help parents to supervise and control how much time their children can spend online, what content can be viewed on the internet, even what messages can be sent or received. Parents even can monitor where their children are located, which is very useful especially when children get lost.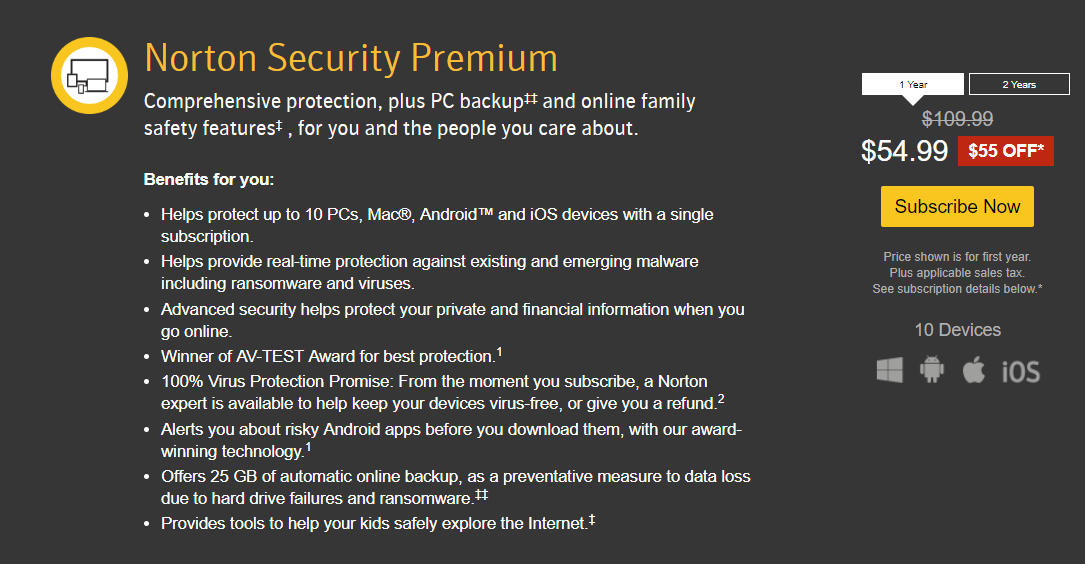 Norton Security Deluxe
Norton Security Deluxe can protect up to 5 devices at the same time. That means, you can use one Deluxe account on up to 5 devices at the same time. Norton Security Deluxe also can prevent devices from any kinds of online threats, protects user's private data and financial information, and uses the civilian cyber intelligence networks particularly to stop advanced internet attacks. If you use the Deluxe plan, you will find it also has Smart Firewall to block any unauthorized access to personal files and financial data. Therefore, actually Norton offers two ways advanced security and Smart Firewall to protect personal information and financial data. Norton takes personal privacy and other data more seriously. Deluxe gives regular updates to the newest version in order to give a more advanced protection against newest and most advanced cyber threats. Norton also gives 100% virus protection promise. You can use its any plans and packages with total ease. One single subscription can be used on PC, Mac, and mobile devices. But Norton Security Deluxe is not equipped with parental control and backup features.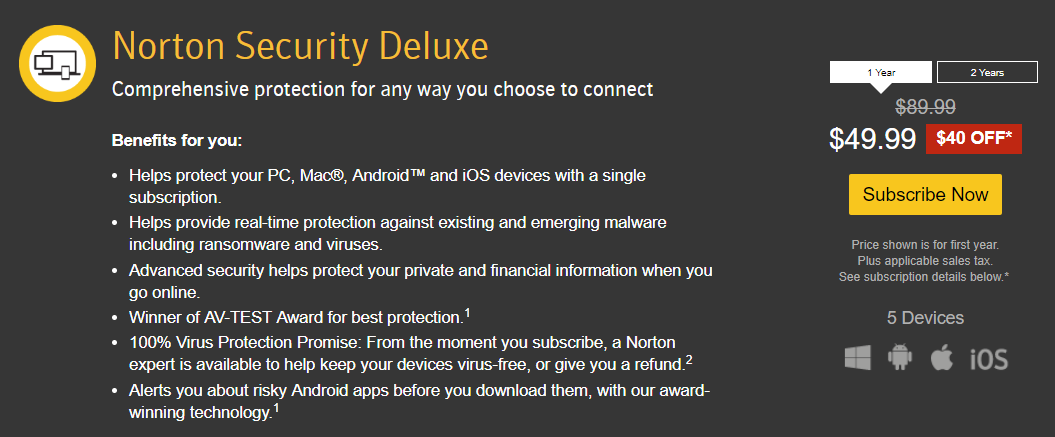 Norton Security Standard
Norton Security Standard subscription can be used on 1 PC, 1 Mac or 1 Mobile device. Standard plan includes such features: defending against different kinds of online threats and protecting user's personal information and data especially financial data with Advanced Security and Smart Firewall. And advanced malware or newest version of various kinds of cyberattacks can also be blocked by this Norton Security Standard. It can also update the performance and features automatically in order to make it stronger to prevent any latest cyberattacks. Although Norton Security Standard does not offer as many features as other upgraded plans like Norton Security Premium and Deluxe, it does give the secure protection to safeguard customer's devices and personal data from any kinds of online threats and hackers. Standard plan is also a popular choice favorite by many customers who just require a common protection for their staff things.

Norton AntiVirus Basic
Norton AntiVirus Basic is the simplest and most basic protection plan. It just mainly focuses on virus prevention and sensitive information protection with advanced security. If you just need an antivirus or security tool to protect your device like PC or Mac or Mobile device, Norton AntiVirus Basic is strong enough to help prevent you from any kinds of online threats actually. Besides, Norton AntiVirus Basic can protect personal sensitive information also. Nowadays, more and more people pay more attention to the personal data and privacy actually. And customers also prefer an antivirus or security tool is equipped with such a strong and advanced feature, so customers don't have to purchase other products to protect their online privacy and private information specifically. Norton AntiVirus Basic can also upgrade to be the latest version in order to possess the newest power to defeat latest virus, malware, ransomware, spyware and other online threats. Since Norton AntiVirus Basic is the most basic protection, it cost the least every month among security plans. It is an industry-leading protection solution at a groundbreaking price. It is a great choice if you are a new users of Norton.

LifeLock Identity Theft Protection
LifeLock Identity Theft Protection mainly protects customer's data and sensitive from identity theft and phishing attacks. Identity theft can redirect people to fake or fraudulent website and scam people to enter their sensitive information like name, address, credit card number or bank account, logins, account number or passwords and so on. Once people are fooled to enter these important sensitive information, hackers can soon collect the sensitive information and use these information for illegal profit. Or they can use these information to scam you again out of money. Cyber hackers usually like to steal personal information for illegal action especially scam people' money. Identity theft or phishing attacks are usually spread through malicious popups, ads, spam email attachment, fake software update prompt and so on. It usually is an attractive and lure content like telling you win a big prize to attract you to click on the content, and if you click on that fake thing, it will redirect you to fake website where continue to scam you into offering personal information. Some victims are defrauded. Therefore, now more and more internet users know to protect their sensitive information and financial information with different strong security tools and measures.
LifeLock Identity Theft Protection is a powerful and advanced protection measure provided by Norton, aiming at prevent any kinds of identity thefts or phishing attacks or other online threats from stealing user's financial information like credit card, online bank account, logins, passwords, ID number, driver license number, passport number and any important personal data. LifeLock Identity Theft Protection has such useful and excellent features as Dark Web monitoring, Credit Monitoring, LifeLock Privacy Monitor, Bank & Credit Card Activity Alerts, Data Breach Notifications, Fictitious Identity Monitoring and so on. LifeLock Identity Theft Protection will give your personal data an all-in-one protection. It is a full protection and control over personal data.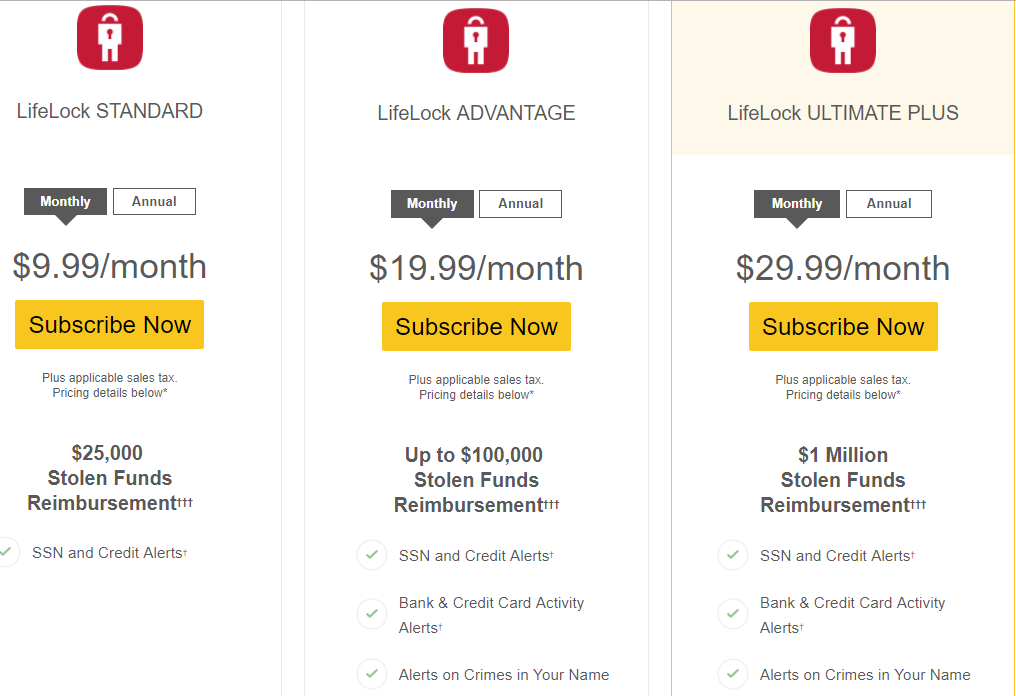 Norton Family Premier
Norton Family Premier is an important plan to help parents supervise and control their children's online activities. Norton Family Premier can ensure the website and webpage safer for their kids to browse. Parents can know which websites and contents their children are visiting and viewing. Any potentially unfavorable and harmful content will be blocked. Some malicious and inappropriate sites are also stopped as soon as kids open. Parents can use this Norton Family Premier to balance the time spent by kids online. For example, parents can set how much screen time kids can use online. Parents can set a time to limit how long kids can spend on the internet at weekdays and weekends. This security solution even can supervise which key words, terms, and phrases that kids are searching, which not only can help parents know which contents their children are interesting to but also prevent them from harmful contents. If your kids accidentally want to send their personal information like house address, name, parents work, phone number, school they attend and son in the public, this security solution will soon give parents a warning and help parents stop timely. Family Premier even can standardize kids' social networking activities in order to make them have a good habit. Parents can tell them how to set their name and age when entering profile in social network app. Mobile apps are also supervised by this family package. Some apps are inappropriate to children, but children download and use it, parents can stop using it once Family Premier knows. Text messages sent by your kids are also monitored by Family Premier. It can help parents supervise who their kid sent messages to and limit who can text. Norton Family Premier sets a location supervision which can locate where kids are and help map the location of children's mobile. Norton Family Premier is an important product and security solution to help parents who have to work but still want to supervise their kids daily life. It is convenient for parents to guide their kids have good online habit.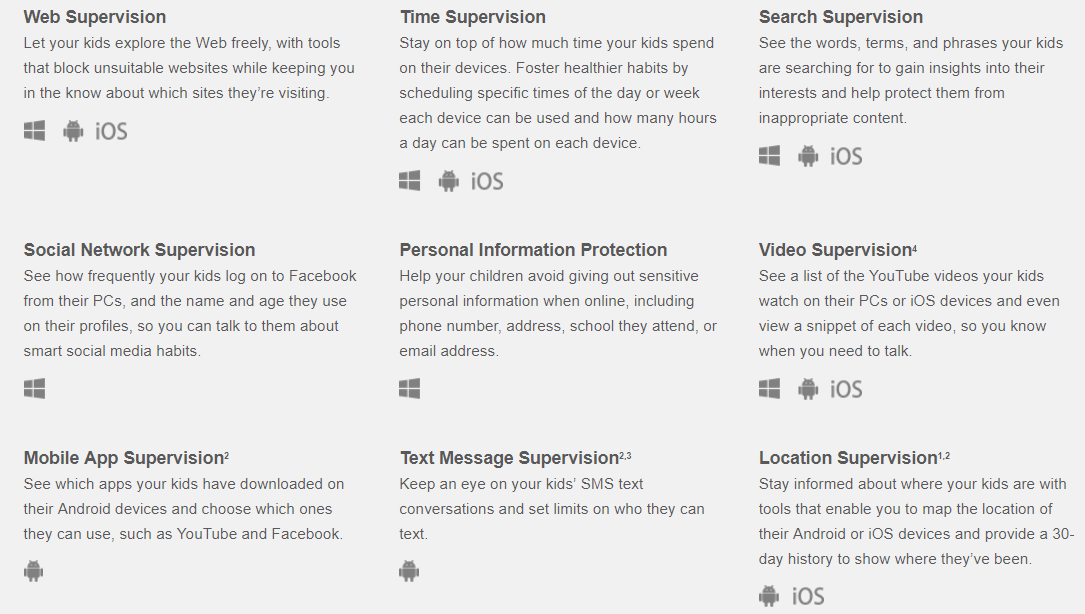 Norton Secure VPN
Norton Secure VPN is a new coming product offered by Norton. Norton Secure VPN devotes more efforts into data protection, online security and privacy. It creates an encrypted and secure tunnel over the public network between your devices and servers. All your internet traffic will just go through this secure tunnel. And Norton Secure VPN also uses the strongest and most advanced encryption method to encrypt their data and internet traffic. The encryption mode is same as the level of bank encryption type so that Norton can ensure your information, online activities and other personal data are protected in a secure place. You can use the Norton Secure VPN to securely and anonymously surf on the internet. It changes your real IP address by assigning you a new IP address which includes a new identity information about you. So websites you visit and other internet users will just see your new IP address not the original one. In this way, you will not be easily tracked. Norton Secure VPN can break the internet restrictions and help customers to access any websites and contents. Like other reliable VPN tools, Norton Secure VPN also has a powerful capability to defeat internet restrictions to access blocked sites and apps no matter where you are. Norton Secure VPN even can block ads and stop ad trackers by intercepting cookies and deleting your personal information soon. So, those tracking websites will have no way to spy on your and display random ads and popups. Even if you are doing payment or shopping online by using low-security public network, you and your personal data are still protected by Norton Secure VPN as long as you run it on your device. Norton Secure VPN can keep you safe on public WiFi.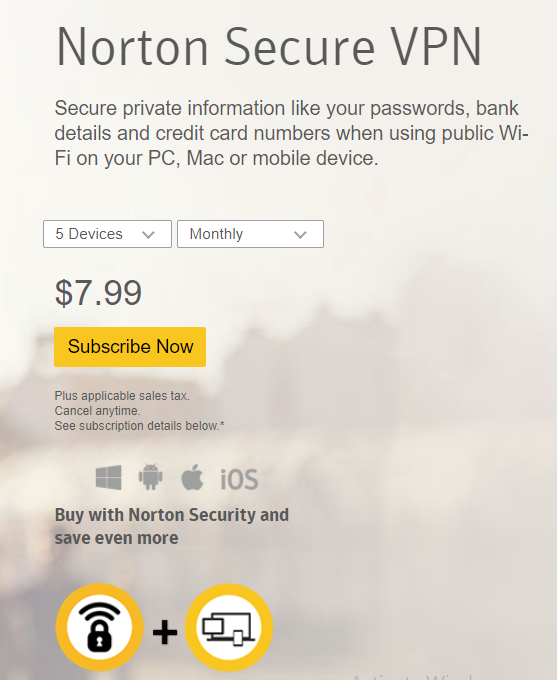 Summary
Norton is an excellent and well-known security solution providers and have remarkable products and services over other competitors in industry. Norton provides various products and services in order to keep internet users safe from any kinds of online threats and cyber hackers. Different products have different features. Customers should choose the correct and suitable one to meet their requirement. Their products all have such strong and useful features as antivirus, virus removal, malware protection, cloud backup and password manager. That means Norton Security products not only have the ability to protect devices from virus, malware, spyware, ransomware, identity theft, phishing attacks but also can strongly delete infections, and give you an attentive cloud backup for all your data, document, photos, files and more with secure backup space tool. Password manager can help store and protect different passwords, logins, account numbers, credit card number, banking information, and many other personal data. Norton even gives free trial on many plans to help new users learn more and experience Norton products. For example, you can have the Free Trial of Norton Security Deluxe, Norton Security Premium, Norton Small Business, Norton Mobile Security, Norton Password Manager, Norton Family Premier. Norton products can be covered in PC, Mac, Android, and iOS. In a word, Norton gives comprehensive full-featured, and all-in-one security products and services. You can trust and try their powerful products to enjoy complete online security and privacy.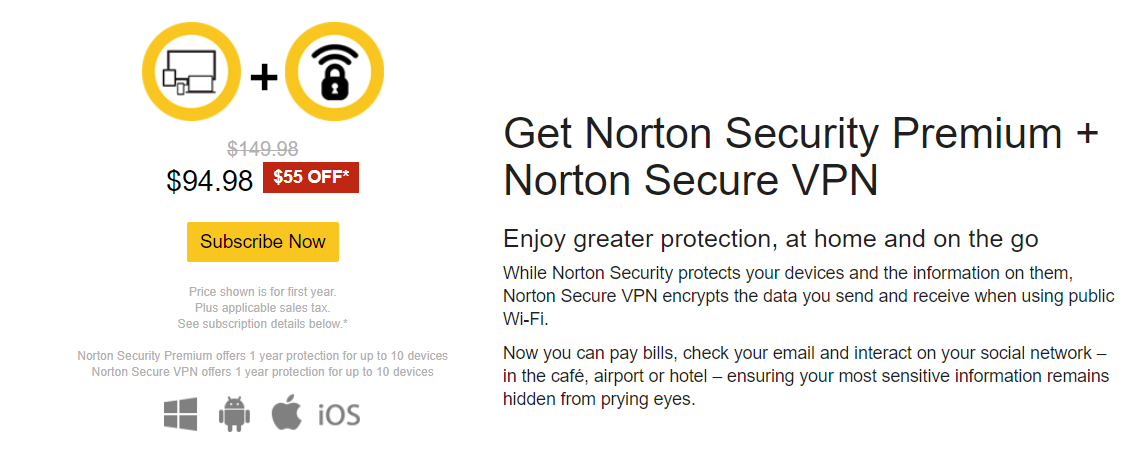 Published by Tony Shepherd & last updated on February 21, 2020 7:43 am