Failed to remove Windows Health Keeper fake alert?
Windows Health Keeper is a fake antispyware tool. WindowsHealthKeeper looks like an antivirus software, but it can't do anything to fix computer security problems and reduce risk. It is a rogue program that always can be reported as threat by other real antivirus software. And this fake Health Keeper always shows you that many of your programs are infected or at risks. When users click fix, it can do nothing, but there is a window name WindowsHealthKeeper pops up and asking you buy their program. This is a typical method of hacker to scar users, in order to make users spend money to fix their issues, but after you have finished the payment, nothing could be changed, the annoying fake alert still pops up and seems like laughing at users. Of course, users can do nothing until Windows Health Keeper is removed. Most of programs would be warning as a risk program. Please don't do anything about the payment, you will lost your money and nothing can be fixed if you have done that. We are sure that you may have tried lots of antivirus programs that you usually use or you can trust to remove this rogue program but nothing worked. Not every antivirus program can fix every risk because they are not god. Sometimes some antivirus can remove Windows Health Keeper by updating their functions, but the spyware blocks it again, that is very funny. Because the scareware creator know how to make user's antivirus program works abnormally, so users still at the risks. So, is there no way to get rid of Windows Health Keeper? The answer is NO. We will show you the guide here! Let's rock.
Windows Health Keeper ScreenShot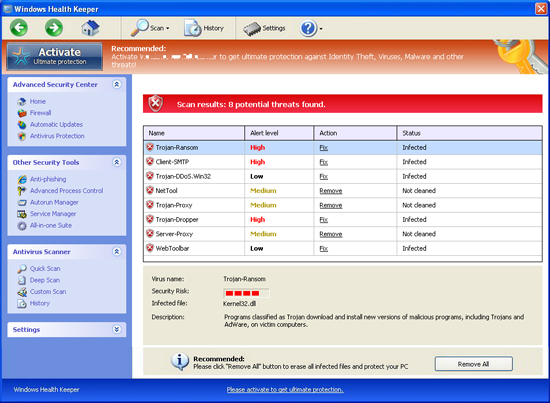 Before you begin to uninstall the Rogue thing, please restart your computer and get in safe mode with networking.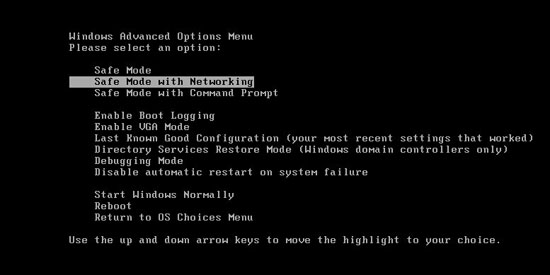 Windows Health Keeper can be removed manually by following the steps below.
Open your registry editor (regedit) program by going to Start Menu, type in regedit, and click OK.
Find all of the following registry entries and delete them. If you do not know how to do this, then you can read how to edit the registry in Windows.
Associated file of Windows Health Keeper fake thing needs to be deleted
Get rid of the files associated with the malware:
%appdata%\npswf32.dll
%appdata%\random.exe
%desktopdir%\WindowsHealthKeeper.lnk
Delete registry entries of Windows Health Keeper Scamware:
HKCU\Software\Microsoft\Windows\CurrentVersion\Run
Fake Health Keeper Malware Similar Video Guide:
Manual removal of Windows Health Keeper is not easy, not everyone can do, because sometimes WindowsHealthKeeper effects system files that will cause your system crash or works abnormally. You will encounter blue screen of death problem if you removed the Windows Health Keeper in a wrong way. To completely delete the rogue antispyware you need to remove all related files and registry entries from your computer correctly. If you are not good at computer, the best way is to ask an expert for help to ensure Windows Health Keeper is gone permanently.
(Important: If you are unsure what these items mean you should probably contact PC Experts 24/7 online for help to safely remove the nasty virus.)
Published by Tony Shepherd & last updated on November 9, 2012 10:11 am