I keep getting this http://mywebfind.com/ website popup replacing my home page on browser. It looks like a search webpage. But I never use it before and am not going to use it as it has caused my many troubles to get online. I'm worried that my browser is hacked by some adware issues. Can I remove this popup website? How will I do that? I tried a lot but none of them worked perfectly. I still get popups on my browser when I surf online. Please help!

Mywebfind.com Redirect – How to Remove?
Mywebfind.com is reported as an unwanted search webpage by many computer users as it has caused lots of troubles to interrupt their online sessions. Although it's unwanted by many, the search tool can still pop up on your browser as it often doesn't need permission from users to install. This browser problem is categorized as a browser adware or hijacker which can attack many browsing applications including Internet Explorer, Google Chrome and Mozilla Firefox on Windows OS mainly. This browser hijacker is not only able to bring in more unwanted applications on browsers and system, but record users' online browsing histories and hack their sensitive data. Although it's not picked up by anti-malware programs as a virus, the pop up browser hijacker should be deleted for good to secure system and privacy.

Similar to many browser hijackers, the Mywebfind.com pop up pretends and shows up as a helpful search engine on your browser. It keeps redirecting you to its domain and displaying numerous pop-up ads to interrupt your online searching. Even though it looks like a regular search engine, the browser hijacker contains lots of misleading information which can be given to you as search results. Logging onto these results could get more potential threats onto your system. Generally, once the browser adware is installed, it will attack your browsers first:
Home page is replaced and favorite search engines are disabled.
Unknown toolbars or extensions are automatically installed.
Annoying pop-up ads are everywhere on the webs.
Users are constantly redirected to unwanted results.
Browser is slow in loading pages.
System becomes sluggish generally.
…
How to remove the pop up Mywebfind.com page on browser?
As mentioned above, the pop up adware is not picked up by anti-virus programs as a virus. To remove the hijacker and restore your browser, manual removal is suggested. This passage gives a general manual removal guide to help average computer users understand the overall process. But situations can be different on different computers or browsers. Due to the changeable characters of the adware problem, certain levels of computer skills are required during the process in order to accurate the removal process in order to identify the right files and registries to delete or adjust.
Suggestions: If you are not qualified with certain levels of computer skills, contact YooSecurity Online PC Experts for help to delete this Mywebfind.com redirect pop up from home page now if you don't want to make things worse:


The Adware Popup Screenshot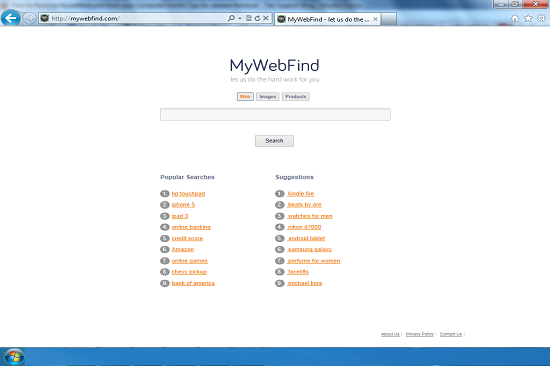 * The above screenshot shows the common appearance of this browser hijacker. It appears as a regular search webpage with some categories and items on the home page. With this adware installed on your browser, you will receive lots of pop ups when surfing online. "Your browser is out of date. Update it now!" "Your PC performance is poor. Fix now!" You may even have weird highlighted texts and unwanted pop ups when having cursor hovered on regular content. Basically, you won't be able to enjoy the full experience of surfing online. Remove the pop up adware now to maintain a clean system.
Can't get rid of mywebfind.com redirect pop up on browser? How to remove?
As mentioned before this adware problem can still happen whether or not there's anti-malware program on the system. Hence, to remove the hijacker, manual removal is suggested in this passage. Users will need to reset browser defaults as well as to adjust certain registries, remove unwanted extensions and clear browsing histories and cookies to finally get rid of the hijacker. Instead of wiping out the entire hard drives, manual removal is much more efficient and will get you out of this browser disorder. A guide is contained below to walk you through the basic steps to remove the pop up hijacker.
Browser Hijacker Manual Removal Instructions
A step-by-step guide to remove the hijacker popups manually from Mozilla Firefox:
1. Windows Task Manager.


Press CTRL+ALT+DELETE or CTRL+SHIFT+ESC; or pull up Run box from Start menu to type in taskmgr
Right click on items you want to end, select Go To Process
Click on End Process
or
Click on Processes tab
End process of all Firefox items/Mywebfind.com hijacker
2. Delete virus files and adjust registries from system.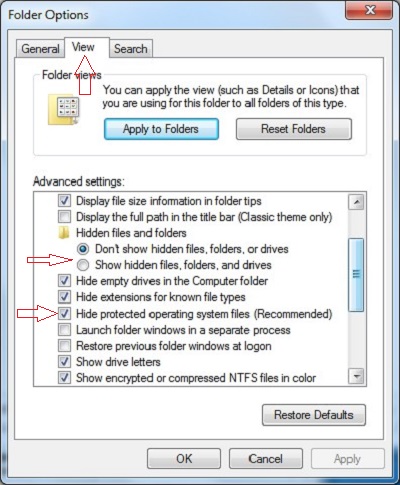 Click on Start button
Control Panel
Search for "folder options" on top right corner
Click on View tab
Show hidden files, folders, and drives
C:\Users\profile name here\AppData\-
HKCU\Software\Microsoft\Windows\CurrentVersion\Run\-
* Files and registries of the Mywebfind.com pop up adware can be changed or renamed time from time in order to keep the infection functioning longer. If you are not able to identify the related items, contact online experts for help instantly.
3. Reset Firefox.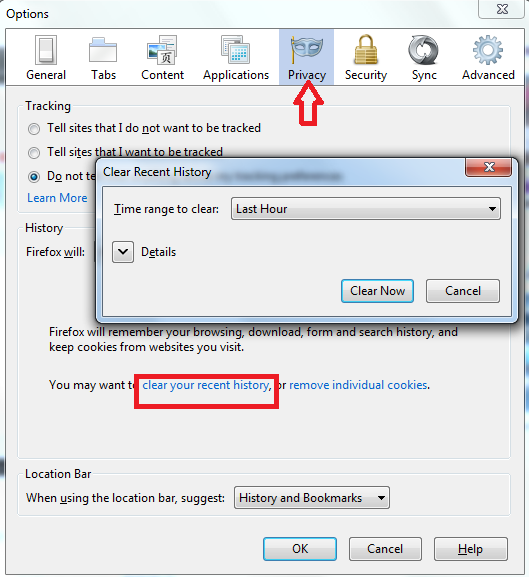 Click on Tools – Options
Under General tab – reset home page on Firefox
Under Privacy tab – clear browsing histories
4. Close out all the windows and restart the system to take effects.
Similar video on browser hijacker removal:

Conclusion
Browser hijackers sometimes will pop up on your browsers as helpful webpages or toolbars. But they actually disable the browsing abilities by automatically resetting the browser defaults. Users are having lots of pains to get online when having a hijacker on their browsers. It's not only able to bring more problems onto the computer, but is specifically capable of collecting users' online data for unknown cyber scam activities. Because the adware is not categorized as a virus by security programs, users need to get rid of this Mywebfind.com pop up manually with certain computer skills. The longer the hijacker stays on your computer, the more problems you will have to deal with. Remove this pop up adware now manually and completely.
Note: Can't get rid of the pop up adware successfully to restore browser? Please contact YooSecurity Online Experts for help now to completely fix this browser issue and avoid further malware problems:


Published by Tony Shepherd & last updated on February 13, 2014 4:24 am