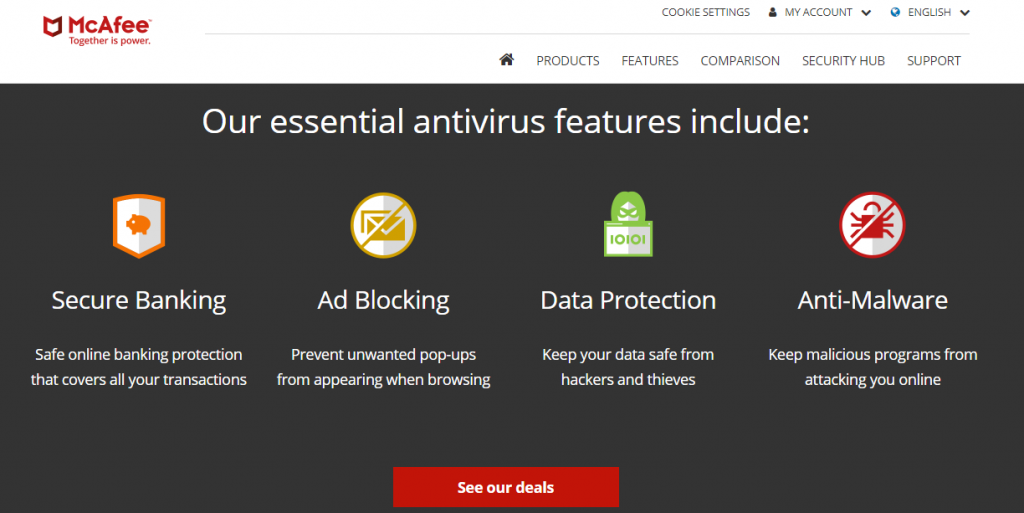 Here from the McAfee team for their TWO sales.
First – Back to School was a great deal chosen by many users and so they are bringing the discount back for another week. A massive 70% discount on Total Protection 2018 from 17th to 23rd September:-
Dates:- 9am Monday 17th September to 11.59pm Sunday 23rd September (inclusive).
Product:- Total Protection 2018 (1 year product as standard).
Countries:- UK but also IE, FR, DE, ES, NL, IT.
Discount:- **70%**.
Pricing:
*GBP – MSRP = 89.99, after discount = 26.99 (GBP)
*EUR – MSRP = 89,96, after discount = 26,95 (EUR)
Second – Cashback is back! From 27th September to 4th October, Total Protection 2 year product has a discount with additional cashback from McAfee:-
Dates:- 9am Thursday 27th September to 11.59pm Thursday 4th October (inclusive).
Countries:- UK but also IE, FR, DE, ES, NL
Product:- 2 Year Total Protection = £99.99 (Full Price: £159.99)
In order to get the cashback, the customer must make purchase during the cashback period. Once payment has been made, McAfee will email the customer with a link to claim the cashback. This makes the offer a £60 discount plus £40 cashback, which is £100 of savings!
Published by Tony Shepherd & last updated on September 12, 2018 3:12 am