Is your default homepage changed to Maxresult.net without your permission? Are you annoyed by various pop-ups showing on your computer out of nowhere? If you are suffering from these issues, then please note that a browser hijacker virus is messing up on your browser. A complete manual removal is needed to keep your computer free from virus attack.

How to Remove Maxresult.net from Browser?
Maxresult.net is a deceptive website closely associated with browser hijacker or adware which annoys PC users recently. It has been found to load itself automatically after installing freeware programs like flash player, video converter, toolbar and then displays on popular web browsers like Firefox, Internet Explorer and Google Chrome. When it is downloaded, it can cause an immense problem to the functioning of a computer system by altering the browser settings and changing browser settings without any consent. Many users may not detect its presence until they find it hard to surf the Internet. The most visible symptoms after your browser is hijacked is that you will be forced to visit some corrupted pages even if you are not willing to do that. And then you will find that your homepage or default search engine is changed to a strange site somehow, without giving you any prompt before.
Maxresult.net displays a search box in the middle of its page and then it gives some icons offering you a quickly way to link your favorite websites like Facebook, Gmail, Youtube and Twitter. At first glance, this web page is useful for a computer users to get any information online. However, by using this phony search engine, it may return unwanted results filled with crazy advertisements and other popups. That means this MaxResult Search is not reliable because it only displays spam results to computer users. If you enter search query and start to make a search, you will see it only shows many sponsored websites and various advertisements. With a browser hijacker inside the computer can make PC at risk. It may use constant ads to disrupt your browsing activities and interrupts your network, sometimes it makes you unable to access Internet or use some programs installed on the infected system. In addition, every time you go to google to search up something, it lags and then when you click a certain link, it redirects you to a different site. In summary, Maxresult.net is just a low-quality page that only displays spam engine and does nothing but delivers ads. Once you detect it, take immediate action to get rid of it from your computer as soon as possible.
Note: If you are not computer savvy, to get rid of Maxresult.net Popups from your computer without coming back, please consult with YooSecurity Experts 24/7 online for instant help.


How To Manually Remove Maxresult.net Redirect Virus in Several Steps
Tips: Before you start to remove Maxresult.net hijacker, you should be aware that the whole process includes setting files or folders' view, removing all the files related to the virus, deleting risky registry files and repair registry files, re-set some basic configurations of the whole operating system to improve the security level. The real difficult part is to identify the files of the virus since the files would be randomly named. Any mistake may cause errors or data loss. This requires complicated knowledge in IT filed. If you are not confident, contacting an expert for help to remove Maxresult.net is the best choice.
Step1:Press Ctrl+Shift+Esc keys at the same time to open the Task Manager. And find some strange processes that associating the Maxresult.net redirect. Since the virus can change its files' names constantly, the processes may be randomly named as well.

Step2:The Operating System of your computer will hide some folders or files as its default settings. In order to find out all the files of Maxresult.net redirect, you will need to do some basic steps to show the hidden files. Open Control Panel from Start menu. Go to Folder Options and under View tab, select Show hidden files and folders and non-select Hide protected operating system files (Recommended) then click OK: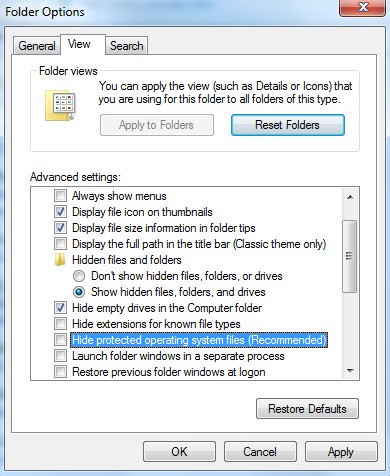 Step3: After you removed all the files of Maxresult.net popups, you will still need to remove or modify the related registry files, otherwise, the removed files will be generated automatically later again. To do this, you need to click Start menu, then in the search bar, type regedit and press Enter key, then you will open the Registry Editor program: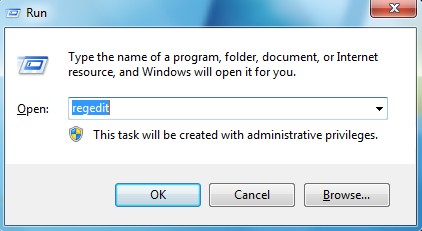 HKEY_LOCAL_MACHINE/SOFTWARE/MICROSOFT/WINDOWS NT/(randomly named)
HKEY_CURRENT_USER/SOFTWARE/MICROSOFT/WINDOWS NT/(randomly named)
Step4: Remove all the files of Maxresult.net redirect. The files need to be identified according to the registry files you just modified or deleted.
A Video Guides You More Clearly to Remove the Maxresult.net Popups in Details:
Summary: Maxresult.net is a browser hijacker site that may be automatically loaded as your default home page or default search engine. Usually it is installed on your system without your knowledge through a previously downloaded and installed freeware program. This hijacker can be bundled with those downloads and then hide itself deeply inside a vulnerable system. Even though you spend a few hours even a day for scanning your computer, you still get failed to catch it. This threat focuses on redirecting users to other web pages against their will and many of the redirected sites may attempt to display additional offers and coupon savings. Moreover, it may constantly use your internet connection to send your private information to remote servers. Thus, don't believe in this spam search page despite it owns a convincing appearance. If you find out that your homepage is changed to this page, please follow the manual removal instructions above to have Maxresult.net removed immediately or your web browser or computer will be fully messed up.
Kindly Reminder: If you have tried many methods but still can't remove Maxresult.net virus, to save your computer, please contact YooSecurity experts 24/7 online in time for assistance.

Published by Tony Shepherd & last updated on November 22, 2013 3:00 pm