Got a full screen message telling you that your computer is locked due to at least one of the reasons specified below? Does this message really come from FBI? Will you be prosecuted if you don't pay 200 dollars as the "fine" by the email [email protected]? If not really from FBI, how can you get rid of it? Well, this article will answer all your questions.
Explanation about Malex Ransomware
It's not a long time since FBI Moneypak virus wreaked havoc in USA areas. Another upgrade version of it, Malex Ransomware appeared quietly in users' computers in USA. With the same symptom as FBI Moneypak virus, Malex Ransomware asks for 200 dollars as the so called fine. It adopts the same means to cheat and threaten people. By popping up a full screen message page, this scam will locked your computer so that you can't use it to do other things. The only thing you can do is that you can pay money as it requires and guides in the box at the bottom of the page.
Malex Ransomware declares that it's from the FBI in USA. On the top of the page, you can also find the national flag sign of USA and the logo of the FBI. It looks like legitimate and convincible. Never think it's really from the government. The sign and logo can be made by Photoshop or some other tools. The Malex Ransomware may warn you that this: You computer is locked due to at least one of the reasons specified below. Then it will list several reasons: You have been violation Copyright and Related Rights Law (Video, Music, Software) and illegally using or distributing copyrighted contents, thus infringing Article X, Section X, Clause X, also known as the Copyright of the Criminal Code of United States of America. Further more than this, it will claim that You have been viewing or distributing prohibited Pornographic content (Child Porn/Zoophilia and etc.). Thus violating article 202 of the Criminal Code of United States of America. What's more Malex Ransomware will impose offense to you telling you that illegal access has been initiated from your PC without your knowledge or consent, your PC may be infected by malware, thus you are violated the law on Neglectful Use of Personal Computer. Article 210 of the Criminal Code provides for fine of up to 100,000 dollars and / or deprivation of liberty for four to nine years.
These clauses make you frightened, right? However, this is just the trick to make you be taken in. After Malex Ransomware lists so many accusations to you, it will give you an alternative that you can pay 200 dollars as the fine to avoid being jailed or prosecuted. If you have already believe the scam, you will pay 200 dollars, after all, it's much better rather than being jailed, isn't it? This is why the ransomware can cheat people easily. It even will give you some instructions on how to do the payment.  The only way you can pay the fine is via Moneypak. You will need to find a retail location near you and look for a MoneyPak in the prepaid section. Then you have to enter the digits MoneyPak resulting code in the payment form and press Pay MoneyPak. it will tell you that your computer will be unlocked 72 hours later after your finish the payment. Please never never never believe this nasty scam malware virus. Even if you pay 200 dollars to the hackers behind, they won't unlock your computer 72 hours later. Don't waste money. You can contact an expert to remove the Malex Ransomware or FBI MoneyPak virus for you if you don't know how to get rid of it.
To save your computer, Live Chat with YooSecurity Expert Now, or you can follow the manual removal guide below to get your problem fixed. (For advanced computer users)


Let's have a look at the interface of Malex Ransomware.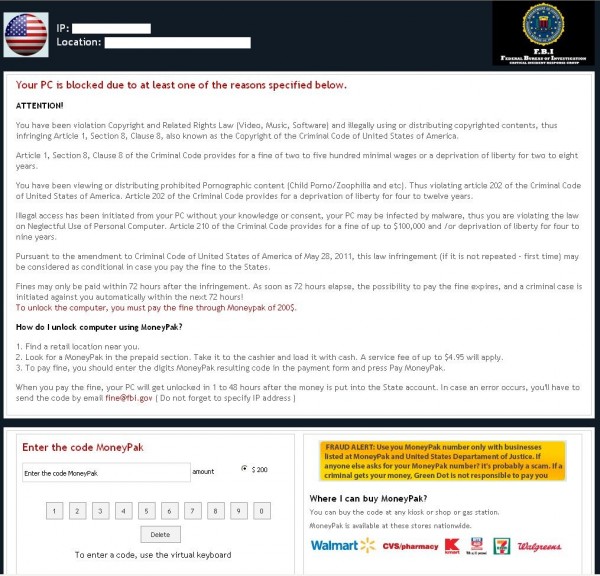 The routes of fake Malex Ransomware / FBI moneypak ransomware transmission
Malex Ransomware/ FBI MoneyPak virus may lurk in anywhere on the internet. In most cases, it hides in some unsafe websites or links waiting for your visiting. Most of people even don't know how they get caught by such virus since they don't know that any activity they do may have a risk in bringing such virus.
Tried to load a new version of anti-virus and things have become critical. Well it looked legitimate and whatever it was it said FBI warning on my computer moneypak blocking internet etc…so I stupidly followed like a fool.

I have gotten the Malex Ransomware on my PC at work. PC is locked unless I enter a MoneyPak code, it shows your computer has been blocked you must buy money pak card.

I woke up in the morning and turned on my computer as usual and JUST when I logged in my ENTIRE Screen becomes this alert from the United States Department of Justice
The virus may be bounded together with other legal programs or files, as long as you get them, you also get the virus at the same time. So you'd better never visit informal websites. When you click some links or download something, look before you leap! Actually, you can't do anything if your computer has been attacked by such Malex Ransomware virus unless you remove it completely.
Best Way to Remove Malex Ransomware/ Malware Efficiently
As far as we know, once computer has been locked by Malex Ransomware or FBI MoneyPak virus, computer users can't do anything, let alone running an anti-virus to remove it. Paying to 200 dollars via MoneyPak obviously is not the right way. So is there other good choice to deal with it? You know the virus was created by human, so no matter how terrible it is, Malex Ransomware finally can be removed by human manually. So the only best way to remove this disgusting virus from your computer is to remove it in manual way. If you are an IT guy with good computer skills and familiar with this virus, you can follow the steps below to remove it. While if you are not good at computer and can't find the related virus files, you can contact YooCare / YooSecurity experts for help.
Step A: Restart your computer in safe mode. To do this, please press F8 key before the system is started like this: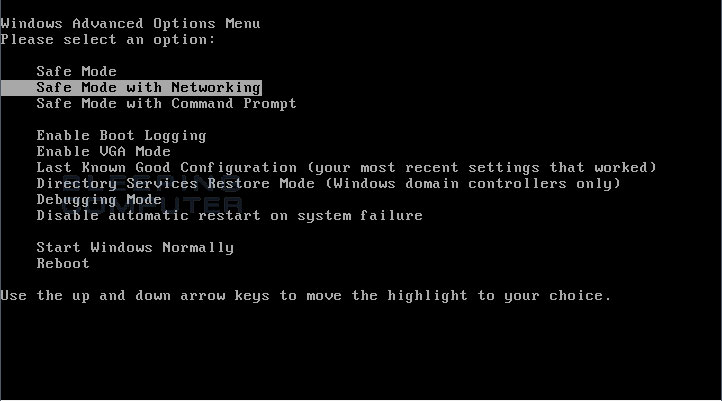 Step B: Press Ctrl+Alt+Del keys to open the Task manager to stop the progress of FBI Malex Ransomware / Moneypak Malware. Because the name will be changed fast, it will be shown as different names according to different PCs.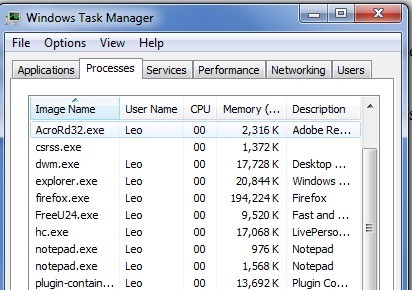 Step C: Delete all the files related to Malex Ransomware / Moneypak Malware
Step D: Delete Malex virus register entries created in computer system.
By the way: Manually remove Malex Ransomware / FBI MoneyPak Malware is a rather difficult work. If you are not a professional computer expert. We recommend you to get YooCare online service 24/7 in time. This is the real fastest and safe way to remove it.
How did you get Malex Ransomware virus stating it is FBI.
Just turn on your computer or you were Googling about some girls on the reality TV showing AD to the bottom of the page it said view pix. You clicked view and a porn site popped up. Then the FBI virus page came up saying that you need to pay $100 in the next 72 hours and my computer is completely frozen. Or you were watching videos on Youtube other things popped up on the side, you clicked on a couple of them it was real porn yuk, a chat thing popped up in lower right corner, someone said hi I'm so and so talk dirty to you, then you clicked off, it came back and this person called you filthy names, you clicked off. Then came the page saying you had violated the ruled and must pay FBI a fine with in 72 hours. Then the FBI virus locks computer and wants $100 or $200.
All kinds of questions that victims asked as follows:
Can the Malex Ransomware lock your computer and make you pay a fine to unlock it?
My computer has been blocked by the FBI. What do I do?! Is the FBI charging fees through money pack?
FBI message on my computer locked up. How to remove Malex Ransomware virus?
I was ready to just throw the computer in the ocean. How to bypass Malex Ransomware virus/ malware/ scam?
Fbi.gov blocked my PC wants moneypak payment with $200. Why did FBI block my computer for watching porn on internet?
How do i get past the Malex Ransomware screen and permanently remove the Malex Ransomware / FBI money pak virus?
Video Guide to remove Malex Ransomware
Special tips: Spending a lot of time fixing your computer with no success? Contact experts now to unlock your computer and remove the Malex Ransomware/ FBI MoneyPak Malware safely and completely.

Published by Tony Shepherd & last updated on November 26, 2012 9:49 am