If you are using a Mac, you may have come across a program called MacKeeper, which claims to be a cleaning utility that helps optimize your Apple, clean up junk files and even remove malware and phishing scams for you. But most of us know that Mac OS has built-in protection from malware and the vast majority of malware out there is in the form of Windows executables which will not run on the Mac. So, is it necessary to get MacKeeper on a Mac? Does it really help enhance your Mac performance by cleaning junk files, removing unwanted ads, and providing other system optimization-related functionality? How much does the service cost? In this MacKeeper Review, you are going to learn everything about this Mac security solution, including its pricing, features, usability and more, so you will know if it's worth your money or not.
What is MacKeeper?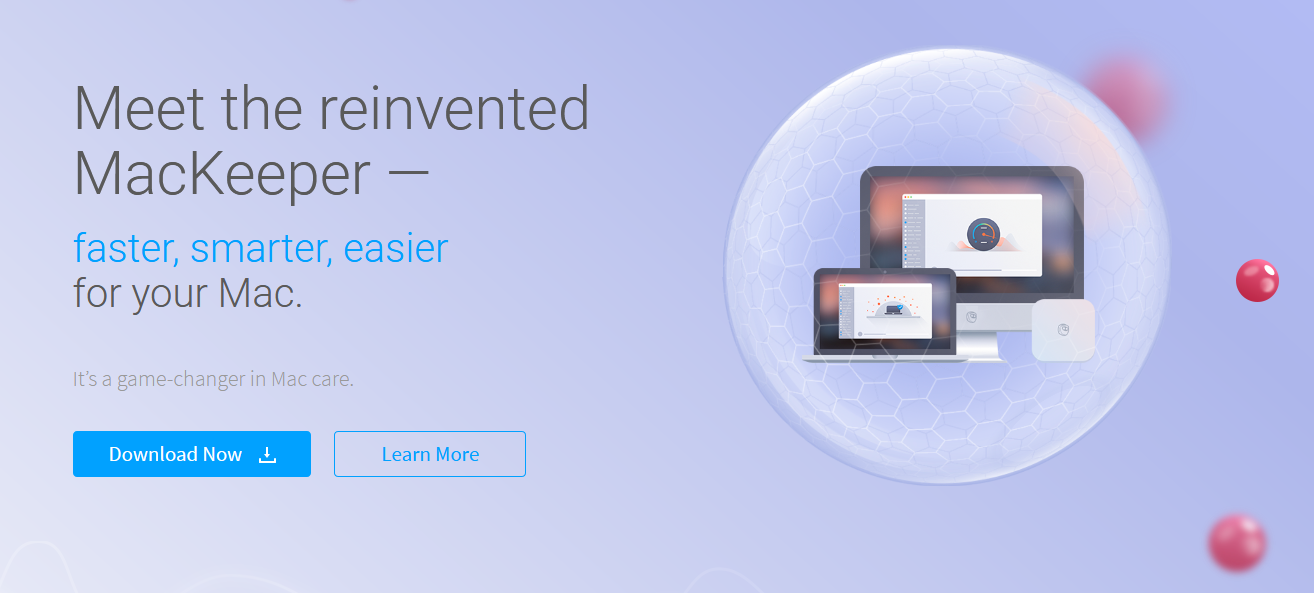 MacKeeper is an all in one security solution that promises to help keep your Mac clean and protected from malware, as well as optimize your Mac performance. However, since its launch in 2009 by Zeobit, there is so much controversy around MacKeeper online. The tool has been accused of being engaged in false advertising and being difficult to fully uninstall. It is heavily promoted through aggressive advertising and affiliate marketing. And the worse is MacKeeper faced a class-action lawsuit in 2014 because the company allegedly deceived users into paying for unneeded fixes. However, in April 2013, Zeobit sold MacKeeper to Kromtech Alliance Corp and with its recent acquisition by Kromtech, MacKeeper has upgraded its services and advertising practices, and many users prefer it as a legitimate Mac cleaning tool and are now giving it 5-star ratings and reviews.
MacKeeper is an award-winning all-in-one system utility that includes 12 powerful maintenance features that fully optimize, protect, control, and clean your Mac. It allows you to perform a lot of tasks like cleaning memory, removing duplicate files, uninstalling files, and offers everything from file recovery to anti-theft protection. MacKeeper is easy to install and use. It doesn't occupy many system resources so it will not slow down your Mac anyway. Instead, it can help you free up some RAM by removing junk files from your Mac, such as temporary caches, logs, unused language packages, and things in the Trash, giving you the best performance. This is done by its Smart Uninstaller feature. For your convenience, there is also a duplicate file finder which detects file copies that take up hard disk space on your Mac and helps you free up space on your hard drive. As for security, MacKeeper has real-time safe browsing to protect you from identity theft, credit card fraud and phishing. It has an in-built Adware Cleaner that lets you stay away from any adware, toolbars, potentially unwanted programs (PUP), and browser hijackers. To make MacKeeper customers all over the world enjoy end-to-end protection from online threats, Kromtech partnered with Avira, which is the top-performing antivirus in the world. So MacKeeper uses Avira's powerful antivirus engine to spot major security threats like viruses, malware, and Trojans. In addition, MacKeeper offers an Anti-theft feature that can track the exact location of your missing Mac by using the Google Maps Location & Google Maps Geocoding services. You just need to log in to your online Kromtech account from any computer and wait for the thief to connect your Mac to the internet, then you will receive a location report from MacKeeper, along with an iSight snapshot of the thief.
Although MacKeeper's past troubles with poor advertising tactics and bad user experience have somewhat tarnished its reputation, it certainly has a richer set of useful features than any of its competitors. If you consider using a protection on your Mac, it is still an option for you.
Pricing Plans & Special Deals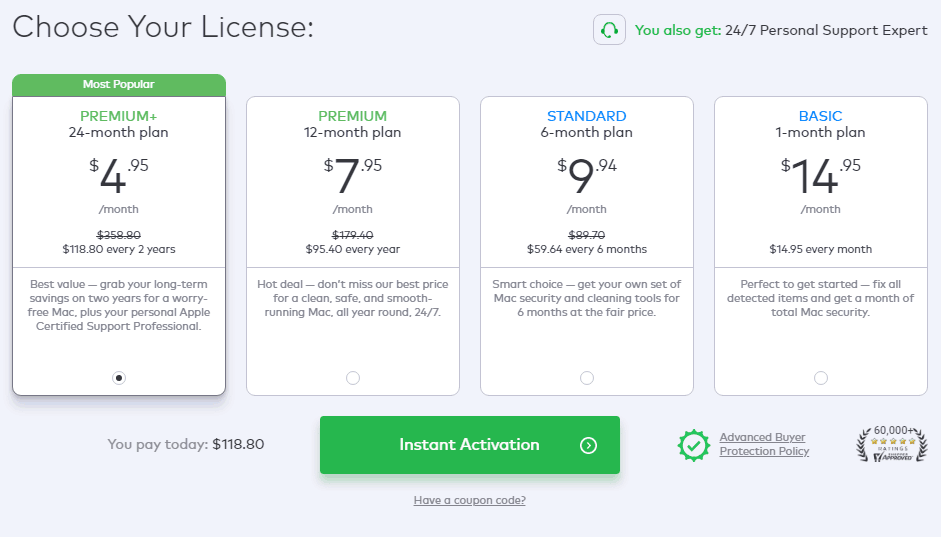 Actually, you can use MacKeeper to scan your Mac for items at no cost. However, if you want to access advanced MacKeeper tools and have all items on your Mac fixed, you'll need to purchase a full license. Currently, MacKeeper is offering four pricing plans based on your needs. Here are the details:
Basic (1-month plan): $14.95/month
Standard (6-month plan): $9.94/month, billed $59.64 every 6 months.
Premium  (12-month plan): $7.95/month, billed $95.40 every year.
Premium+ (24-month plan): $4.95/month, billed $118.80 every 2 years.
As you can see, the longer you pay for MacKeeper, the more the average monthly price drops, and the more you save. Their basic plan comes with $14.95/month with no savings at all. But if you pay upfront for 2 years and upgrade to the Premium+ plan, the monthly price drops down to $4.95/month immediately. Among the 4 pricing plans, Premium+ plan is surely the most popular one.
Special Deals: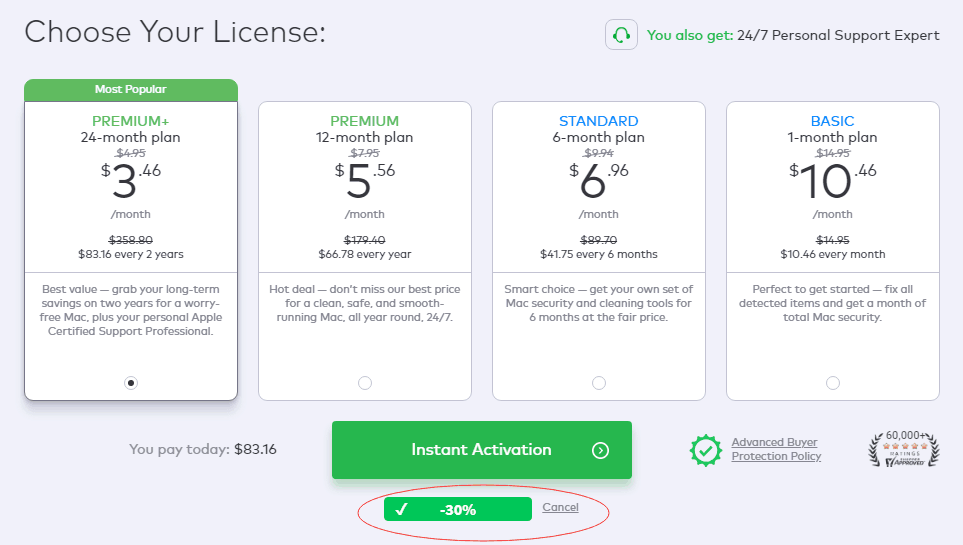 If you are now looking for a valid MacKeeper coupon code for money saving, then you've come to the right place. Visitors on our site can take advantage of the limited-time offer to save 30% off all plans on MacKeeper. Click the below button to redeem the coupon code first, and use it at checkout. Price starts with $3.46/month. You are going to enjoy the easiest way to manage routine tasks and keep your Mac secured, reliable, and clean at a favorable price.
What Payment Methods do You Accept?

You can purchase a MacKeeper plan with any credit or debit card issued by VISA, American Express, Mastercard, or JCB. Alternatively, you can use PayPal, which is one of the largest online payment processors in the world.
Do I Really Need MacKeeper For My Mac?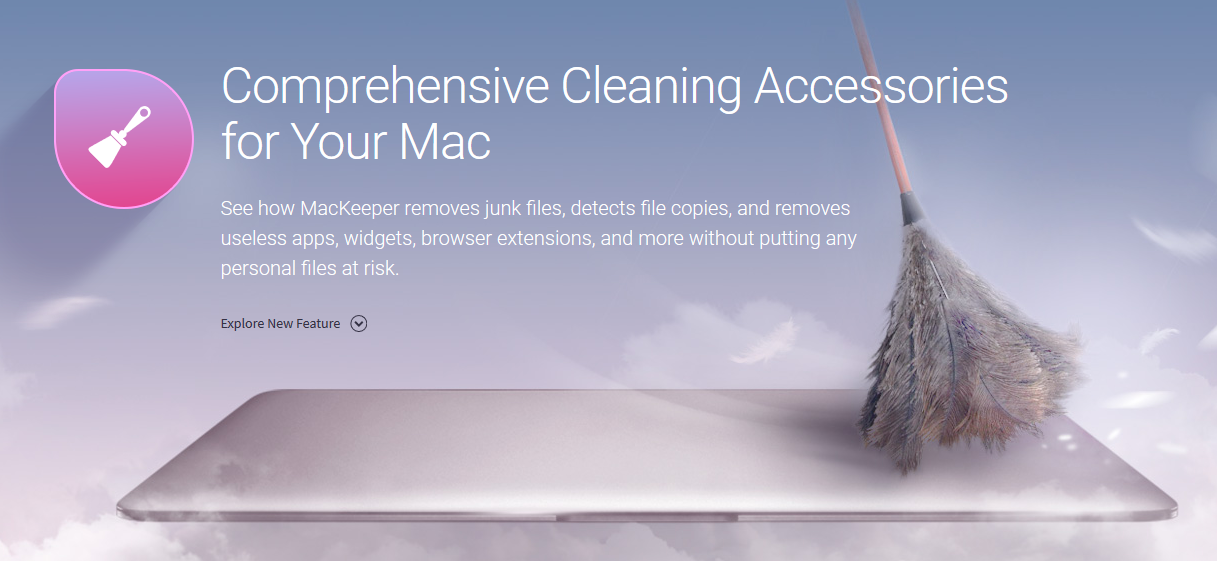 Macs are not a frequent target of general-purpose malware because Mac OS is a multi-user Unix-based operating system with strong security and privacy protection designed into the system from the lowest levels up. Macs have also historically been considered to be less vulnerable to malware attacks than PCs. So, is it necessary to pay MacKeeper to protect your Mac? Whether you need MacKeeper or not, it really depends upon what you do with your computer. Basically speaking, as long as you use safe computing practices, you really don't need to worry much about Mac malware or use MacKeeper for extra security. However, it might be a consideration if you always need to receive files from others or download files from unknown sources while you are working. And if you are experiencing problems like adware or malware which gives you unsolicited pop-up windows that claim you are somehow "infected" or "missing some video software", then MacKeeper is very helpful to clean your Mac up. You also can use the tool to free up disk space for your Mac. MacKeeper is a good product that combines with antivirus protection and Adware Cleaner. It detects and removes malware, viruses, Trojans, adware infections, and other major threats from your Mac, giving you an overall protection for your machine. Also, it removes junk files, file copies, and unwanted apps to let you get extra disk space. Clean, protect, and optimize your Mac with MacKeeper Now!
What Features are Provided by MacKeeper?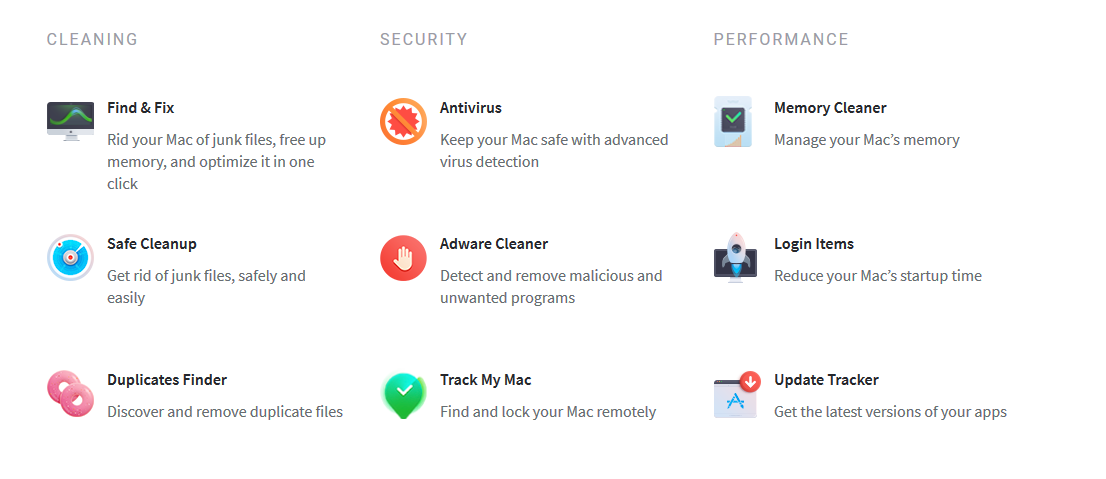 The Safe Clean Up feature can instantly remove junk files from your Mac. Those could be temporary caches, logs, unused language packages, and things in the Trash which take up hard drive space.
You would be surprised by the volume of duplicate files residing on your Mac's hard drive. The unnecessary duplicates usually take up space on your hard drive. Duplicates Finder, as its name suggests, will find file copies and delete after you approve.
A full startup disk is something that every Mac user will experience. Luckily, MacKeeper provides a solution to fix this problem. Just use its Smart Uninstaller feature to completely remove a list of unnecessary stuffs (including unwanted apps, widgets, browser extensions, plugins, and even leftover files) from your Mac, rather than simply dragging an application to the Trash. In this way, it guarantees the preferences, caches and logs of the unwanted item will never stay behind on your Mac's hard drive taking up system resources.
The feature allows Mac users to check the current RAM status and free up RAM in one click. It is a very convenient option for those who work with graphics-intensive apps.
The Update Tracker feature can let your Mac keep running the latest system and app updates so your Mac will not be vulnerable to threats. It also helps for fixing compatibility issues. With the feature, you will get a better performance and viruses or other online threats will have no chance to infect your Mac.
Too many apps set to launch at startup will cause a system slow down issue because they are burdening your Mac's processor and reducing its memory capacity. With MacKeeper Login Items feature you can define which applications will start up during the login and you can remove the item you don't need.
The Internet Security plugin that is built into MacKeeper which helps protect you from phishing scams, malware, spyware, adware, viruses and identity theft while you're using the Internet. The feature includes two main modules, including Real-Time Safe Browsing and Antivirus. With the plugin enabled, you can stay away from any viruses, phishing attacks, identity theft, fraudulent sites, harmful downloads, malware from external devices, malware from emails, and Mac spyware. Please note that you cannot install Internet Security if you already have another antivirus with real-time protection. All additional Internet Security files need 150 MB of free space.
MacKeeper's offers you a unique opportunity to track your Mac if it gets lost or stolen. The Anti-Theft service it uses can not only track where your lost machine is, but you can also lock it. Just log into your Kromtech account or Track My Mac app (in your iPhone) and get all the info about where your system to find it or lock it remotely. You can even get a snapshot of the thief.
The feature allows you to scan your hard drive for deleted files that can be still restored and recover the files you accidentally deleted even if they were removed from the Trash.
The Data Encryptor feature hides and encrypts personal files. With AES-128 or AES-256 encryption you can safely hide your files, so they remain invisible even for the system search.
Can I Trust MacKeeper?


MacKeeper is a set of utilities that provides you with security, optimization, and a deep clean on your Mac. It is supposed to make your Mac's productivity better. However, since its launch, there have been so much controversy and suspicious surrounding MacKeeper and even some people said it was malware and can't be trusted. Historically, MacKeeper was not a good product because it has received a lot of negative feedback from users due to its aggressive advertising campaigns. But since its creator Zeobit company sold MacKeeper to Kromtech for a premium, changes in marketing strategies have followed and no further complaints have been filed, so the software should be trustworthy now.
Pros & Cons:
Pros:
Easy installation
12 in 1 Apps for Mac
A richer set of useful features to optimize and protect your Mac
Premium plans offer live assistance
Cons:
Problematic history
Include many needless functions
High prices
Difficult to remove

The Bottom Line
MacKeeper may not be a necessity for your Mac, but if you think your Mac requires regular maintenance and you want to add an extra layer of security, you can still take MacKeeper software suite into your consideration. The tool is equipped with different technologies and features including Safe Browsing, Anti-Theft, Memory Cleaner, Fast Cleanup, Data Encryptor, Binaries Cutter, Logs Cleaner, Cache Cleaner, Smart Uninstaller, Duplicates Finder, Disk Usage, Update Tracker and more to keep your Mac OS functioning at its best. With MacKeeper, your computer and smartphone will not be at risk of being infected by viruses, spyware, malware anymore. Hackers and third parties will find no way to gain access to your device and steal, corrupt, or delete your sensitive information. MacKeeper lets you browse online worry-free and it also helps maintain your Mac and keeping it running smooth. It is an all-in-one toolkit for the average Mac user to handle all of their cleaning, optimization and security needs.
Published by Tony Shepherd & last updated on March 16, 2020 7:46 am