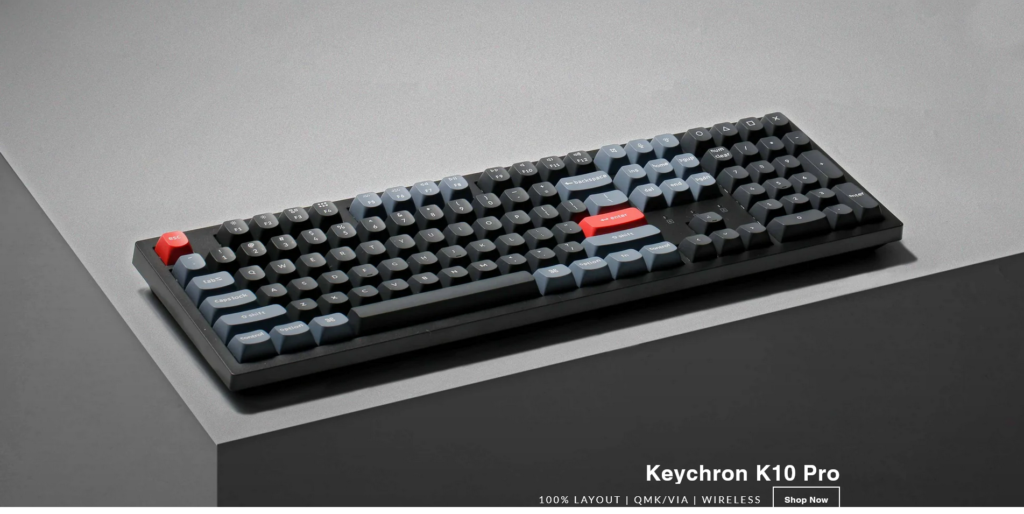 Keychron is a peripheral company that focuses on production, design, and sales as one, the main mass-produced keyboard products. In fact, most people who are concerned about peripherals should have more or less heard of this brand, after all, their publicity efforts are really not low, advertising and marketing is also done up.
Early Keychron relying on the Mac adaptation and domestic strong manufacturing industry price advantage quickly killed a blood in overseas, and they are proud of the "mass production customization" Q series is for them to play this field of half of the mountain. It can be said that this is a rapidly emerging "unicorn" brand. Many of you may scoff at Keychron's products, but it is true that Keychron's custom product designs are extremely entry-level and even problematic in the industry. Over the past few months, there has been a lot of skepticism and criticism of Keychron, but there is no doubt that the brand is still a rising star in the keyboard space.

At the beginning of January, Keychron's operations approached me to promote their products, but for me, Keychron's products were not very attractive, because on the one hand, the keyboards I play and the content I write are more vertical and niche, and on the other hand, Keychron's products have passed through my hands a lot, except for the K series, which is not necessary for DIY, Keychron's Q series In addition to the K series, which is not necessary for DIY, Keychron's Q series, both large and small, I have transformed and used, so it is not too much to say that I am tired of playing with them. After communicating with Keychron's staff and expressing my lack of interest in product promotion itself, they wanted me to write something different, so this subjective article on Keychron's impressions was created.
Today we're going to talk about my thoughts and opinions on Keychron. Before talking about today's Keychron, let's take a look at a rough development path of Keychron.
A short-axis keyboard from Mac-adapted, the place where dreams begin
In 2017, Keychron launched the first generation of Keychron K1 mechanical keyboard.
It started with the trouble of a few Shenzhen coders: they loved macOS but couldn't find a suitable mechanical keyboard. In 2017, there are only a few mechanical keyboards for macOS, and the price is not cheap. So these friends in the market research, decided to develop and design a keyboard. As it turns out, they were right about "Mac lovers looking for a better mechanical keyboard", and their first mechanical Mac keyboard with a short axis was crowdfunded on Kickstarter and was a huge success.
Of course, Keychron wasn't really started as a fictional company. The founders had just the right resources and the desire to start a business, but without the success of the K1, Keychron's first steps would not have been as strong as they were.
Back to the product itself, in my personal opinion, the short axis keyboard had basically nothing to do with the feel at that time due to technical reasons. However, when the keyboard was released overseas, it was the first Keychron to hit the overseas market with its high cost performance, Mac adaptation, and light weight of the keyboard.
For readers who are not familiar with Mac system adaptation, I have summarized some key points here. keychron's compatibility with Apple systems is mainly reflected in
Support for Mac and iOS native shortcut functions in the F-zone.
Command key and Option key function support with standard position support.
Special character compatibility required by special professions (e.g. programmers).
Although many keyboards on the market are now Apple eco-compatible, there are still many problems in using them; not to mention that mechanical keyboards are a product that has been bundled with a gaming label for years, so there are still many brands that simply don't do Mac adaptations, or adaptations that are extremely rudimentary. It is also the indifference to Mac adaptation in the field of mechanical keyboards that makes Keychron have a breakthrough and use it as an opportunity to break through successfully.
If Keychron's K1 was the first to take the money from the "Mac-compatible mechanical keyboard" angle, Keychron's K2 takes the brand to new heights.
After the success of the K1 launch, Keychron started their own community channel – Facebook and their own fan community overseas – and this is one of the key points that I think will enable Keychron to succeed quickly in the next few years.
Keychron regularly collects and responds to customer feedback and fan messages, while taking into account players' suggestions and ideas for improvements in shipping and product design. There is no doubt that this is a very meaningful and valuable act, and the feedback from players and customers is a high-quality answer to many product and shipping questions.
In terms of shipping, unlike the four-way express business in China, there are many regional shipping issues overseas where only local people know the best solution, and in terms of product, the K2 is different from the K1 in that the K2 was designed as a regular height keyboard. The shift in design thinking for this keyboard was also largely a decision made from business experience by integrating feedback from customers.
One thing about Keychron's overseas operation model is very worthy of learning from domestic manufacturers, and that is the account and community operation. In fact, most domestic manufacturers and keyboard players are still in a "corner" mode of communication, and not much effort is put into account operations. I think manufacturers and players is never a pure gaming relationship, for manufacturers, to provide good products and services is the only way to win consumer recognition.
A good communication with the players manufacturers, should be browsing the player messages and interact with the community every day, so that players tell themselves what is lacking in products and services. These practices and behaviors let manufacturers know what they need to do every day and make the work more directed – their fans, their communities tell manufacturers what they want.
And the Keychron User Group, the community of players that Keychron has built, is exactly that: We know what to do every day.
Feedback from this community helps Keychron determine what to do in its next project, develop new versions of its products, and especially release new firmware updates, which is the best "after-sales" aspect of a keyboard.
Moreover, the user community helps attract new customers, and many of Keychron's new customers were introduced to Keychron by friends through "ReferralCandy", a Shopify referral link and offer service, and many players like to use discount codes to recommend products to their friends. The power of community marketing has greatly contributed to the growth of the Keychron brand.
Going back to the Keychron K2 keyboard, a large part of the keyboard's success on the Internet also came from the influencers' effect.
The keyboard that the multi-million subscribed blogger uses in his daily work is the seemingly ordinary K2 keyboard. In fact, the price of the K2 is just as mediocre, even at the time it was a good value for money. I have to say that Keychron's marketing efforts were well timed and well placed.
Looking back at the K2 keyboard, its V1 version is not really a "good keyboard".
I also bought this keyboard to play, to say that the shortcomings, in fact, can speak of several:.
Placed on the desktop completely horizontal, no slope.
The bottom case is too thick, resulting in a high front height, even if you open the foot support to change the slope is difficult to use, you must match the hand rest.
no padding in the bottom shell and full cavity sound due to excessive thickness.
Loose side toggle.
In fact, Keychron itself was aware of this problem, so it made changes in the K2 V2 version, the most intuitive being the correction of the bottom case. But the main reason why this keyboard was able to take the market was not because of how "good" it was designed, but because it was cheap enough, which is the main reason why Keychron was able to steal the show many times later on – high cost performance.
Relying on the high cost performance and influencers' effect Keychron revenue exceeded 100 million, the global popularity of the top five, has become the favorite of overseas major technology media and keyboard list.
There was an unusual time in 2021, around July and August, when I received a lot of inquiries and questions about the Q1 keyboard. In fact, before that, I rarely received questions about mass-produced keyboards, and my knowledge of Keychron was only limited to the "overseas netbook keyboard". What I have a slight impression of is the Glorious GMMK Pro, which also carries the name of "mass-produced customization".
If we talk about the appearance, I personally like the GMMK Pro more. While the Keychron's bottom case has a more powerful design than the GMMK Pro, the GMMK Pro's side profile lights and narrower bezels than the Q series clearly give it more personality. Of course, aesthetic appearance is very subjective. After remodeling the Q series and GMMK Pro, I personally think that Keychron Q1 is more prominent in the attributes of "mass production" and "customization" from the product level.
In terms of "mass production" attributes, Keychron offers the usual finished keyboard options and a wide range of accessories, which are not of high quality, but sufficient enough that you can buy one and start playing even if you have no idea to modify it. At the same time, in terms of product quality control and after-sales service, Keychron is really much better than Glorious.
"The GMMK Pro is not a product for novices to practice with. Whether it is the so-called pre-lubricated satellite shaft or the thin Gasket Mount structure, the difficulty of transformation is similar to playing the Four Heavenly Kings just out of the novice village.
Q1 side is not optimistic either, with various defects such as small plate jam and "fatal tuning fork", but the materials are real, so there is always some room for transformation potential. The difficulty of transformation is mainly due to the enthusiastic players in the community. During that period of time, you can see a lot of Q series transformation program, video teaching, as well as some studios to open their own holes for sale "transformation sound package", these community players spontaneous mutual aid behavior greatly lowered the threshold of the transformation of this product, but also let more people get the fun of keyboard DIY, this is what I think the greatest significance of this product for the circle of enthusiasts.
If the K series has successfully opened up the overseas market for Keychron, the Q series has made it possible for Keychron to "bloom both in China and abroad". Starting from Q1, the Keychron brand became more and more familiar to domestic players.
For Keychron, the Q series is undoubtedly an excellent move, as it is precisely stuck at the border between mass production and customization, and Keychron's own idea of making a "mass production customization" product can be said to be "long-planned".
Many of us in the company are keyboard enthusiasts, and we have been using custom aluminum keyboards in our office. But in the market, there is no all-metal custom keyboard for both Apple and Windows systems. So we started to make Q series.
The Q series is a custom keyboard series that was created to meet people's needs for personalized keyboards. After the launch of this product, the feedback from overseas was very good, because there are few all-metal keyboards on the market that combine function, design, and quality. That's why we have received very good feedback from overseas. This keyboard has also been rated as the best mechanical keyboard by several tech media, such as TechCrunch, The Verge, NYT, CNN, etc.
The success of the Q series obviously gave Keychron a taste of what was to come, and Keychron then began to rapidly expand their product line with different configurations, from Q0 to Q10, including the extremely niche 40, Pad, and Alice.
Although Keychron's slogan of "the most complete mechanical keyboard brand on the web" is good, when it comes to the configurations, we can't judge their dedication with the regular configurations that everyone does. What we want to look at is how good the design of those niche series is.
Let's take a look at Keychron's Q9 "40%" keyboard design.
I believe that any player who has a deep understanding of 40% can see how carelessly this 40 column is made. the design of Fn and space is not very reasonable, and the length of some keys is not adapted.1
Some people may say that 40 itself is a niche, it is normal to do badly. But I don't think so. If you really want to bring a product to mass production, how can you be so perfunctory and sloppy?
In fact, I haven't touched much Keychron products after this, and what Keychron left in my mind are entry-level, overseas netflix labels. And 2021, 2022 these two years is also the key circle rapid development of the year, in the past the unattainable custom mechanical keyboard, now the entry options have been a variety of prices are increasingly affordable. In the present day, Keychron's Q series is no longer the only choice, and the price/performance label is gradually no longer a keyword unique to the Q series.
After a brief history of Keychron's origins, let's take a look at the current situation in today's keyboard world.
From the first K series keyboard, to their subsequent series of designs, there has always been a very impressive point on Thirsty Creation, which is a keen sense of market. In the market at the time, thin and light short axis keyboards generally cost a lot of money, and this keyboard managed to attract consumers' attention with its low price. Another thing that allowed Keychron products to enter the office space was the Mac adaptation that Keychron has always been proud of, which is arguably one of the core points of Keychron's keyboard strategy.
At the same time, Keychron also has an advantage that other keyboard manufacturers don't have, and that is "believing in the power of community". This is also the reason why I think they have grown to the size they are today.
In fact, as many readers can see, Keychron is not a very geeky company, but a company that understands the needs of the market. Likewise, Keychron has seized the golden time of the mass production market of mechanical keyboards in the past few years, and perhaps if it enters the market later, it will be hard to have the position today.
If there is anything in common with Keychron's past moves, then "cost effectiveness" is definitely something that cannot be ignored. This is also the "invisible" mark of Keychron in overseas markets today. Although the brand has been promoting its "high level of Mac system adaptation", it is the "high price/performance ratio" that has actually touched so many consumers to buy the product. The pricing from K1 to Q1 is considered "cheap" in overseas markets. For Keychron, the solid foundation and strong factory voice have given him the leeway to spend on the products, which is also the winning formula for him to continue to overcome difficulties overseas.
But, can such thinking really be done all the time?
This is the question that Keychron needs to think about, but also all the manufacturers in this industry need to think about. If 2021 is the most brilliant year of the mechanical keyboard industry, then 2022 is undoubtedly a turning point of great contrast. 22 years of keyboard volume king layer after layer, a large part of the reason is from the factory side of the compromise. And in 2023, with the full liberalization, economic improvement, the factory side is not likely to be as willing to do mechanical keyboard processing as the first two years of this side business, but back to the right track to take orders.
For Keychron, the backing of the factory and the great volume of orders certainly enable him to sit firmly on the "price/performance" throne, but 22 years Keychron's road in China has not been as easy as they expected. Replicating the success of overseas markets has been a major obstacle in China. In fact, not long after Keychron launched its own Q series, various labels launched their so-called "mass production customization" products one after another, and even though their products did not reach a high level, the market was quickly filled with cheaper prices and the marketing culture of the domestic community. At the customization end, many customization teams have also launched a large number of thousand-dollar customization starter kits, and competition has become increasingly fierce.
The future is foreseeable, Q2 Pro, Q3 Pro, and even Q10 Pro, followed by the Q series as a youthful version, the V series will also usher in the V Pro, according to this progress to squeeze a two or three years toothpaste is not a problem, and then halfway across the border with some brands to launch co-branded products. Further down the road, it is necessary to Keychron own discretion.
As a volume product brand, stopping here seems to be a safe choice. But their philosophy of keyboard enthusiasts may bring more surprises. Thirsty is still young and we'll see how long his story can continue. Hopefully 2023 will see them bring something new to the scene.
Published by Tony Shepherd & last updated on February 9, 2023 5:19 am