How do you know about Kaspersky Lab? You may understand very well about it by reading the Kaspersky Lab review here. Kaspersky Lab has over 20 years of experience in cybersecurity industry. It provides excellent and powerful security solutions and product for customers ranging from personal, family, business, government and enterprise. More than 400 million users are protected by Kaspersky Lab technologies and solutions. Kaspersky Lab develops and offers many different cybersecurity solutions and products to help customers protect devices against viruses, malware, spyware, Trojan, ransomware and other internet attacks. Professional and skilled technical team of Kaspersky Lab has the mission and vision to keep upgrading and strengthening their security measures and products to block any newest online threats. And Kaspersky Lab products and services become more and more powerful. Kaspersky Lab provides these security solutions: Security Cloud, Total Security, Internet Security, Anti-Virus for Windows PC, Mac, iOS and Android mobile devices for personal and home use. You also can try Kaspersky Lab's free tools like Security Cloud, Secure Connection, Safe Kids, Password Manager and more. Kaspersky Lab also gives the free trial in order to help some new users learn more about Kaspersky Lab security products. Small to medium size business and even the enterprise is provided with different security solutions to manage and handle the whole company's internet security. If the leader of a company needs a detailed and customized security solution, Kaspersky lab also can offer the specific security solution. Kaspersky Lab will give the best internet security protection measure and product to meet customer's requirement. And over millions of users worldwide are satisfied with Kaspersky Lab service.
Kaspersky Home Products
Kaspersky not only gives security products and service to personal, home but also the small to medium size business and enterprises. Here we will introduce more details about the home products. Kaspersky Home Products include Kaspersky Anti-Virus, Kaspersky Internet Security, Kaspersky Total Security and Kaspersky Cloud Security. Different security products have different features and emphasizes. But they all have the strong performance in preventing and deleting different kinds of online attacks like viruses, malware, ransomware, spyware, phishing attacks, identity theft and others. Privacy protection, Safe Money, Safe Shopping, Safe kids or Parental Control, password manager, file protection and more features are included into different packages and plans. You can select the most suitable one to protect your devices and personal detailed, sensitive information. Kaspersky is a place to offer customers the complete security on the internet and give secure protect to customer's devices. Your computer, Mac, Mobile devices are protected by Kaspersky products securely.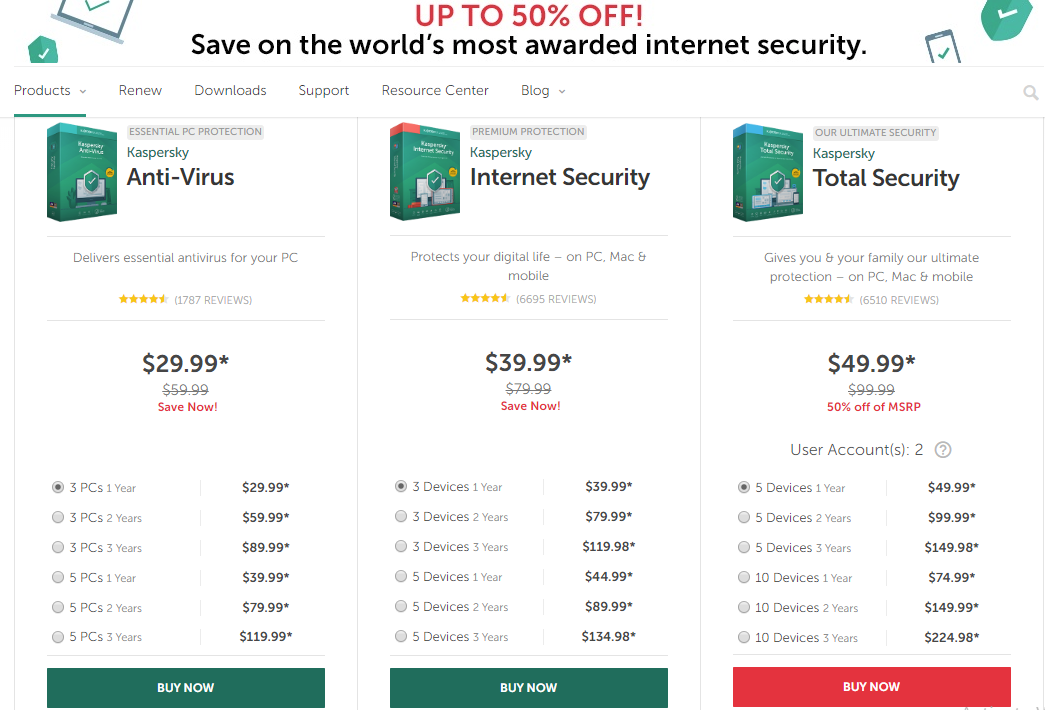 Kaspersky Anti-Virus
Kaspersky Anti-Virus is the most basic defense to prevent your PC and other devices from viruses, ransomware, spyware, Trojan, phishing attacks, identity theft, malicious popups, suspicious sites and more. Kaspersky Anti-Virus can scan the whole system of your PC and gives you a detailed report. It also has database update which mainly updates the Anti-Virus to the latest version and have the most powerful ability to detect and remove newest online threats. Kaspersky Anti-Virus gives more tools like protection for all devices, cloud protection, quarantine, vulnerability scan, browser configuration, privacy cleaner, Kaspersky Rescue disk, Microsoft Windows Troubleshooting and more. File Anti-Virus, Web Anti-Virus, Network Attack Blocker, System Watcher, IM Anti-Virus, Mail Anti-Virus and more. All these features and tools can protect user's device from different kinds of online threats.
How can Kaspersky Anti-Virus protect your PC from cyberattacks? It can scan files that are opened, saved or run on the computer with File Anti-Virus tool. Virus or compromised files are mixed into the normally running files. If the compromised files have not been deleted by antivirus, it will do more damage to the system. File Anti-Virus is an important tool to help detect the hidden virus in files. Web Anti-Virus mainly blocks infections coming from the websites and webpages you visit. Many online infections would come to attack the targeted devices from website and web traffic. So, the incoming web traffic into your devices will be scanned by Web Anti-Virus tool. Web Anti-Virus tool stops those aggressive and malicious scripts from running in the system of your PC. It is a great tool to prevent those dangerous scripts. Some scripts seem harmless but actually have been compromised. So it is necessary to kick out these compromised scripts as soon as possible. Network Attack Blocker concentrates on cyberattacks from network and prevents computer against harmful network attacks and activities. System Watcher is a skillful tool to monitor the whole system of your PC and check if there is infection sneaking into the system. All activities performed on your PC will be monitored by this System Watcher in order to prevent danger from malware and other applications. Many other tools and features are used in this Kaspersky Anti-Virus security solution. Even though it is a basic antivirus suite, it has a strong ability to prevent different kinds of incoming infections.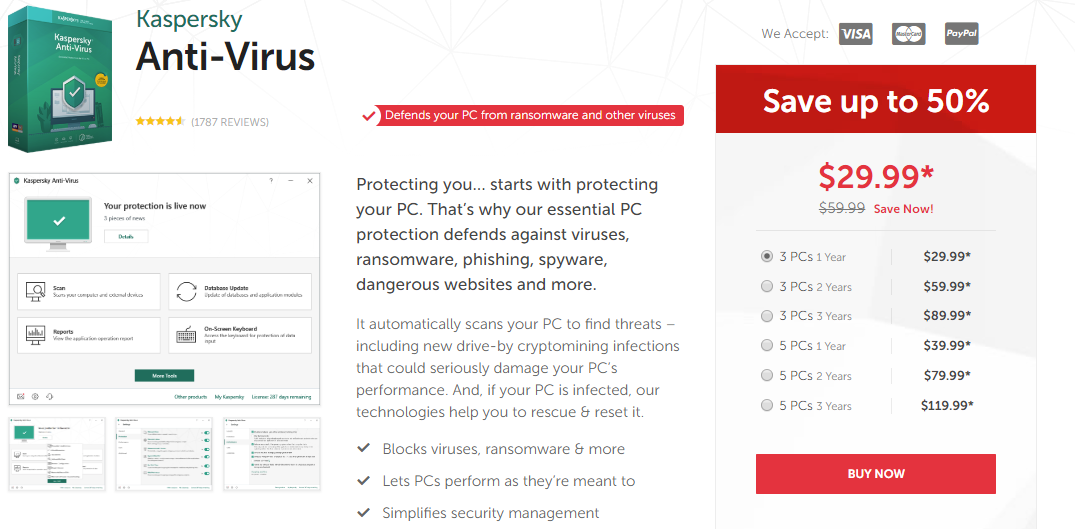 Kaspersky Internet Security
Kaspersky Internet Security mainly focuses on online shopping and banking protection. Now we do more online activities especially online shopping, bill transferring and other bank activities through the websites. It is more convenient and time-saving to finish all these activities through the internet. However, more cyber criminals and snoopers also turn eyes to these online activities in order to monitor what people do online and collect these sensitive information like personal name, address, bank number, credit card number and more. Actually it is a kind of identity theft activities. So, in order to make people safely socialize and perform bank activities via the internet, Kaspersky Internet Security provides privacy protection, safe money and safe shopping solutions to keep your personal data and any socialized information safe from website tracker, hackers and cyber criminals. Besides, Kaspersky Internet Security gives others tools like real-time protection, call & text filter, anti-theft, app lock, tech anti-phishing, internet protection, privacy protection and more. Kaspersky Internet Security can be used on Windows PC, Mac and mobile devices.
Kaspersky Internet Security's Privacy Protection mainly help internet users to achieve a private online environment. It keeps your private sensitive information from online threats, hackers and snoopers. Safe Money tool is to protect your online banking and shopping detailed information against phishing attacks and identity theft. Kaspersky Internet Security also has the powerful capability to block virus, malware, ransomware, spyware and other internet attacks. All features that Kaspersky Anti-Virus has are also included into this Internet Security solution. However, Kaspersky Internet Security highlights more in protecting money, online shopping and account details. Many online threats can intrude into PC system and track what victim is doing online in order to keep tracking and collect some precious sand important sensitive information like online bank, credit card and so on. Cyber hackers can use these sensitive data again to defraud more money from you. Identity theft or phishing attack has such a strong ability to steal personal info and scam internet users out of money. However, if you run this Kaspersky Internet Security on your device, your privacy and money will be given complete protection. The privacy protection, safe shopping and safe money are all important tool and measures to prevent you from any kinds of online threats, identity theft and phishing things.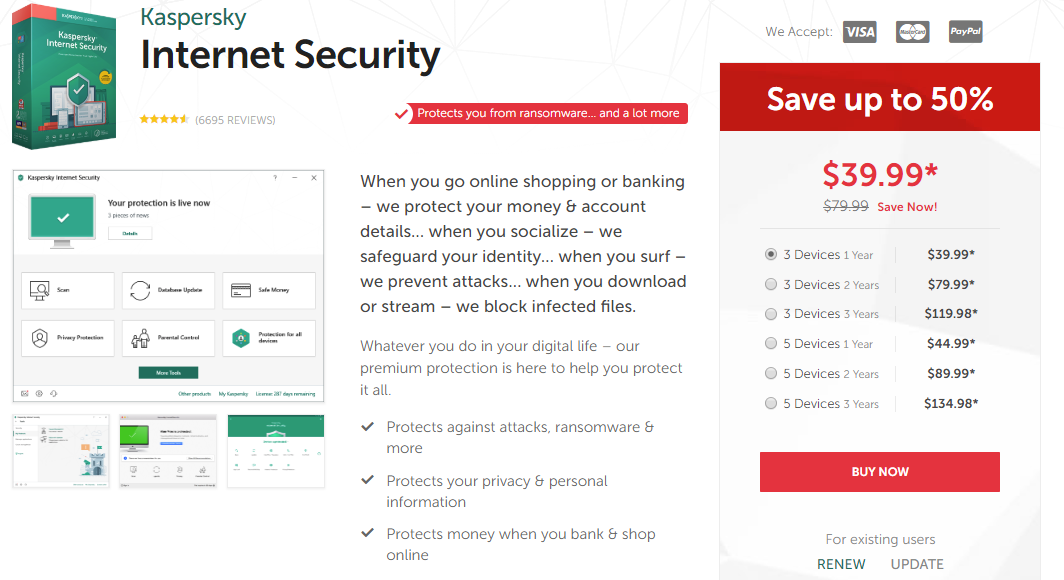 Kaspersky Total Security
Kaspersky Total Security is an upgraded version on Kaspersky Internet Security. Total Security not only has the functions to block virus, malware, spyware, ransomware and other cyberattacks, but also has privacy protection, safe shopping, safe money and parental control. Kaspersky Total Security is a great protection for digital life and pays more attention to privacy and children online security. Kaspersky Total Security can protect your private information including passwords, files, photos, name, address, contacts and more completely from any kind of theft. You don't have to worry if your online banking and shopping details would be leaked out and taken by any hackers or prying eyes as Total Security also has the performance in protecting money when you are performing bank activities and shopping actions. Kaspersky Total Security has parental control which mainly helps parents to supervise their children's online activities. Besides, all your passwords and other personal information will also be protected in a completely secure place. Kaspersky Total Security has password manager tool which can manage and store all your passwords and other personal data and meanwhile, it can sync all these stored things across all devices like PC, Mac and mobile devices. Safe Money, Safe Shopping and Privacy Protection tools will activate automatically when you are doing these banking and shopping activities online. So, all your sensitive information transferred through the network will be protected completely by this security solution. No sensitive data about banking account, your personal details and others will be leaked out or collected by hackers, as Total Security has prevented all different kinds of theft.
And Kaspersky Total Security can use the anti-theft and Anti-phishing tool together to block any kinds of identity theft and phishing attacks. Parental Control is a secure solution specifically designed to monitor and supervise the online security of children. Parental control can help parents limit how much time your children can use on the internet, what contents can be viewed, and locate their children if their children get lost. Many online contents are not healthy enough for children to view. Some contents may lead children to a wrong conception. Therefore, any potentially unfavorable and suspicious contents will be blocked by the parental control. And parents can set how much time children can be online. For example, you can set 9 PM on weekday night and 10 PM on weekend days. If the children get lost, parents can locate them soon and help them get back. It is convenient to use parental control to monitor their children online activities. Kaspersky Total Security not only is a good solution to prevent against online threats like viruses, spyware, malware and others, but also an excellent design to protect online privacy and any banking details, what's more, parents can get more protection to supervise their children online.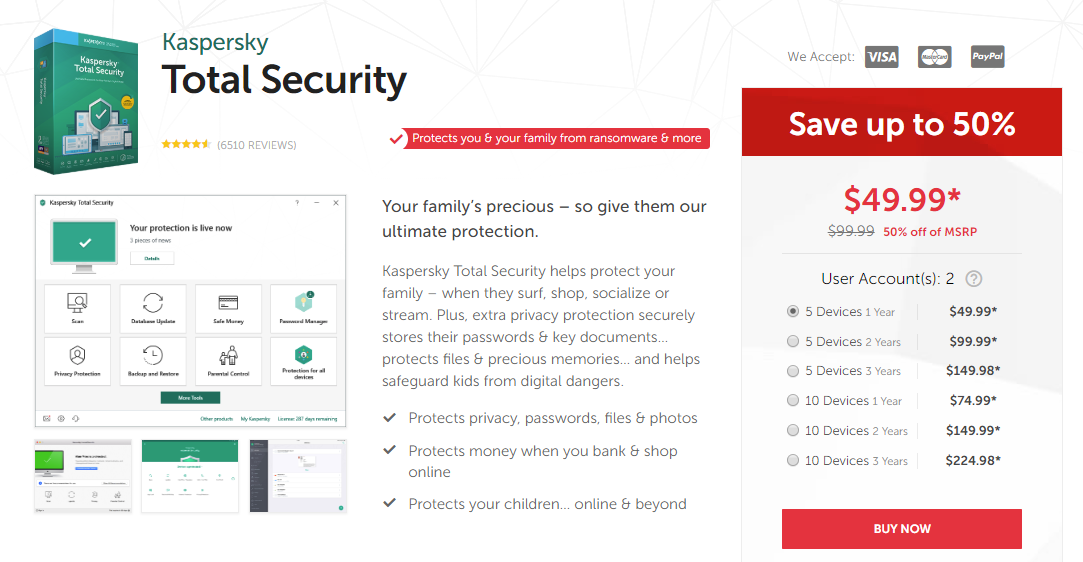 Kaspersky Security Cloud
Kaspersky Security Cloud is a new product recently. Security Cloud is an upgraded version from other security solutions. You can get personalized real-time security alerts, detection of data leaks from your account, flexible parental control, password generation and auto log-in to sites, and instant warning of devices joining your home WiFi. Cloud Security can delete different kind of ads and pop-ups from your PC screen when you open malicious websites. Annoying ad popups are randomly displaying on the screen, which not only disturb your online activities but also has a bad impact on computer system, as some popups may carry malicious programs to do harm to the system. Cloud Security can protect your account and detect if data leak-out issue happens, and then it gives timely alert to warn you to fix the issue soon. Cloud Security also like to give warm tops to help you stay online safely by displaying useful security alerts. Cloud Security also takes your privacy seriously and has a strong measure to prevent your privacy information from being taken by others. For example, if your device like android mobile is lost and pick up by someone, Kaspersky Cloud Security will hide your private apps, calls and text and other sensitive messages and data. Your credit card information and online bank details will be protected by Cloud Security automatically when you are doing online shopping and banking. Parental control or safe kids is also a solution included into this Kaspersky Cloud Security to help parent to manage and control their children's online activities.
Kaspersky Cloud Security also can optimize and speed up your device especially the mobile devices. When you feel your mobile devices or others run in a slow speed, you can use this Cloud Security solution to speed up the device by clearing up the system to get a complete optimization. Once your device is optimized, it will run in faster and more smooth speed. There is no problem watching movies and other HD videos. Your home WiFi is also monitored and controlled by this Cloud Security. If anyone try to hack or intrude your home WiFi, Cloud Security will soon give you a warning. It really protects your home WiFi from hackers and anyone who want to do bad action to your WiFi.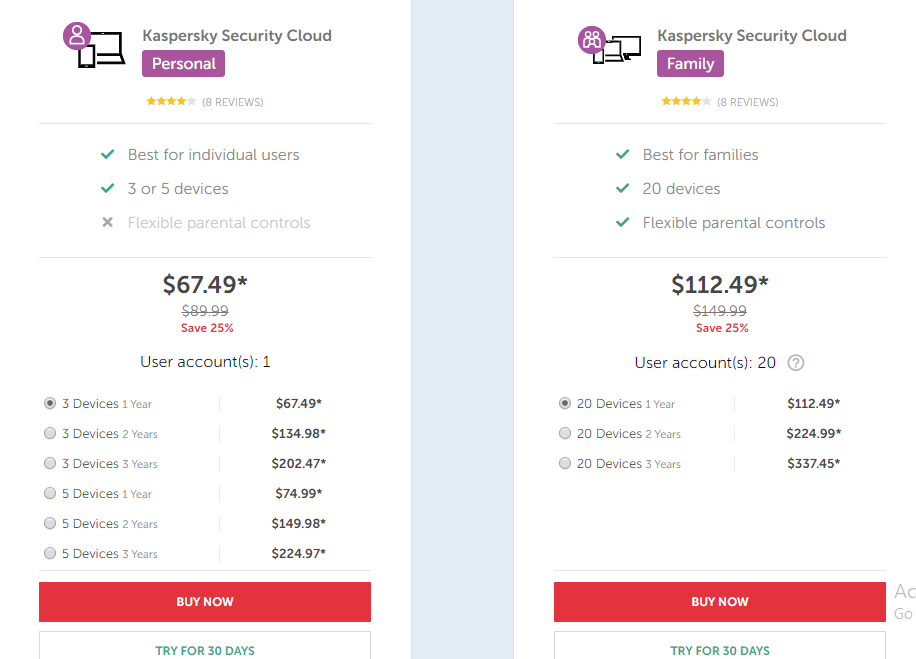 Summary
By finish viewing the content on this Kaspersky Lab review you know that Kaspersky is an excellent security solution provider not only offering security solutions to personal and home use, but also gives the strong and powerful solutions to companies, business, and enterprises. Customers worldwide can enjoy a secure and private online environment when they run this Kaspersky security product on their devices. For personal use, Kaspersky security solutions above are all favorited by many customers. Kaspersky Total Security is the most popular as it includes almost security measures and tools to offer customers an all-in-one protection. Kaspersky Internet Security is also the popular package as it concentrates more on online banking and private information protection. If the customers need a higher level security and privacy on the internet, this Kaspersky Internet Security is the great choice and an excellent solution to achieve more security and privacy online. And actually this Kaspersky Internet Security has more advantage over other solutions provided by other competitors. It not only can detect and remove all different online threats like viruses, malware, spyware and more, but also has a strong measure to secure online shopping and banking activities. Internet Security is also a very popular choice. Anti-virus is the most basic solution to help users protect their devices from viruses, malware, spyware, phishing attacks, identity theft and others. But it is not equipped with other features that are included into Kaspersky Internet Security, Kaspersky Total Security. Kaspersky Internet Security can work on many different devices including Windows PC, Mac, and mobile devices like android, iPhone and iPad. In a word, you should choose the correct package to meet your requirement.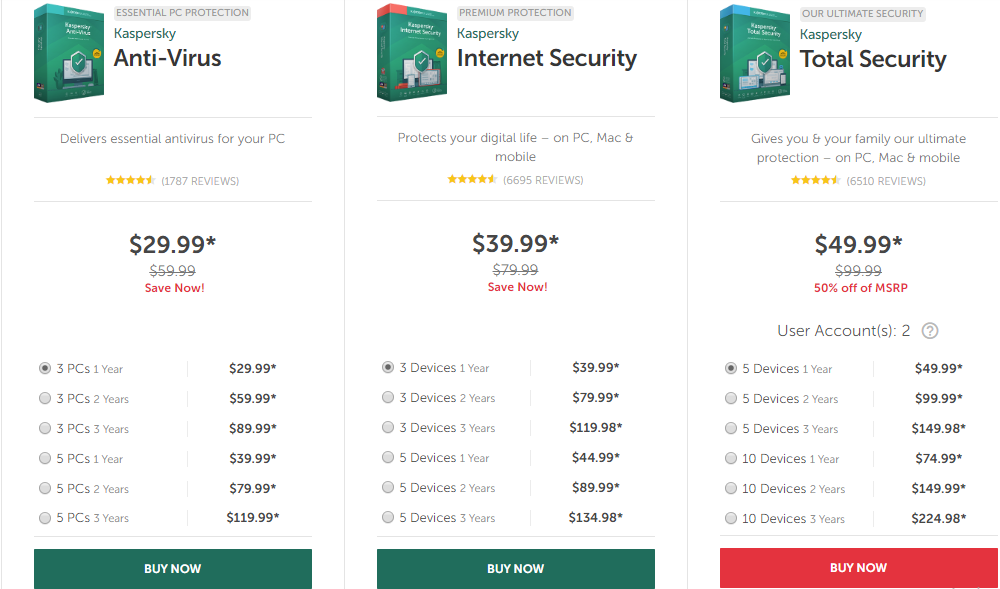 Published by Tony Shepherd & last updated on May 27, 2020 3:14 am