How do you know about InterServer? If you wan to learn more about it just read this InterServer review to get what you need. InterServer is a solid and large company offering webhosting service for over 19 years. InterServer provides hosting products and services including Shared Hosting, Cloud Hosting, Quick Servers and Dedicated Servers. InterServer gives excellent and best-in-class hosting service to customers, which is very impressive. As a world's leading webhosting service provider, InterServer provides its excellent and powerful hosting service to millions of users and customers worldwide. Customers usually rates the InterServer service innovative and remarkable. Their customers range from individual freelancers to Fortune 500 companies, both domestic and international. InterServer ensures to gives customers a high level of security, reliability and skilled technical expertise. InterServer Hosting Review will give you more detailed information about every hosting plan as following. InterServer has fast network as their network engineers keep optimizing their network performance and timely check out any network problem. InterServer provides the high-performance network to ensure fastest speed with the lowest latency. Besides, InterServer has two datacenters located in the United States. Therefore, customers can benefit from InterServer that their high-performance facilities ensure a 100% power uptime and 99.9% network up time. InterServer Web Hosting is the most popular and best deal now. This Web Hosting include price lock, easy-to-use control panel, unlimited storage and transfer, and more than 450 Cloud Apps. InterServer is a special hosting service, as they provide 30-day money-back guarantee, price lock guarantee and uptime guarantee, which increase more credibility and reliability. And their team is a professional and rich-experience in hosting service.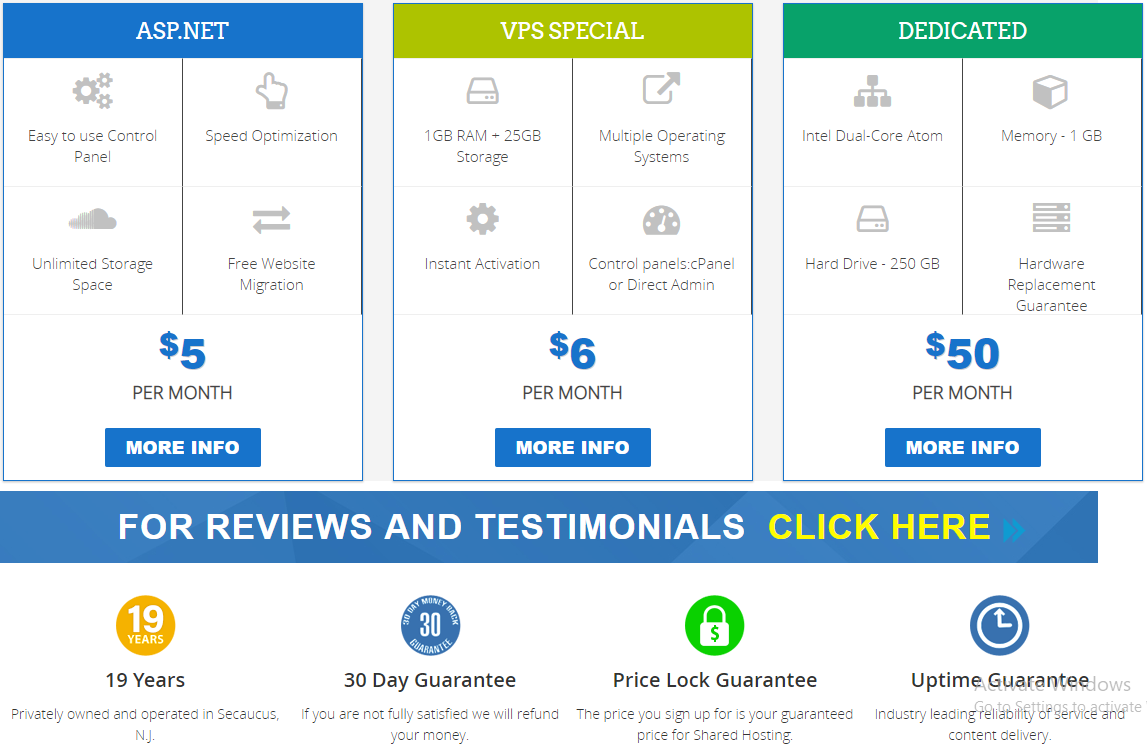 InterServer Hosting Services
InterServer offers hosting service plans like standard web hosting, pro hosting, ASP.Net hosting, cPanel hosting, student web hosting, WordPress Hosting, VPS hosting, dedicated hosting and others. Different customers have their different purposes and requirements to build and host websites. And they will choose different hosting services to make their websites beautiful and simple to use. InterServer hosting services are all professional and excellent solutions. InterServer provides many different applications and software like WordPress, Joomla, Magento, Prestashop, Webuzo, cPanel, Debian and CentOS to insist in designing and building your beautiful and powerful website. InterServer provides a higher level of security, reliability and technical expertise to make customers satisfied with their perfect and excellent hosting services. InterServer Hosting Review will further introduce all popular InterServer Hosting Service plans below:
1. Standard Web Hosting
InterServer Standard Web Hosting a great choice for people who start their online store as it is the most effective and money-saving plans among InterServer Hosting service plans. Web Hosting let you have free website migration which is a useful feature to migrate your website from current host for free. You may have already a website hosted, but now you use InterServer Hosting service and want to have all the files and information together into the new website. In this case, you don't have to worry, as InterServer hosting give FREE migration service which can help you transfer a website hosted elsewhere into your new InterServer account. Then you can organize all information and files of the new websites quickly. Actually you don't do anything with whole process of website migration as the technical team of InterServer will offer expertise and experience to help you finish all work whatever control panel or account you have on the old hosted website. Under this Standard Web Hosting, you also can have a standard cPanel control which provides different built-in applications, tools, plugins and extensions to help quickly finish all work of hosting websites. The cPanel working on Windows Server provided by InterServer is called Plesk. InterServer Stanard Web Hosting in this InterServer Hosting Review is the most popular and chosen by most customers.
Standard Web Hosting provides strong and professional hardware SSD that is RAID 10 servers with SSD Drive Caching. SSD drives will make your website work faster as SSD drive has a higher level of performance. InterServer Databases are usually kept in this SSD drive. With SSD drive hardware equipment, your website will run in an ultra-fast speed. InterServer can guarantee every severs of customers working in an excellent functionality. In addition, InterServer uses these security solutions like block web attacks, automatic virus scanner, machine learning firewall and in house malware database. Block Web Attacks mainly blocks malicious ads, phishing banners and spam popups. These popup ads usually may be infected with malicious software which can attack website settings. Some even can perform browser hijacker. Some aggressive attack can change all default settings of your site and redirect you to other malicious sites. Automatic Virus Scanner can soon scan the whole website for you and next block any potentially malicious software attacking website. If some kind of virus is detected by this scanner, the virus will be completely killed by the virus scanner. Machine Learning Firewall has an ability to remember all activities of online threats and attacks. This learning firewall can keep updated with volume and increasing of threats and attacks. In House Malware Database also can keep pace with the newest online threats and attacks in order to detect different malware infection. All these four security solutions give InterServer more reliability and credibility.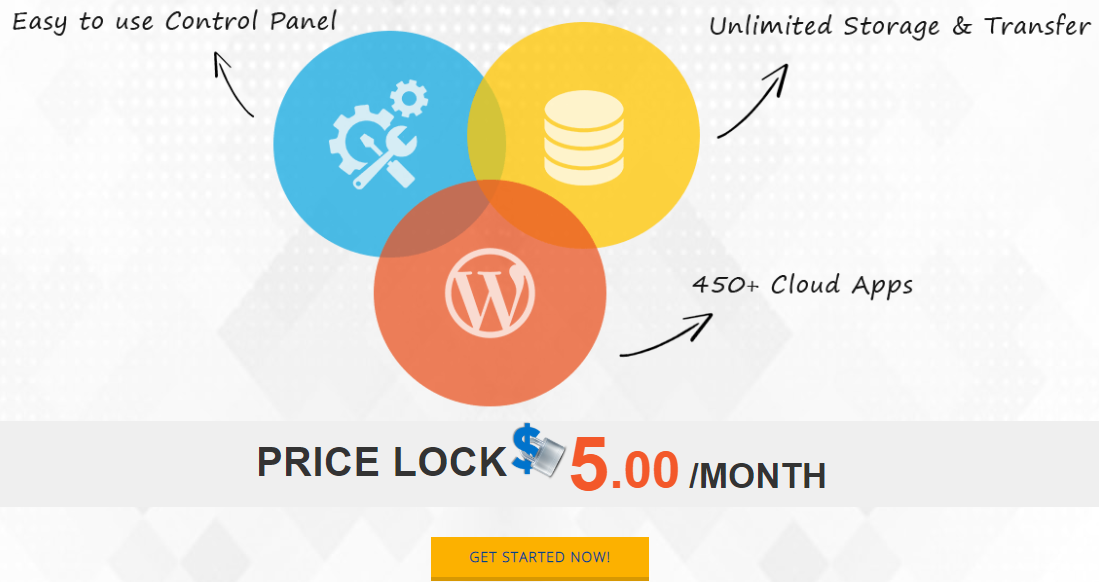 2. InterServer VPS Hosting
VPS Hosting is usually chosen by people who want a more powerful website to do their business. InterServer Hosting Review will scatter all reasons why people prefer this hosting option. First InterServer has their two datacenters, which is greatly helpful for developing your website. Datacenters can quickly deal with different issue related to data of websites and servers and stores millions of servers there. InterServer even has their own strong and fast network to support their datacenter, which increasely improve the performance of servers. Therefore, many customers said that their websites run faster than even though they are using the same hosting plan as other from another hosting provider. InterServer VPS Hosting even utilizes the 20 x faster standard SSD drive which is a high-performance storage hardware. With this high-performance SSD, the data can be store more there. The most importance is RAID 10 can keep data consistency and redundancy as RAID 10 gives optimal functionality. InterServer VPS Hosting will make you easily match your requirement for your website. You can choose such operating systems like Centos, Ubuntu, Dedian to host your sites. InterServer's Windows VPS supports such platforms as Hyper-V and KVM. It depends on your projects and requirements for your websites. If you want a more powerful and complex, you are suggested to contact InterServer experts to make a customized solution. VPS Hosting has many popular and useful web applications such as WordPress, Magento, Joomla, Prestashop and Drupal. All those web applications are used to build and design website. Besides, you are suggested to add Apache, PHP, Ruby, Rails, Java, and Node.JS in case of further development of your site.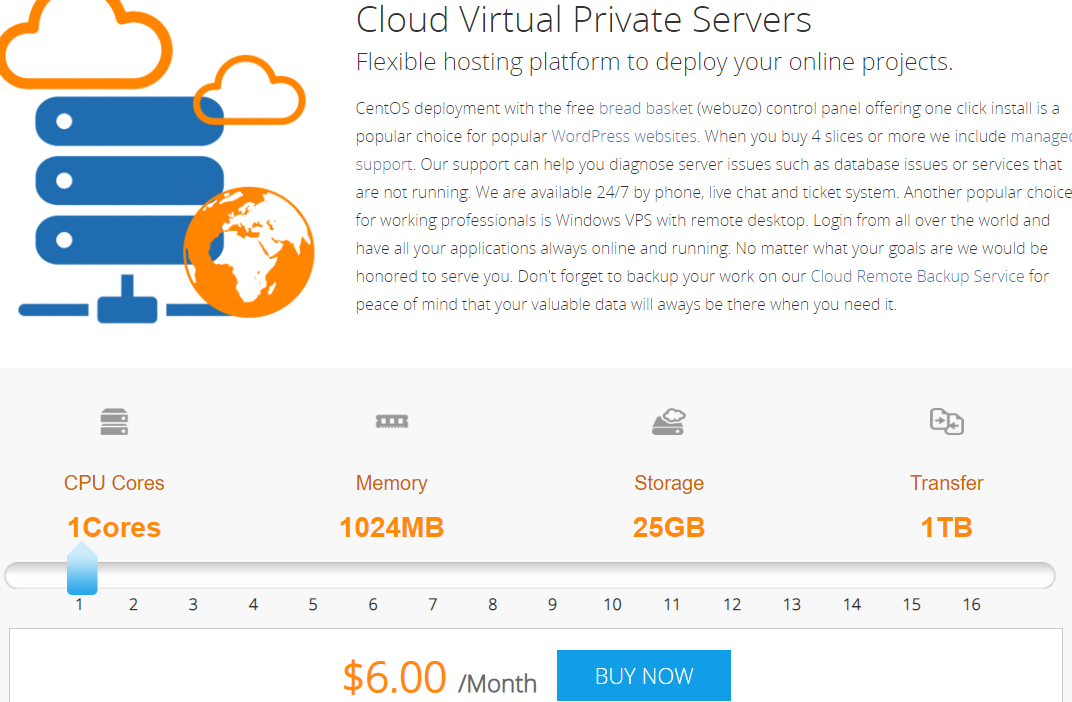 3. InterServer WordPress hosting
InterServer WordPress Hosting is based on WordPress platform. WordPress is an advanced and popular platform for internet users to make blogging and post their contents quickly online. You can use this WordPress to build simple website, make blogging and post your blogs. WordPress is free and priceless, so many people on the internet choose this service and software to build their website. InterServer Hosting Review here will give further description about WordPress Hosting. And it saves much time as it has many applications and tools to help build the website. WordPress has over 25000 plugins and thousands of FREE themes available to let you choose from to design and build your beautiful website. Also you can choose your favorite options from those premium options to customize your website hosted by this WordPress Hosting. WordPress Hosting gives more security for website. First, WordPress software is an open source platform, but their technical team do regular check and fix to deal with their security flaws or vulnerabilities to block online hackers. It is a very crucial task as WordPress platform becomes the targeted goal by cyber hackers since WordPress becomes more and more popular and is used by more customers for building websites. WordPress is an OpenSource, so people can view and update the source code as they want. Therefore, WordPress can keep innovative and keep pace with the internet environment. InterServer WordPress Hosting gives free plugins to make all process of website building simple. The plugins also have the ability to further optimize your site in order to make your SEO best. This Hosting service gives unlimited space and bandwidth, unlimited email accounts, one-click install scripts, and 30-day money-back guarantee.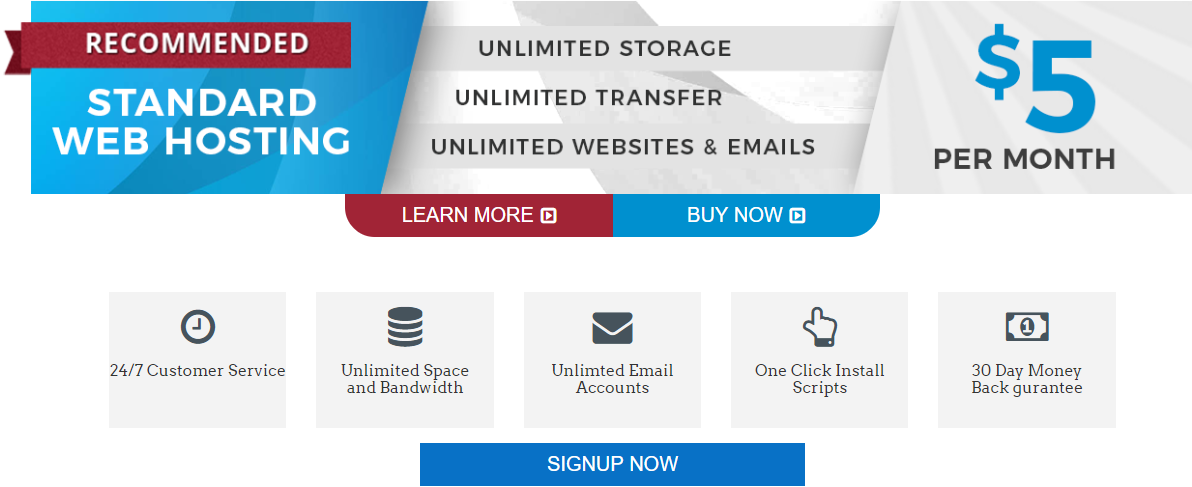 4. InterServer APS.Net Hosting
InterServer Hosting Review here will let you know APS.Net Hosting is also one of the solid hosting plan for website hosting. InterServer provides a special hosting plan called APS.Net Hosting which is different other hosting services given by other providers. InterServer APS.Net Hosting provides unlimited storage, unlimited transfer, unlimited Email and 25 websites. You also can get free SSL Certificate to host your websites. VPS.Net hosting can do a weekly backup for your website files and data in case that some data is missing for certain reasons. You also can get unlimited FTP accounts if this is helpful for you to create and design a website. In VPS.Net Hosting, you also can use SSD caching servers which is usally 20x faster than other hardware. With this higher-performance SSD, your website can work faster even it is in a peak of visitor traffic. RAID 10 storage is also added in this hosting service plan as it has a high performance in storing heavy data and files but make website load faster, so that your website will never meet any lag. InterServer regularly do speed optimization for their websites in order to make customers to have a fast-loading website. Actually if your website run in a faster speed, it will be helpful for website ranking in Google search results. Besides, you will get equipped with ultra-fast web server which makes your site load in a super-fast speed. 10 GB Cisco network even is an important factor to get your website fly. Anyway, in this APS.Net Hosting, InterServer chooses many different technologies and features to make customer's website run in a super-fast speed. APS.Net Hosting provides free CloudFlare CDN and Free Migration service. Free Migarion aims at helping you migrate all data and files in old hosted website into current InterServer account without charge. InterServer technical team will do everything for you with expertise and skill no matter what server and host the old site is. APS.Net Hosting also gives hundreds of cloud apps in order to make your website perfect and simple to use for your visitors.

5. InterServer Dedicated Hosting
Dedicated Hosting provided by InterServer is a great choice for people who want their website to be hosted in a separated and dedicated server. Dedicated server will make website run in a powerful way. If you want a more powerful website and excellent in faster speed, then dedicated hosting service is also a perfect choice. However, Dedicated Hosting service also requires you to possess some professional knowledge of website building and website hosting. Some technology and command order or other information needs to know deeply. Therefore, before you choose the Dedicated Hosting, you should learn some technique about this hosting service. InterServer Hosting Review gives you comparison between Dedicated Hosting and other InterServer Hosting plans to help you choose your best fit. InterServer Hosting provides such free features as DDoS protection, data transfer, Zero setup fees, 24/7 uptime monitoring, provisioning and data migration. Dedicated Hosting service of InterServer choose the high-performance hardware like CPU, RAM memory, hard drive. According to your needs and application requirements you need, you can choose such operating systems as Unix, Linux, and Windows to host your website. In this Dedicated Hosting, multiple control panels like cPanel, WHM, Plesk and DirectAdmin Web Control Panel are offered to let customers to choose. It is easy to scale your configuration of your server. You can change the memory, hard drive, bandwidth, operating system and control panel. You are freely able to choose cheap Linux Dedicated Server, Windows Dedicated Server, cPanel Dedicated Server and Direct Admin Dedicated Server. Besides, you can select your customized solutions like loading balancing, hardware firewall, SAN/NAS and other complete hosting methods to make your website perfectly. To make your website become more robust, the InterServer Dedicated Hosting is really a wonderful option to get your website perfectly and more powerful and more complex.

Summary
By finish reading this InterServer review in this post you must understand InterServer is a trustful hosting service provider offering professional and over 19 years of experience in hosting service. They provide hosting services for customer ranging from individual to big company all over the world. InterServer Hosting review here should let you know more clearly which hosting service should be your best fit. Many customers now want to do online business like opening online store to selling products or providing different paid service, or expanding their business to make more profit through the internet. However, hosting and building website is a tough task to do by themselves. Therefore, more and more hosting service companies appear on the internet to offer different hosting service for those customers who need online website for business or only for blogging. Whatever hosting service you choose from InterServer, you can benefit all strong and professional expertise of their technical team and solution information. You don't even do anything but just sit there, and their technical team will help you finish all tasks completely. InterServer hosting also provides different tools, plugins, extensions or easy-to-use control panel to help complete hosting your site and beatify your site the way you like. InterServer Hosting service save customer's time and money actually. You don't have to spend time learning how to host and build site and other professional knowledge about this aspect. InterServer just help you design and make the perfect solution as your think to build your ideal website within time. And you can spare more in other work and task. Therefore, InterServer provides friendly and attentive hosting service for every customer.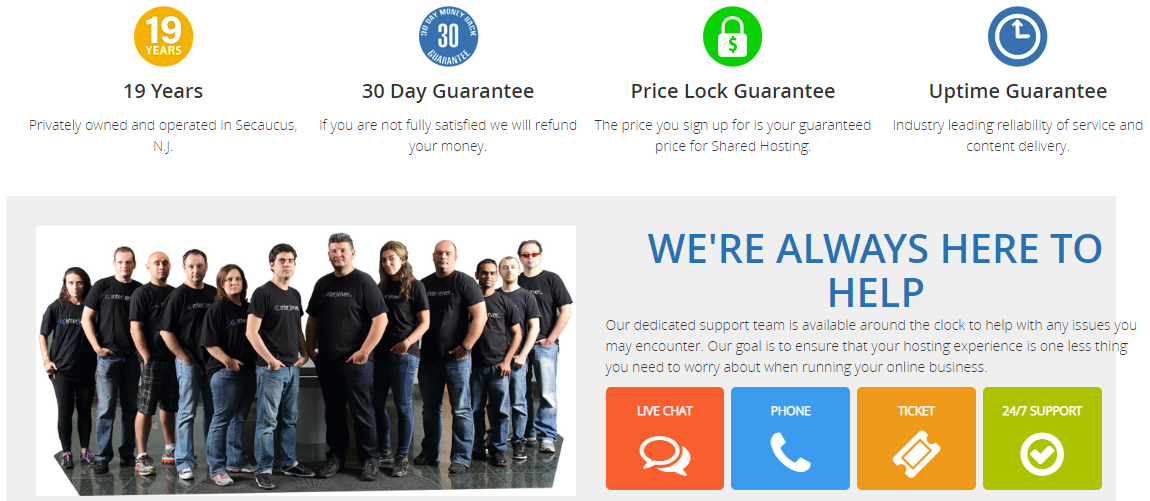 Published by Tony Shepherd & last updated on November 19, 2019 3:24 am