Since many people lack of the ability to distinguish a real good program and a fake malicious program that they are often cheated by those rogue programs. Windows Sleek Performance, before it does harm to your PC, you never know that it's a virus which can totally mess up your PC system and, because it has a kind interface and the interface make you confused. If you have been caught by such virus, don't worry, follow the content below to deal with it.
Description of Windows Sleek Performance
Windows Sleek Performance is a new released fake anti-spyware software, the rogue thing looks like a computer optimization master. Indeed, its nature is completely another fake antivirus program from the rogue family called "FakeVimes" like Windows ProSecurity Scanner, Windows Efficiency Accelerator. It may seem to be a legitimate security program, but, in reality, it's a fraudulent and useless security tool with the aim of stealing your money. This fake virus family are no different of attribute, even the interface are almost the same just with a little different or their names. All of the programs from this rogue family shares the same user interface and uses same misleading methods to trick PC user into purchasing their licence keys to remove security infections that doesn't exist. Windows Sleek Performance is spread using malicious websites which displays fake online security messages to every computer user who enters it. The rogue security program is promoted mostly via fake online virus scanners and hacked websites, very often compromised WP sites. The chance can be one of your careless operation such as a visit to some malicious sites, click a cataleptic video or advertisement link, etc. Fake Windows Sleek Performance will pop up a fake scan alert notification claiming that your computer has been infected much virus and your computer is in extremely dangerous condition. This rogue anti-spyware is harmful and deceptive like its other member in his family. But unlike regular antivirus, Windows Sleek Performance just pretends to be real anti-spyware software, but it really can not provide any real security services.
Once Windows Sleek Performance installed into your computer system, it starts to displays misleading pop-ups and falsified system scanners. This is the most common strategy of most rogue anti-spywares would do. Windows Sleek Performance also displays lots of alerts and warning saying that your computer with great risk. In fact, these alerts and warnings are fake, your computer has not those threats, computer users should not be afraid. The virus just wants to cheat computer users into scam for earning your money. The most important thing computer victim should do is removing this malicious virus and fixing your computer. Windows Sleek Performance is promoted in two ways. The first way is using fake online antivirus scanners to state that your computer is infected and then prompt you to download a file that will install the infection. The second is that Windows Sleek Performance attempts to exploit defects in programs that you are running on your computer to install the infection without your permission. If you have bought it then contact your credit card company and dispute the charges. Since not a perfect removal tool can fix this problem, you can manually get rid of Windows Sleek Performance Virus with the guide below or get assistance from PC expert to quickly and safely eliminate the spyware.
To save your computer, Live Chat with YooSecurity Expert Now, or you can follow the manual removal guide below to get your problem fixed. (For advanced computer users)


Windows Sleek Performance ScreenShot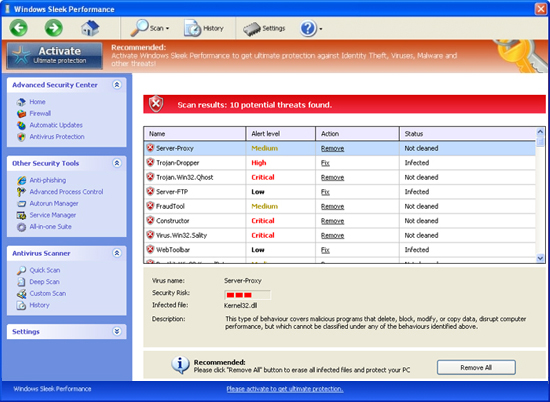 Windows Sleek Performance fake alert ScreenShot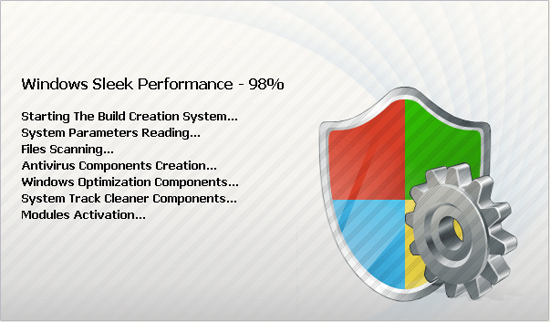 Fake security alerts may be like this:
Microsoft Security Essentials Alert
Potential Threat Details
Microsoft Security Essentials detected potential threats that might compromise your private or damage your computer. Your access to these items may be suspended until you take an action. Click 'show details' to learn more.
System Security Warning created by Windows Sleek Performance scam
Attempt to modify register key entries is detected. Register entries analysis is recommended.
What to do when your computer keeps popping up warnings of severe threats and they show a Trojan, have u ever been charged by the  Windows Sleek Performance internet porn?
Special tips: If your computer has been infected such virus and you are trying to figure out how to get rid of "Windows Sleek Performance",you're not having any luck opening any .exe file, despite renaming and running as admin. You can't delete any automatic malware removal because all .exe gets shut down. Windows Sleek Performance Trojan affecting network connection. Then you can refer to detailed guide of how to get rid of Windows Sleek Performance virus manually as follows. But please be careful of your operation. If you're not an expert with abundant computer skills, your any activity may cause information loss even System crash. Contact online computer professional technician for assistance.
Similar Video Guide On How to Remove Windows Sleek Performance Virus
Manually remove Windows Sleek Performance malware
Delete associated files of Windows Sleek Performance malware:
%AppData%\NPSWF32.dll
%AppData%\Protector-[rnd].exe
%AppData%\result.db
Delete registry entries related to Windows Sleek Performance malware:
HKCU\Software\Microsoft\Windows\CurrentVersion\Run\Inspector %AppData%\Protector-[rnd].exe
HKCU\Software\Microsoft\Windows\CurrentVersion\Internet Settings\WarnOnHTTPSToHTTPRedirect 0
HKLM\SOFTWARE\Microsoft\Windows\CurrentVersion\policies\system\ConsentPromptBehaviorAdmin 0
HKLM\SOFTWARE\Microsoft\Windows\CurrentVersion\policies\system\ConsentPromptBehaviorUser 0
HKLM\SOFTWARE\Microsoft\Windows\CurrentVersion\policies\system\EnableLUA 0
HKLM\SOFTWARE\Microsoft\Windows NT\CurrentVersion\Image File Execution Options\Tray.exe
Note: If you are still confused for all of this and have problems in dealing with Windows Sleek Performance virus, welcome to contact PC experts for further help.

Published by Tony Shepherd & last updated on November 9, 2012 12:39 pm