Mal/FakeAvCN-A Description:
Mal/FakeAvCN-A is actually a malware that pretends as rogue antivirus software like fake Data Recovery Smart Virus. It's a vicious trojan which invades your computer with the use of your security exploits without your permission. As soon as this Trojan get installed successfully, it can self-replicate, disable security software from being deleted, modify system settings and gather confidential data to a remote hacker. Mal/FakeAvCN-A can also download Adware or other malicious files onto your computer. Like other malicious Trojans, Mal/FakeAvCN-A is often used by the malicious cyber criminals to perform lots of destructive actions on your computer. It mainly state that your computer is severely infected by viruses and is in great danger. This may push you to purchase the rogue program for the so-called removal of the non-existed infections. In most cases, it can bring you malicious rogue programs, such as System Check. Every time you try to use other applications, it will pop up again to alert you that you can't run that program because of some serious errors unless you fix it, which is totally fake.  And if you want to continue to solve the problem via Mal/FakeAvCN-A, it will entice you to purchase it for full version. The purpose is obvious. Hackers make use of Data Recovery to reap staggering profits. Of course, it's absolutely nonsense. If there is any problem with your computer, that must be caused by Mal/FakeAvCN-A! Harmful effects of Data Recovery can be from many aspects. Once your computer has been infected such virus, you will be painful. Never be hesitating to remove it completely when you encounter such virus.
To save your computer, live chat with YooSecurity experts now, or you can follow the manual removal guide below to get your problem fixed. (For advanced computer users)


Why can't antivirus program remove MAL/FakeAvCn-A Virus completely?
Have you found that your firewall or antivirus program just fails to help you get rid of the rogue program? Yes. These antivirus tools can't remove this malicious software from your computer completely, because MAL/FakeAvCn-A virus can change the codes which prevent any antivirus to continue. What's worse? Once you install such nasty antivirus software, your firewall and antivirus program will be blocked absolutely. Your computer is also damaged seriously. In such a case, the annoying virus can only be removed from your computer completely by professional experts manually.
How to Get Rid of Mal/FakeAvCN-A Completely?
In order to remove Mal/FakeAvCN-A, you may have tried lots of antivirus you trust, but failed. Why? That's because the security removal tools are not human beings, they cannot catch all the new things. They need to update its functions time to time to catch the newly released viruses. However, it seems that the infections' creators know about this, they design all the related files of the viruses in random names. What's worse, the pests can mutate at a fast speed. Thus, your antivirus cannot remove Mal/FakeAvCN-A completely. The most effective way to get rid of it is the manual removal. Here is a guide for you.
Special tips: The content written below involves large amount of computer knowledge, any mistake you make may cause data loss even system crash. If you are not so confident of this, you can get YooCare online PC maintenance service.
Step 1: Reboot your computer into Safe Mode with Networking. To do this, restart your computer and immediately when you see anything on the screen, start tapping the F8 key on your keyboard constantly. Eventually you will be brought to a menu similar to this: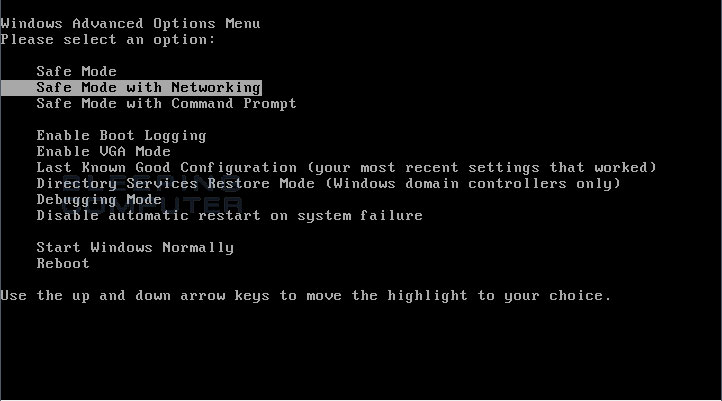 Step 2: Stop Mal/FakeAvCN-A Processes
Step 3: Mal/FakeAvCN-A hides all files and folders; you have to change some settings and be able to see your files and folders again. Click Organize, select" Folder and search options", open View tabSelect "Show hidden files and folders" option, uncheck "Hide extensions for known file types", uncheck "Hide protected operating files" and click OK button.
Step 4: Mal/FakeAvCN-A files
Professional Proposal: Mal/FakeAvCN-A Virus (Smart Check Virus, Smart Repair Virus) can take over your screen and empty all programs from start menu. For this cunning malware, you'd better get experts assistance of online PC support service. If you are confused, you can click here for further help:
Similar Video Guide to Remove Mal/FakeAvCN-A Virus
Note: If you failed to get rid of this nasty virus, please contact PC expert for instant help now.


Published by Tony Shepherd & last updated on November 9, 2012 12:08 pm