China has the most extreme internet censorship system in the world and the Chinese government is known for controlling the Web in a very strict way. In recent years, the country will likely make it even harder for the netizens to get around the "Great Firewall." Even though you haven't been to China before, you may have heard of 'The Great Firewall of China', a sophisticated blend of human censors and technological tools, to block critical websites and rein in social media. The Chinese government censored the internet and has blocked various foreign websites and services in China, like Facebook, Google, Twitter, YouTube, WhatsApp, Netflix and more, which is causing many people to look for the best VPN for China. However, since China has cracked down on VPNs in recent years, it is hard to find a VPN that still works in China these days. Surfshark VPN is one of the few VPNs that still works well in China. If you are planning a trip to China, Surfshark VPN is the top recommendation to let you overcome censorship and geoblocking, and stay connected with your friends and family. Read on to find out why Surfshark VPN is our top-rated choice and learn how to use it in China.

About Surfshark VPN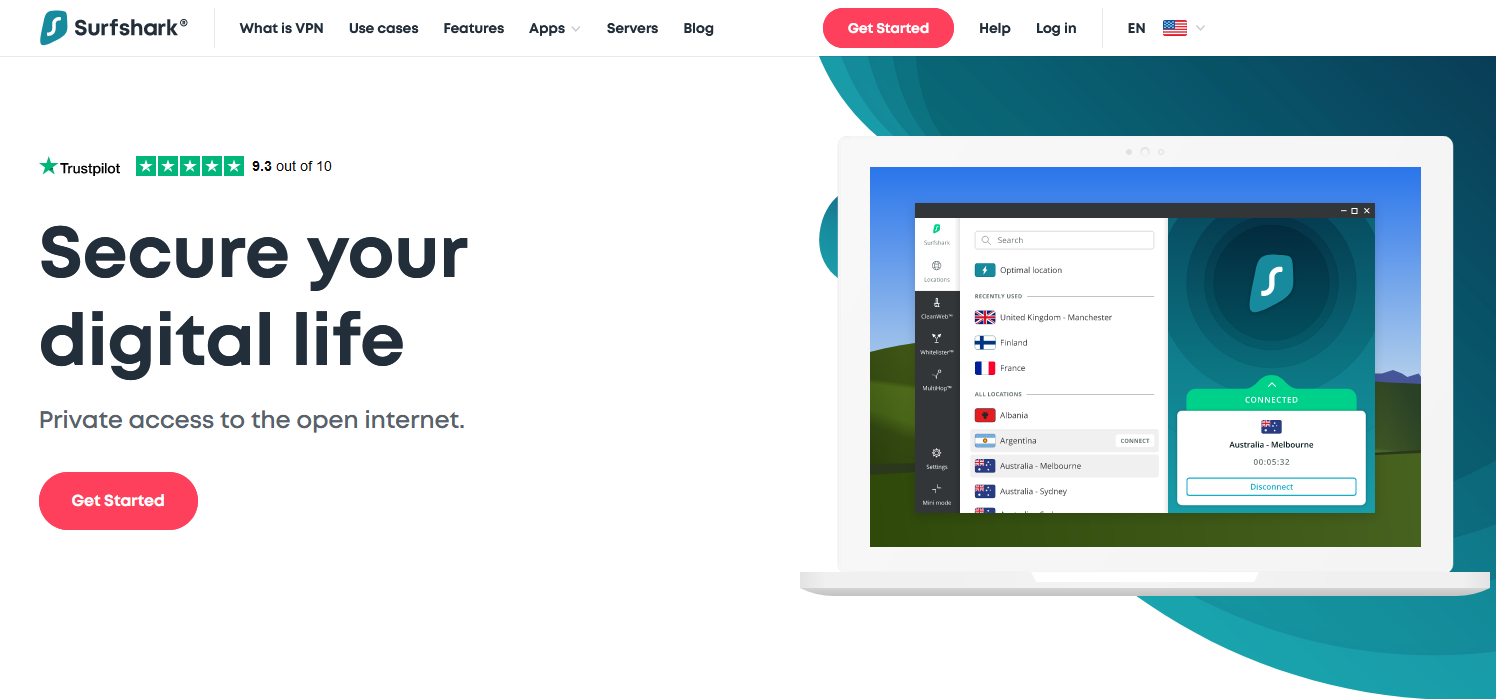 Surfshark is a VPN newcomer as it launched its service in the spring of 2018. However, Surfshark VPN is developing fast and it is highly recommended by many major review websites because it has its privacy, security, speed and protection on point. This VPN is based in British Virgin Islands, an ideal country for VPNs to be located in as there are no mandatory data retention laws. VPN systems based in the territory are not subject to surveillance laws enabling intelligence agencies to legally access or intercept customer data. Therefore, Surfshark VPN can really focus on their customer's privacy. As a powerful VPN, Surfshark is compatible with a wide range of platforms and devices, including Windows, Android, Mac, Linux and iOS. It also works on Smart TVs, Apple TVs, devices like Chromecast, Roku and various video gaming consoles. Best of all, Surfshark VPN offers an extension for Chrome and Firefox that helps you browse the web more privately without downloading their software and it allows an unlimited amount of simultaneous connections. Surfshark VPN has over 800 servers across 50 countries, so you'll be able to access geoblocked and censored content anywhere in the world. And its performance and speed should remain excellent no matter where you are.
Surfshark VPN offers a set of great features to increase the anonymity of your online activities and reduce the chances of anyone eavesdropping on your communications whilst connected to your home or office network. For example, the Whitelister feature allows you to configure certain apps (such as banking apps) to bypass the VPN when it is connected. The Kill Switch helps shut down your internet connection in case you disconnect from the VPN, ensuring your activities and sensitive data are never exposed in any circumstance. Surfshark VPN also features with CleanWeb that can block advertisements, trackers, and malware. It offers multi-hop connections as well that allows you to form a double VPN chain for enhanced security. On security front, Surfshark VPN only supports IKEv2 and OpenVPN security protocols, which is the most recommended choice by leading VPN providers today. That's pretty enough for the security because L2TP and PPTP protocols are incredibly insecure. With Surfshark VPN, you'll enjoy peace of mind and total online anonymity with state-of-the-art AES-256 encryption, IP masking, and a strict no-logs policy.
The Chinese government uses sophisticated software to block various internet services in China. Some of the blocked services include: YouTube, Google services, Facebook, Instagram, Twitter, The New York Times and Bloomberg. Thankfully, due to the obfuscation technology that Surfshark VPN owns, which is a form of technology that disguises OpenVPN traffic as regular HTTPS traffic to avoid detection and blockage in highly censored regions, you can still use Surfshark VPN in countries that block VPNs like China. Surfshark VPN covers everything that you will ever need and it is a trusted VPN for your whole family to get around geo-restricted sites, bypass censorship and safely access all your favorite news and entertainment when traveling abroad. We definitely recommend that you try out Surfshark VPN. 30 days money-back guarantee. No question asked.
Surfshark VPN Pricing Plans:

Surfshark VPN is offering 3 pricing tiers, so you can pay for monthly, annually or biennially. All the three subscription plans are reasonably priced and very straightforward to understand. Here are the details:
1 month – $11.95 per month – Save 0%
12 months – $5.99 per month (Billed $71.88 every 12 months) – Save 50%
24 months – $1.99 per month (Billed $47.76 every 24 months) – Save 83%
As you can see, Surfshark's per-month pricing is somewhat on the high end of the scale, but steep discounts are available for 1-year and 2-year subscriptions. Now the best pricing option is its 24-month plan, which comes out to only $47.76 in total. That means you can get a Surfshark subscription for $1.99/month if you pay for 2 years ahead. Surfshark VPN accepts payment methods like Credit Card (MasterCard, Visa, AMEX, & Discover), PayPal, Google Pay, Alipay and even Croptocurrency. That means people will be able to pay their service with 100% anonymity. If you choose to pay with Bitcoin, it doesn't require people to expose your real name, card number, billing address or any personal information, all it needs is an email address and that's it. Just like many top VPN services, Surfshark VPN also gives you a 30-day money back guarantee. Their refund policy lets you take Surfshark VPN for a spin, with the guarantee that you'll get your money back should you discover the service isn't entirely what you expected. That is to say, in unlikely chance you get failed to use Surfshark in China, you still can get your money back. No risk at all.
Surfshark VPN is definitely one of the best VPNs on the market in terms of security and advanced features. This secure, private service is ideal for those looking to stream, torrent, or use a VPN in China, and allows an unlimited number of simultaneous connections. Click on the button below to get private access to the open internet with Surfshark now!
What Makes Surfshark to Be One of The Best VPNs in China?

As you probably already know, China has a long history of VPN-blocking. While internet censorship is nothing new – most countries block access to illegal content, for instance – China's restrictions are numerous and far-reaching. Social media sites and messaging apps like Facebook, Instagram, Twitter, and WhatsApp have been reported as blocked, so it's hard to stay in touch with friends and family when you are in this country. Plus, with dissenting opinions quickly crushed, and most western sites blocked, very little unbiased news of the outside world reaches China's interior. So, everyone coming to China needs a VPN to beat China's Great Firewall and access blocked sites. A VPN, as known as a virtual private networks, which work by encrypting your traffic and routing it through international server networks. It lets you gain access to sites which are usually blocked in China while also making your activities become almost impossible for your Internet Service Provider (ISP) or the government to monitor.
Last year, when China's Congress was in session, the internet was being tightly controlled and VPN usage was incredibly hard. Many VPNs don't work in China or they are just plain slow. After testing a lot of VPN apps, we found Surfshark VPN performs well in China, although it takes several minutes to connect to the servers at the first time. Once connected, you will find Surfshark is incredibly fast on the market. It's rare to see a new VPN company become a serious contender as quickly as Sharksurf has. So, what makes it stands out while most other VPN providers can't beat the Great Firewall?
One reason Surfshark VPN is able to consistently unblock the internet for Chinese users is due to the obfuscation technology. Obfuscation is a method to hide VPN traffic. It disguises VPN traffic to look like regular unencrypted internet traffic. With the obfuscation technology, you can access the VPN service in regions that restrict its use. It helps to protect your data, bypass VPN blocks and surf the net securely. On the other hand, Surfshark is headquartered in the British Virgin Islands (BVI), which doesn't have strict data retention laws that VPNs to follow and it takes your privacy seriously. It uses 256-bit AES encryption, and features with DNS leak protection, Kill Switch, Ad-Blocker, Multi-hop to keep your activities private at all times. Best of all, ExpressVPN doesn't log any personally identifiable information. It even allows you to pay in Bitcoin for increased anonymity. Note that Surfshark allows you to connect as many devices as you like with one subscription.  If you run into any problems, you can access Surfshark professional support 24/7 via online chat – although you'll probably never need to. Surfshark is offering a massive 83% discount on its VPN service. Starting with $1.99/month, you can get complete Internet freedom in China.
How to Use Surfshark VPN in China?
Surfshark has software/apps for PCs, Macs, iPhones, Androids, Amazon Fire TV and Linux. You can download the desktop apps from their website. The mobile and Fire TV apps can be downloaded and installed from their respective app stores. One of the best things about Surfshark VPN is that there are no special steps required to connect in China. Just choose your preferred server as normal and you should be able to browse the web freely. However, you can't simply open Surfshark official website in China. Here is a special link for you to buy Surfshark VPN service when you are in China. Or you can register and install the service before you arrive the country.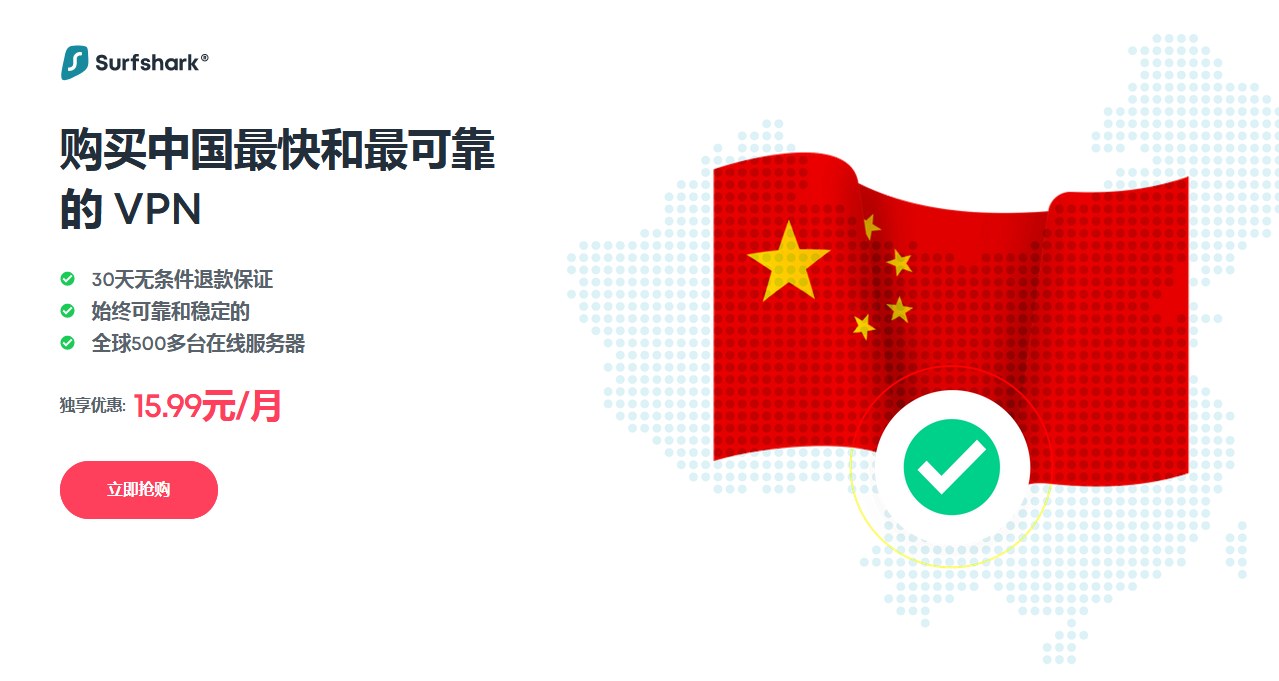 To get all-around protection, you need to install the VPN app or software on your desired device. Take Windows as example:
1. Download Surfshark Client on your Windows PC. Go to Surfshark website, and click on "Apps" option on the top, you will see all the platforms that Surfshark VPN supports. If you need to download Surfshark VPN on Windows, you can simply click on "Windows" option and then you will see the red "Download Now" button as the image shows. Click on that button to start downloading Surfshark.

2. Install Surfshark VPN. It may take one or two minutes until the installation is finished. Once it has been successfully installed, click on "Run" option to get started.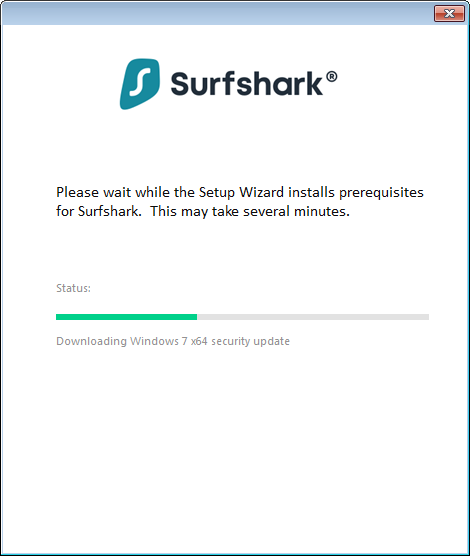 3. Create a new account, or Log in your exsiting Surfshark VPN account. When you click on "Create Account", you'll get to choose your pricing plan and payment option. After your subscription is confirmed and activated, you will have your log-in details to sign into your Surfshark account. If you are an exsiting user, just click "Log in" option and enter your email and password.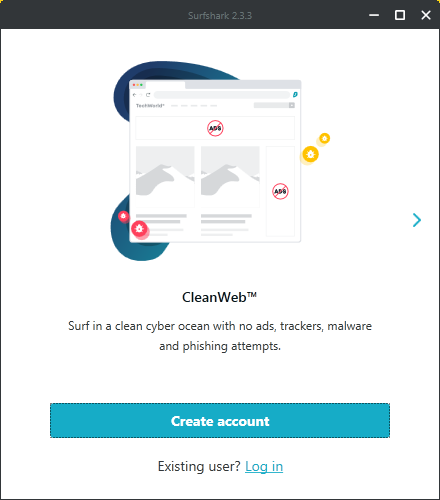 4. Choose a server and connect to it. Once you log in Surfshark VPN account, you will see the Main menu. Surfshark allows you to connect to the nearest location that offers the best speed or the faster servers. Alternatively, you can choose any of the 50 countries from the list below by clicking All locations. (If you are in China, TaiWan is one of the ideal servers for you to give you stable connection and fast speed.)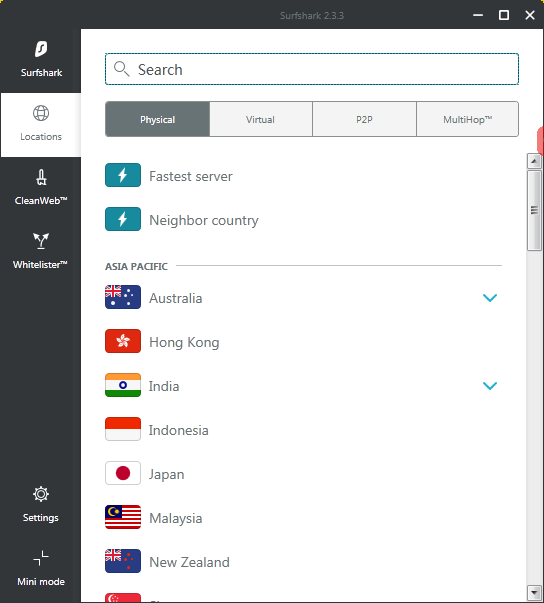 5. You're almost done. When you're connected, you will see the Surfshark logo turn green and start pulsating. But don't rush before you see the IP address assigned to you as it usually takes a bit more time.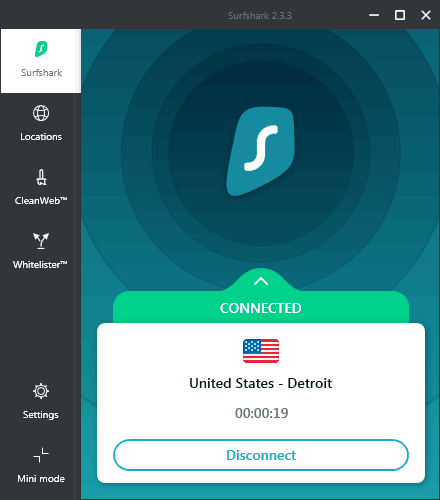 Conclusion
The Surfshark client is very easy to download, install, and use. Just follow the above steps to start your anonymous browsing in China. Although Surfshark VPN is a newcomer to the world of VPNs, it offers good speed and it takes your privacy seriously. Surfshark VPN provides users with a whole bunch of security options, including industry standard 256-bit encryption, DNS Leak protection, Clean Web, Multi-hop connections and a kill switch. All of these features will help you enjoy a private and secure browsing experience when you are in China. With unlimited torrenting bandwidth on unlimited devices connected simultaneously, it is one of the best options for you when you are looking for a good VPN in China. Surfshark VPN has an excellent customer support and if you have any questions, there's always a 24/7 live chat customer support lets you reach the support team timely.
Published by Tony Shepherd & last updated on January 17, 2020 7:31 am