"Hi there. I have problem in uninstalling ZoneAlarm Free Firewall on my Windows 10 PC. When I try to uninstall it, it goes to a box saying "uninstalling ZoneAlarm Free Firewall" and then it doesn't do anything. It doesn't even give me an option to cancel. At that point I can't do anything. I can't even open the task manager. The progress bar goes about 25% of the way then stops. It drives me crazy. So I am wondering if there is an uninstall utility that lets me get rid of ZoneAlarm Free Firewall easily? Your assistance in this matter is greatly appreciated."
Unable to remove ZoneAlarm Free Firewall? Take it easy. Here are the best ways that help you effectively uninstall ZoneAlarm Free Firewall with no traces left behind.
What's ZoneAlarm Free Firewall?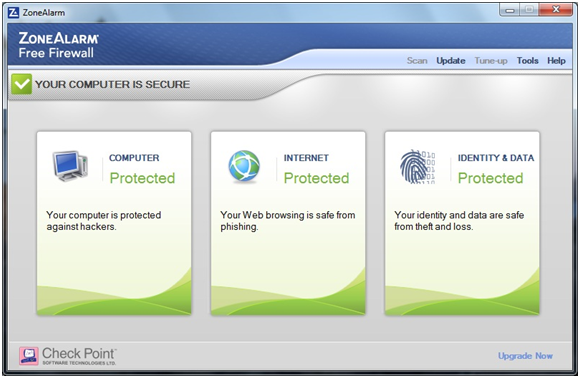 Zone Alarm has been around for ages. In March 2004, it was acquired by Check Point Software Technologies, Inc, but still well-known for its antivirus and firewall products. Zone Alarm's firewall is one of the world's best firewall solutions with over 20 million downloads worldwide. ZoneAlarm Free Firewall is also the best firewall replacement for the default Microsoft Windows Firewall. Compared to Windows built-in firewall, ZoneAlarm Free Firewall provides an extra layer of protection, and is much more easily configured. It controls every program on your computer by permiting or denying access to the Internet, and monitors programs and your Internet traffic for suspicious behavior, thus shielding you from hackers, identity thieves, and other online threats when you are online. With ZoneAlarm Free Firewall, it is easy to control permissions for different networks, and you can create rules for specific programs too (such as allowing incoming traffic, outgoing traffic, both, or neither). ZoneAlarm Free Firewall even offers anti-phishing feature letting you browse the web with the peace of mind that you are protected from deceptive phishing sites. ZoneAlarm makes its firewall available as a separate, free product. It's free to download and easy to set up. If you are considering a well-designed, information-packed firewall to boost your security, it could be one of your options.
Why People Need to Uninstall ZoneAlarm Free Firewall?
Most people have ZoneAlarm Free Firewall installed because it comes along with ZoneAlarm Free Antivirus. But actually the firewall built into Windows 10 does a good job of foiling port scans and other web-based attacks. So, ZoneAlarm Free Firewall seems to be needless. A few people choose to uninstall ZoneAlarm Free Antivirus because they find the features it offers are limited. They probably look for more advanced features like real-time cloud security, component control or online support. So, they would pay for a full-featured firewall with no ads rather than using the ZoneAlarm Free Firewall. Given such circumstances, a complete uninstallation of ZoneAlarm Free Firewall is required.
What's the best way to uninstall ZoneAlarm Free Firewall then? For the majority of people, they usually uninstall ZoneAlarm Free Antivirus from Add/Remove Programs option in the Control Panel. Yes, it may work to remove ZoneAlarm Free Firewall from the program list, but in fact this method could leave many leftovers in your hard disk drives. Common leftovers include ZoneAlarm Free Firewall's registration files, empty folders, dll files, invalid registry entries and more. These files can occupy some space on your computer, make your PC slow if you don't delete them in time. So, this article will guide you through the process of uninstalling ZoneAlarm Free Firewall completely without leaving any garbage behind.
How to Completely Uninstall ZoneAlarm Free Antivirus on Windows 10?
There are several methods that you can use to uninstall ZoneAlarm Free Firewall from your PC. Before you start any of the methods below, you need to quit ZoneAlarm Free Firewall first and make sure its services aren't running in the background or else the uninstallation could be failed.
Method 1: Removal from Start Menu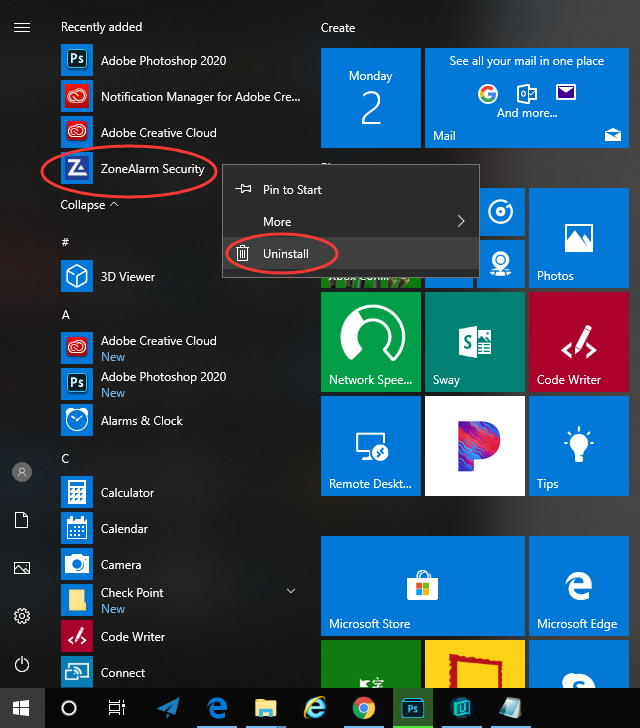 You can uninstall ZoneAlarm Free Firewall directly from the Start menu. To do this, go to Start > All apps and find the ZoneAlarm Security. Right-click on it and then click Uninstall from the drop-down menu that appears. If you can't find ZoneAlarm Free Firewall in the Start menu, you can try other methods listed below.
Method 2: Removal from The Settings Menu
In some cases, you cannot find an app or program that you want to uninstall in the Start menu. So, you can try this way to remove it from the Settings Menu.
Here's what you need to do:
1. Go to Start->Settings.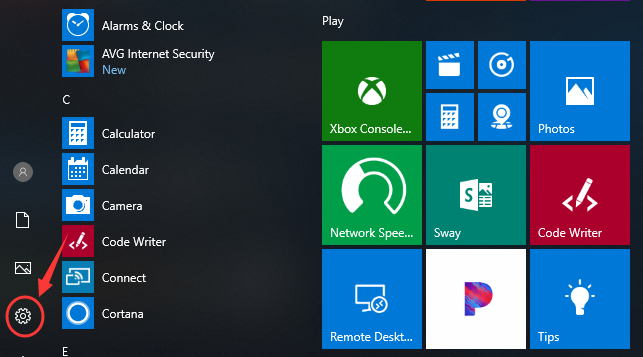 2. Choose System and then click Apps & features. A list of installed applications should now be displayed. Scroll down until you locate the one labeled ZoneAlarm Free Firewall. Next, click Uninstall option.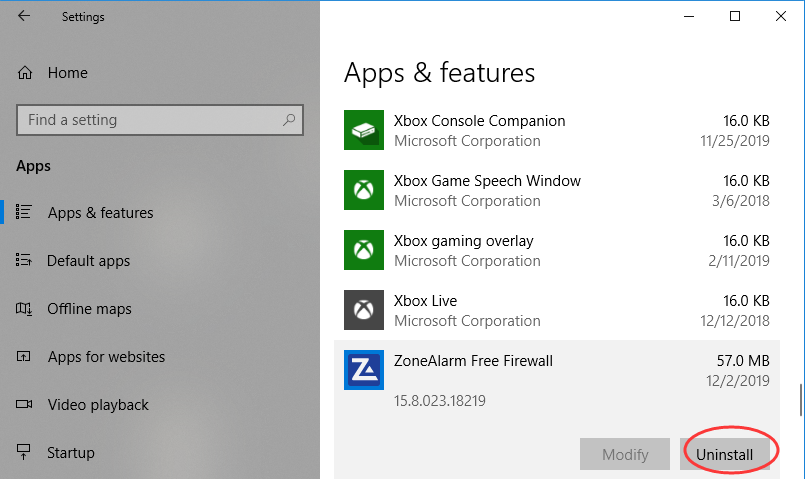 3. A message pops up informing that this app and its related info will be uninstalled. Hit Uninstall to confirm the removal.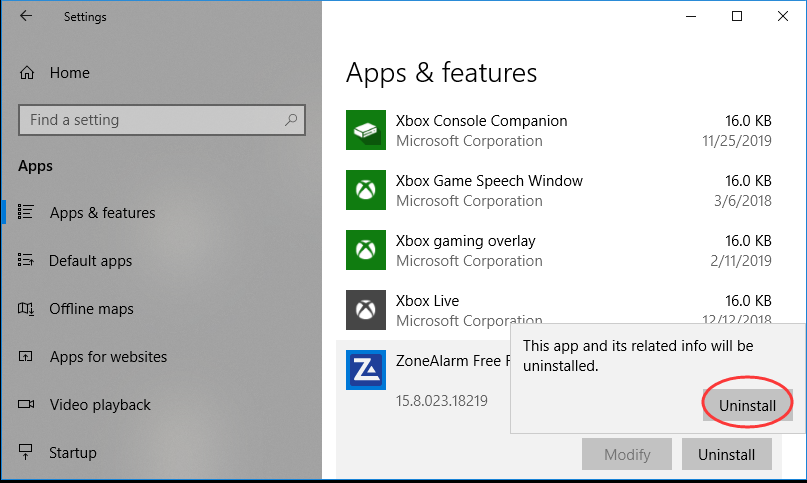 Method 3: Removal through the Add/Remove Programs Control Panel
If you prefer using Control Panel, that option is still available in the latest edition of Windows 10. However, from the Control Panel, you can only uninstall the desktop programs, not apps. Do the following:
1. Right-click on the Start button (Windows logo button at the bottom-left corner of the desktop) and then click Control Panel to open it.
2. Go to Programs and Features (or go to Uninstall a Program if your Control Panel is in the category view).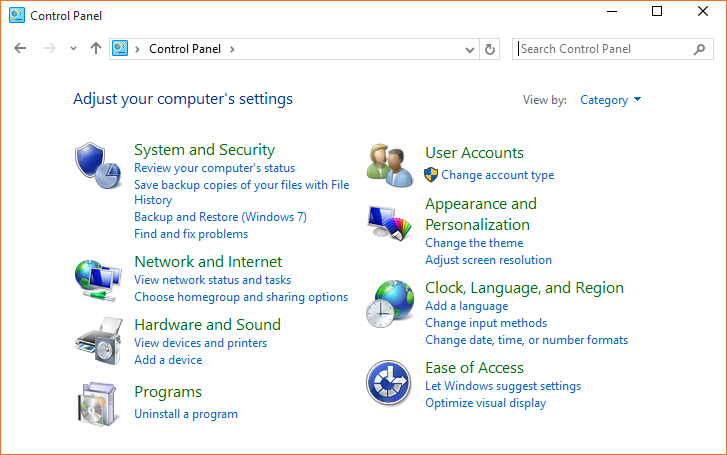 3. Right-click ZoneAlarm Free Firewall and select Uninstall. You'll see a pop-up window asking if you're sure you want to uninstall this program, click Yes and click through the uninstall wizard, if applicable. After it is done, it will prompt the users to Reboot their computer to take effect.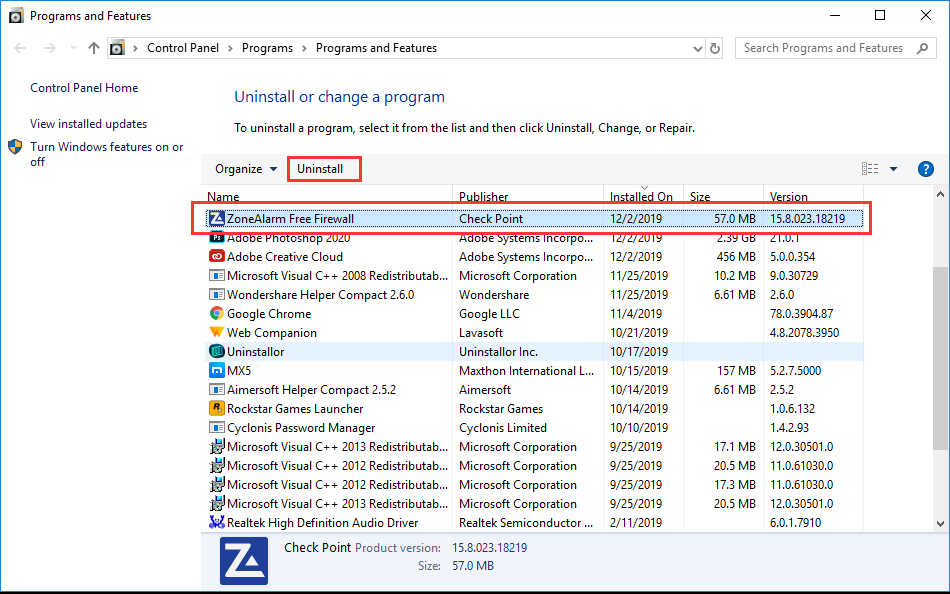 WARNING:
Many Windows users experience issues when attempting to uninstall ZoneAlarm Free Firewall using these three methods. They may find Windows refuses to uninstall ZoneAlarm Free Firewall or they receive a message stating that an error occurred. Even in some cases, ZoneAlarm Free Firewall can be removed from program lists, they still see its folders or icons on the computer. That's because ZoneAlarm Free Firewall is not uninstalled completely. Actually, there is one more important step to do –  delete ZoneAlarm Free Firewall's leftovers manually. This means, you need to find out all the files and relevant entries of the program and delete them one by one.
To find the residual files related to ZoneAlarm Free Firewall:
Press the Windows + R keys and type in %programfiles%, %AppData%, and %Temp% in sequence in the dialog box that appears. It will open ProgramData folder, AppData folder and Temp folder. Just check if there are any folders there that have the name of ZoneAlarm Free Firewall. Delete such folders or files.
Next, you have to delete ZoneAlarm Free Firewall entries from Windows registry:
Press Windows + R, and type in regedit in RUN box, then press Enter. It'll open Registry Editor. Within the editor, use the left-hand navigation pane to navigate the directory structure of the registry to this location: HKEY_LOCAL_MACHINE\Software\Microsoft\Windows\CurrentVersion\Run\  If you can find any keys with the name of ZoneAlarm Free Firewall, just delete such keys.
Note:
Can't remove ZoneAlarm Free Firewall manually by yourself? You can use Uninstallor to scan ZoneAlarm Free Firewall's components automatically and uninstall all traces of the program with one click. Uninstallor is the industry-leading third-party uninstaller that uninstalls programs right away (even the most stubborn ones), without leaving any files and Windows registry entries behind. One Scan. Three Easy Steps. Fast Removal & No Leftovers.
Method 4: Uninstall ZoneAlarm Free Firewall Using Uninstallor  (Recommended)
Compared to the Windows built-in uninstaller, Uninstallor can do a better job of deleting an application completely. Here's how it works:
1. Download & Install Uninstallor on your machine. Uninstallor is quite lightweight and the installation is straightforward. The only option you have is to let you create a program shortcut to the desktop.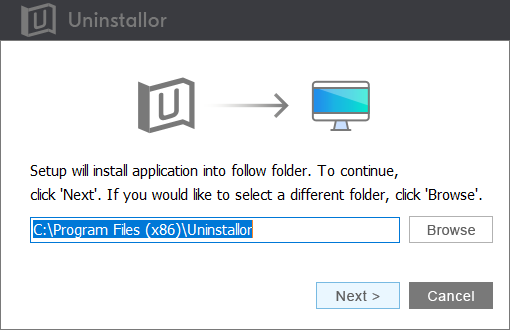 2. Launch Uninstallor. Uninstallor comes with an easy-to-use interface and it lets you switch to dark or light theme as you wish.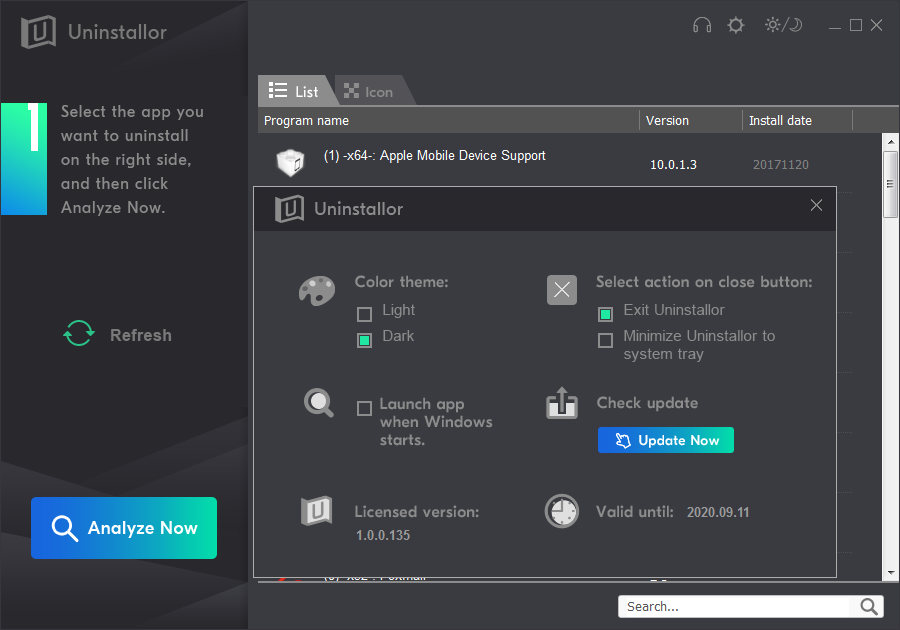 3. Scan for program components. Select the program that you want to uninstall and click on "Analyze Now" button. It will analyze all the data associated with the uninstalled program and searches for all leftover files.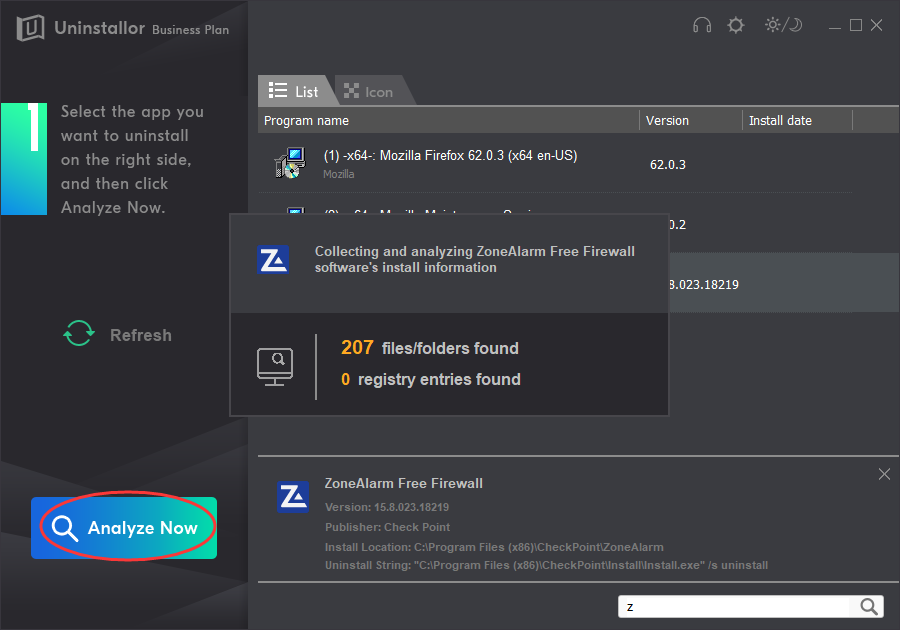 4. Perform complete removal. Click on "Uninstall Now" button to uninstall ZoneAlarm Free Firewall completely. Next, you need to click on "Yes" to confirm the removal.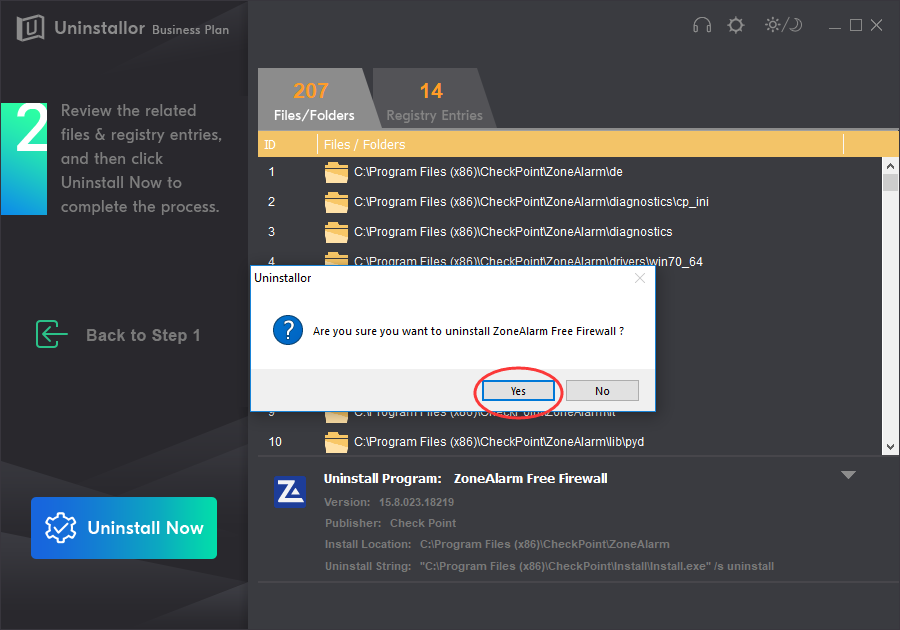 5. All Done. Click Remove Now to delete all the leftover files and registry entries. When the process is completed, restart your computer to take effect.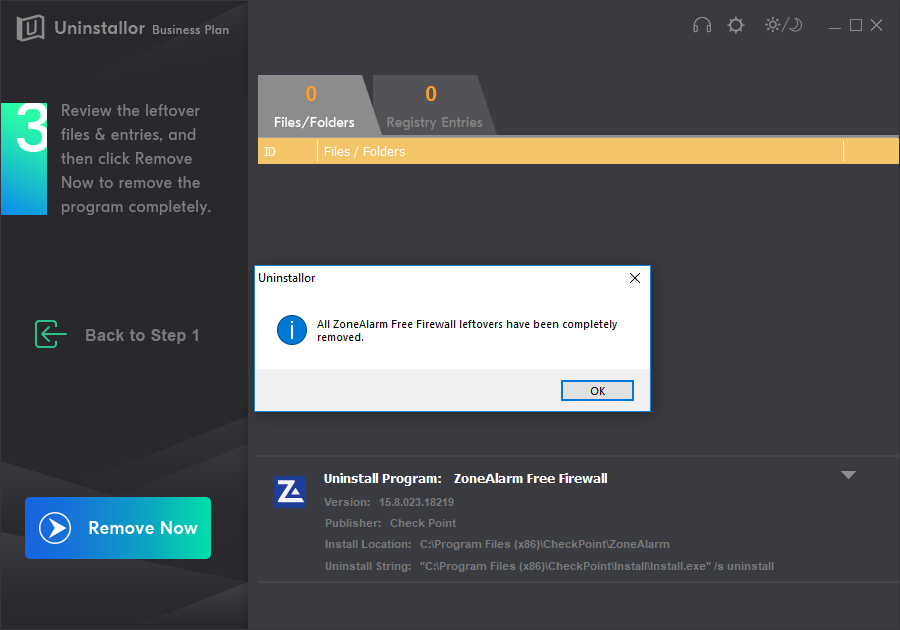 Video Guide on How to Uninstall ZoneAlarm Free Firewall
Conclusion:
Many consumers dislike ZoneAlarm Free Firewall because of its relatively poor performance, annoying ads, and limited features. But uninstalling ZoneAlarm Free Firewall is not that easy sometimes. It takes more than dragging and dropping its icon to the Recycle Bin and you might encounter incomplete uninstall or unexpected errors in some cases. To remove ZoneAlarm Free Firewall entirely, you not only need to uninstall the software itself, but you also have to delete any traces of the program and its database, including its program files that contain any scripts, plugins, and configuration files that you may have added, and its registry entries, dll files and more. You should be extremely cautious when modifying your registry as serious problems could arise. If you are not an advanced user or you've exhausted the other options and find ZoneAlarm Free Firewall is still not uninstalling, Uninstallor is a good way to go. Once you download and install Uninstallor, it will automatically detect the leftover files and registry entries related to ZoneAlarm Free Firewall, all you need to do is to click Remove Now button, then all the unwanted items will be cleared up for sure. Therefore, once you decide to say goodbye to ZoneAlarm Free Firewall, you can get Uninstallor for a trial and uninstall it right away!
Published by Tony Shepherd & last updated on December 20, 2019 1:39 am