My laptop came with lots of software including Windows Live Essentials. I think I don't need it and I want to uninstall it but finally I find I can't do it. Is it necessary to run Windows 7 on my laptop? If I uninstall it, what will happen? Is it a serious issue for my computer? Will my computer go wrong? Please let me know anything about it if you know. Anything help will be highly appreciated.
Something about Windows Live Essentials
What is Windows Live Essentials? It is a suit of free applications from Microsoft that provides integrated e-mail, instant messaging, photo- sharing, blog publishing and security service. It could help windows users to keep in touch with their family or close friends and do more things with Windows on their computer conveniently. It is designed to integrate well with Microsoft Windows and other Microsoft web-based services like Outlook.com. When you have this Windows Live Essentials on your computer, you can use your computer more smoothly. But on the other hand, it can take up your computer resources. It can somehow affect the performance of your computer. And if you uninstall it, you are still able to run Windows on your computer and it can be replaced with other components. Furthermore, you may get trouble in updating some programs. You may get many duplicates of Windows mail, Windows photo, Windows movie maker and so on then you would like to uninstall the Windows Live Essentials. Want to uninstall Windows Live Essentials completely but don't know how? Let's see the way below.

The way to uninstall Windows Live Essentials from your computer
To uninstall Windows Live Essentials completely from your computer, you should know that it is not as simple as it seems. If you want to remove it from your computer completely and effectively, enough computer knowledge is really needed. If you are lack of computer knowledge, I advise you to contact someone who is good at computer for help. If you are good at computer, please follow the steps below to completely remove Windows Live Essentials from your computer.
Firstly, to remove Windows Live Essentials from your computer, please click on "Star" >> click on "Control Panel" >> click on "Programs and Features"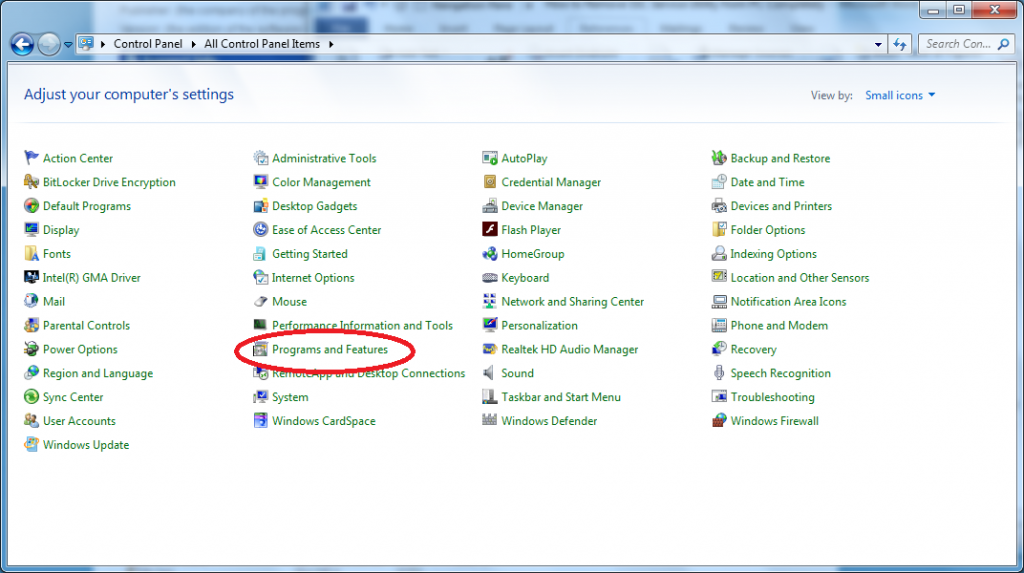 Secondly, find "Windows Live Essentials" then right click on it >> choose "Change/uninstall". Then please follow the prompts to finish the process of removal.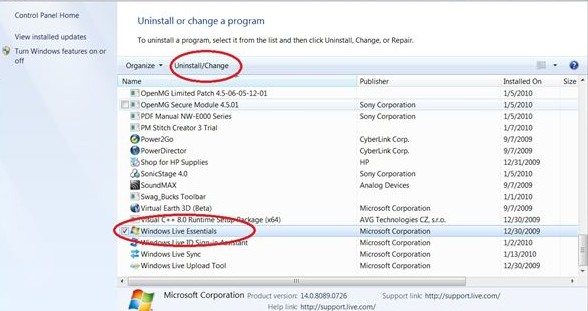 To remove Windows Live Essentials completely, clearing out all residue is needed. In order to clear out all the leftovers about it, you should open Registry Editor and delete the related registries.
Conclusion
Running Windows 7 doesn't require Windows Live Essentials and many windows users want to uninstall it. It is not a really necessary free application that created by Microsoft to help windows users use their computers smoothly. It allows Windows users to edit and share pictures and personal videos, manager email, publish blogs and access files on multiple computers. These are the good aspects but there are also the annoying aspects. When you update some programs, you may have a lot of duplicates of programs like Windows mail, Windows photo, Windows movie maker and so on. To fix this problem, you would need to uninstall Windows Live Essentials or originals. To uninstall Windows Live Essentials, you can go to control panel and find it then uninstall it. In addition, you need to delete the related registries to do the complete removal.
NOTE: Struggling in uninstalling Windows Live Essentials for a long time? Or even don't know how to uninstall it? Contact online expert for help now! They are all ready and glad to offer assistant to you.


Published by Karen Lawrence & last updated on September 27, 2016 1:47 pm