"Hi there. I have been using VLC for many years and find it very useful. But at the moment, I have no other choice but have to look for other alternatives because the application was reported to have medium-risk bugs that could allow someone to access files on my system. I am kind of paranoid. So, I want to know how to uninstall VLC Media Player and clear its leftovers completely and safely. Any help will be highly appreciated."
Although VLC Media Player is one of the best free video players you can download today and it can handle whatever videos you throw at it, there are times you still need to uninstall it. Security problems could be the major reason that most people decide to uninstall VLC Media Player. And sometimes, the application doesn't work properly and you need to reinstall it from scratch. Whatever the reason is, it is important to know the correct way to uninstall unwanted programs and remove their leftovers in hard drives and registries. Otherwise, your computer will be filled with junk files consuming valuable space and memory. Now check out the most effective way on how to uninstall VLC Media Player from Windows or Mac here.
Learn about VLC Media Player: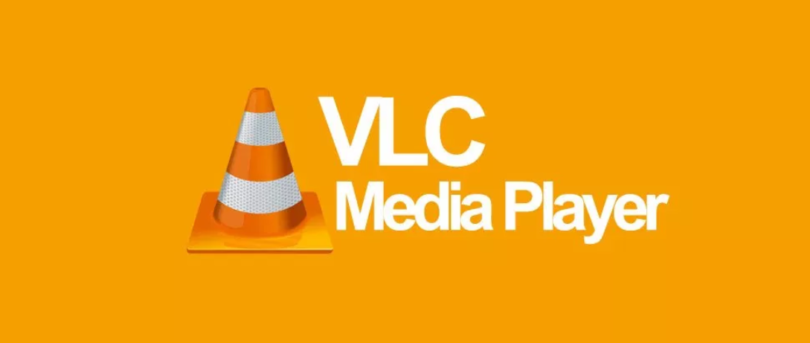 VLC Media Player is a free and open-source media player that you can use to enhance your video viewing experience. It is also chosen as the most popular and well-regarded media player in the world. The application was publically released in 2001 by the non-profit organization VideoLAN Project. Since it was released, VLC Media Player has been serving a large community throughout the world and loved by millions because it offers everything you could need from a media player – comprehensive format support, streaming, downloading and so on. VLC Media Player is a cross-platform multimedia player that supports Mac, Windows, iOS, Android, and even Ubuntu. Therefore, you do not have to worry about whether it will work on your system or not. In addition, it can play almost any media file format that you want to add to its platform, including MPEG, AVI, WMA, MP4, FLAC, FLV (Flash), WMV, MP4 and a shed load of other video and audio media file formats. No other media player can do that and unbelievably completely available for free download.
VLC Media Player offers a full set of powerful features that beginners and professionals often demand from players. The application doesn't require you to download additional codecs to ensure that certain file formats run easily on it. Once you have VLC, you can play audio and video files stored on your computer easily. All you need to do is to simply drag the file onto the VLC player, and it plays it automatically without any conversion. Also, you can stream files online directly from the source and play them using VLC Media Player. No spyware, No ads, No user tracking. VLC Media Player even allows you to record live videos which makes it a benefit for those huge fans of YouTube or other similar sites. With the great feature, you can save anything you want, then watch it as many times as you wish. And you also can make copies of VCDs and DVDs that you like and enjoy as well as share them with your friends. It is worth mentioning that VLC Media Player is a portable media player that runs in any version of Windows without installation, so you can enjoy your favorite videos and audios wherever you go, just store it in your pen drive and take it with you. Another great feature of VLC is that it is capable of repairing corrupt video files and lets you get out of frustration.
If we make an overall comparison of VLC Media Player with its competitors, VLC Media Player is still the best free media player app available on the market. But, a few months ago, two vulnerabilities have been found in VLC Media Player that could allow remote attackers to take full control over a computer system while playing untrusted videos. For that reason, a lot of people panicked and decided to uninstall VLC first till the bugs fixed. If you are now going to do this but don't know where to start, then this article is for you and it will explain the detailed instructions on how to uninstall VLC Media Player completely and safely without leaving leftover files behind.
Traditional Way to Uninstall VLC Media Player
Most Windows users probably just uninstall unwanted programs by launching their uninstallers from the Add/Remove Programs Control Panel. And for Mac users, the uninstallation method is also easy by dragging VLC Media Player's icon to the Trash. All you have to do is to follow the steps below:
*For Windows PC:
Method 1: Removal from Start Menu

You can uninstall VLC Media Player directly from the Start menu. To do this, go to Start > All apps and find the VLC Media Player. Right-click on it and then click Uninstall from the drop-down menu that appears. If you can't find VLC Media Player in the Start menu, you can try other methods listed below.

Method 2: Removal from The Settings Menu

In some cases, you cannot find an app or program that you want to uninstall in the Start menu. So, you can try this way to remove it from the Settings Menu.

Here's what you need to do:

1. Go to Start->Settings.

2. Choose System and then click Apps & features. A list of installed applications should now be displayed. Scroll down until you locate the one labeled VLC Media Player. Next, click Uninstall option.

3. A message pops up informing that this app and its related info will be uninstalled. Hit Uninstall to confirm the removal.

Method 3: Removal through the Add/Remove Programs Control Panel

1. Right-click on the Start button (Windows logo button at the bottom-left corner of the desktop) and then click Control Panel to open it.

2. Go to Programs and Features (or go to Uninstall a Program if your Control Panel is in the category view).

3. Right-click VLC Media Player and select Uninstall. You'll see a pop-up window asking if you're sure you want to uninstall this program, click Yes and click through the uninstall wizard, if applicable.

4. Go through the uninstallation wizard to uninstall VLC Media Player.
*For Mac:
Exit VLC Media Player first and make sure it is not running.
Open the Applications folder.
Drag the icon of the program you want to uninstall to the Trash.
Empty the Trash.
Yes, in most cases, the traditional method did work to uninstall VLC Media Player from the computer. However, it doesn't mean it really deletes everything related to VLC Media Player. When it comes to uninstall a program, the hardest part is getting rid of all the residual files and settings that it leaves behind when it is uninstalled. The built-in uninstaller doesn't always work and may only remove some of the files, settings, libraries, and services they installed. Those leftovers tend to slow down your machine and may interfere with the functionality of other programs. So, you have to do something more.
For Windows users, you have to find out all the leftover files and relevant entries of VLC Media Player and delete them one by one. For Mac users, it does the same. After VLC Media Player is uninstalled, you need to find out the background files, support files, preference files, then delete them all. The following guides will teach you how to do that and help you free up your system space.
Remove VLC Media Player Leftovers (For Advanced Users ONLY)
To find the residual files related to VLC Media Player:
Press the Windows + R keys and type in %programfiles%, %AppData%, and %Temp% in sequence in the dialog box that appears.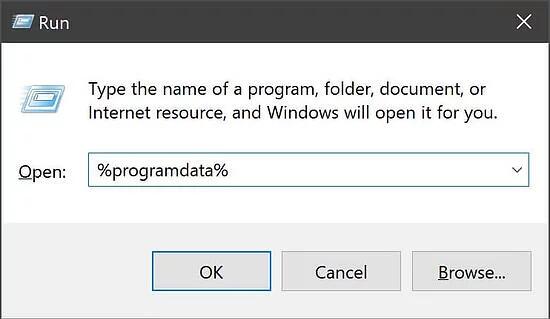 It will open ProgramData folder, AppData folder, and Temp folder. Just check if there are any folders there that have the name of VLC Media Player. Delete such folders or files.
Next, you have to delete VLC Media Player entries from Windows registry:
Press Windows + R, and type in regedit in RUN box, then press Enter. It'll open Registry Editor. Within the editor, use the left-hand navigation pane to navigate the directory structure of the registry to these locations: HKEY_LOCAL_MACHINE\Software\Microsoft\Windows\CurrentVersion\Run\; HKEY_LOCAL_MACHINE\SOFTWARE; HKEY_CURRENT_USER\Software  If you can find any keys with the name of VLC Media Player, just delete such keys.
Uninstall VLC Media Player & Remove Leftovers Automatically With A Third-Party Uninstaller (Recommended)
*For Windows PC:
Step 1. Download and install Uninstallor onto your desktop, then double-click the shortcut icon to get it running. Next,  select "VLC Media Player" and click on "Analyze Now" button. Uninstallor will automatically search for all connections of the program that you want to uninstall.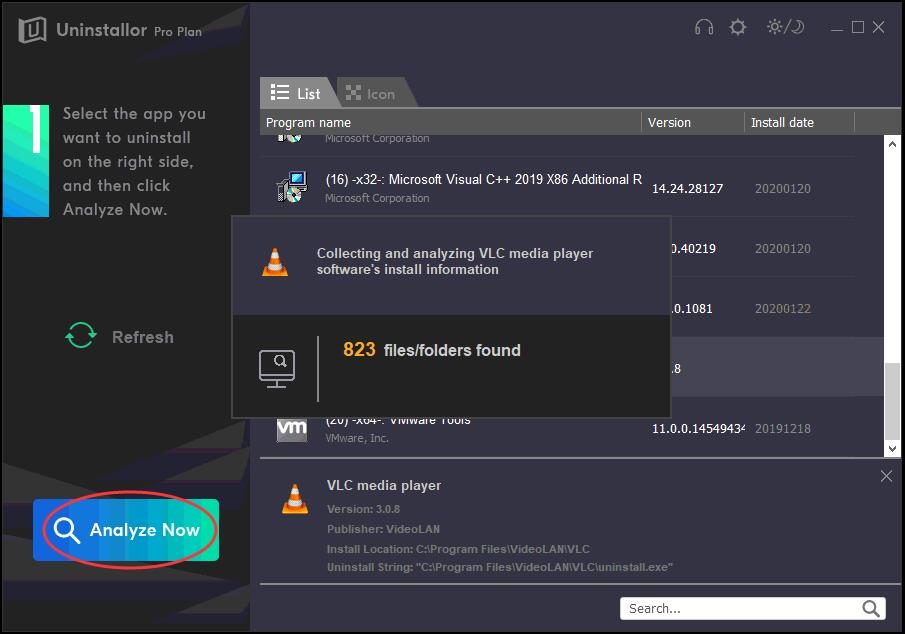 Step 2. Click on "Uninstall Now" button to uninstall VLC Media Player completely. Next, you need to click on "Yes" to confirm the uninstallation.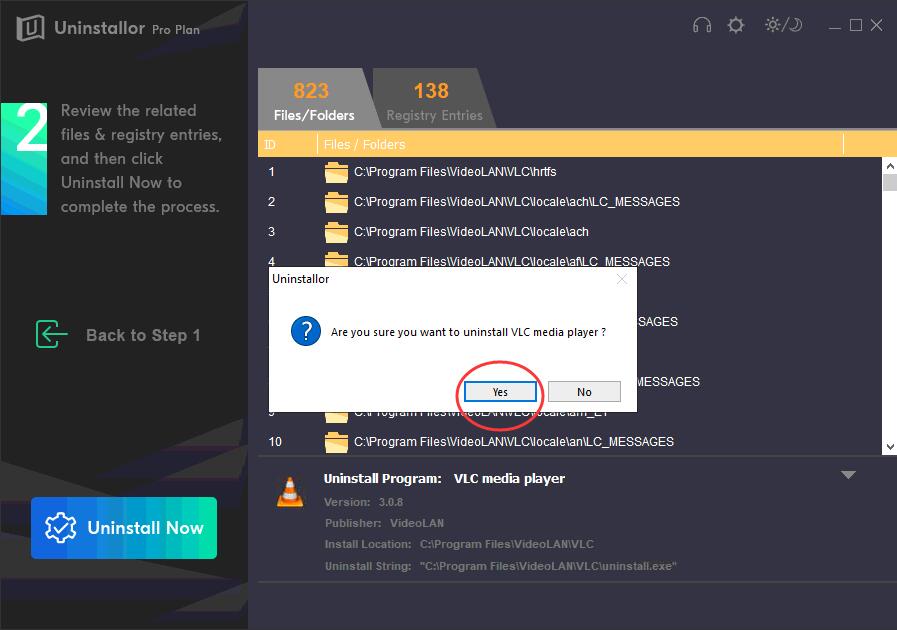 Step 3. Click on "Remove Now" to delete all VLC Media Player leftover files and registry entries.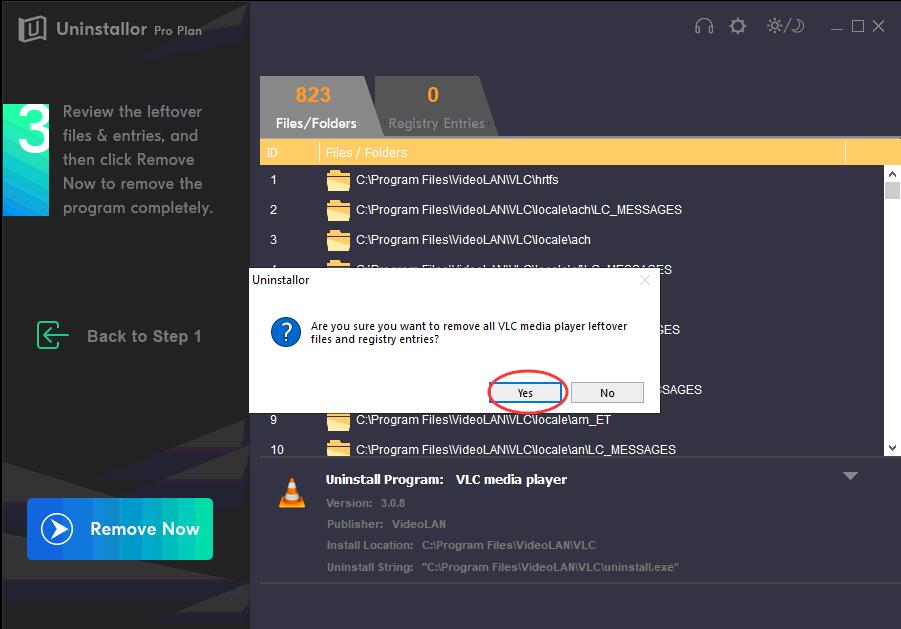 Step4. Roboot your computer to take effect after you see a report telling you how many items of VLC Media Player have been completely removed.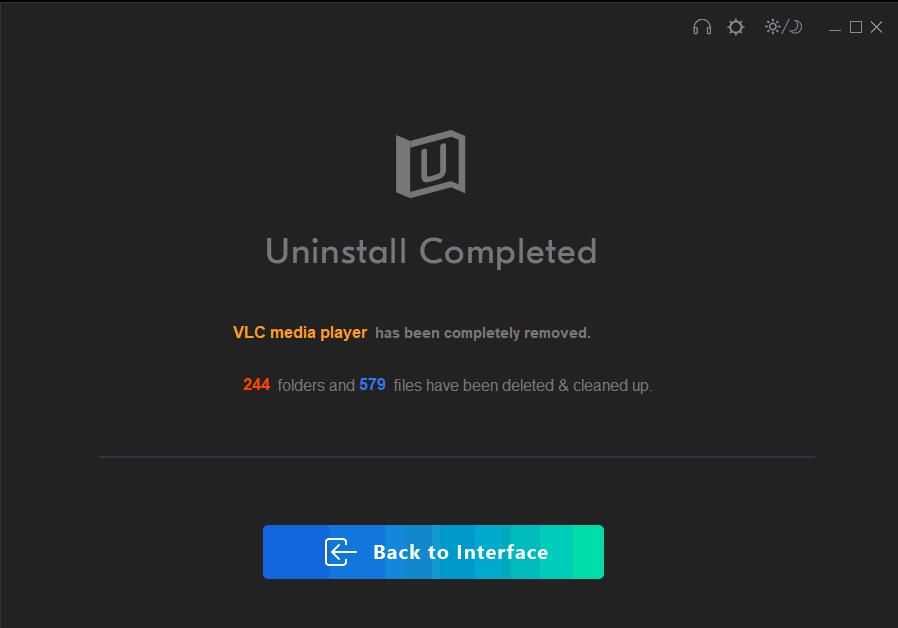 *For Mac:
Uninstallor is also available on Mac. You can rely on Uninstallor to remove trace files that are left after simply moving VLC Media Player to Trash, and remove unnecessary startup items, widgets, preference panes and other Mac extension for you. Installation is straightforward. It only takes a few seconds to find and remove trace files and leftovers left behind in a regular way.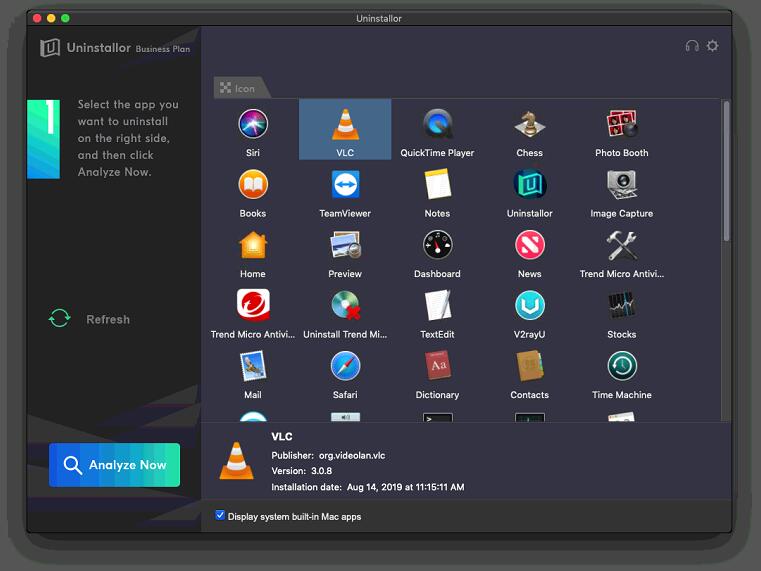 Video Guide on How to Uninstall VLC Media Player
Conclusion:
If for any reason that VLC Media Player won't uninstall on your computer, or you suspect that VLC Media Player is not removed completely, try the above methods to uninstall the program. You can choose to uninstall VLC Media Player manually if you are an advanced user who is good at handling registry entries and dll files etc. But, for other average users, we kindly suggest you select a third-party uninstaller to complete the task. This method is rather intuitive, streamlined and suitable for all-level users. Both ways ensure that all trace files and leftovers of VLC Media Player will be cleared entirely.
Uninstallor is a powerful and professional uninstallation tool available on Windows and Mac. Compared to the built-in uninstaller, it works faster and is able to accurately find out leftover files in your hard drive in one click, whether those junks are located in your C drive, program files, or some hidden folders. In addition, Uninstallor can be used to uninstall bundled programs, Windows apps and delete toolbar, browser plug-ins and more. Uninstallor offers all users a 30 days money-back guarantee, if for any reason you're not completely satisfied with their product, you will get a full refund for sure. Try Uninstallor risk-free now to uninstall any unwanted program instantly!
Published by Michael Myn & last updated on February 26, 2020 4:51 am