Trying to uninstall SUPERAntiSpyware from Programs & Features but with no luck? Why is it so hard to uninstall this program? How to remove SUPERAntiSpyware and all its traces completely? SUPERAntiSpyware is a lightweight security product designed to protect your computer from cyber threats like spyware, adware, keyloggers, trojans, ransomware, PUPs, and more. Since the program offers a free edition and a free trial for the pro edition, many people are willing to download it and test if it is good. However, some of them may still prefer another better antivirus. This prompts them to uninstall the SUPERAntiSpyware from their system. If you are one of those people who don't need SUPERAntiSpyware anymore, please follow the instructions below to perform a clean uninstallation by deleting all residual files by SUPERAntiSpyware. The guide is also helpful when you're having trouble uninstalling SUPERAntiSpyware from the Start menu or from Add/Remove Programs in the Control Panel.

What is SUPERAntiSpyware?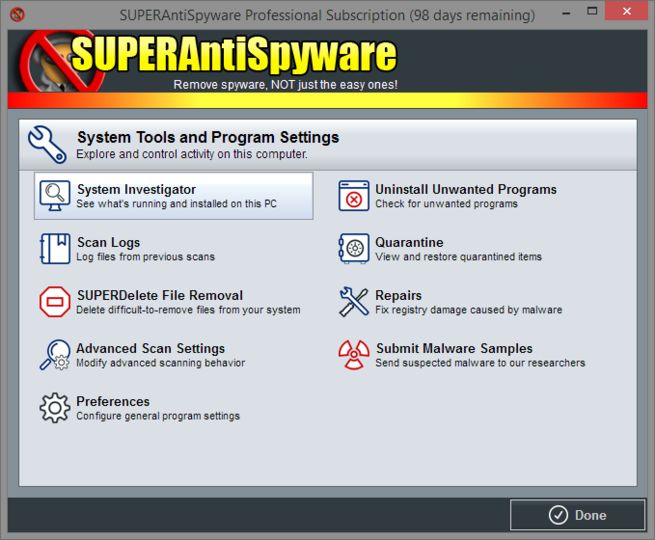 SUPERAntiSpyware was founded in 2004, being one of the most popular security products on the market that protects individuals and businesses of all sizes from malware, spyware, Adware, Ransomware and more. Until now, this software has been downloaded more than 60 million times. SUPERAntiSpyware is available as a free and professional version. Both versions allow people to detect and remove malicious threats by using its own multi-dimensional scanning and process interrogation technology. And the Process Interrogation Technology it uses is able to detect hard-to-find threats usually missed by standard anti-spyware applications. However, the free version does not include real-time protection, scheduled scanning and automatic updates. But, its professional version adds real-time detection and other features like multiple scan options, email notifications and more to better improve security. It should be noted that SUPERAntiSpyware is not designed to replace antivirus programs, you can use it for a second opinion or in the event of malware infection where some of your tools may be disabled.
The Most Common Reasons That People Uninstall SUPERAntiSpyware:
No single product is 100% foolproof and can prevent, detect and remove all threats at any given time. Therefore, you might have to install SUPERAntiSpyware along with other antivirus programs at the same time to give yourself the most complete protection. Even though SUPERAntiSpyware claims it will not conflict with your existing anti-spyware or anti-virus solution, the fact is it might hang or freeze during a scan or display unexpected errors sometimes, affecting the stability of your system
Unable to Detect The Target Malware:
Although SUPERAntiSpyware claims it specializes in detecting unique and hard-to-find malware, but in some cases it didn't solve your problem and it might lack of some security features you are looking for, so you still need to uninstall SUPERAntiSpyware from your PC.
Sometimes you might encounter several problems while using SUPERAntiSpyware. For example, it will not run when your computer starts or when you double-click it. Or, it keeps displaying error messages to stop you from using it properly. Therefore, uninstalling and reinstalling SUPERAntiSpyware might help.
Switch to Another Anti-Spyware Product:
If SUPERAntiSpyware doesn't meet your expectation, and you want to switch to other security products, you have to uninstall SUPERAntiSpyware throughly, meaning you need to delete various left-over traces of this software as well, because incomplete uninstall might cause other problems while you install the new security product.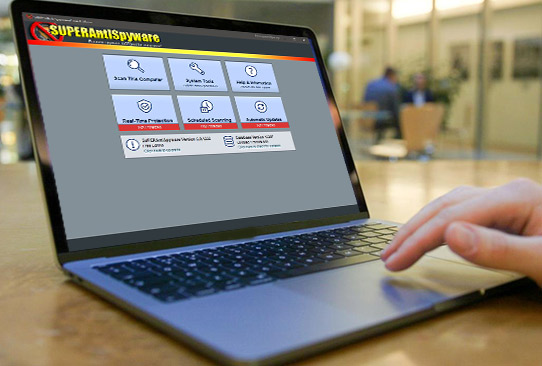 Whatever the reason you need to get rid of SUPERAntiSpyware, just be sure don't leave traces behind after uninstalling. This means, you not only need to uninstall SUPERAntiSpyware, but also delete its associated files and registry entries. Otherwise, those leftovers could affect your PC performance and bring you other serious problems. The following instructions will teach you how to uninstall SUPERAntiSpyware on Windows 10 without leaving a trace. You can choose to uninstall it manually, or rely on a third-party uninstaller for a quick fix.
How to Completely Uninstall SUPERAntiSpyware on Windows 10?
Method 1: Removal from Start Menu
You can uninstall SUPERAntiSpyware directly from the Start menu. To do this, go to Start > All apps and find SUPERAntiSpyware. Right-click on it and then click Uninstall from the drop-down menu that appears. If you can't find SUPERAntiSpyware in the Start menu, you can try other methods listed below.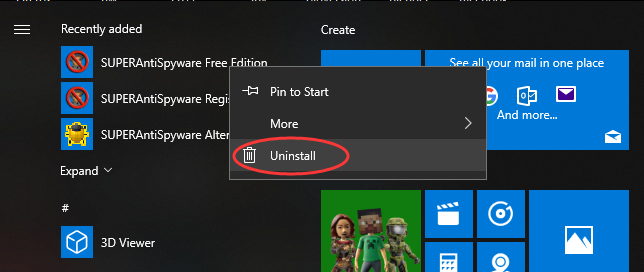 Method 2: Removal from The Settings Menu
In some cases, you cannot find an app or program that you want to uninstall in the Start menu. So, you can try this way to remove it from the Settings Menu.
Here's what you need to do:
1. Go to Start->Settings.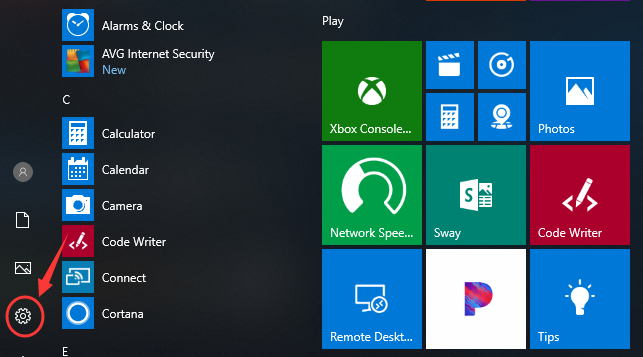 2. Choose System and then click Apps & features. Here, you'll see a full list of applications and programs on your computer, sorted by size. You can use the search box at the top of the screen to search for apps, and you can resort the list by name or by install date.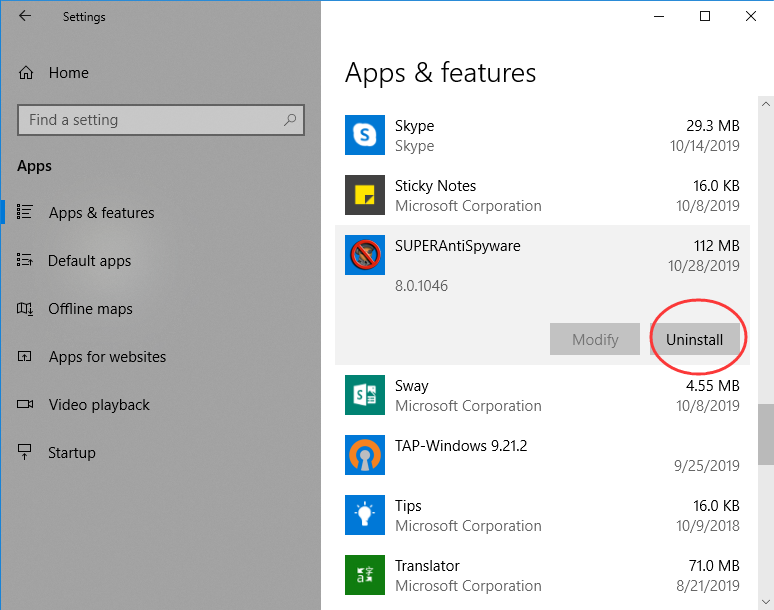 3. Select SUPERAntiSpyware and Click Uninstall to start the removal process. You will see a pop-up window informing you that the app and its related info will be uninstalled. Hit Uninstall to confirm the removal.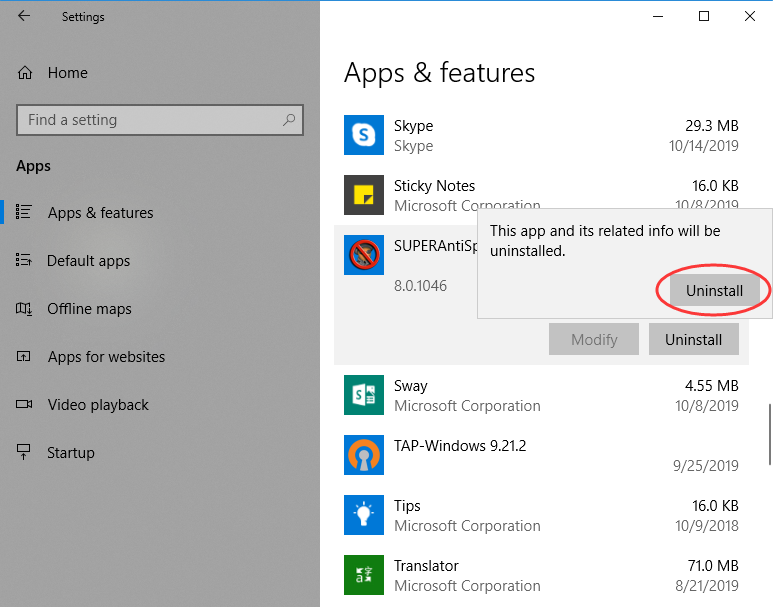 Method 3: Removal through the Add/Remove Programs Control Panel
If you prefer using Control Panel, that option is still available in the latest edition of Windows 10. However, from the Control Panel, you can only uninstall the desktop programs, not apps. Do the following:
1. Right-click on the Start button (Windows logo button at the bottom-left corner of the desktop) and then click Control Panel to open it.
2. Go to Programs and Features (or go to Uninstall a Program if your Control Panel is in the category view).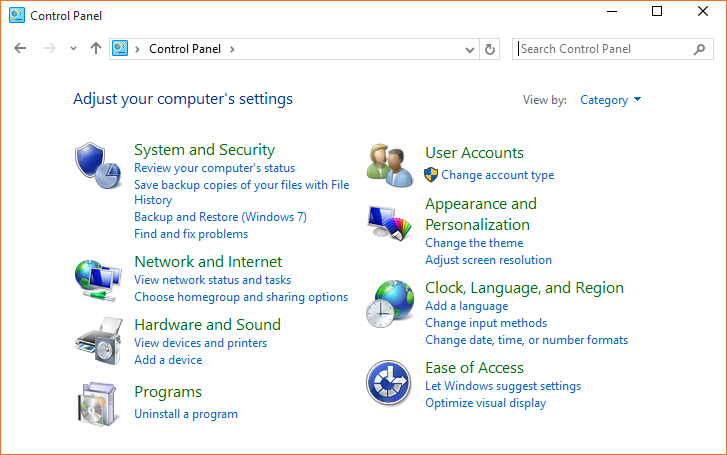 3. Right-click SUPERAntiSpyware and select Uninstall. You'll see a pop-up window asking if you're sure you want to uninstall this program, click OK to proceed the uninstall. After it is done, you have to reboot your PC to take effect.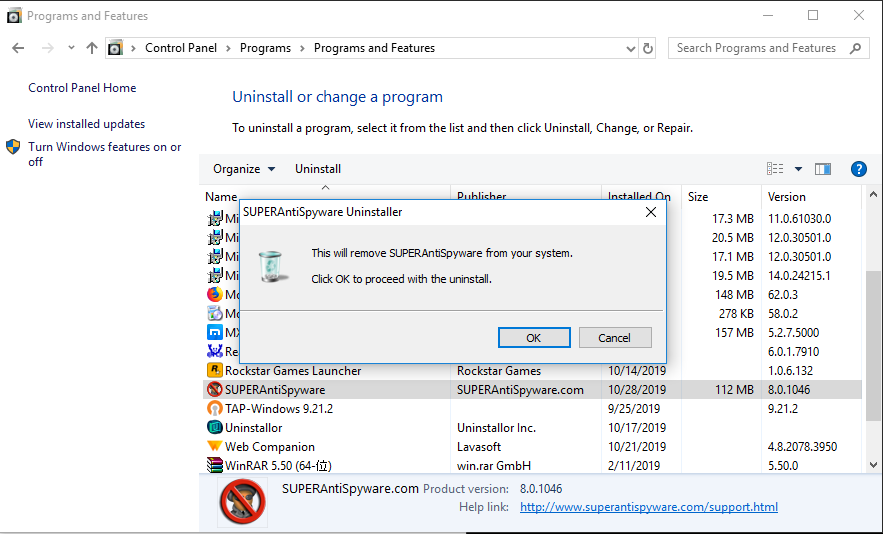 WARNING:
The above three methods might help you uninstall SUPERAntiSpyware program itself, but its traces will still reside in your PC. Common leftovers of SUPERAntiSpyware include its registration files, empty folders, dll files, invalid registry entries and more. These leftovers may not pose a major threat. But, they tend to slow down your machine and may interfere the functionality of other programs, so there is no point of keeping them.
So, in the next step, you have to manually delete leftover file system and registry items. Be sure to back up all your important data first in case incorrect changes to the registry result in permanent data loss or corrupted files.

Check the following folders and delete associated files first.
%AppData%
%Temp%
%ProgramData%
Next, you have to delete SUPERAntiSpyware entries from Windows registry.
Press Windows + R, and type in regedit in RUN box, then press Enter. It'll open Registry Editor.
Locate the following keys:
HKEY_CURRENT_USER\Software\Microsoft\Windows\CurrentVersion\
HKEY_LOCAL_MACHINE\SOFTWARE\Microsoft\Windows\CurrentVersion\
HKEY_LOCAL_MACHINE\SOFTWARE\Wow6432Node (64-bit system users will also need to check this extra key)
If you can find any keys with the name of SUPERAntiSpyware, just delete such keys.
Warning:
The manual method described above is designed for those who have experience in editing registry entries and it needs expertise to complete because a small mistake here might adversely affect the functioning of your machine. If you are not skillful enough to find what to delete or how to perform the steps to remove leftovers from Windows registry, you can download a third-party uninstaller like Uninstallor that completely removes all the remnants of any unwanted programs with just one system scan. Let's see how it works.
Method 4: Uninstall SUPERAntiSpyware Using A Removal Tool (Recommended)
Uninstallor is a powerful third-party uninstaller that provides the easiest, most effective ways for people to remove unwanted program from their computer without leaving leftovers behind. It's a good tool to help you free up disk space and smooth the PC's overall performance.
1. Download & Install Uninstallor on your machine. Uninstallor is quite lightweight and the installation is straightforward. The only option you have is to let you create a program shortcut to the desktop.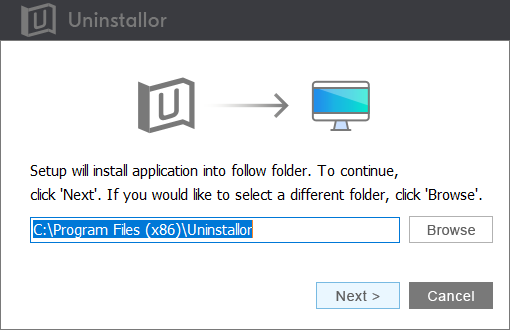 2. Launch Uninstallor. Uninstallor comes with an easy-to-use interface and it lets you switch to dark or light theme as you wish.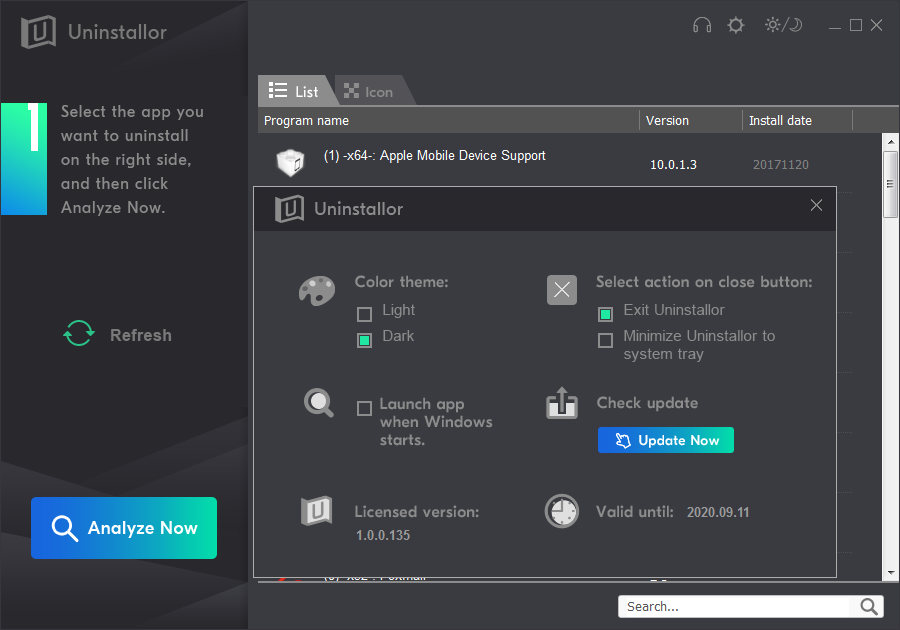 3. Scan for program components. Select the program that you want to uninstall and click on "Analyze Now" button. It will analyze all the data associated with the uninstalled program and searches for all leftover files.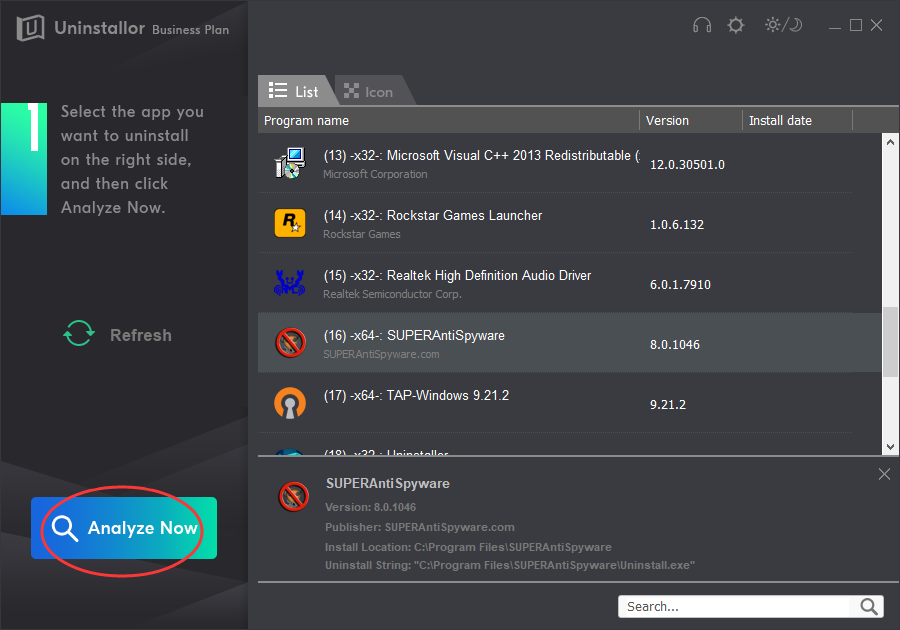 4. Perform complete removal. Click on "Uninstall Now" button to uninstall SUPERAntiSpyware completely. Next, you need to click on "Yes" to confirm the removal.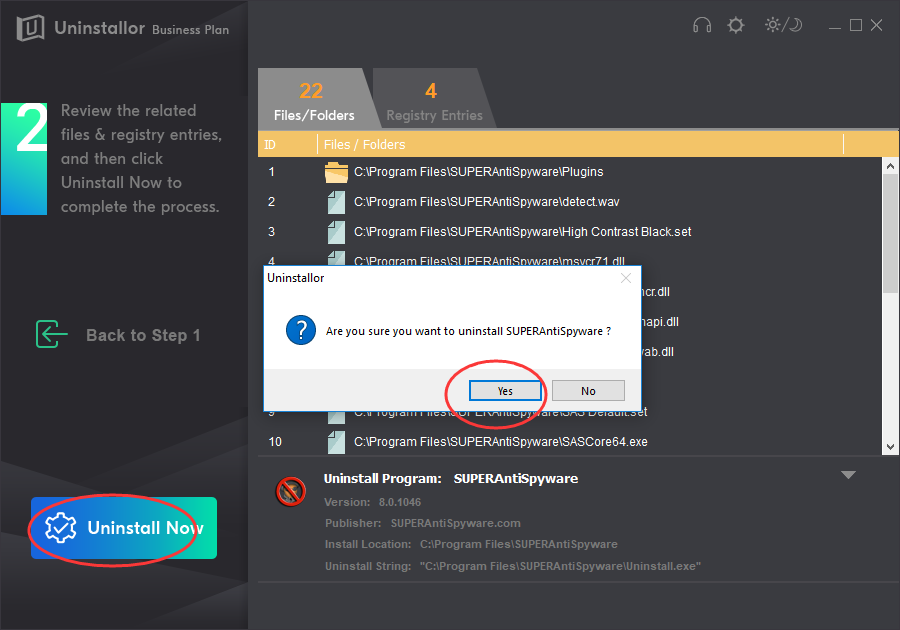 5. Wait until SUPERAntiSpyware uninstallation is finished. When the process is completed, you'll see a summary of how many items were deleted. Just restart your computer to take effect.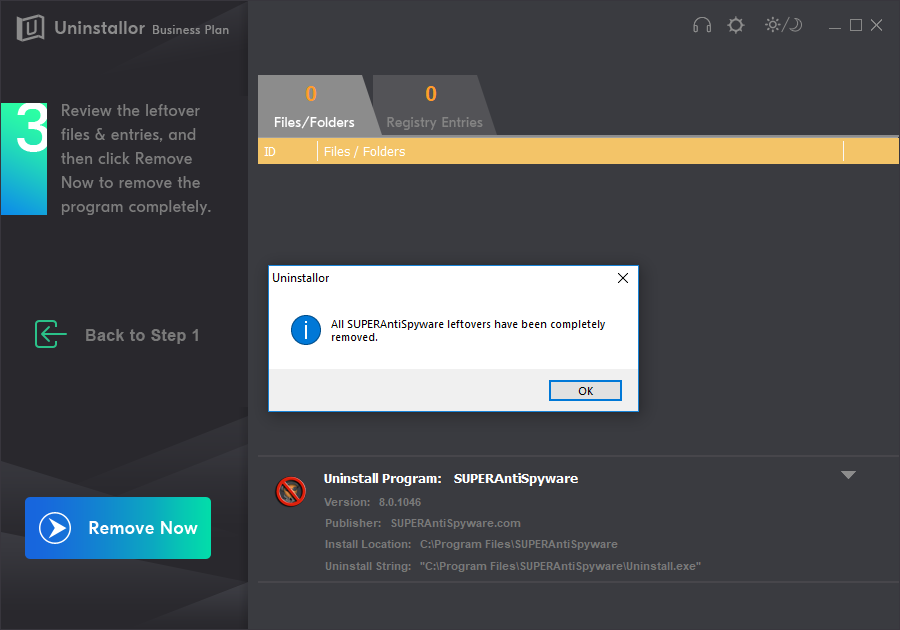 Video Guide on How to Uninstall SUPERAntiSpyware
Conclusion:
Can't uninstall SUPERAntiSpyware completely? Well, whenever you install a piece of software, especially anti-spyware programs like SUPERAntiSpyware, it installs many files and probably Registry entries on the system in order to work efficiently. And this is fine as long as you still use the program. Now, the problem comes when you opt to uninstall SUPERAntiSpyware. We normally uninstall it from the Control Panel, but that's not enough to completely remove all the remnants of it, and its leftovers like registry entries, program folders, and even some essential files can remain on your hard drive. In this post, we have introduced two methods to let you remove SUPERAntiSpyware completely. Depending on your computer skills, you can perform a manual removal or an automatic removal with a powerful third-party uninstaller. Again, for people who have no experience in editing registry entries, it is always recommended using Uninstallor (the most powerful uninstaller) to remove SUPERAntiSpyware. It goes deep into the jungle and nips the unwanted program right in the bud, and the whole uninstallation process can be done in a couple of minutes. Not convinced? Download Uninstallor for a trial or Contact online support team if you have any problems in uninstalling SUPERAntiSpyware.
Published by Tony Shepherd & last updated on November 14, 2019 2:00 am