Can't uninstall Spotify from Windows 10 because it won't let you do that? How to remove Spotify when the Control Panel & Add/Remove Programs doesn't work? Is there a spotify removal tool? Spotify is one of the most popular music streaming services with millions of monthly active users across 58 countries. It's free to listen to Spotify and there is not a super hard sell to upgrade, so many people, especially the young teenagers love Spotify. Spotify is a very stable piece of software, but on occasion, it can get grumpy and bring up some unexpected error codes that stop you from using it properly. In that case, uninstalling and reinstalling Spotify can be a useful troubleshooting step for its unexpected behaviors. A standard uninstall always leaves some traces on your device so Spotify can remember your device when you reinstall. It's okay if you still need Spotify, but, if you don't need it anymore, you should perform a clean uninstall by removing all traces of the files, folders and registry entries used by Spotify. In this post, we'll show you how to uninstall Spotify from Windows 10 completely.

What is Spotify?

When it comes to the most popular streaming service in the world, Spotify is definitely one of them. With over 200 million active users, the service has earned a large audience with its personalized playlists and free access. It's the undisputed king of on-demand streaming music. Spotify is available on Windows PC, mobile, tablet, Mac and TV. With it, you can stream music, create playlists, and tune into podcasts without paying a cent. Spotify has over 50 million tracks available and it adds close to 40,000 new songs each day. Spotify is also a great place to discover new music when you do not know what you should listen to or where to find some new music. It discovers new songs for you based on your tastes and listening history added to the "Release Radar" and "Discover Weekly" playlists on a weekly basis. In addition, Spotify has a radio feature. You won't be able to tune into actual radio stations, but it mimics the feeling of listening to FM radio. Overall, Spotify is a solid streaming service that most people will be satisfied with. Spotify offers lots of benefits for a reasonable price, and it also offers the free version, which does have ads but isn't crippled in any way, perfect for those who want to enjoy streaming music and don't mind the occasional commercial playing between songs.
About Spotify Removal:
It's known to all that Spotify is currently the most welcomed streaming music service in the world. However, like other programs and services, users may also encounter various problems when using Spotify, so they have to uninstall Spotify first and then reinstall it. Speaking to removing a program in Windows 10, Windows 10 still includes the classic Uninstall Programs panel, also known as the "Programs and Features" window. In addition, Windows 10 includes an uninstaller option available through the Start menu and Apps & Features in Settings. But many times these Windows' built-in options cannot remove Spotify completely. It left some entries in Windows Registry, some files in various folders in your hard disk drives. And the worse thing is, the uninstall process may not go well sometimes.
Here are some general problems of removing Spotify:
Cannot launch the uninstallation and always receive an error notification like "Spotify is running on the PC and cannot be deleted" or "Spotify cannot be uninstalled and encounters a problem"
Spotify has stopped working when you hit "Uninstall" option in control panel
Spotify is not listed on the Windows uninstaller
Associated files of the program cannot be cleared well from the Windows computer
Now, try the ways below if you find Spotify won't uninstall or can't be deleted completely on Windows 10. 
How to Completely Uninstall Spotify from Windows 10?
Method 1: Removal from Start Menu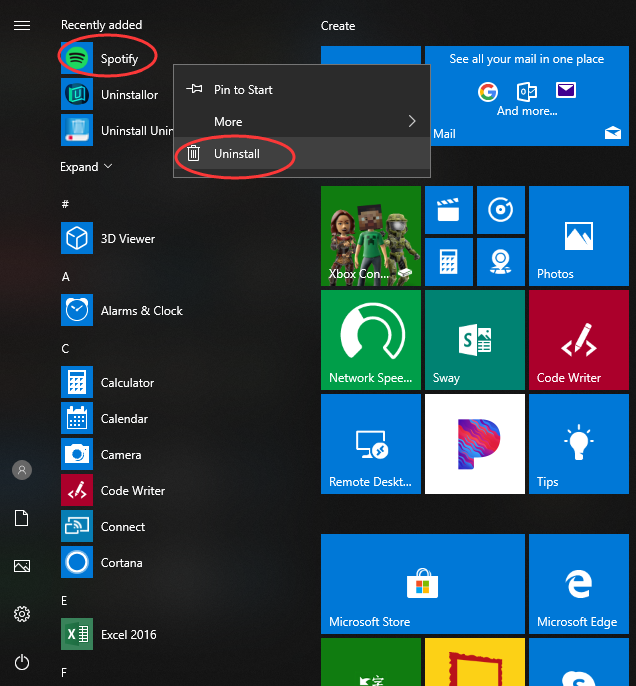 You can uninstall Spotify directly from the Start menu. To do this, go to Start > All apps and find the Spotify. Right-click on it and then click Uninstall from the drop-down menu that appears. If you can't find Spotify in the Start menu, you can try other methods listed below.
Method 2: Removal from The Settings Menu
In some cases, you cannot find an app or program that you want to uninstall in the Start menu. So, you can try this way to remove it from the Settings Menu.
Here's what you need to do:
1. Go to Start & Settings.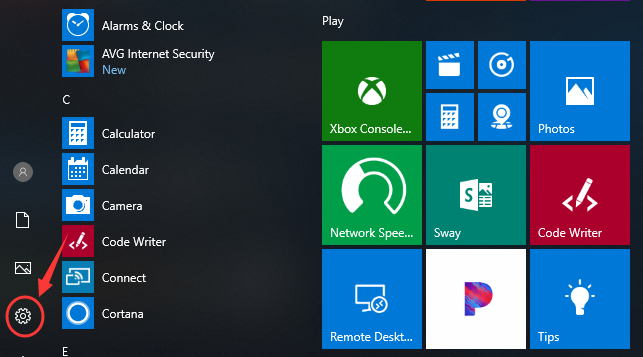 2. Choose System and then click Apps & features. Here, you'll see a full list of applications and programs on your computer, sorted by size. You can use the search box at the top of the screen to search for apps, and you can resort the list by name or by install date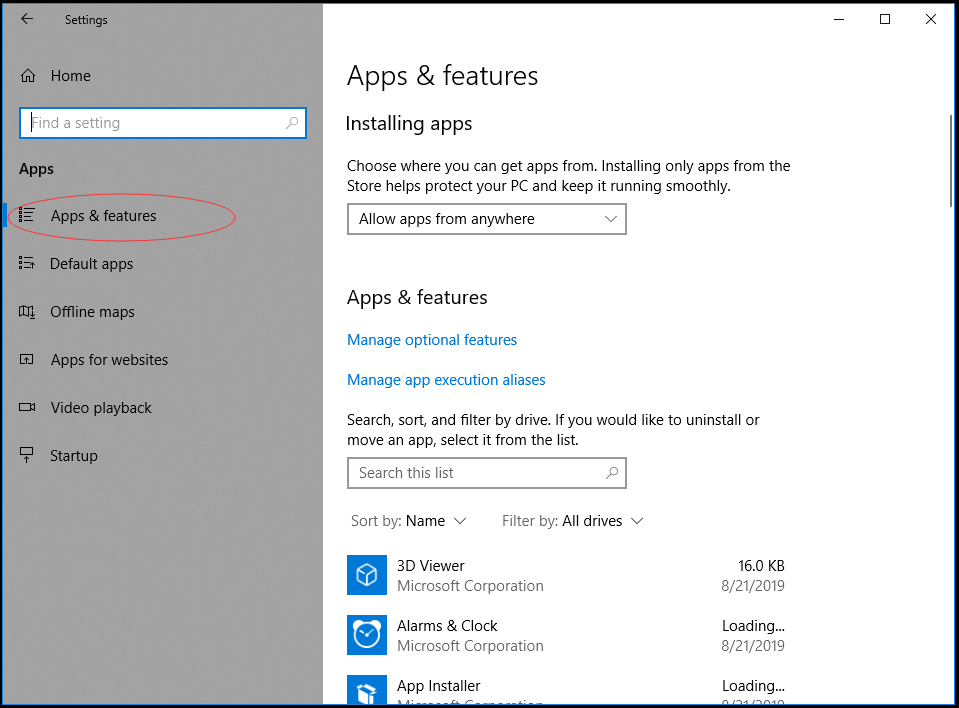 3. Select Spotify and Click Uninstall to start the removal process. You will see a pop-up window informing you that the app and its related info will be uninstalled. Hit Uninstall to confirm the removal.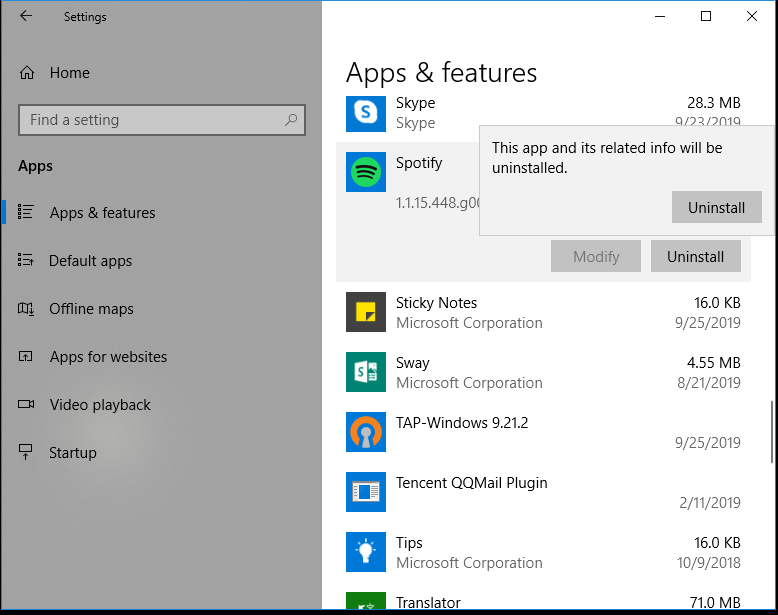 Method 3: Removal through the Add/Remove Programs Control Panel
If you prefer using Control Panel, that option is still available in the latest edition of Windows 10. However, from the Control Panel, you can only uninstall the desktop programs, not apps. Do the following:
1. Right-click on the Start button (Windows logo button at the bottom-left corner of the desktop) and then click Control Panel to open it.
2. Go to Programs and Features (or go to Uninstall a Program if your Control Panel is in the category view).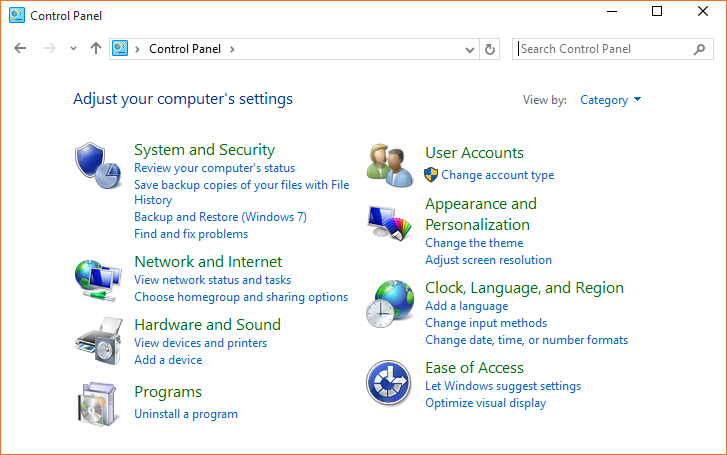 3. Right-click Spotify and select Uninstall. You'll see a pop-up window asking if you're sure you want to uninstall this program, click Yes and click through the uninstall wizard, if applicable. After it is done, it will prompt the users to Reboot their computer to take effect.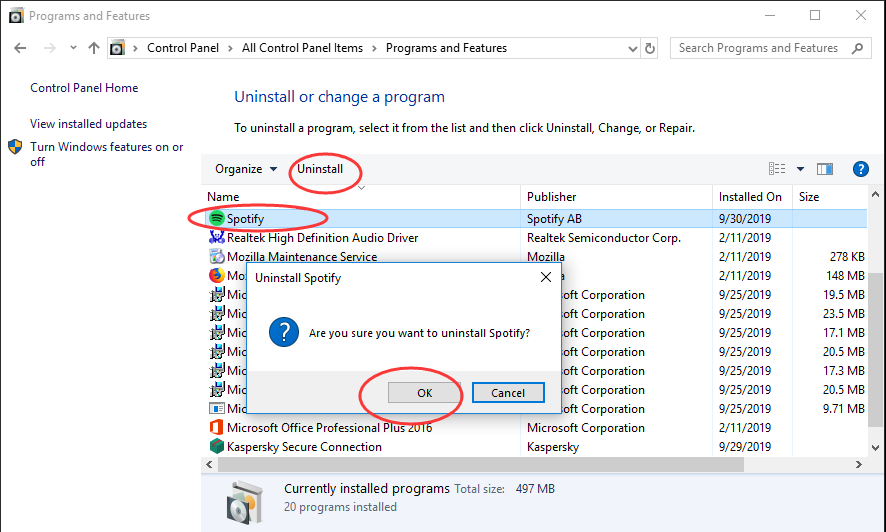 WARNING:
The above three methods may help you get rid of Spotify, but they may NOT clear it completely out of your system. So, in the next step, you have to manually delete leftover file system and registry items. Be sure to back up all your important data before uninstalling Spotify as explained in this guide because incorrect changes to the registry can result in permanent data loss or corrupted files.
Check the following folders and delete associated files first.
%AppData%
%Temp%
%ProgramData%
Next, you have to delete Spotify entries from Windows registry:
Press Windows + R, and type in regedit in RUN box, then press Enter. It'll open Registry Editor.
Locate the following keys:
HKEY_CURRENT_USER\Software\Microsoft\Windows\CurrentVersion\
HKEY_LOCAL_MACHINE\SOFTWARE\Microsoft\Windows\CurrentVersion\
HKEY_LOCAL_MACHINE\SOFTWARE\Wow6432Node (64-bit system users will also need to check this extra key)
If you can find any keys with the name of Spotify, just delete such keys.
Note:
Common leftover of Spotify include registration files, empty folders, dll files and task schedule etc. These files can occupy some space on your computer if you don't delete them in time. But, if you have never used the Windows Registry before, or you have no computer skills, you should be extremely cautious when modifying your registry as serious problems could arise. Make sure to take a backup before deleting anything from Windows Registry so that you can restore it later if something goes wrong.
If you still find it hard to find out the Spotify leftovers and don't know where to start, a third-party uninstaller like Uninstallor is a good way to go. It can help you in a quick way to fully wipe out the entire applications, leaving no traces behind. This uninstall tool is not just a program to help you uninstall any unwanted app & bloatware from your PC and Mac, it also combines with premium support team, giving you the best service to clean up your PC.
Method 4: Uninstall Spotify Using A Removal Tool (Recommended)
Compared to the Windows built-in uninstaller, Uninstallor can do a better job of deleting an application completely. Here's how it works:
1. Download & Install Uninstallor on your machine. Uninstallor is quite lightweight and the installation is straightforward. The only option you have is to let you create a program shortcut to the desktop.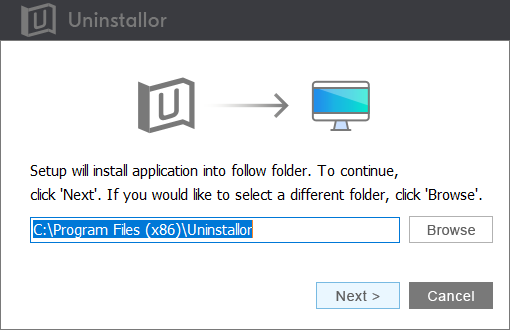 2. Launch Uninstallor. Uninstallor comes with an easy-to-use interface and it lets you switch to dark or light theme as you wish.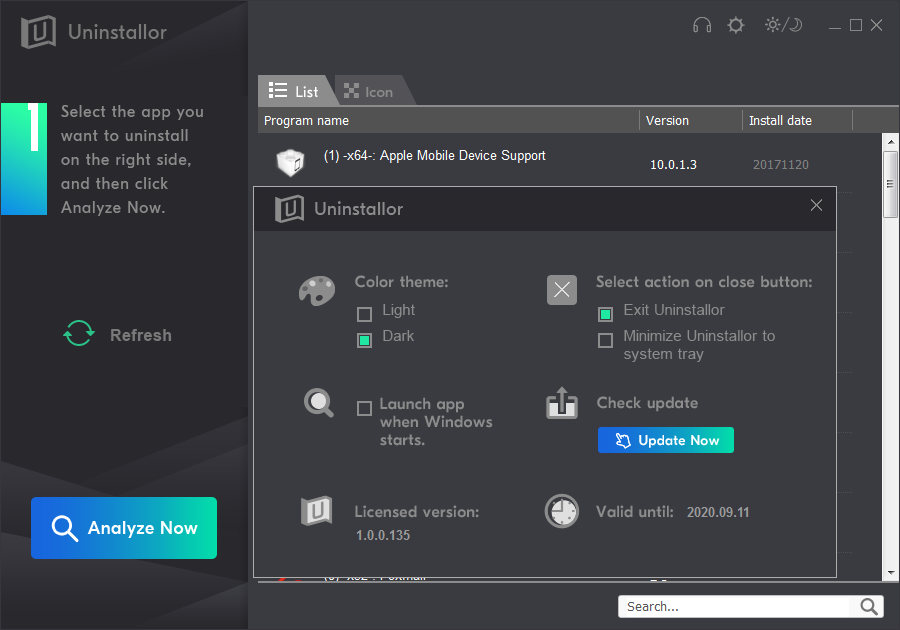 3. Scan for program components. Select the program that you want to uninstall and click on "Analyze Now" button. It will analyze all the data associated with the uninstalled program and searches for all leftover files.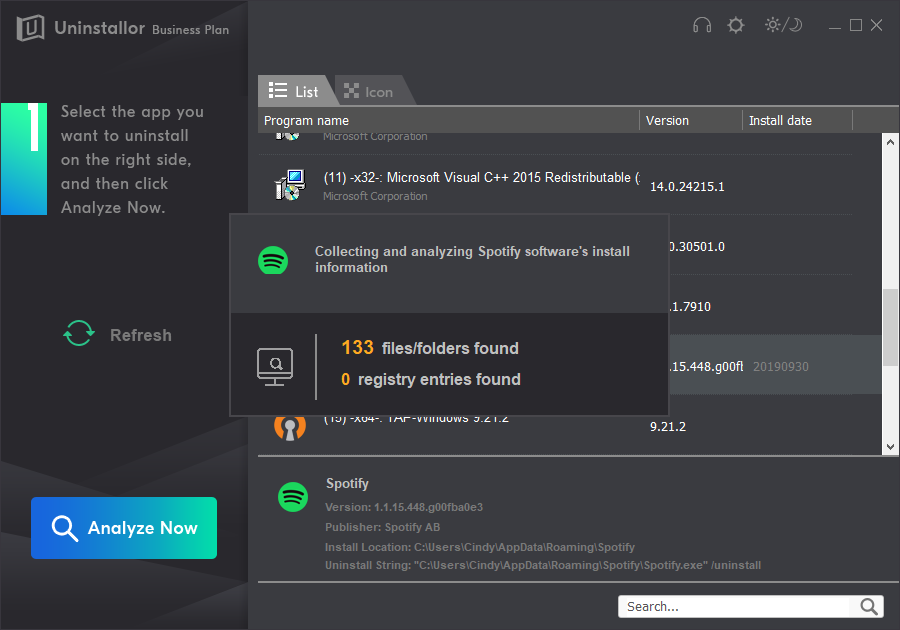 4. Perform complete removal. Click on "Uninstall Now" button to uninstall Spotify completely. Next, you need to click on "Yes" to confirm the removal.
5. Wait until the uninstallation is completed. When the process is completed, restart your computer to take effect.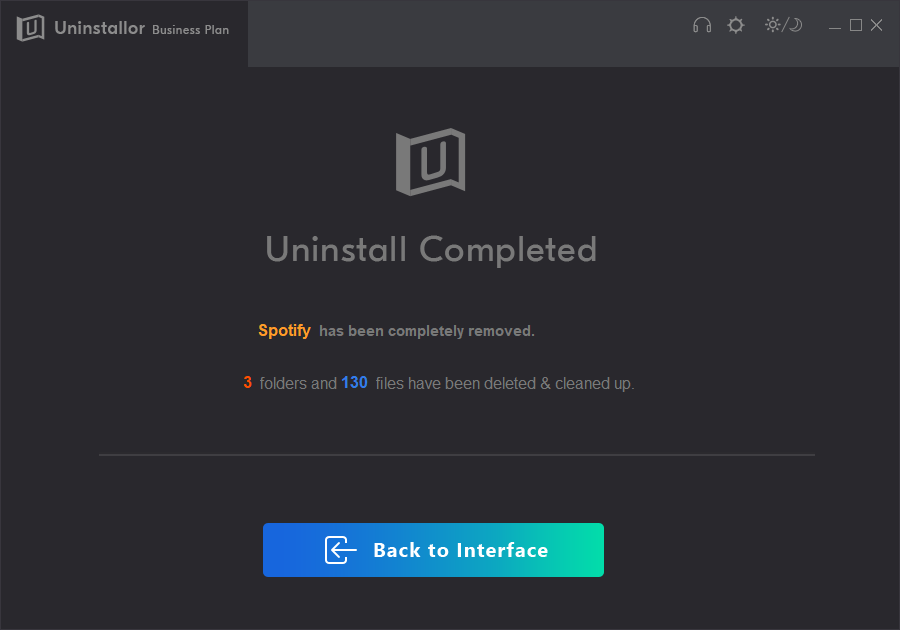 Video Guide on How to Uninstall Spotify in Windows 10
Conclusion:
Spotify is the most popular audio streaming service that has the best library, the best interface, and is easiest to use across devices. But still, there are chances you have to uninstall this program from your Windows PC. For example, Spotify is not responding when you open it, or an error occurs while you are using Spotify and you can't get rid of it. Windows 10 offers several ways to delete unwanted software, but there are also several third-party programs that make Spotify removal a little easier. Uninstallor is one of them which is perfect for anyone who wants to make sure they leave nothing behind on their system when they uninstall Spotify. It scans a program's leftovers automatically and performs clean removal of any program from your PC. All in all, now you will have mastered the approaches to uninstalling Spotify completely. If not, you can choose to contact our expert for instant help.
Published by Tony Shepherd & last updated on October 30, 2019 8:20 am